AI audio editors simplify the process of editing and manipulating audio files. These tools can transcribe, synthesize voices, and cancel noise efficiently, saving time and effort. Check out the top 10 AI audio editors for 2023.
The job of an audio editor isn't as glamorous as that of a video editor but it is just as important. If you're making podcasts, audiobooks, radio shows or anything else that focuses on narration you're going to need someone who is good at cutting, stitching and cleaning up sound clips. Alternatively, you can use one of the many AI audio editor programs to make the job easier while also saving some money in the process. Not only is this type of software great for regular editing but it can often be used for transcription, voice cloning, and various other purposes. With that in mind, join us as we take a look at the top 10 best AI audio editors you should try in 2023.
Top 10 AI Audio Editors
This is a general overview table made by us, if you want to see our more detailed review, please keep reading:
| Product | Price | Main Functionality | Processing Speed | Output Quality | Customization Freedom | Target Audience |
| --- | --- | --- | --- | --- | --- | --- |
| Auphonic | Paid | Audio Restoration | ★★★★☆ | ★★★★★ | ★★★☆ | Podcasters, Filmmakers, Videographers |
| Descript | Paid | Audio and Video Editing | ★★★☆ | ★★★★☆ | ★★★☆ | Podcasters, YouTubers, Video Editors |
| Trint | Paid | Professional Transcription | ★★★★★ | ★★★☆ | ★★☆ | Large Companies, Journalists, Transcribers |
| Podcastle | Paid | Podcast Editing | ★★★☆ | ★★★★☆ | ★★★☆ | Podcasters, Content Creators |
| Krisp | Freemium | Noise Cancellation | ★★★★☆ | ★★★★★ | ★★☆ | Online Meeting Users, Gamers, Chat Users |
1. Auphonic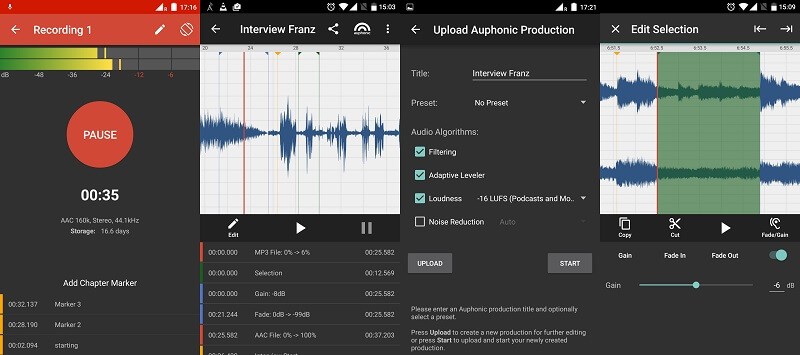 Price: Starting at $11/mo
Auphonic is an AI audio editor that aims to help users achieve professional results without any hassles. The software comes with many useful features and can be used for anything from podcasts to movies and everything in between. You can use Auhonic to automatically normalize levels, filter out noise, restore corrupted audio, and more. The software also incorporates speech recognition technology and doubles as a video editor, though you'll probably want to use it primarily for audio. Auphonic has a free plan you can try but it only lets you process up to two hours of audio per month.
Pros:
- Intelligent leveler
- Speech recognition
- Available on both desktop on mobile
Cons:
- Only two hours of free processing per month
- Requires registration even with the free plan
- User interface could be better
2. Descript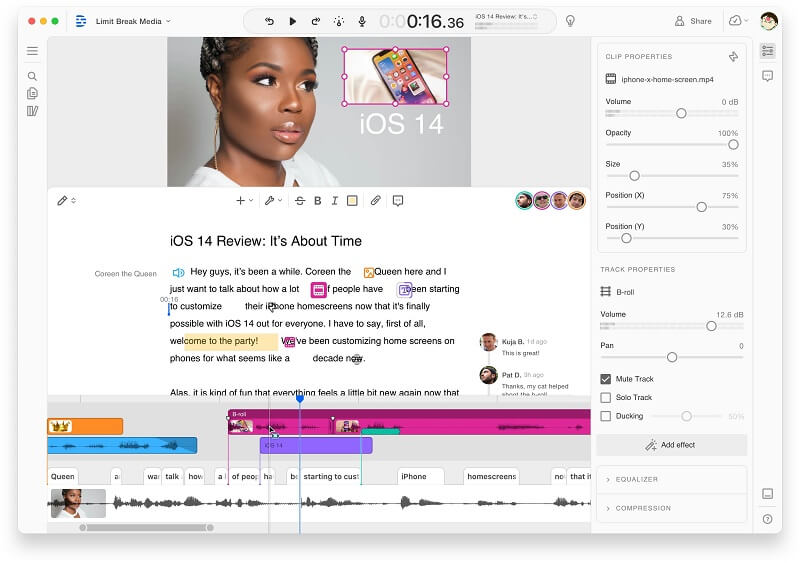 Price: Starting at $12/mo
Descript is a popular all-in-one video and audio editing software that tries to do a little bit of everything. We're not just talking editing either. With Descript you can also do dubbing, transcription, screen recording, captions, and more. One of the software's best-known features is called Overdub and it allows users to synthesize realistic sounding voices that work great for any type of narration. The AI audio editor also comes with a number of ready-to-go voice packs that convert into audio anything you type. You can do a few transcriptions and screen recordings with the free version of Desccript but you would need to upgrade to gain access to the more advanced features.
Read TopTenAI's detailed review about Descript Overdub: Ultra Realistic Voice Cloning With Overdub
Pros:
- Podcast editor
- Quality transcription
- Voice synthesis
Cons:
- Pretty basic as a traditional audio editor
- Occasional performance issues
- Free version is limited in many areas
3. Trint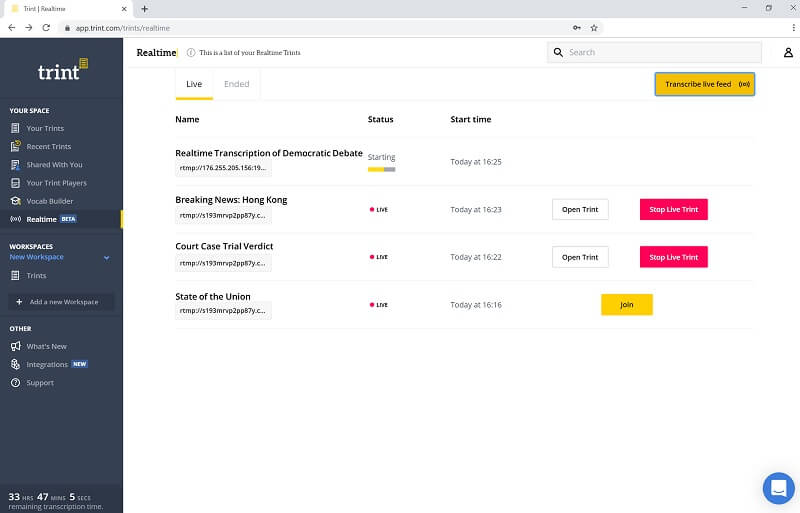 Price: Starts at €44/mo
Trint is a professional transcription platform used by a lot of high-profile companies, including Nike, The Washington Post, and the Associated Press. Although a decent option for individuals and small teams, Trint is primarily designed for large teams and enterprises. And its price certainly reflects that. Like most services on this list, Trint takes advantage of the power of artificial intelligence to deliver fast and efficient results. The software works equally well at transcribing both audio and video content but doesn't actually have a lot of editing features.
Pros:
- Professional transcriptions
- Fast and efficient
- Great for big companies
Cons:
- Few audio editing features
- Limited free trial
- Expensive
4. Podcastle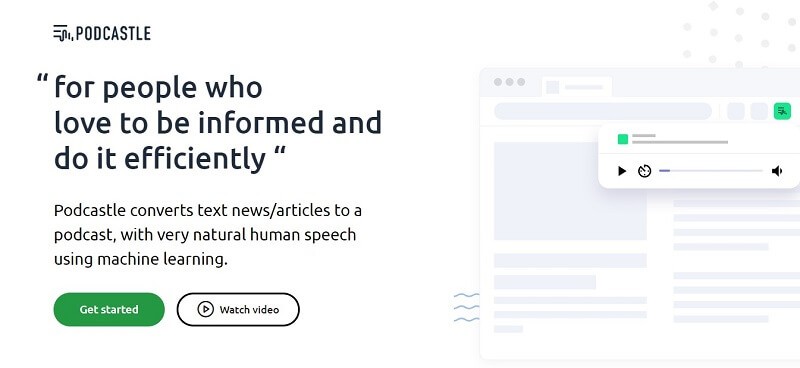 Price: Starting at $11.99/mo
Want to start a podcast but don't know how to use a sophisticated audio editor? Or maybe you're just not comfortable speaking into a microphone for two hours every week. Luckily for you, those problems are now a thing of the past thanks to Podcastle. The platform was designed with podcast creators in mind and comes with some neat features like the ability to conduct remote interviews, synthesize voices, record audio online, transcribe your podcasts, and more. There's even a Chrome extension that lets you convert articles into podcasts on the fly.
Pros:
- Generous free plan
- Text-to-podcast
- Best platform for podcast creators
Cons:
- Some plans come with unreasonable limitations
- Extension doesn't work as well as you might expect
- Can't recommend if you're not interested in podcasts
5. Krisp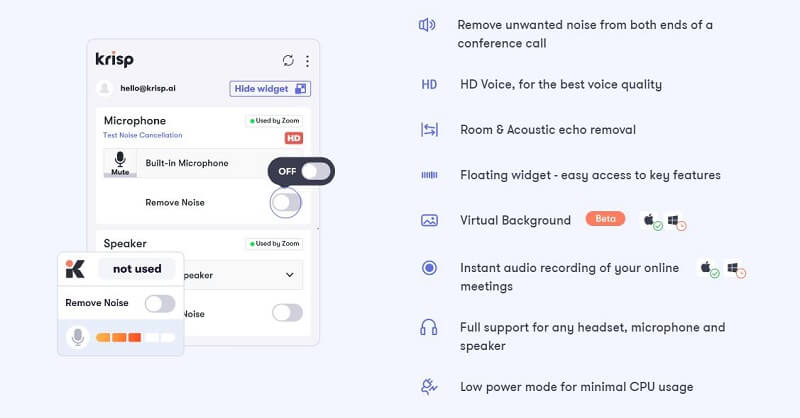 Price: Starting at $5/mo
Krisp is a very fitting name for this free noise cancellation tool. The main purpose of Krisp is to remove background noises during online meetings. Of course, you can use it just as easily while you're chatting with friends online or while playing video games. The AI-powered app is very simple and essentially only consists of a switch that you can turn on and off at any time. Krisp works with over 800 communication apps and is free to use for up to four hours a week. Paid plans remove this limitation while also introducing new features.
Pros:
- Easy to use
- Fair pricing
- Very efficient
Cons:
- No interesting features aside from noise cancellation
- The app can occasionally cause distortions
- Audio recording and virtual backgrounds are only available on Mac
Also read: How to Use Krisp AI to Cancel Audio Noise?
6. SimonSays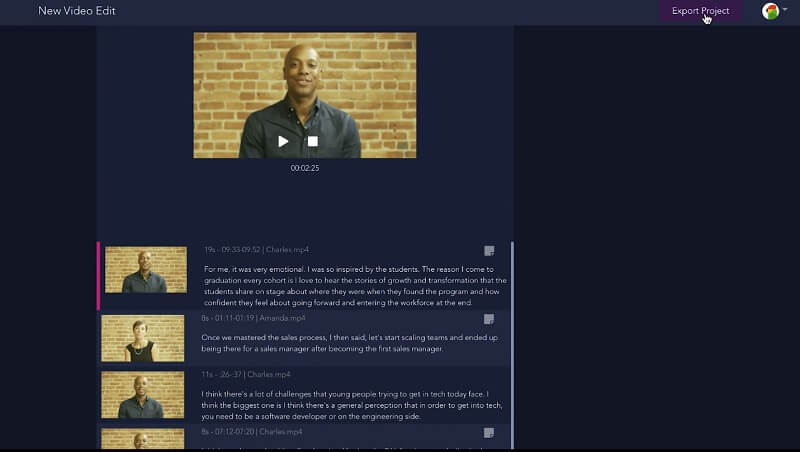 Price: Starting at $20/mo
SimonSays is another AI audio transcription service that focuses on versatility and ease of use. The app doubles as an online audio file editor, meaning you don't have to download anything to get started. Aside from transcriptions and video editing, SimonSays can also be used for creating captions, subtitles, and translations in over 100 languages. The app is meant to be used primarily online, however, it does also offer a mobile app along with a number of extensions you can use with offline editing software like Adobe Premiere Pro, DaVinci Resolve, and Final Cut Pro X.
Pros:
- Easy to use
- No download required
- Can be integrated with other software
Cons:
- Can be unreliable due to its online-only nature
- File uploads are very slow
- Fairly expensive
7. Resemble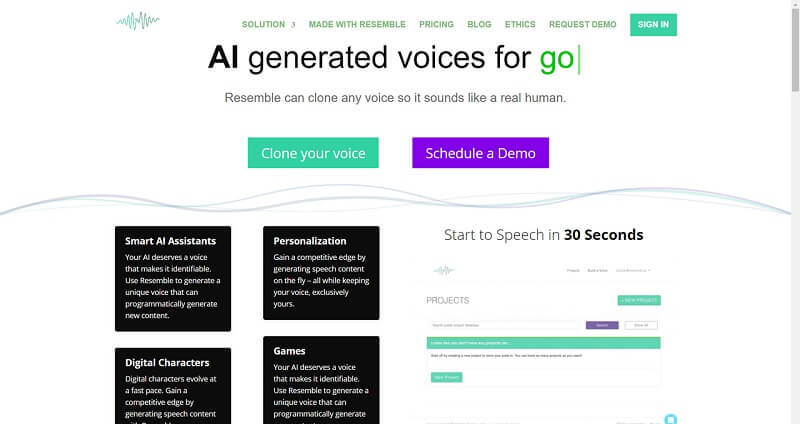 Price: Starting at $30/mo
Resemble is a powerful voice synthesizer powered by advanced machine learning algorithms. The software works similarly to Descript in the sense that it allows you to create or replicate voices with relatively little effort. The digital voices can speak in six different languages, making Resemble a great choice for dubbing and localization. The software works particularly well with fantasy voices for those working on movies or video games. There's even a Unity plugin that allows you to use Resemble inside the game engine.
Read our detailed review of the Resemble AI Voice Generator.
Pros:
- Supports six different languages
- Unity plugin
- Developer friendly
Cons:
- UI could be a bit better
- Fairly expensive
- Very limited free trial
8. Murf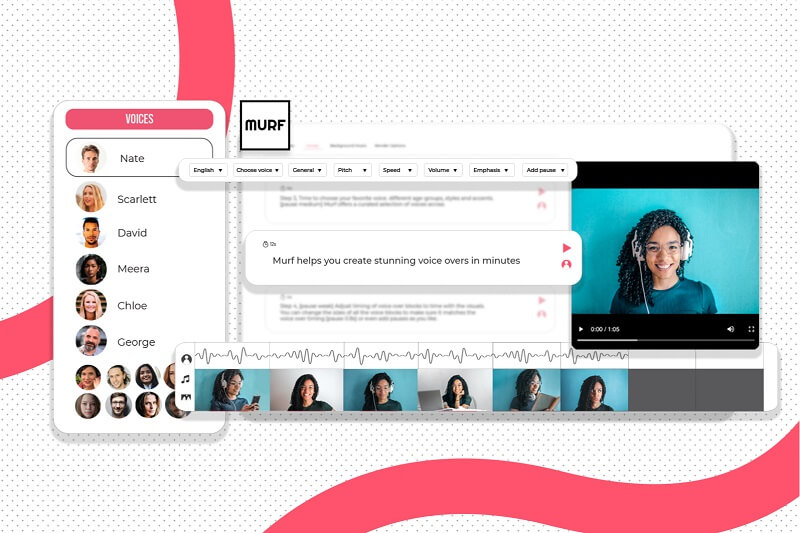 Price: Starting at $13/mo
Murf is a company that offers a variety of products related to voice editing and voice manipulation. This includes things like an AI voiceover app, a voice changer, and of course a traditional audio editor. The neat part about the editor is that it converts voice files into a text format that you can modify with ease. Delete or add parts to the text document and the audio will change accordingly. No download is required since all the editing takes place online. You can try the audio editor for free but it only lets you work with up to 10 minutes of audio.
Detailed review at AI Powered Text to Speech Tool by Murf
Pros:
- Very easy to use
- Fast processing
- Innovative editing
Cons:
- Can be unreliable due to its online-only nature
- Some plans come with unreasonable limitations
- Very limited free trial
9. Cleanvoice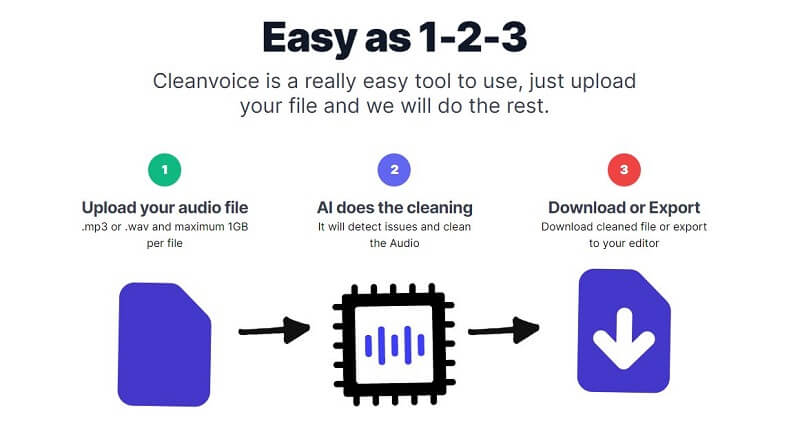 Price: Starting at €10/mo
Cleanvoice is a noise-canceling app that automatically removes unwanted filler sounds and mouth noises from your recordings. The app works somewhat similar to Krisp, however, Cleanvoice doesn't work in real-time. Instead, you need to upload the recording on the website, let the AI clean it for you, and then download the file. Cleanvoice supports recordings in multiple languages and accents, though it seems to have been developed primarily with American English in mind. The app isn't capable just yet of removing things like stuttering or dead air but those features are being worked on as we speak.
Pros:
- Very easy to use
- Multilanguage support
- Fair pricing
Cons:
- Only supports .wav and .mp3 files
- Only supports recordings of up to 1GB
- Occasional technical issues
10. ClipChamp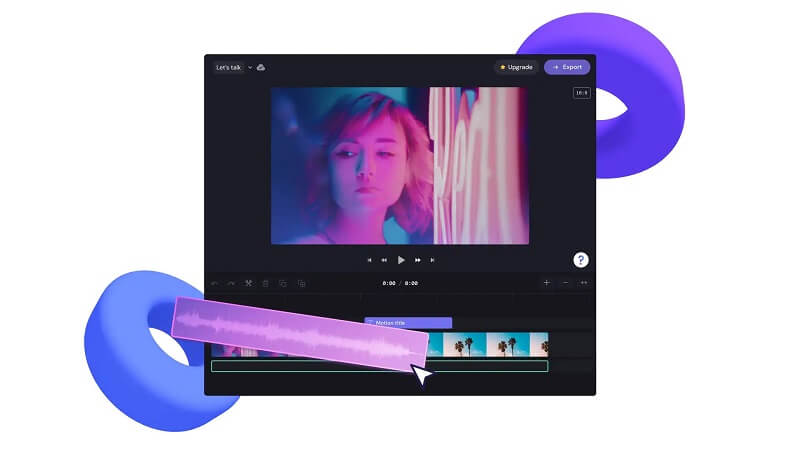 Price: Starting at $9/mo
The last service we wanted to include on our list of top AI audio editors is ClipChamp's voiceover generator. This is another voice synthesizer where you input text and the software turns it into voiceovers. There are 170 unique voices to choose from at the moment, ranging from casual to professional and everything in between. The app supports 70 languages and lets you customize voiceovers with speed controls, allowing you to set the pace of the narration. If you don't mind the limitations, you can use the service entirely for free.
Read TopTenAI's detailed review at Clipchamp Review: Multi-Purpose Online Video Editor
Pros:
- 170 unique voices
- Supports 70 languages
- Very easy to use
Cons:
- Works better as a video editor than an audio editor
- Free plan exports come with watermarks
- Full HD exports require you to buy the Business plan
Final Thoughts
If you made it to the end of this article you should now have a pretty good idea of what sort of AI audio editor software is currently available and what it can do. The capabilities of artificial intelligence have gotten very impressive over the past few years, and nowhere is this more obvious than in the audio editing market. Whether you need voiceover for a commercial, automatic transcription, or a synthetic voice narrating your podcast, you can rely on AI to deliver great results. Naturally, some audio editors are better than others so we recommend experimenting with a few of them until you find the perfect one for your specific needs. Also read: Top 10 Best AI Audio Enhancers for Audio Denoise 2023.
FAQs
1. How Do I Make My Voice Sound Like an AI?
There are a couple of ways of achieving this effect. For instance, you can add distortions and other effects to a recording of your voice or use a voice changer app. But the newest and most interesting method is to use an AI-based voice synthesizer that learns your voice patterns and can reproduce them at will afterward.
2. How Can I Edit Audio Online for Free?
There are various tools and apps that allow you to edit audio clips for free, including some of the ones we discussed in this article. In many cases, these tools are very limited and only let you edit between 10 and 30 minutes of audio for free. There are other websites out there that don't feature such limitations but those tend to have ads instead.