The article introduces the top 10 AI-powered audio enhancers including each tool's features, such as noise reduction, equalizer, and sound profile customization. So that provides the most earnest recommendation for readers to enhance the quality of your music, podcast, or any other audio content.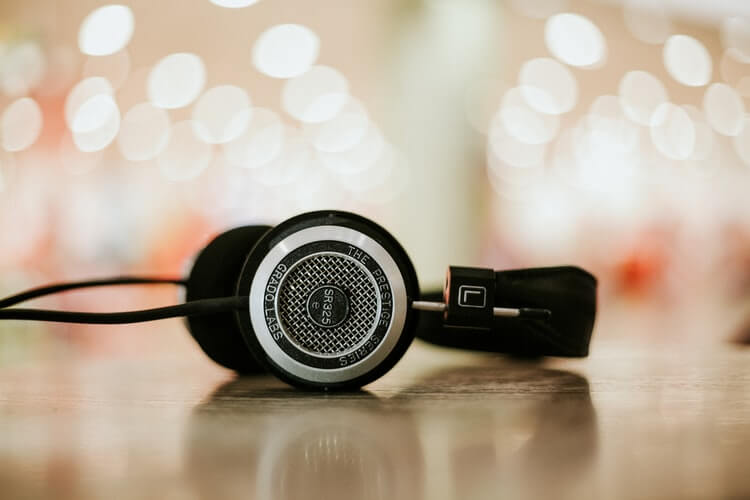 Imagine you are a podcaster, on a recent trip, you had the opportunity to interview a renowned expert in your field. However, when you listen back to the recording, you realize that the bustling background noise from the crowded café where the interview took place has severely compromised the audio quality. The noise is overpowering, making it challenging for your audience to fully grasp the valuable insights shared by your guest. In such a scenario, an AI audio enhancer for audio denoise becomes an indispensable tool to salvage your interview and deliver a clear and immersive listening experience to your audience.
Whether you are a podcaster, filmmaker, musician, or content creator, the ability to deliver pristine audio free from distracting noise enhances the overall experience for your audience. By employing AI-powered audio enhancers, you can effectively eliminate unwanted noise, resulting in cleaner, more professional audio recordings that captivate and engage listeners. This article will provide you with the Best 10 AI Audio Enhancers to denoise audio and upscale audio.  We also give an objective comparison of various aspects to help you choose the most suitable Audio enhancer to edit audio.
Related article: Top 10 Voice Generator Review 2023
The 10 Best AI Audio Enhancer Review
| | | | | | | |
| --- | --- | --- | --- | --- | --- | --- |
| Tool | Processing Speed | Output Quality | User-Friendliness | AI-Based | Online/Offline | Free/Paid |
| Audo.ai | ★★★★☆ | ★★★★★ | ★★★★☆ | ✅ | Online | Paid |
| Krisp | ★★★★★ | ★★★★★ | ★★★★☆ | ✅ | Both | Paid |
| AI Mastering | ★★★☆☆ | ★★★★☆ | ★★★☆☆ | ✅ | Online | Paid |
| Auphonic | ★★★★☆ | ★★★★☆ | ★★★★☆ | ❌ | Both | Free/Paid |
| Audio Super Resolution | ★★★☆☆ | ★★★★☆ | ★★★☆☆ | ✅ | Online | Free |
| Adobe Audition | ★★★★★ | ★★★★★ | ★★★★☆ | ❌ | Offline | Paid |
| FXSound | ★★★☆☆ | ★★★☆☆ | ★★★★☆ | ❌ | Offline | Paid |
| Noise Reducer | ★★★☆☆ | ★★★☆☆ | ★★★★☆ | ✅ | Both | Free/Paid |
| Veed.io | ★★★★☆ | ★★★★☆ | ★★★★★ | ✅ | Online | Free/Paid |
| Audioalter | ★★★☆☆ | ★★★☆☆ | ★★★★☆ | ❌ | Online | Free |
Our ratings are based on objective and direct assessments, considering factors such as price, processing speed, output quality, suitable groups, and its pros and cons to provide readers most real experience of these audio enhancement. we will try to keep the article as updated as possible with the actual product.
1. Audo.ai
Price: Free to use as a demo, Paid version: $0.05 for every minute of audio.
Rating:  9/10
Audo.ai is a really good audio enhancer application and AI audio editor because of how easily and quickly it works. You only need to upload audio and let the tool upscale audio or edit audio. You can also record audio there itself and have it processed. With the use of audio engineering and other technologies, the developers have managed to create this wonderful application with a few lines of code. Not to mention that the team is an active one, working on multiple features to be released soon.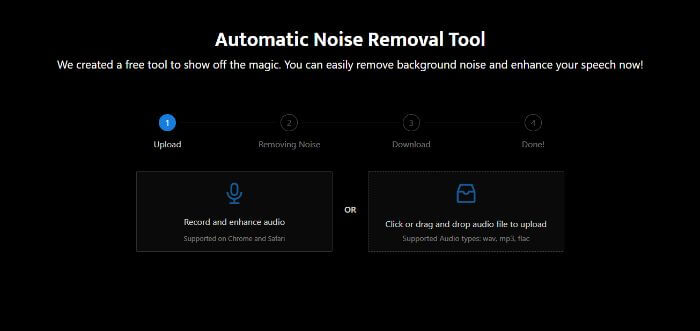 Pros:
Good technology.
Smooth interface.
Cons:
The record feature works better than uploading audio.
2. Krisp
Price: You can use this free audio enhancer for 120 minutes per week. Personal Pro: $5/month.
Rating: 8/10
Krisp is a world-wide known audio enhancer application, having been featured in Forbes and various other esteemed magazines for its cutting edge innovation as an audio enhancer tool. A s an AI audio editor, the vocal enhancer revolves majorly around online meetings and being able to cut out unnecessary background noise. It is difficult to maintain a professional scene with online meetings when you have children playing around or pets around. Krisp makes sure that no such noise comes through. It can even eliminate keyboard clicks.
Read our full review: How to Use Krisp AI to Cancel Audio Noise?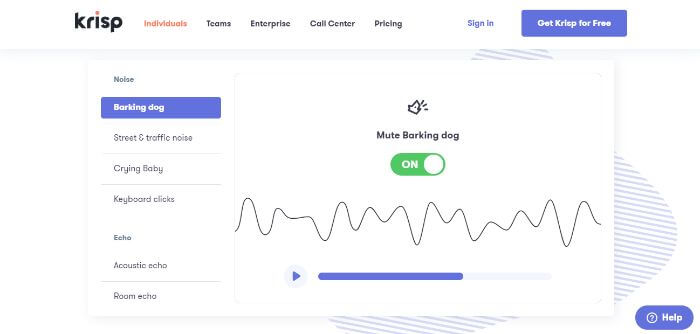 Pros:
Popular application with active dev team.
Brilliant technology.
Cons:
It is rather niche in application.
3. AI Mastering
Price: You can use this audio enhancer online tool for free.
Rating: 8/10
AI Mastering is an audio enhancer tool that focuses on user convenience and experience. When you are using this tool, you can expect everything to be easily done. For starters, they have given some easy alternatives for signing up an account with them. You can use your GitHub, Google, or Twitter account to quickly set up an account. Not to mention that its AI based technology allows for automatic audio conversions. This is an application that is slowly but surely gaining traction with increasing numbers of users reaching out every month.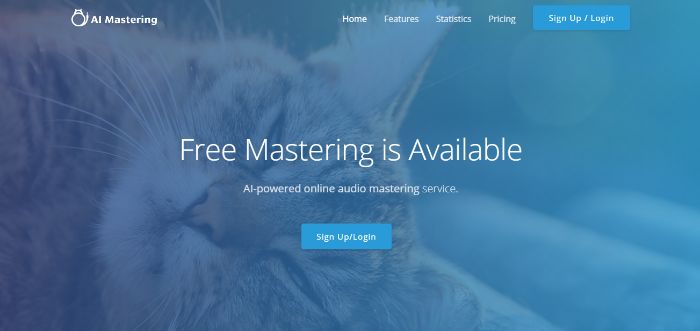 Pros:
Easy to use.
Completely free of cost.
Cons:
The audio processing takes time.
4. Auphonic
Price: You can use this audio enhancer for free for 2 hours of audio time. Paid plans: $11 for 9 hours
Rating:   7/10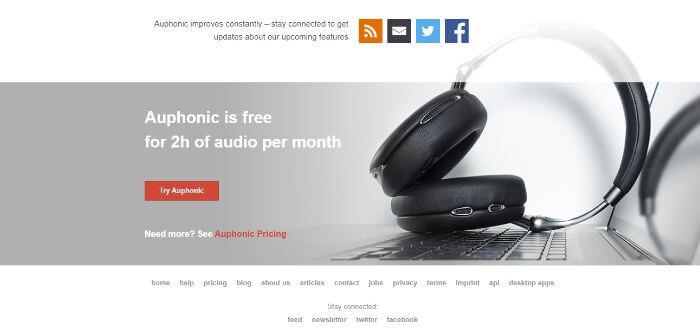 If Auphonic could be described in one word it would be "variety". This AI based audio enhancer application can work with pretty much anything. It can offer audio denoise for podcasts, movies, radio shows, and much more. Other than that, it can perform complex tasks such as detect speech of close to 80 languages, offer encoding for many formats like MP3 and FLAC, and perform audio restoration. Moreover, this is an audio enhancer for android and desktop too.
Pros:
It has a lot of features and algorithms to enhance audio.
Free version is great.
Cons:
The processing can be slow.
Also read: Best 10 AI Audio Editors Review.
5. Audio Super Resolution
Price: This is a free to use audio enhancer application.
Rating: 6/10
This is a new use of the traditional AI methodologies that goes into enhancing audio files. Here, there is an algorithm designed to fill in the gaps left by the denoise audio tracks and that in turn makes the audio enhanced with new bits. You can also listen to a whole bunch of sample audios from the link above to see how the algorithm differs from others and what kind of output audio it generates. There is also a GitHub page of this tool with all the code and documentation available, if you are a tech person too and would like to dig in.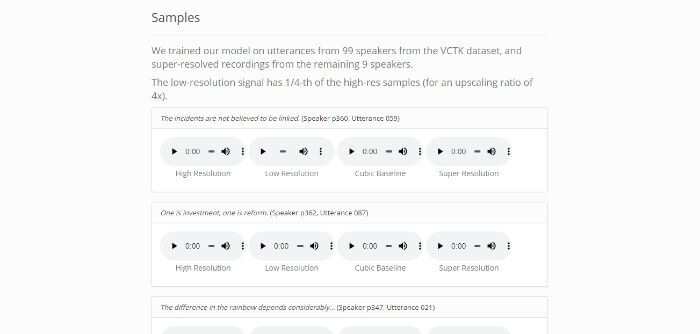 Pros:
New algorithms and design.
Cons:
It is not a fully developed app yet.
6. Adobe Audition
Price: Adobe Audition audio enhancer tool is free to use but you will need to at least install it first and have an account.
Rating:  9/10
The best thing about any Adobe tool is the sheer amount of detailed editing it can offer and the same is the case for Adobe Audition. You can denoise audio or reduce other kinds of background noise with incredible precision no matter which platform you are using currently. You can drop any audio file and start editing. You can apply multiple noise cancellation or enhancer functions to your track to not only reduce unwanted noise but also enhance the audio itself. Not to mention that you can listen to tracks as you edit them, saving time and allowing for better edits. Since it is an Adobe product, you can seamlessly transition between different Adobe products with the audio you are using in Adobe Audition.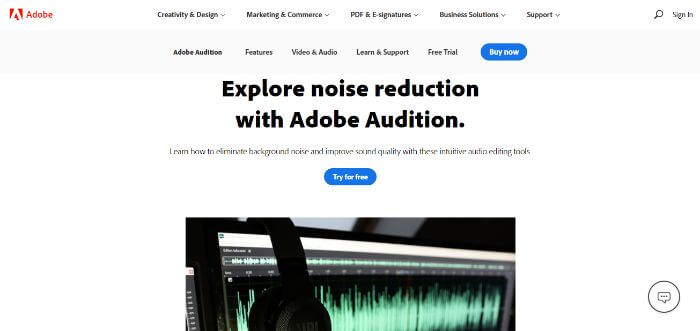 Pros:
The fact that you can use multiple Adobe products allows for an amazing audio editing experience.
It is fully free to use.
Cons:
You need to spend some time to first learn the audio enhancer tool.
Learn more: How to Remove Background Noise in Adobe Audition 2023
7. FXSound
Price:  Free to download
Rating: 8/10
Fxsound is a software designed to enhance audio quality on Windows devices. It optimizes and improves the sound experience by providing various adjustments and customizable settings.It supports Volume Boost, customizable equalizer with presets for easy selection based on music genres or personal preferences. And there are many effects: Boosts bass, clarity, fidelity, ambience, and dynamic range of your audio.
Users also can pre-set optimizations for different audio sources like games, movies, and music. And users are allowed to create custom profiles, tailoring the sound according to their taste.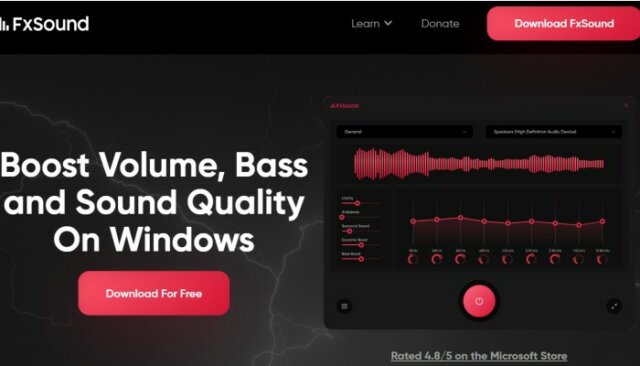 Pros:
Enhanced Audio Quality
Easy-to-Use Interface
Wide Compatibility
Personalized Experience
Cons:
Platform Limitation:Be exclusive to Windows operating systems
Paid Software
8. Noise Reducer
Price: 3 Free AI tools and 12 AI tools with limits, 19.9$/month.
Rating: 7/10
NoiseReducer is an online tool with advanced AI technology to reduce or eliminate background noise and enhance audio. this Vocal enhancer possess its features such as : Easy uploading of audio files,Real-time adjustment of noise reduction parameters,Preview before committing changes, and Download/export processed file in various formats. As for audio recording enhancement, NoiseReducer is capable of basic handling rather than specialist handling.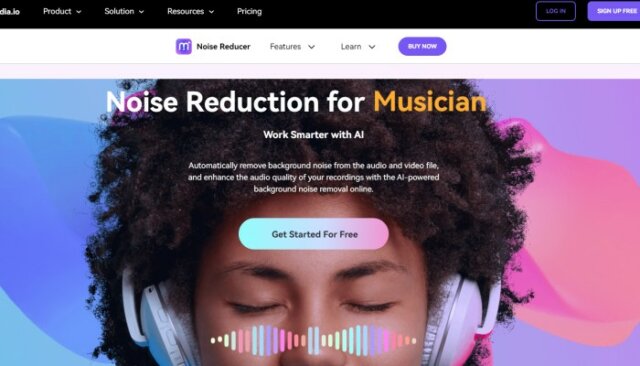 Pros:
User-friendly interface
No installation required
Quick processing
Cons:
Limited capabilities
Privacy concerns
Dependency on an internet connection
9. Veed.io
Price: You can always use this tool for minor projects that are under 10 mins and 50 MB in size with a watermark attached. Purchase a Basic account: $18/month.
Rating: 7/10
Even with a free account, you can make use of a number of useful features from this tool. It offers storage of around 2 GB for your files and you can download files as many times as you want. You can work on projects that are within 10 minutes of runtime. Also, you can have automatic subtitles. With better paid accounts, these features are upgraded and you get new features together with them. For instance, a Basic account gives you access to 25 GB worth of storage and you can get customer service which is live-chat based.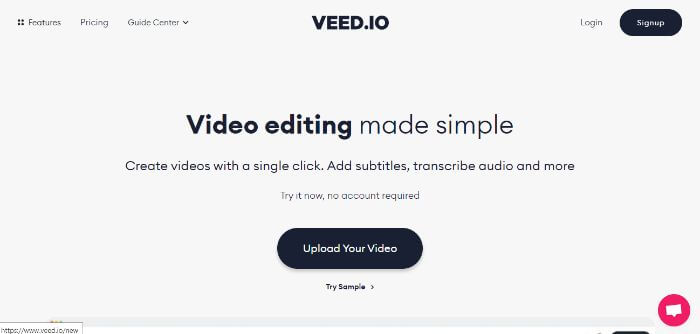 Pros:
The UI is smooth.
Good quality of life features.
Cons:
It only works for videos.
10. Audioalter
Price: This audio enhancer online software is free to use.
Rating: 6/10
Audioalter offers many audio upscaling related tools that all serve different purposes and you can use any of them online from their website. Their noise reducer tool can denoise audio with just a few clicks without disrupting the primary track. It is also an automatic tool that only requires you to upload a file and leave the rest to the tool.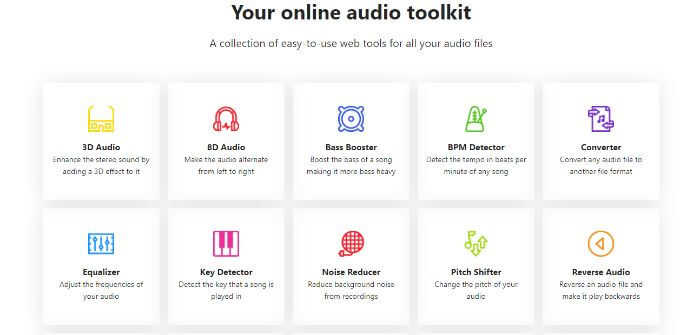 Pros:
Many tools to play around with.
Cons:
Conclusion
In conclusion, the availability of AI-powered audio enhancers has revolutionized the way we create and consume audio content. No matter what field of sound you are involved in, these tools provide the means to deliver high-quality audio free from distracting noise, thereby enhancing the overall listening experience for your audience. This article has presented a comprehensive list of the best 10 AI vocal enhancers for denoising audio, highlighting their features, pros, and cons. From Audo.ai's smooth interface to Adobe Audition's precise editing capabilities, each tool offers unique advantages and caters to different needs. The choice ultimately depends on the specific requirements of your project.
By harnessing the power of AI in audio enhancement, you can captivate and engage your audience and create more excellent content with cleaner, more professional recordings.
Related article: Top 10 Realistic Text to Speech Tools Review 2023
FAQs
What is the best AI Audio Enhancer?
For superior noise cancellation and performance, Krisp is highly recommended. It excels in accuracy and offers a downloadable software application. Krisp's website provides impressive samples that demonstrate the technology's impressive capabilities. If you prefer an online tool, Audo.ai and Auphonic are also viable options
How to enhance audio with AI?
Most AI-based tools and websites operate similarly.
1. Simply upload your audio file and let the tool process it.
2. Once complete, download the enhanced file. Some tools may require a free account, but many offer convenient Google sign-up options.
These steps ensure easy access to AI-powered audio enhancement.
Explore more about AI sound: SoundSee – insight with Audio AI