Krisp is an AI-based noise cancelling app that effectively removes the background noise from your audio. There are many online meetings and calls that we go through everyday, especially in these times, including important business meetings. It is therefore important to have your audio as distortion free as possible. Krisp enables you to cancel noise in simple ways. Krisp is available for both Mac and Windows systems. You can start using Krisp for noise cancel and simply keep it running in the background of your system. Besides this, applications similar to the Krisp noise suppression tool can be a great asset to elevate your podcast and video's audio quality.

What is Krisp AI?
The Krisp noise cancelling tool is an AI based application that catches the unwanted background noise from your audio and erases it, giving way to clearer and better audio overall. Additionally, Krisp has been rising in popularity, providing support for over 800 communication applications, some of which include Discord, Zoom, Google Meet, Slack, etc. Krisp AI also allows you to record your meeting with just a click. You can also have HD quality audio from the application.
How to Use Krisp Noise Cancelling App?
You will need a free account from Krisp.AI before proceeding with the download but you can fast-track the process by using your Google account. Also, you can test the tool without downloading it by scrolling below and checking out the samples.
1. First, go to the website and create a free account. After that, click on the Download button and it will show you the instructions.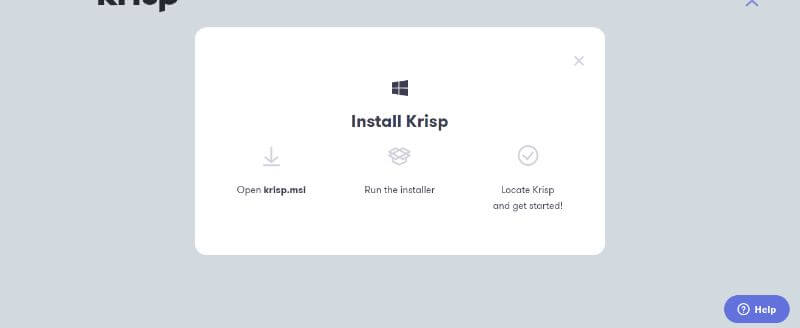 2. Once you have installed the application, run it and choose the communication app that you will use.
3. Now test the application by keeping it running in the background while you engage in the online meeting.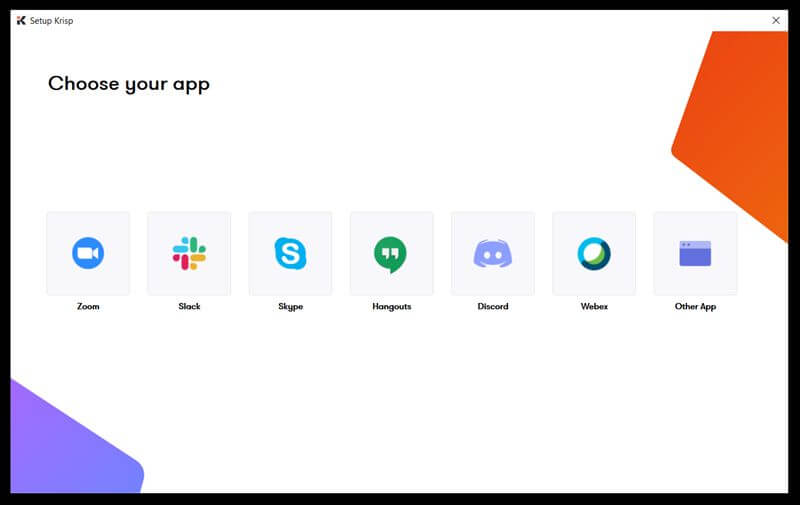 How
does Krisp AI Work?
Krisp noise canceling software is an AI based tool and so it reads every bit of audio that you feed it. It works on basically every kind of communication app and is compatible with most devices. You can keep the Krisp app running while it actively removes background noise. The noise cancelling app is also capable of handling various kinds of disruptive noises such as the sound of fans, gestures, devices nearby, etc. You can test Krisp by keeping it open and going over to an app such as Zoom and using its advanced audio setting. With a paid subscription, you can additionally benefit from power management mode, customer service, cloud storage for audio files, and more.
FAQs
1. Is Krisp AI free?
You can use the Krisp noise cancelling app with a limited amount of minutes for free. As a free user, you can make use of Krisp for 240 minutes. After that, you will need to purchase any of its paid subscriptions for further use. The Personal Pro and Teams accounts each cost $5 and their features are slightly different. However, both of them offer amazing HD quality audio, noise cancellation of various types of sounds, and power saving mode.
2. What are Alternatives to Krisp?
While Krisp is undeniably one of the best noise cancellation tools that you can find, there are other tools that may cater to your needs better. You can refer to this list of the best noise cancellations tools for more applications: Also read: Top 10 Best AI Audio Enhancers for Audio Denoise 2023. For instance, the first application allows you to pay as you use its services, instead of offering a monthly package.
Conclusion
With the increasing need for online presence due to the times we are in, it is essential to have an application like Krisp so that you are always ready for any kind of online meeting or audio recording. Many have the time to focus on creative content such as video making and podcasts, to which Krisp can also be an aid. Krisp is a really famous tool that supports the top communication tools such as Zoom and Discord, so you can be rest assured that it can deliver well. Considering its AI based technology, you can easily operate while keeping the tool running in the background doing its job. With a paid plan, you can simultaneously save power by turning on the power saving mode. Krisp truly has got it all covered. Also read: Best 10 AI Audio Editors Review.