This article analyzes the top 8 AI content detector tools, including their unique features, costs, pros, and cons, to help you determine the best option for your needs.
Although generative AI tools like ChatGPT have numerous beneficial applications, they are not always used ethically. Leaders from various sectors perceive these generative AI tools as unsuitable and sometimes pose a security concern. Experts consider them a potential hazard to academic accomplishments. Therefore, there is a huge demand for AI detection tools. 
AI content checker software uses artificial intelligence (AI) to identify text written using generative AI models. The software is designed to offer readers transparency and guarantee the publication of solely top-notch content.
After many attempts, we analyze the top 8 AI content detector tools, including their features, pricing, pros, and cons. This will help you in selecting the most suitable choice that aligns with your organization's requirements.
TOP 8 AI Content Detectors for 2023
Top 1 

  Originality AI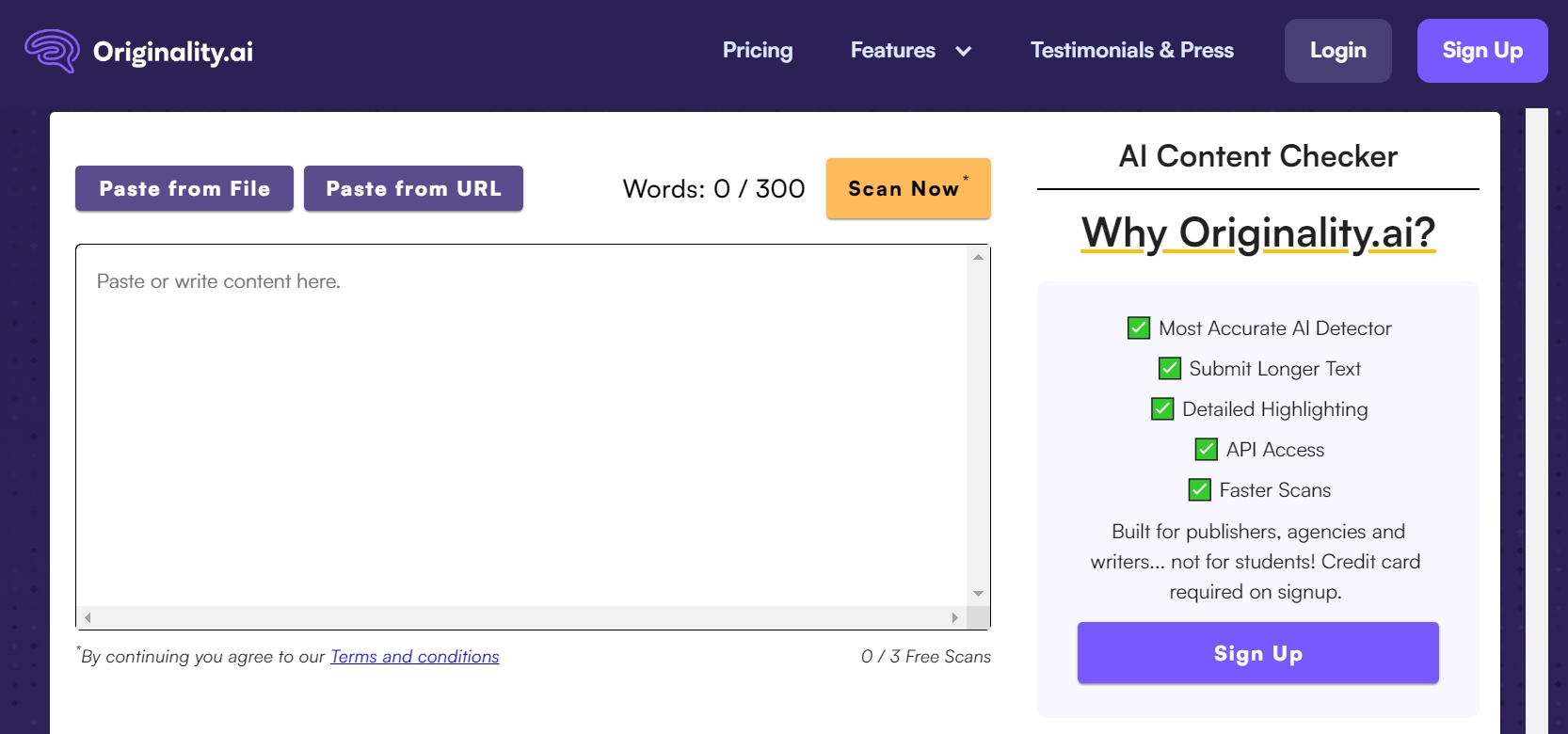 Originality AI  Interface

Originality AI is a premium AI content checker. Its features are only available for subscribed users. At the same time, it offers very generous team features, API integrations, and a pay-as-you-go payment structure. Originality AI is one of the best AI content detectors on the market. It can be used to scan text for AI and plagiarism. 50 words or more required. It is more than 94% accurate on text generated using GPT-3, GPT-3.5, and ChatGPT, more than 99% accurate on GPT-4 content, and more than 94.5% accurate on paraphrased content. Scanning content using this tool returns an AI percentage score and a raw percentage or human score.
Platform: Online, Chrome extension
Overall rating:4.8/5.0 ★★★★☆
Price:  $14.95  / month
+ Pros
High accuracy
Trusted by industry leaders
For a more detailed review of Originality AI, you can refer to Originality AI Review.
Top 2 

  Copyleaks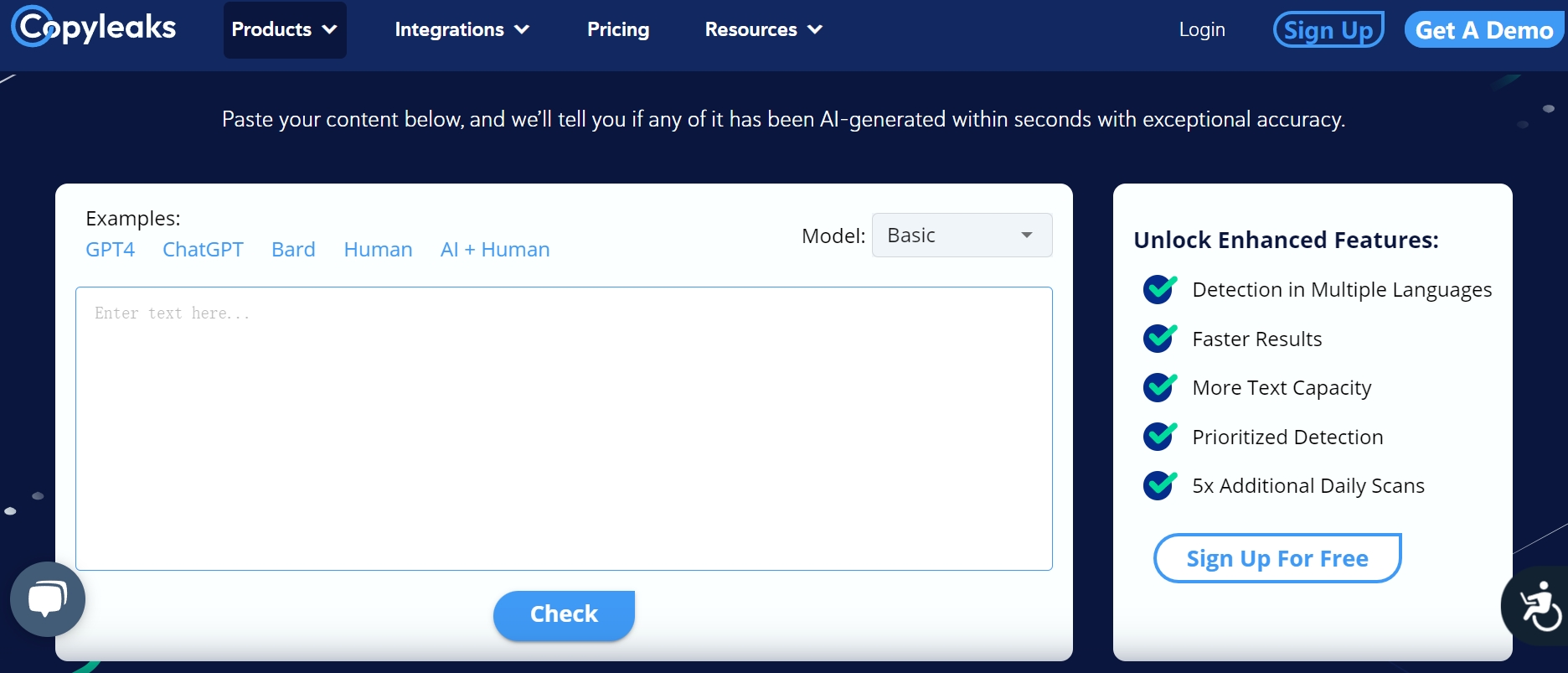 Copyleaks' Interface

Copyleaks AI content checker aims to encourage authenticity and digital trust by creating secure environments for people to share and learn. It takes responsibility for ensuring complete accuracy, especially when it comes to false accusations. Copyleaks takes several precautions, including using algorithms designed to detect human-generated text rather than AI-generated text, implementing a feedback loop where users can rate detection accuracy, and thoroughly testing new model detection before introducing it. It claims that the false positive rate for content written by humans being mistakenly flagged as AI-generated is only 0.2%, which is the lowest among all AI content detection platforms.
Platform: Online, Chrome extension
Overall rating:4.7/5.0 ★★★★☆
Price:  Individual pricing plan
+ Pros
Ease of use API
Individual pricing plan
- Cons
Duplicate sources are rarely detected
Top 3 

  Winston AI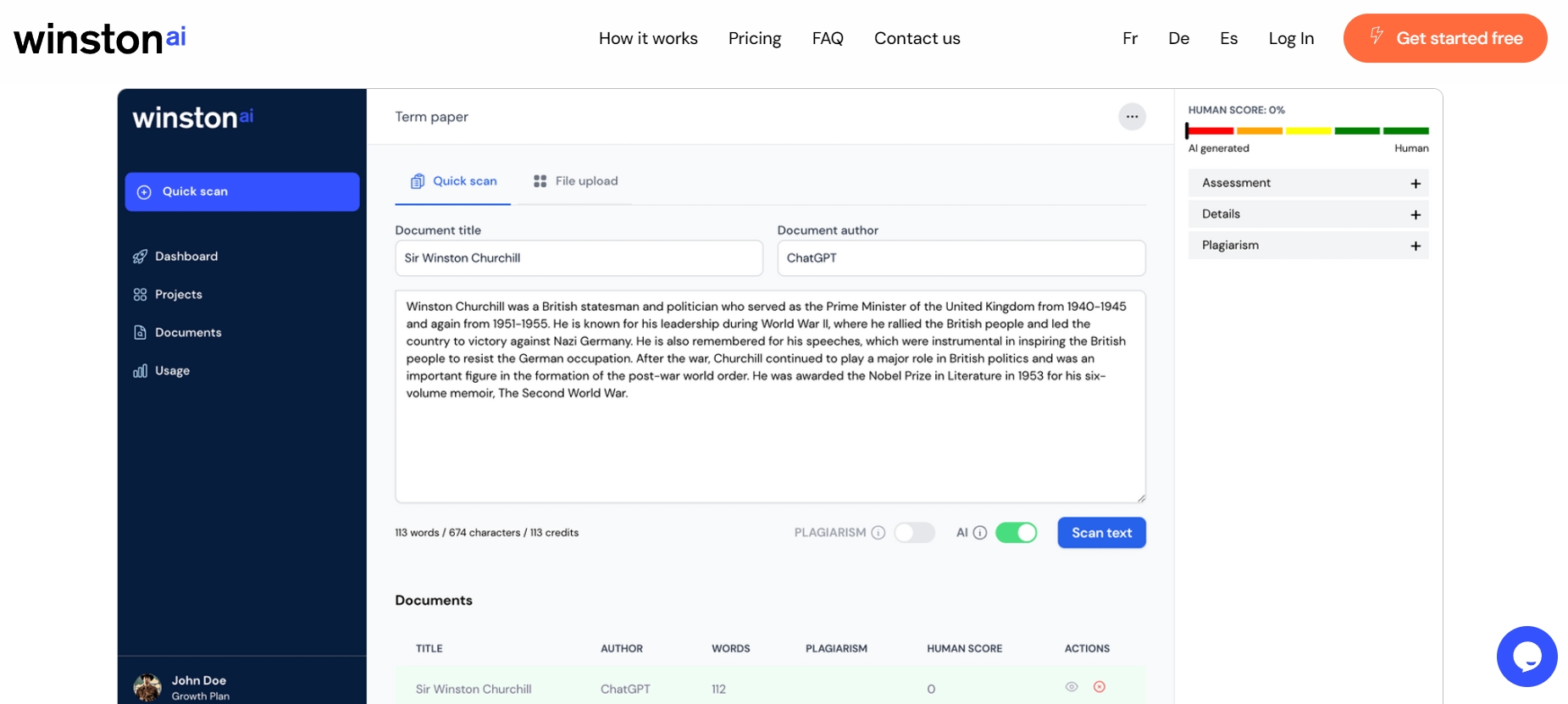 Winston AI's Interface

Winston AI content checker creates the most powerful AI content detection solutions built specifically for content creators, educators, and publishers. The co-founder mentioned that protecting the integrity of original content is their mission. They plan to achieve this by providing a tool that can detect artificial intelligence in text-based content with extreme accuracy. It also has the unique feature of extracting text information using OCR (Optical Character Recognition) technology. Winston AI content detector uses advanced algorithms to detect common patterns and structures in AI-generated text from popular tools like GPT-3, ChatGPT, Jasper, Copy AI, and more. The tool then compares the text to a vast database of human-authored and AI-generated content to determine the likelihood that the content was AI-generated. You'll then get human ratings and other useful metrics like text highlighting, plagiarism, and readability scores.
https://brendanaw.com/winston-ai-review
Platform: Online
Overall rating:4.7/5.0 ★★★★☆
Price: Free: $0, Essential: $18  / month, Custom
+ Pros
Able to extract text from documents
Share credits with team members
- Cons
No URL scanning options
No API access
Top 4 

  GPT Zero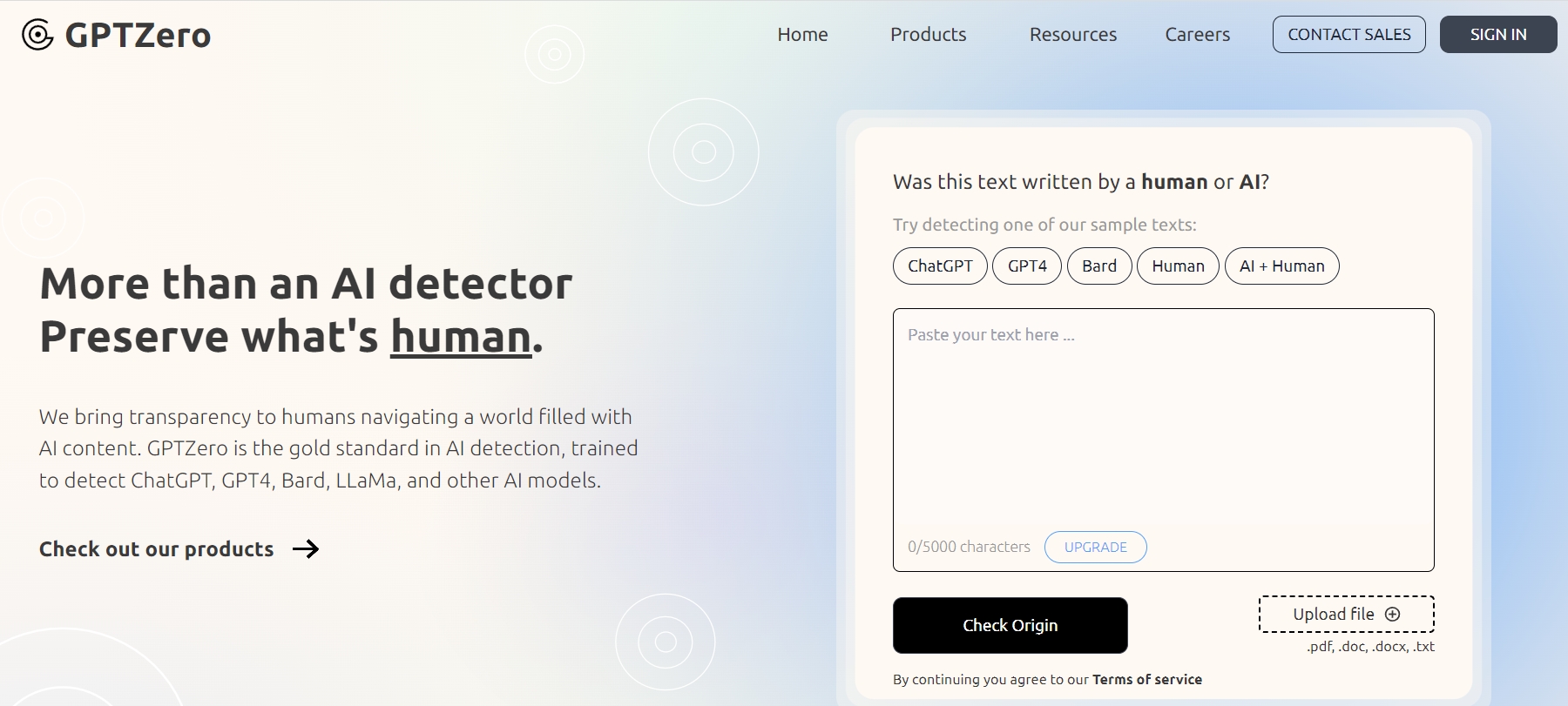 GPT Zero's Interface

GPT Zero AI content checker is an AI content detection tool created by a Princeton University student. He developed it for teachers after seeing the increased cases of "AI plagiarism." GPTZero is now fully integrated with Canvas to help universities craft AI policy. From the beginning, GPT Zero was built with academics in mind, unlike many AI content checkers on the market that are designed for blog posts and marketing copy.
Platform: Online
Overall rating:4.5/5.0 ★★★★☆
Price: Free
+ Pros
No sign-up needed
Free to use
Top 5 

  Writer AI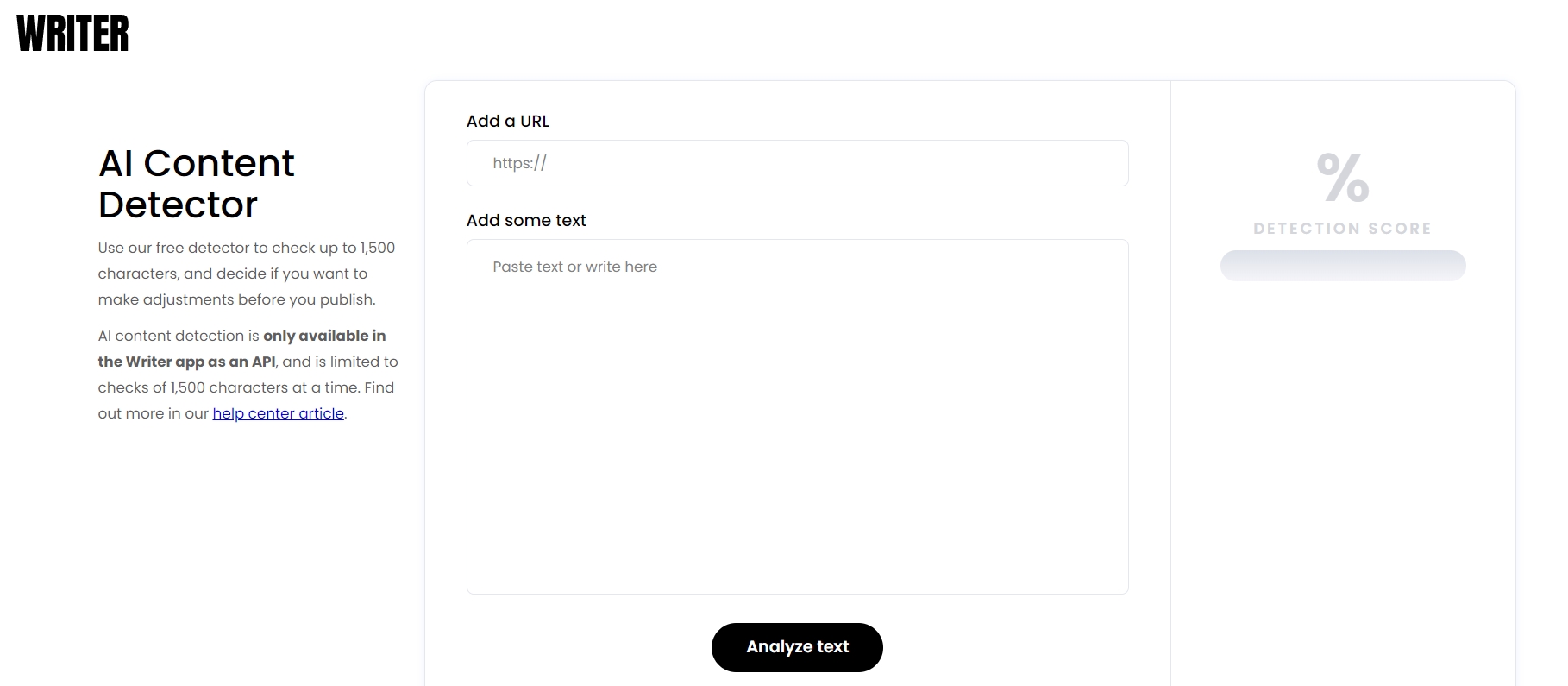 Writer AI's Interface

Writer AI content checker is one of the most popular AI detector tools. Writer is a powerful artificial intelligence writing platform that provides functions such as artificial intelligence content detection. It is an easy-to-use, one-stop AI detection tool that allows you to analyze your written content for AI imprints before publishing. Writer AI's content detection is only available as an API in the Writer app, and can only check 1,500 characters at a time.
Platform: Online
Overall rating:4.4/5.0 ★★★★☆
Price: Free
+ Pros
Easy to use
Decent accuracy
- Cons
Word limit
Function needs further improvement
Top 6 

   Sapling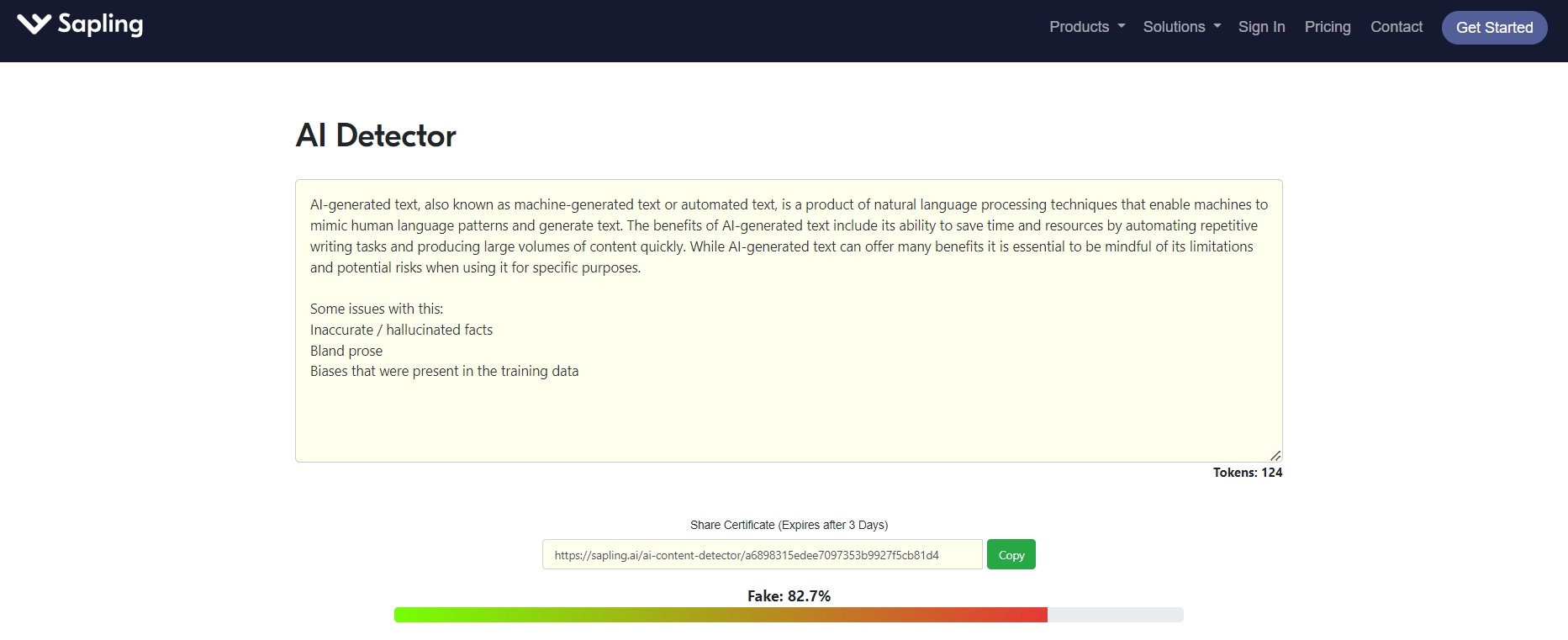 Sapling's Interface

Sapling AI content checker is a browser-based tool trained to capture GPT-3 and ChatGPT text. It was developed by former researchers from Google, Stanford University, and the University of California, Berkeley. This tool displays the percentage of likelihood that machine-generated text is present. It also indicates which specific phrases were written by machines. Sapling AI content checker outputs the probability that a text is AI-generated by a model such as ChatGPT or Bard. This can be helpful for educators, SEO practitioners, and reviewers of user-generated content.
Supported systems: Online, Chrome extension
Overall rating:4.4/5.0 ★★★★☆
Price: Free,  Pro:$25  / month, Custom
+ Pros
API available
No learning threshold
- Cons
Some integrations are limited 
Top 7 

  Crossplag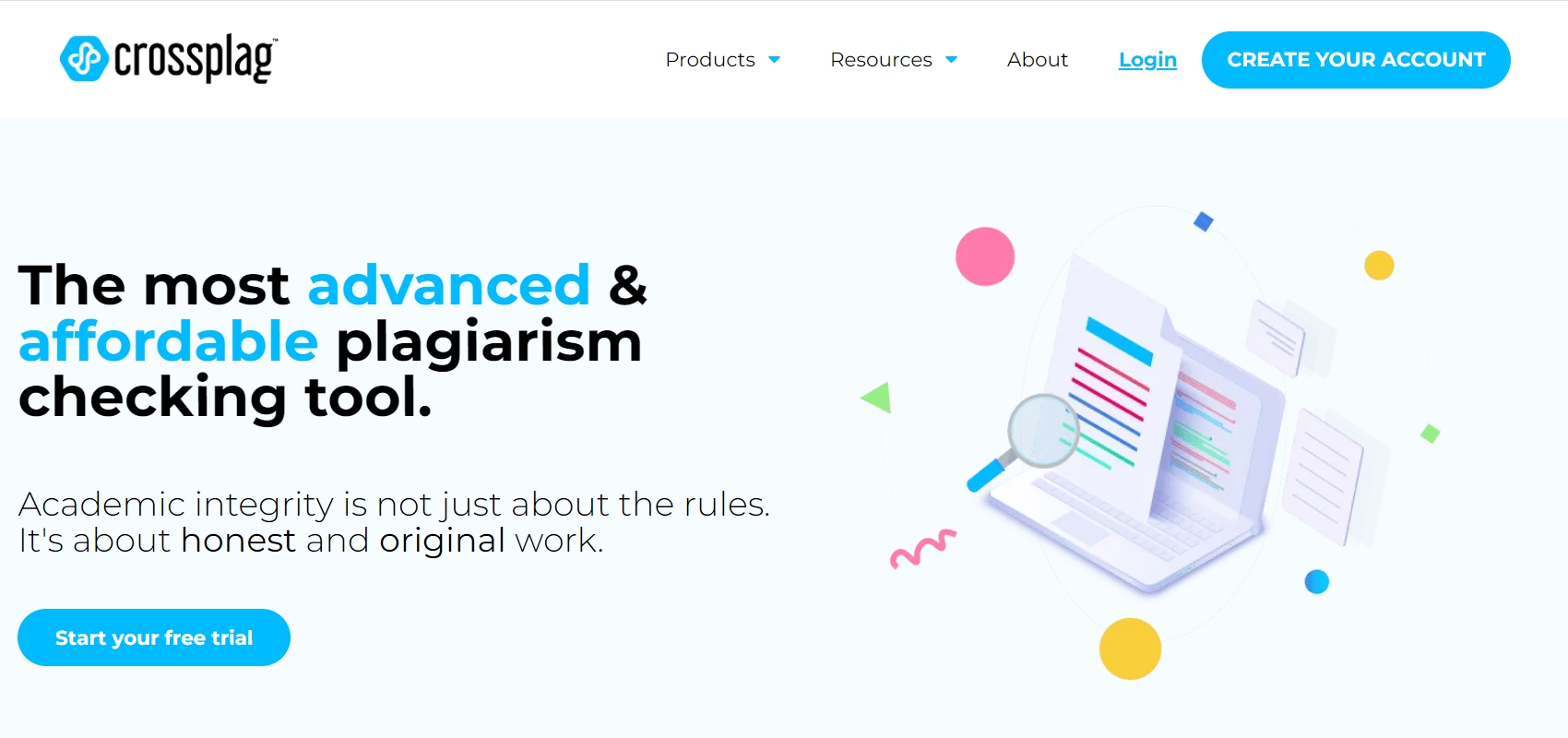 Crossplag's Homepage

Crossplag AI content checker is a revolutionary product that uses advanced machine learning and natural language processing to pinpoint the origin of any text. Crossplag AI content detector is one of the premier plagiarism checkers on the market, offering clear pricing, features, and partner options. Crossplag uses the RoBERTa model to determine whether your text is real or AI-generated. It is trained on the extensive OpenAI dataset containing over 1.5 billion parameters for highly accurate results.
Platform: Online
Overall rating:4.2/5.0 ★★★★☆
Price: 9.95€ / 5000 words / 50 credits
+ Pros
Cost-effective
Decent accuracy
- Cons
No option for scanning URLs or domains
Top8 

  Plagium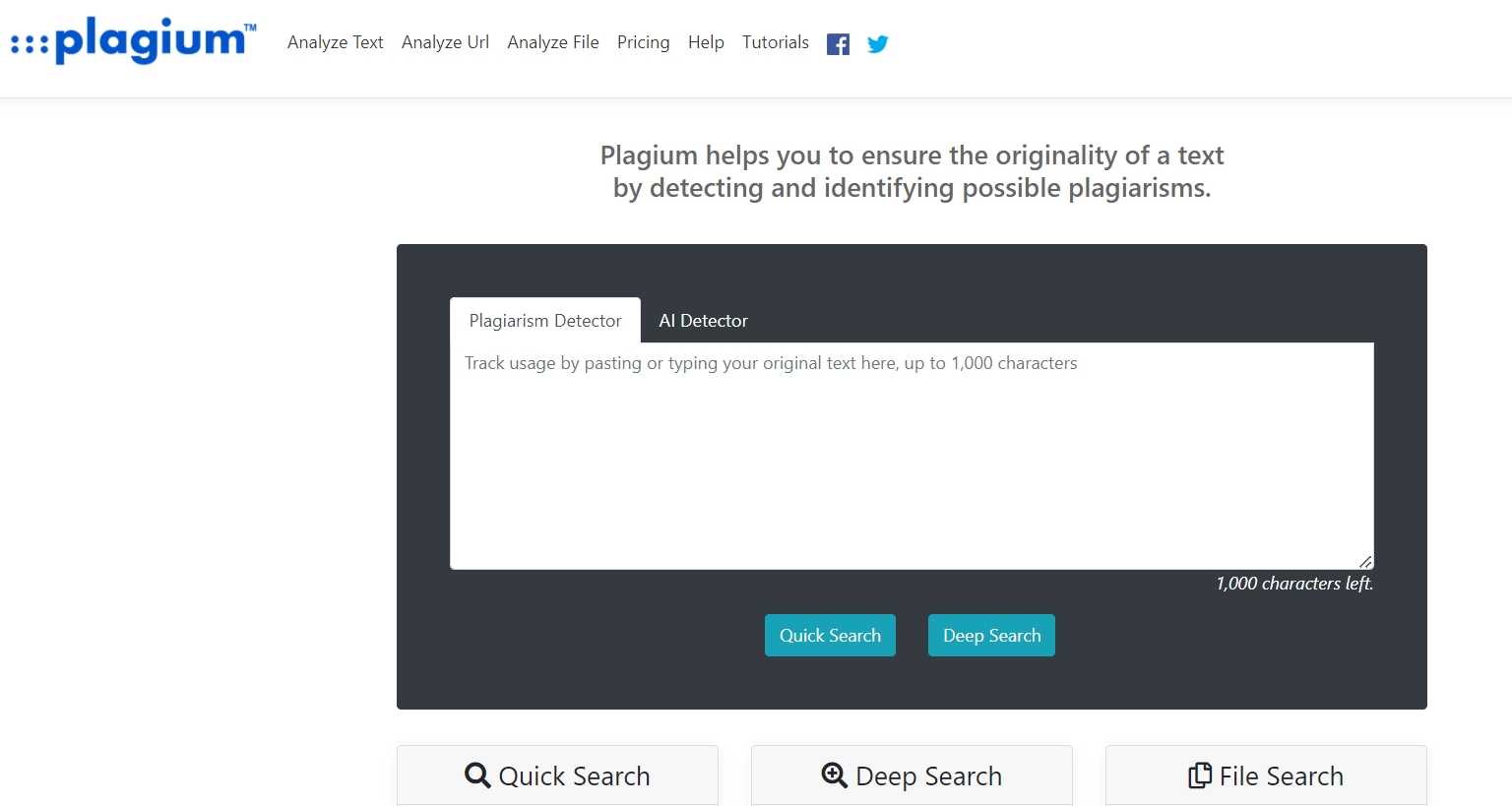 Plagium's Homepage
Plagium AI content checker is a very easy-to-use tool that allows you to check your text for plagiarism or possible sources. Plagium is a full-featured plagiarism checker software designed to serve startups, SMEs, and enterprises. Plagium AI content checker provides end-to-end solutions designed specifically for online. 
Platform: Online
Overall rating:4.3/5.0 ★★★★☆
Price: Charge by page with custom plans
+ Pros
Flexible payment plan
Neat UI design
- Cons
Function needs further improvement
How to Choose?
Product Name

Pricing

Outstanding

Features

Overall

Rating

Chrome

Extension

User-

Friendliness

Originality AI
Paid
High accuracy
4.8
Yes
Copyleaks
Paid
Ease of use API
4.7
YES
★★★★★
Winston AI
Freemium
4.7
NO
Free
4.5
NO
★★★★★
Free
4.4
NO
4.4
YES
Paid
4.2
NO
Paid
4.3
NO
How to choose the ideal AI content detector tool for you depends on your specific requirements and the features that are most important to you. To help you in this regard, after many experiments, we have selected some of the best AI content checkers and take into account their special features in the rest of this article.
You can also get a quick overview of the more useful AI-relevant tools from our Tools Directory. 
Editor's Picks and Suggestions
Best Free AI Content Detector
GPT Zero AI content checker is free to use and no sign-up is needed, which makes it highly accessible to teachers. It is the best free online detector so far. However, inevitably, free products do not have as many functions as subscription-based products.
Best Paid AI Content Detector
Originality AI is the best choice overall. It has complete functions, easy to use, and supports Google extension. The pricing is reasonable for a paid product of its type, given its powerful features. Originality AI content checker is suitable for people with professional needs and a sufficient budget.
Best Professional AI Content Detector
Copyleaks' API and LMS integration can simplify your AI and plagiarism detection through integration with different apps, websites, and learning management systems. What's more, it claims that human-written content is mislabeled as AI-generated with a false positive rate of just 0.2%, the lowest of any AI content detection platform.
Best User-friendly AI Content Detector
Winston is the only AI content checker that uses OCR (Optical Character Recognition) technology. You can easily extract text from scanned documents or pictures, even handwritten ones. This means no one can trick you by sending you a PDF file of an article and hiding the fact that artificial intelligence wrote it. This is a very user-friendly feature.
Final Words
Recently, models such as ChatGPT, GPT-4, Bing Chat, and Google Bard have led to the rise of machine-generated content. This synthetic content is increasingly indistinguishable from content written by humans. Despite rapid progress, these models still have flaws, such as hallucinating facts and leading to consequences such as cheating on language courses.
If you want to know if Google is classifying your text as low quality, or you want to make sure your author is doing the required work or see that your content isn't plagiarized from someone else's, these AI content detectors mentioned can help you. 
If you need a free AI content checker, then GPT Zero and Writer AI are good for you, but only basic features are available. If you want a more fully-featured paid product, then Originality AI and Copyleaks are highly recommended.
FAQs
1.  Is there an AI detector for ChatGPT?
Most AI content detectors and checkers are specifically designed to catch outputs from ChatGPT.
 2.  How do AI content detectors work?
AI content checkers typically use language models to evaluate input text, asking whether it is similar to the type of text it will generate.
You can find many more amazing AI application reviews at TopTen.AI.