In this review, we take a look at Clipchamp, an online video editor that offers basic and advanced editing features while being highly accessible.
Visuals are one of the most important parts of content that you post online for your projects. Naturally, video editing plays a big part in all of it. With an increasing need for quick video editing, it is only logical to look for an online, responsive video editing tool that can provide results quickly. This is where Clipchamp can offer immense value to both professionals and casual users.
With Clip champ, you can create high quality videos without needing to download intense software apps or spend a lot of money.
What is Clipchamp Video Editor?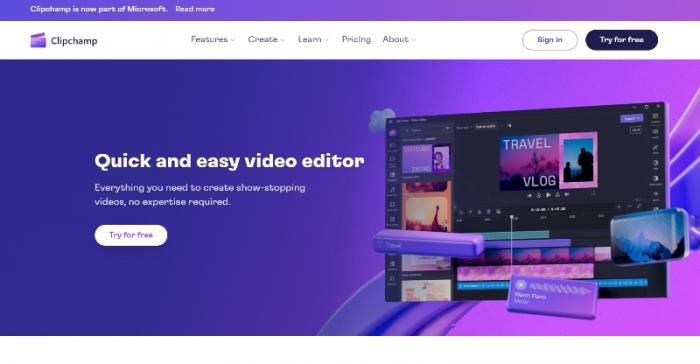 Clipchamp stands out in the crowded field of video editing apps as a versatile online platform that offers unique advantages over traditional software-based video editing applications. What is Clipchamp offering? Accessibility, ease of use, and more. Clipchamp video editor is entirely web-based, eliminating the need for time-consuming downloads and resource-intensive installations.
Clipchamp hosts a user-friendly interface that caters to both professional and casual users. Its basic features include video trimming, editing, adding outside elements like fonts, and applying a variety of filters and effects, making it an ideal choice for a wide range of users.
With such quick access, users can first test out their YouTube channel ideas through Clipchamp.
Now you can get a quick overview of the various tools in use from our Tools Directory.
Overview of Clipchamp Video Editor
Price: Clipchamp video editor's free trial is plentiful, allowing exports of 1080p quality. Users looking for 4K exports and other exclusive features can purchase the monthly plan priced at $11.99 per month. The yearly plan should be around $99.
Platform: Clipchamp can be used on browsers. It also has a mobile application on iOS devices.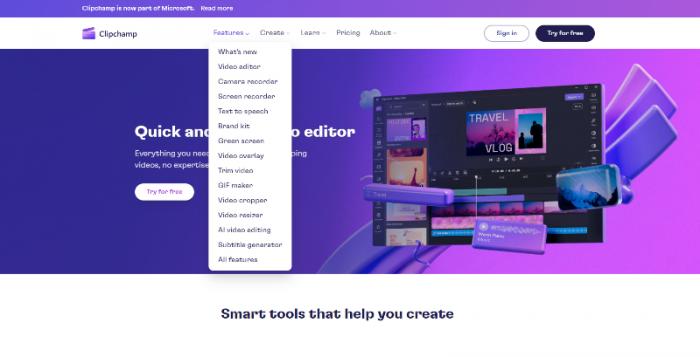 Clipchamp provides many tools for video editing, offering features like basic editing, trimming, adding transitions, high quality export, and more. However, its versatility truly shines through its additional functionalities.
The GIF Maker, for example, empowers users to effortlessly create captivating GIFs from video clips, while the Clipchamp Screen Recorder simplifies the process of capturing on-screen content, a valuable asset for tutorials and presentations. For those needing subtitles, Clipchamp's Subtitle Generator streamlines the often intricate task of adding captions to videos.
Let's take a look at some of the most useful features of Clipchamp video editor.
Video Editor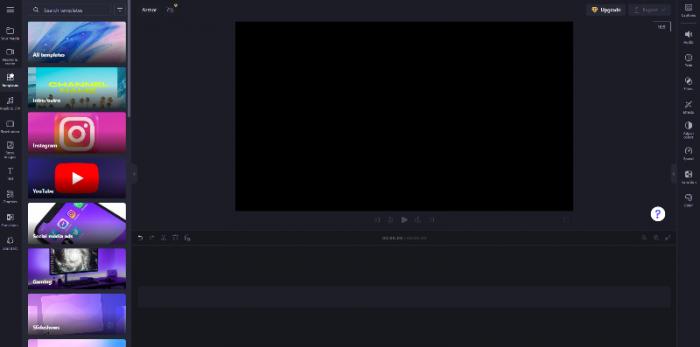 At the heart of Clipchamp is its powerful video editing suite, which allows users to merge, cut, and edit videos creatively using all kinds of effects and transitions. Not to mention that users can get a headstart with really good templates provided by Clipchamp. This intuitive editor is accessible directly from your web browser, eliminating the need for resource-intensive downloads and installations.
Text-to-Speech Feature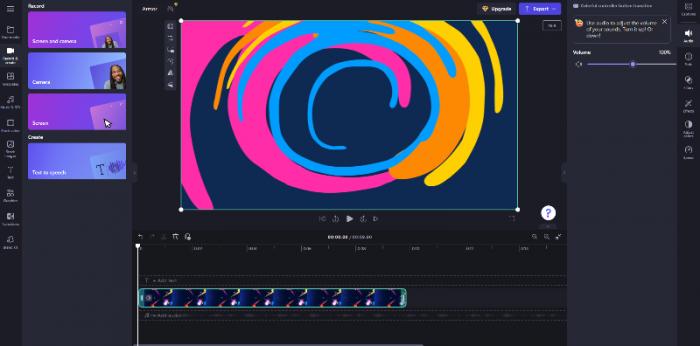 Clipchamp Text to Speech feature is a standout tool that leverages AI technology to generate lifelike, AI-powered voices for your videos. So if you're a content creator wondering, 'how to get voice effect on tik tok using clipchamp?', then this feature is your answer. This not only saves time and effort in voiceovers but also ensures consistent and professional audio narration. This guide on adding Tiktok voice filters using Clipchamp explains everything easily.
Screen Recorder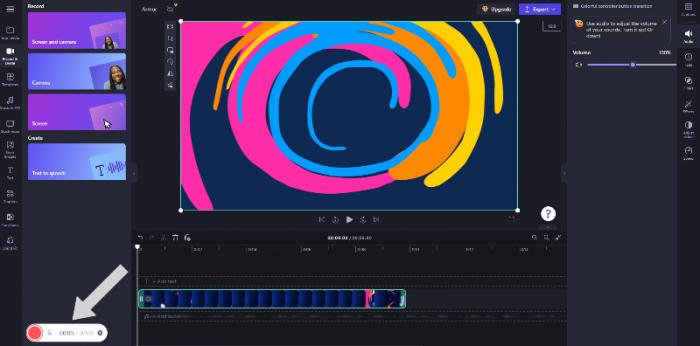 The Screen Recorder tool simplifies the process of capturing on-screen content, making it an excellent resource for creating tutorials, demos, and presentations. It's a handy feature for educators, content creators, and users who need to convey information effectively. The screen recording icon is small and does not obstruct the background. Moreover, the inclusion of Clipchamp Screen Recorder in the app saves time since there's no need for a separate screen recorder.
Green Screen Editor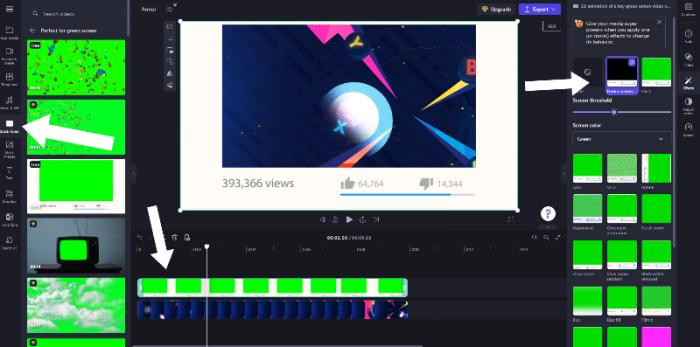 For users who are looking for some advanced video editing, the Clipchamp green screen editor is an invaluable tool. It allows users to replace green screen backgrounds with any image or video, opening up creative possibilities for impressive visuals and content.
Video Resizer
Clipchamp's Video Resizer ensures that your content is optimized for various platforms and devices. This feature lets you effortlessly resize videos to fit the dimensions required for social media, websites, or specific screens, ensuring your content looks its best everywhere it's viewed.
After using the features that Clipchamp has to offer, it is safe to say that Clipchamp is one of the finest online video editors one could use. The platform gets most things right. It costs way less than many video editing software applications, yet offers tremendous value. Users can easily do basic video editing and also try out creative tools such as green screens, templates, effects, and more.
| | |
| --- | --- |
| Pros | Cons |
| Packs a lot of features even in the free edition. | Can offer better stock photos. |
| Smooth performance. | Text-to-speech voice style can be limiting if you use an English voice outside the US and UK. |
| Modern-looking and clean UI design. |   |
Clipchamp VS Invideo VS Wevideo
Quick and easy video editing is the way to go. This table compares a few popular video editing tools with Clipchamp. The tools selected are: Clipchamp, Wevideo, and InVideo. All of these apps are available online and this table may help users in deciding which app to go for. Users looking for a few AI features should check out Clipchamp and InVideo. Wevideo is more suitable for those who just want to create something simple very quickly.
Product

Clipchamp

Wevideo

InVideo

Quality of Features

Excellent and plentiful features.

⭐⭐⭐⭐

Simplistic and moderate.

⭐⭐

Good features.

⭐⭐⭐

Value for Money

Extremely valuable.

⭐⭐⭐⭐

Average.

⭐⭐

Good enough.

⭐⭐⭐

Speed

Fast and responsive.

⭐⭐⭐⭐

Pretty quick.

⭐⭐⭐⭐

Satisfactory.

⭐⭐⭐
Conclusion
Clipchamp is a highly impressive video editor app that successfully nails the fundamentals while elevating the editing experience with a host of advanced features. Its responsive web-based platform ensures a seamless editing journey, with a user interface that is intuitive and efficient. Offering basic video editing features like merging, adding text, and music, as well as smooth exporting of videos, Clipchamp caters to users' essential needs effortlessly.
Advanced editing and video features like green screen editing, the remarkable text-to-speech capabilities, and the convenient screen recording tool expand the horizons of what can be achieved within an online video editing platform. While there may be room for further refinement in a feature or two, the fact that users can access this comprehensive toolkit and more for just $11.99 per month is a testament to its exceptional value. You can check out this list of tools that offer many video effects, if you're looking for similar apps as Clip champ.
FAQs
How to get voice effect on Tik Tok using Clipchamp?
The Clipchamp text to speech feature is useful here.
Step 1: Use this link to access Clipchamp. Sign in and get to editor mode.
Step 2: Upload a video clip and select the "Record & Create" option on the left side tool bar. Click on Text to Speech and generate a voice.
Step 3: The voice clip will be added to "Your Media" on the tool bar. Drag it to the timeline to utilize it.
How to use clipchamp to add music to Instagram stories?
The steps here will be similar to the Tiktok voice effect, except, we will add music instead of a voice clip. In order to do that:
Go to the "Music & SFX" tab, and use any music that you want. For premium users, all music clips are ready for use.
Otherwise, you can simply upload a music file if you have the clearance to use it. Drop it to the timeline and it will be added.