If you have any interest in podcast video making, then you can use descript overdub to make podcast videos of yourself in which you don't have to physically speak. The ultra-realistic voice cloning using Descript Overdub creates a perfect clone of your voice, just like a natural reader. Now make podcast videos without any issues or wasting time editing.
What is Descript Overdub?
Descript overdub is a text-to-speech converter that allows you to convert any kind of text into speeches of high quality. You can make videos based on your voice or any AI voice within seconds. Just provide the requirements text and make speeches based on any kind of voice you like in no time.
What is Ultra Realistic voice cloning?
Ultra-realistic voice cloning means you can create videos based on your voice. You can convert any kind of text into speech with the help of your voice which you are not needed. You don't have to speak the whole text. Just provide your voice to the tool and create ultra-realistic voice cloning of yourself in seconds. A voice that resembles the features of your voice exactly the way that feels as if you are speaking.
Descript Overdub Review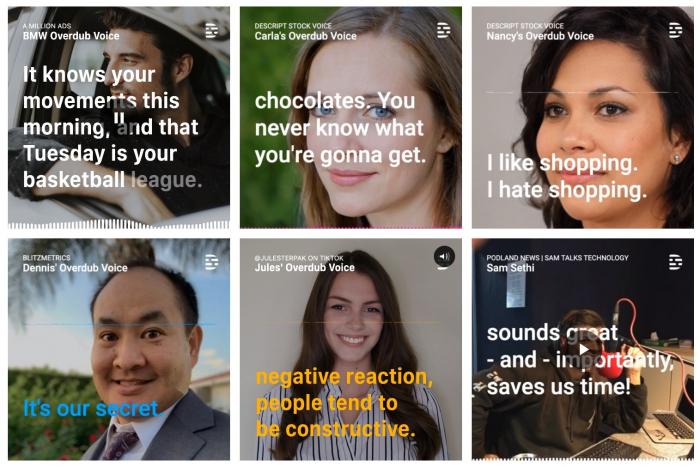 Descript is just like other podcast makers that allows you to make videos and also properly record your voices. Like other podcast apps, it offers a simple and easy way to start. The recording and editing features of descript are destructive and unique. The transcription of it occurs at the recording stage, which is a bit perfect for enough speaking users. This is a podcast maker app that has just recently blown the mind of podcast makers when they reviewed its features properly. The descript transcription and descript overdub features are the ones that make this tool famous among podcast-making studios and people. Overdub is basically a library of pre-recorded voices that helps those who cannot speak physically, but still have a lot of interest in making podcasts. 
Some well-known tools used for a podcast do not provide any kind of free trial, or they provide a trial but still require some amount, even if it's a little bit. But descript has a 7-day free trial that lets you enjoy all the higher features provided to pros, such as Overdub, and making custom audiograms. All it requires is a simple sign-in, download, and install the software on your device and start recording without any issue. The descript also provides a proper tutorial you might want to try before you start on it. The recording environment provided by this tool gives vibes of google docs and a white garage band. If you properly watch the tutorial about its usage, then you will know what blank canvas means. Here are some features of it that are explained with comprehensive details. View our full list of Top 12 Best Deepfake Voice Software
Additional Information
The transcription feature of descript makes it unique, as the owner of the platform claims that nobody transcribes like it. Now you won't have to put any kind of effort while transcribing your videos with this tool as it allows automated transcription. The accuracy is properly maintained while you are transcribing your videos with a near-instant turnaround, and the cost is also low. You can add speaker labels in seconds with the help of powerful AI technology of descript.
Not just a video editing app, but it is also a social media editor, as videos are commonly uploaded on social media by people. You can easily edit your podcast videos in no time, and use them for your social media platforms. Users can add audio or video content by drag and drop feature and let the AI handle the transcription of their video. You can add captions, images, waveforms, and animations to look professional for your social media videos.
Descript Overdub
The most famous feature of this tool is overdub which adds more power to this tool. You can create ultra-realistic voice cloning with overdub in no time. It lets you generate text to speech model of your voice and select the one from ultra-realistic cloning stock voices for your video. Clone your voice only, and you can make changes in the mid sentences, overdub matches the characteristics of both sides, and get yourself multips voices to fit any performance. Here are some features of descript overdub to give you an idea about what it can do.
Features 
It uses Lyrebird AI to achieve perfect and ultra-realistic voice cloning. 

There are about 22 languages. 

It allows you to easily and quickly edit your video and audio. 

It is available in the application form.

It just like a natural reader.
Pros
Descript allows audio editing with accuracy.

You can edit your video comfortably.

Ultra-realistic voice cloning.
Cons
You cannot operate multip projects and files.

It does not have the ability to duplicate image and text overlays.

Does not allows the application of custom templates branding overlays.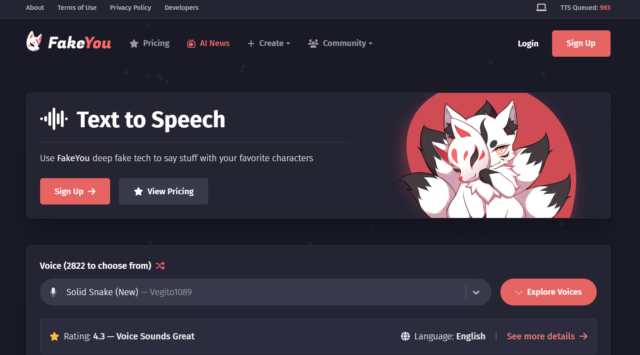 Features
Limited languages. 

Clone your own voice that is deep fake versions.

Only available online.

It takes some time to edit your video ad audio.
Pros
It improves the quality of voices with each update.

Extensive library of 2400 quality voices.

It converts text to speak freely.
Cons
It does not allow any recording at the moment.

It takes a lot of time for text-to-speech conversion. 

It only supports TTS.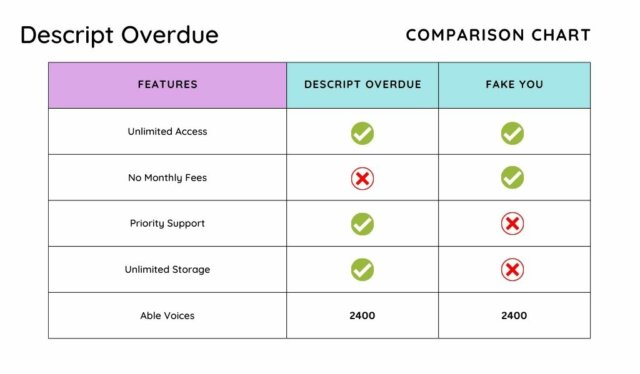 How to convert Text to Speech with Overdub?
If you want to know how you can convert text to speech with an overdub. Here are some steps you can follow to properly operate descript overdub easily without any kind of issue.
Step 1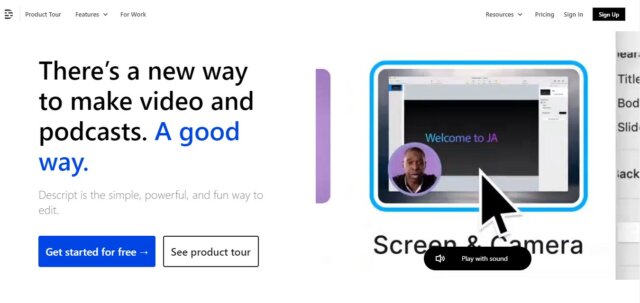 First of all, you will have to open the webpage of overdub on your browser. You can open the official page: Descript. Then click the features option given on top and select the overdub features from the available options.
Step 2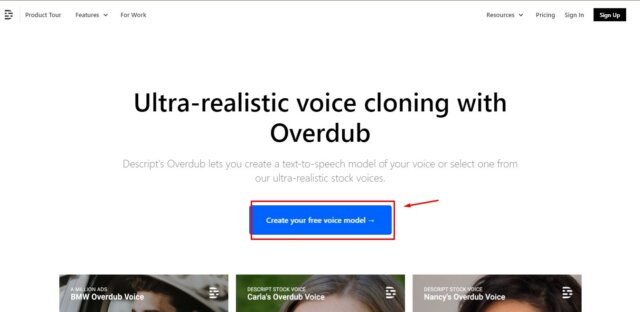 When you have opened the descript overdub feature of the platform, you will have to click on create your free voice model option in the center of your screen. If you want to watch some tutorials, scroll down and watch the videos on the page. You will have to sign in, and the download will be started.
Step 3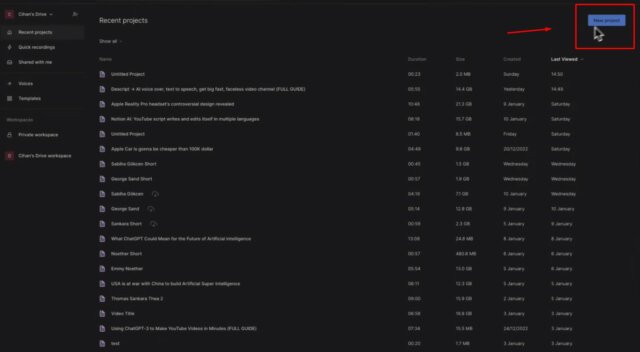 First of all, click on the new project to start your project on descript overdub.
Step 4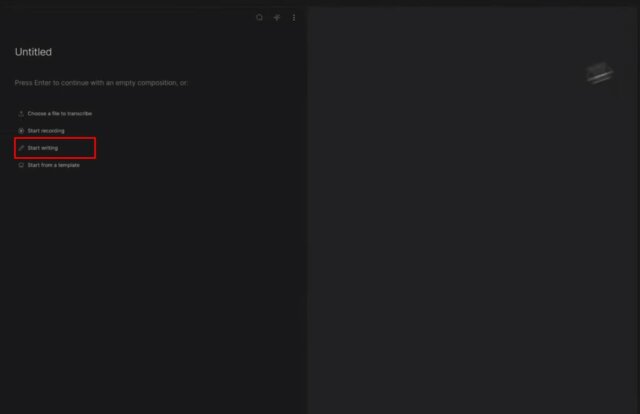 When you have clicked on the new project, a blank page will be displayed in front of you, and on the left side of the screen, various options will be displayed. Click on start writing to begin your work.
Step 5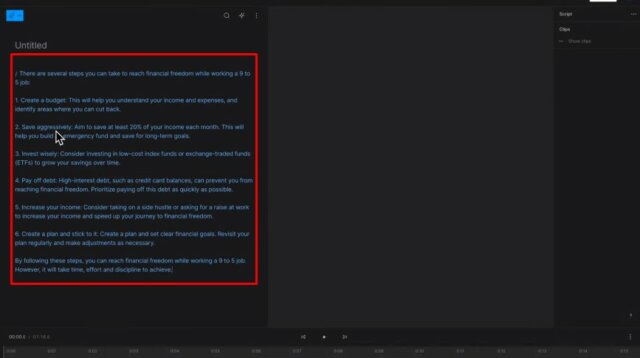 Then paste the text that you want to be spoken in AI voice. You can type any kind of text you like. Copy and paste it or write your content under the untitled option.
Step 6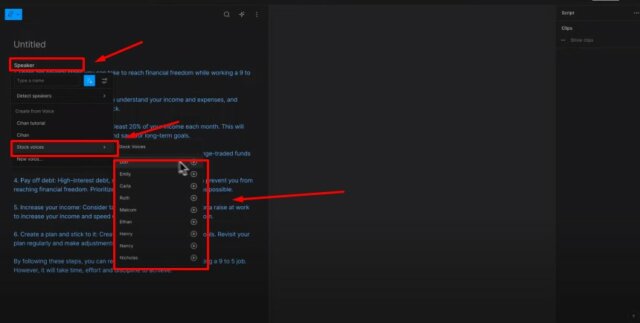 After you have provided your required text to the platform, you will have to click on the speaker option. Then click on select voices and find yourself ultra-realistic cloned voices of AI. Before selecting the voices, you can choose to play them to have an idea of what it sounds like. After selecting them, your text will be accurately converted into speech in no time.
Who is Descript Overdub good for?
Descript overdub is good for users interested in podcast making and who want to create unique podcast sounds with realistic text to speech tools for their videos. Not just podcast YouTubers can also use these voices from their videos and upload them online to create some entertaining content.
Conclusion
Descript is well known for podcast making as it is a podcast-making platform. It saves podcast makers from wasting a lot of time required for video and audio editing. The editing features are user-friendly and easily accessible. That is why podcast makers can focus more on their content, as they don't have to face any kind of editing issue. There are some powerful video editors, and some are simple video editors, but descript offers both to its users. It allows you to build podcast videos from scratch with the help of AI. 
Descript also provides a screen recording feature that makes your videos look and sound perfect. It provides the fastest and easiest way to edit and share your screen recording with other platforms.
You can get an instant transcript of your screen recording that you can use to edit your video recording. Choose the required size of your webcam and capture the part of the screen you want in high-quality resolution. There is no waste of time as you can quickly publish and get a link for sharing. You can perform multi-track recording also with the help of descript. If you want to make unique and content videos for your social media or any other platform where you want to represent yourself, then this tool is best for you.