If you want to read something but you are properly able to read it, then you need to use text to speech converter. Talking about text-to-speech, Murf might be one of the best tools that can fulfill your requirement properly. Just copy and paste to hear sound in many voices and languages of your own choice. You will be able to clearly understand what is written in text form without any manual effort. A simple copy and paste can get the job done.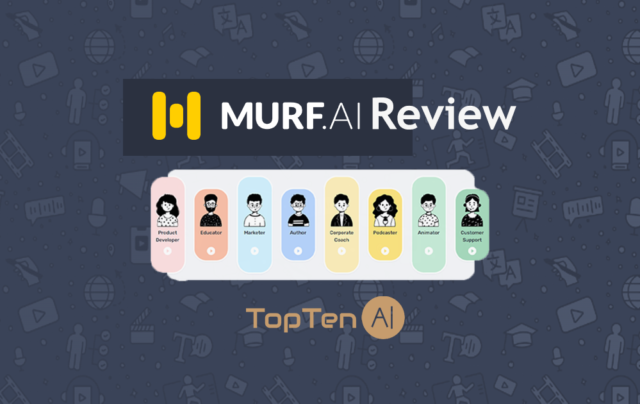 What is Murf?
Murf is a tool that allows you to convert text into speech without any effort. Type any kind of speech you like in the form of text on the platform and convert it. Not only does it provide certain text-to-speech conversion, but you can also adjust the voice-overs properly with adjustment features. You can adjust the pitch of the sound, the volume of the sound can be customized, and the speed of the sound can be managed. You can modify your sound by using a voice changer that changes your voice into something else.
Murf Review
Murf is one of the best AI voice generators you can find. If you want to know how to convert text to speech, then you can use Murf and get proper knowledge within no time. The next text-to-speech tool that instantly converts any form of text into speech in a few seconds. There might be a chance that you have seen some posts on social media that feature text-to-speech. You can easily identify those voices as they feel like they are robotic voices, not of some real human being. Those videos can be used for personal use but not for professional platforms. Now, this is where Murf changes everything you see on social media. Murf is a powerful AI program that creates ultra-realistic AI voices that, if they are tuned correctly, sound like they are voices identical to real human speech.
Murf is used for AI voice generation that converts text into speech. If you have any form of text that you cannot read properly, then you can use this tool to read and hear anything in the form of text converted into speech. You can create realistic voiceovers with Murf of any narration or text you like in just a few minutes. The library of Murf voices is enrolled with more than 120 realistic AI voices. Murf works as a natural reader, just like a normal human reading text loudly. Some people might have language problems, so Murf provides more than 20 exceptional languages to help understand the text properly for different people.
Main Features of Murf
Murf, the natural reader, provides high-quality voiceovers that are easily hearable without any issues. It doesn't sound like those robotic voices that you can find online on youtube. It feels like a natural reader that generates natural-sounding voices for you with proper adjustment features so you can adjust the tune of the sound according to your requirement. The best text-to-speech generator that helps you create videos for your social media platforms such as youtube, Instagram, or Facebook. It is good for making marketing videos where you have to tell details about your project or business to your audience properly. Here are some features of the Murf that you will love.
Although Murf has many features that are beneficial for generating AI voice, what makes it unique are its advanced functions, which are given below.
Controlling Pitch
Murf provides the voices that you need. You can easily control the pitch of your voices with certain adjustments to make them according to you. The voice pitch options give you the authority you can control the depth of your pitch programmed in your content. The default pitch that you get after choosing an AI voice is set to 1x, but if you want, you can make a deeper voice and reduce its value below 1. If you want to create high pitch voices that sound like a female, then you can increase the value of pitch.
Volume and speed adjustment
Just like the pitch control feature that allows you to control the pitch of your voice. You can also control the volume and speed of your AI voice with Murf adjustment features. The volume and speed adjustment feature is provided close to each other so you can easily adjust the voices properly.
Teach Murf
By selecting the required word for your videos, you can teach Murf how to convert text to speech that is suitable for you. To perfectly enunciate, you can select certain words and teach Murf. All you have to do is simply click on the pronunciation tab and select the word you like to customize.
Emphasise words
Suppose your voiceover is not that appealing when you hear it or play it for your video. If you want to make your voiceover sound interesting, you can use emphasize, a feature that adds extra force to syllables, words, and phrases.
Pause your voice
To grab your audience's attention, you can pause your voice within the video to make it more appealing. You can pause your required lengths by using the pause features of Murf. A proper pause within a voice is necessary so the person who is hearing that voice can understand things better.
Pros
You can save time along with money by using this natural reader. 

Easily edit your voices without any effort; all you have to do is cut, copy and paste voices. 

You can create voiceovers for your brand to deal with customers. 

Connect with people globally by using 20 plus languages provided by Murf.
Cons
It may be too expensive as a tool for some people.
How to convert Text to Speech with Murf?
Suppose you want to know how to convert text to speech with the help of Murf. Then there is a proper guideline given below with details about the tool usage. Follow each step, and you will get an idea about how to convert text to speech.
Step 1
First of all, open the official platform of Murf AI on your browser. You can also open it directly by clicking on the link Murf.
Step 2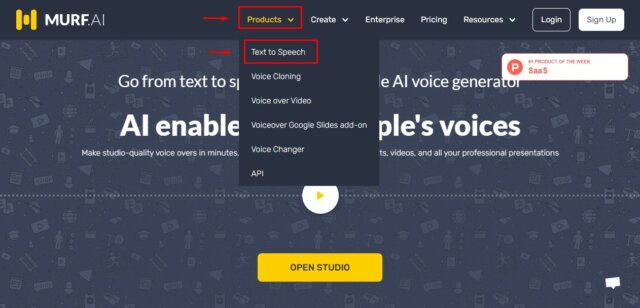 After opening the platform on the top left of the page, you will find an option for products. Click on it and then select text to speech to start your work.
Step 3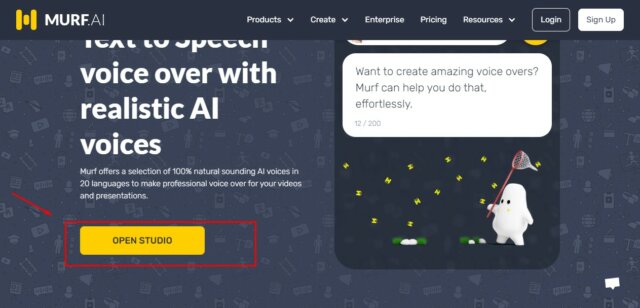 After opening the text-to-speech converter, you have to click on open studio. Click on the yellow option in which open studio is written.
Step 4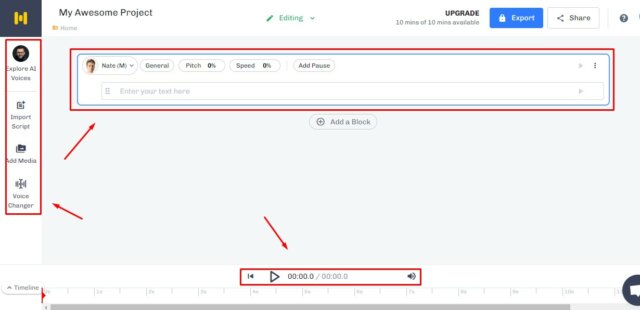 After a normal sign-in requiring no payment, you will open your own studio with proper tools. You can type the text you want to be converted into speech easily. You can explore more AI voices from the left tab option. Import script, add media, or voice changer. If you want to adjust the details of your voice, then you can pause or adjust the video voices with the options below.
What Does Murf Pro Offer?
The Murf Pro offers many features; the details of what it offers are given below. Here is a list of details about what Murf Pro Offers. 
You can have unlimited Downloads.

Get access to all 120+ voices.

Enjoy all 20+ Languages & Accents.

Get yourself 48 hours of voice generation per user/year.

A proper 24 hours of transcription per user/year.

It provides a collaborative Workspace.

A perfect AI Voice Changer.

Get Commercial Usage Rights.

Entertain yourself with 8000+ licensed soundtracks.

Get High Priority Support.
Final Words
If you want to start a separate platform where you cannot properly talk with everyone simultaneously, you can use AI voiceovers to easily provide customer support to your audience. Even if you're not even there, you can adjust the voiceovers so people can get information about the products in the form of voices.
FAQs
How to Do Text to Speech on TikTok?
Open the TikTok application, choose the required voiceovers, type the words you need, and add them to your videos. After that, you can upload them to TikTok; many people use AI voiceovers for their videos on TikTok.
Murf is good for those who need voiceover assistance in their work, especially those who are running a huge business and cannot always deal with their customers. They can provide 24/7 customer support with AI voiceover of their customer complaints.
Also read: Synthesia Review: How To Create Videos From Plain Text In Minutes