The AI Painting Generator has revolutionized the art creation process, solving the problem of time-consuming and uninspired paintings. These products will be reviewed in detail and comprehensively in this article so that you can make the best choice.
Are you tired of spending hours on end painting? Do you struggle to create art that is truly unique and expressive? If so, you're not alone. Many artists face these challenges on a daily basis, struggling to find the time and inspiration to create something truly special. The problem of limited artistic ability or time-consuming creative processes can now be solved with the help of the AI painting generator.
These tools enable users to create unique pieces of oil paintings using AI without extensive training or expertise. In this article, we'll explore the concept of AI painting generators and how they work. Additionally, we'll take a closer look at some of the 15 best AI painting generators currently available on the market.
Apart from generating oil paintings, you can also find other tools to turn a photo into cartoon here.
Top 15 AI Painting Generators Review (July 2023)
AI Painting Generators can bring you back to the Renaissance era easily. There are a variety of tools available.
Note: As professional AI enthusiasts, we've had the pleasure of trying out various painting generators. Our ratings are based on our personal experience with each product, as well as objective metrics such as ease of use, quality of output, and level of customization.
| | | | | |
| --- | --- | --- | --- | --- |
| Product Name | Speed | Output Quality | Free/Paid | Suitable For Who |
| | ★★★☆☆ | ★★★★☆ | Freemium | Digital artists or hobbyists |
| | ★★★★☆ | ★★★★★ | Free | Anime/manga enthusiasts |
| | ★★★★☆ | ★★★★☆ | Freemium | Beginners, Casual |
| | ★★★★☆ | ★★★★☆ | Paid | Digital artists or hobbyists |
| | ★★★★★ | ★★★★☆ | Paid | Photographers, digital artists |
| | ★★★☆☆ | ★★★★★ | Freemium | Digital artists or hobbyists |
| | ★★★★☆ | ★★★★☆ | Free | Artists, designers, photographers |
| | ★★★☆☆ | ★★★★★ | Freemium | Digital artists or hobbyists, Marketing professionals |
| | ★★★★☆ | ★★★☆☆ | Paid | Gamers, game developers |
| | ★★★☆☆ | ★★★★☆ | Freemium | Casual users, social media enthusiasts |
| | ★★★★★ | ★★★★★ | Paid | Digital artists or hobbyists |
| | ★★★☆☆ | ★★★★☆ | Freemium | Casual users, social media enthusiasts |
| | ★★★★☆ | ★★★★☆ | Free | Artists |
| | ★★★☆☆ | ★★★★★ | Freemium | Digital artists or hobbyists |
| | ★★★★☆ | ★★★☆☆ | Free | Quick and easy art generation, for social posts and memes. |
1. VanceAI Art Generator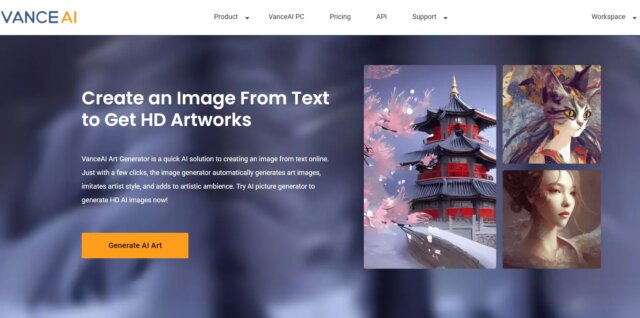 An online painting generator called VanceAI Art Generator is in the first place. It is the best Renaissance art AI generator of the tools in the list. It can quickly produce amazing art-related images. You can try this AI painting generator online.
All you have to do is type in some language linked to a concept to instantly create an artwork. With just a little typing, it produces original AI-generated art. You can search for "monkey" to see a variety of photographs that include a monkey. To produce accurate findings, VanceAI has tested its AI capabilities on millions of web photographs.
Before you generated a painting with the AI art generator, you can choose the image type, including oil painting, matte painting etc. And you can also choose an image style, like concept art and cyberpunk. It also provides options of artist style, like Van Gogh, Paul Cezanne and Monet. Undoubtedly, you can always get most desired effect you want. However, this image generator is not for free.

A Sample of Ghibli Style Painting from Text
Pros
Share on different platforms
Diverse styles to choose from
Cons
Besides, VanceAI provides you other generative tools like VansPotrait to convert photo to pencil sketch online free from your photos, and Toongineer Cartoonizer to generate cartoon images.
2. AI Gahaku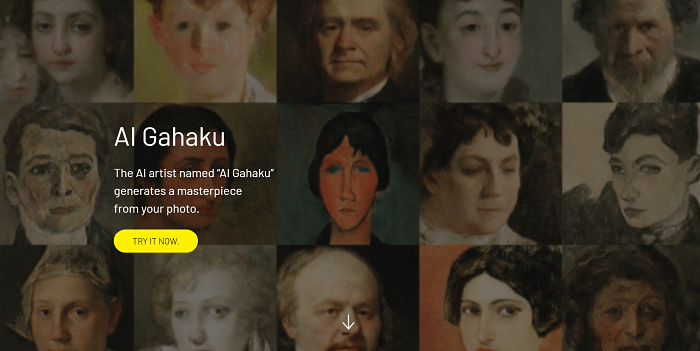 AI Gahaku is another online AI-powered painting generator. As an AI painting maker, AI Gahaku is going viral across many sharing platforms. This new tool allows you to get an impressive AI- generated painting in seconds.
It's easy to get started. Just select a photo from your own library and wait a few seconds before AI Gahaku observes your facial features and draw a picture for you. Then, you can access at least 20 different painting styles. Click on a style of your choice and you will see this an impressive self-portrait within seconds.
What's also great about this AI Artist is that it allows you to share your portrait directly on Twitter, Facebook, Weibo, or WhatsApp. But when you select a landscape style for your portrait, you'll get some strange results. Additionally, it can only convert photos to oil paintings and can not generate pictures from text.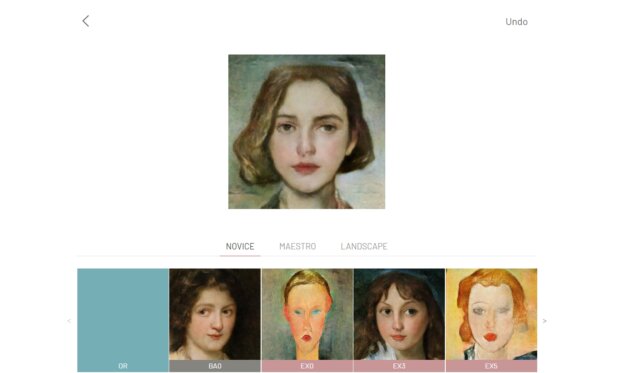 A Sample of Portrait Oil Painting 
Pros
Free to use
Share on different platforms
No need to register
Cons
Limited styles to choose from
Besides, for the reason of nowadys technology limitations, some AI-generated images are of low quality. As for generated images' resolution of DALL.E may not satisfying for all of the people who value image quality, VanceAI Image Upscaler is necessary for this situation.
Note: VanceAI Image Upscaler only offers AI upscaling service and does not offer any creative generation.
Check out more about AI Gahaku in the video below.
3. Hotpot.ai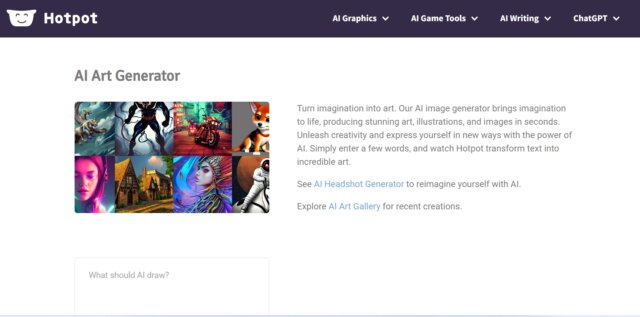 Hotpot.ai offers an AI oil painting generator that can help you get stunning digital oil paintings in various styles.
It has 8 painting styles and other 100+ custom styles and color palettes, you can create a truly personalized piece of art that reflects your individual style. If you want high-quality AI created images, this tool can be your first choice.
With this tool, you no longer have to spend hours painting or pay high prices for commissioned artwork. Instead, you can turn any photo into a beautiful painting with just a few clicks. Hotpot.ai is suitable for anyone looking to create personal artwork and share it on social media platforms quickly and easily. You can use this AI painting generator free for common use. But for commercial use and faster generating speed, you have to pay for the Premium plan.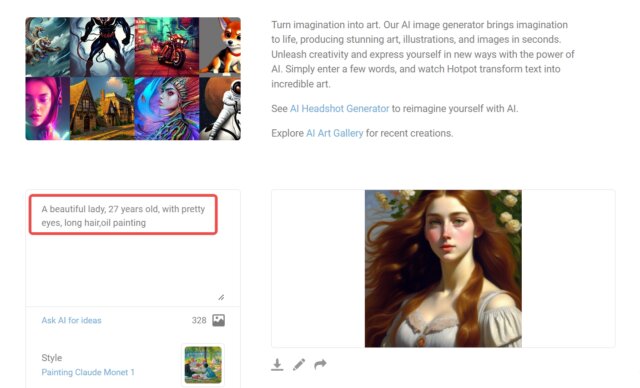 A Sample of Generated Painting from Text
Pros
Customize your styles
intuitive interface
easy to use
Cons
Less efficient
Not stable, occasionally fail to receive an email for image download as promised
4. Deep Dream Generator

Deep dream generator is a creative AI text to art tool that lets you create impressive paintings. With this AI-enabled tool, you can change your photos to cool paintings in different styles. Deep dream generator comes with dozens of styles, such as Van Gogh, Leonardo da Vinci, E. Munch, and Mosaic.
This online AI painting generator provides some powerful features like an app and software. It allows you to enhance the image, adjust resolution, depth, and more. These settings can help you produce higher quality output.
Apart from creating your own paintings, you can also view the AI-generated paintings created by other users from this website. All your artworks are kept private as default. But you can choose to make it public. One thing to mention, to begin generating amazing images, you must purchase a one-time energy pack or subscribe to one of our monthly plans.

Samples of Generated Painting from Text
Pros
Dozens of styles to choose from
More editing features
Download generated paintings from this website directly, instead of from email
Cons
Only after payment can you use it
Show ads
Registration required
5. Nightcafe
The NightCafe is an Renaissance Art AI Generator app available for free online. To enjoy the service, you need to log in with Facebook or Google account.
You can use NightCafe Creator to generate as many artworks as you like for free. You can choose styles such as Starry Night, Basquiat, the Landscape at Collioure, Mulberry Tree, doodle, and more. This AI painting generator also provides various AI models, including the popular Stable Diffusion and Dall E-2.
If you are a lover of oil painting, this platform can get you high quality AI generated oil paintings. However, you can only get your creations printed after you pay for them. And sometimes it takes several minutes to generate images, which is longer than other online AI text to art tools.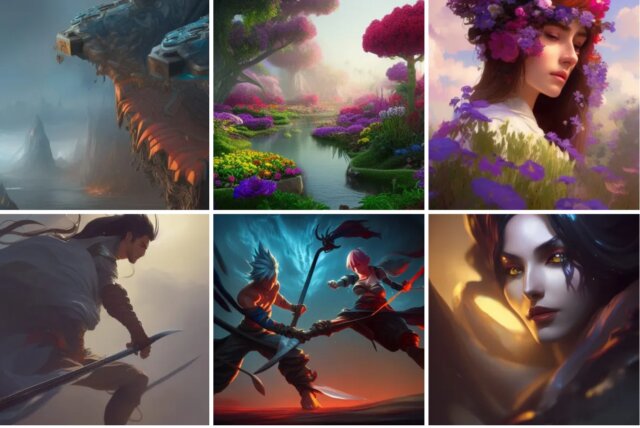 Samples of Generated Paintings from Text
Pros
Free to use
Easy to use
Different artistic styles
Cons
Limited function
Slow processing speed
No editing features
Also read: Top 10 NFT Art Makers Review 2023
6. Deep Art Effects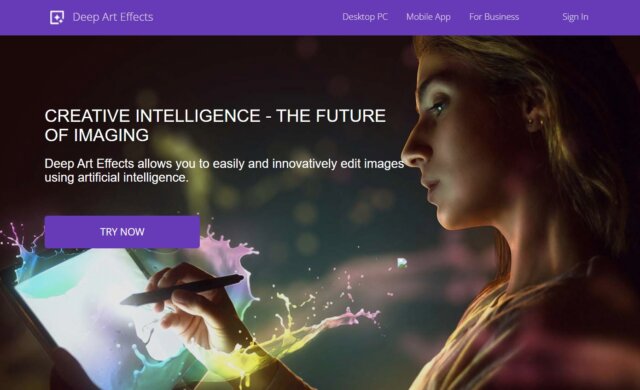 Deep Art Effects is an AI painting generator app supported by AI technology and neural networks. This app can turn you into a Junior da Vinci, Monet, Leonardo da Vinci, or other great artists by generating art paintings from your selfies.
This AI-powered app deserves a place on our list as it lets you access more than 50 art styles. It's faster in image processing than web products, allowing you to see your artwork almost in real time.
Besides, you share your awesome artworks to social media platforms, such as Instagram, Facebook, or Twitter. The limitation of this product is that you must download its software to your PC or mobile device before you can use it. Check out this popular post to turn yourself into movie stars: Top 10 Face Swap Apps Review 2023.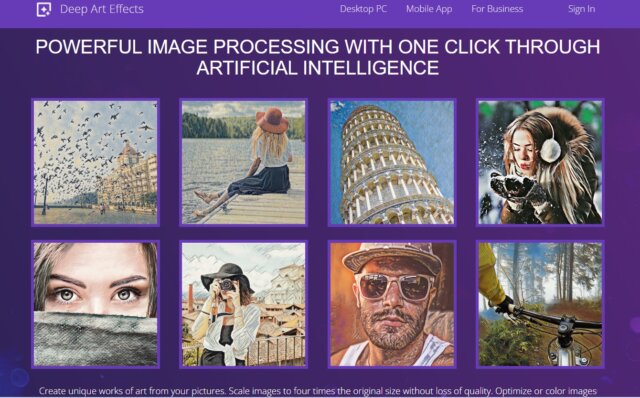 Samples from Website
Pros
More than 50 filters from famous artists
Fast image processing near realtime
HD Resolution for artworks (1080px)
Change style filter intensity
Enhanced prisma filters
Share your artworks to social media platforms
Cons
Sometimes hang when applying effects
Contain ads
7. AI Painter
Powered by the neural network, AI Painter allows you to turn your photo into artwork in seconds. You can choose about 20 different art styles. These styles mainly come from artists in the 1900s, such as Umberto Boccioni, Francis Picabia, or Piet Mondrian.
This online painting generator is easy to use. All you need to do is upload a photo and choose the style of your choice. AI power lets you preview the AI painting with the instant artwork preview tool on this website. It's hassle-free. You don't bother signing up or installing any programs.
One of the attractive services this website also provides is that an artist can 100% physically paint the AI-generated paintings for you and ship it to your door too. And like AI Gahaku, this tool can only turn photos into artwork. For more painting style, you need to pay.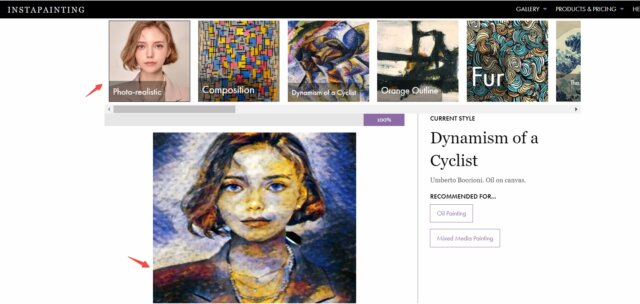 The Painting Effect Filter
Pros
Dozens of styles to choose from
Free to use
No registration
Fast speed
Cons
Customizing styles is not supported
No download option
8. AISEO Art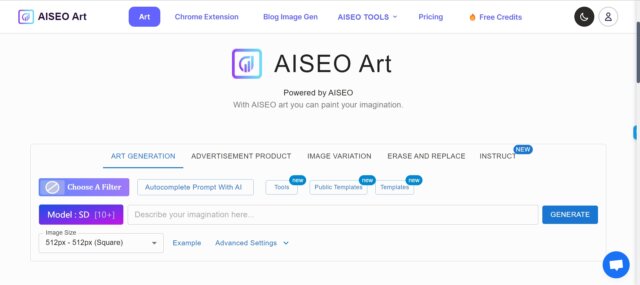 The AISEO Art AI Painting Generator is an innovative product that uses AI technology to generate unique and beautiful paintings from any input image.
Its unique feature is the ability to transform any photo into a hand-painted artwork with a personalized touch, by simulating different painting styles and techniques. You can choose a filter and input the prompts to generate your own paintings.
Our experience using this product has been positive, with stunning results that captured the essence of my input image. However, there are limitations in terms of the variety of painting styles available and the occasional inaccuracies in details.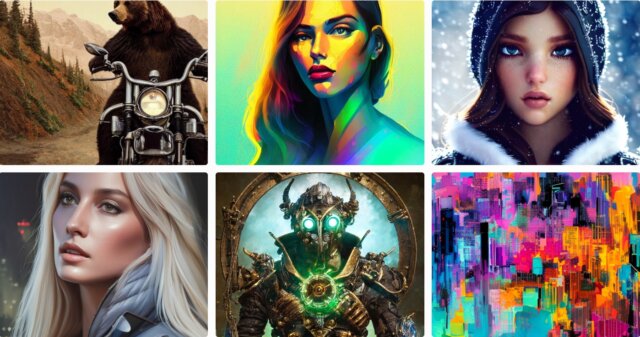 Samples of Generated Paintings
Pros:
Provides a collection of AI artworks
Shares the complete process
Cons:
Generating time is somewhat long
9. Gencraft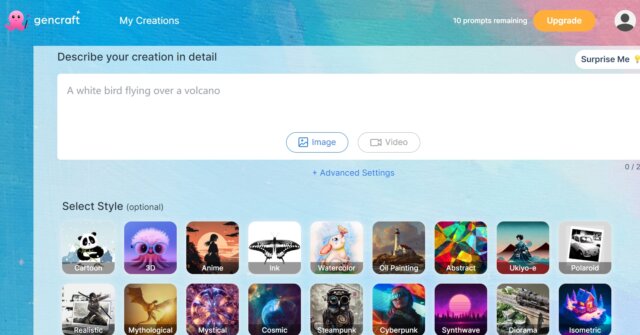 Gencraft is an AI painting generator that can generate the best AI art with ease.
Its unique feature is its ability to generate paintings based on the style of famous artists, such as Van Gogh or Picasso. This allows you to create personalized, high-quality artwork that mimics the style of your favorite artists.
Besides the oil painting style, it even has a unique style for wedding sites. The generated paintings look very realistic, even when compared to the original photographs. Whether you're a professional artist or someone who just wants to explore their creativity, Gencraft offers a wealth of possibilities for users of all levels. This painting generator only offers you 10 free prompts, you need to pay for more.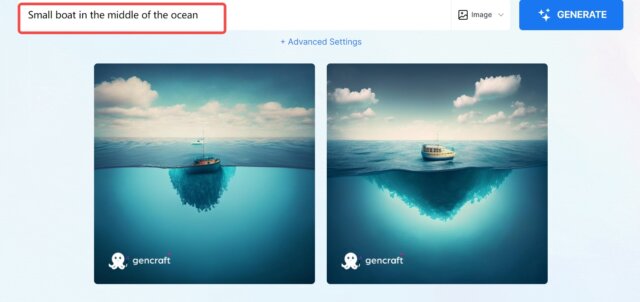 A Sample of Generated Paintings
Pros: 
Wide selection of famous artist styles.
High-quality, realistic painting results.
User-friendly and easy to navigate.
Cons: 
Limited customization options.
Limited file size for image upload
10. Picas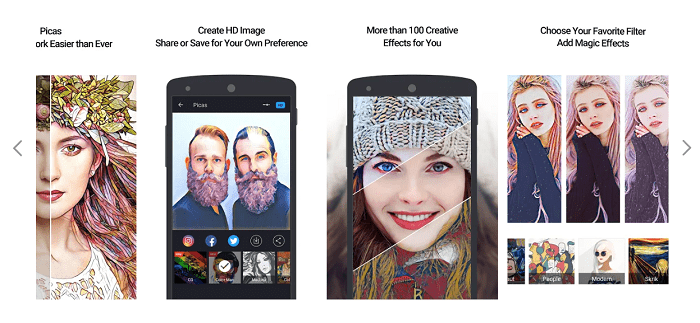 Picas is a free AI painting generator for Android, IOS, and online. It allows you to transform your photo into a piece of art in seconds. Picas can turn your photos, pictures, and selfies into art paintings powered by deep neural networks and AI. It uses the algorithm of facial recognition to generate greater portraits and selfies.
This AI painting software provides more than 100 artistic styles for you. And what's great about it is that you can access over 100 artistic styles even from its online tool.
You can also share your AI paintings to Instagram, Facebook, and Twitter to impress your followers. This AI app will automatically help you crop your photo size to suit your posts. However, this app only provides painting and other image filters. If you want a tool that can automatically generate paintings, you can choose other tools.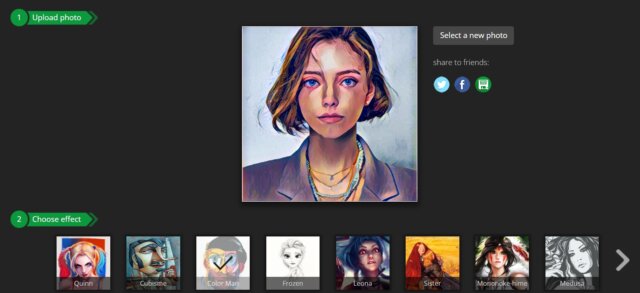 One of Picas's Painting Effect
Pros
Easy to use
More than 100 artistic styles
Share to social media platforms
Fast processing speed
Cons
Free version offers limited features
Show ads
Find tools to turn photos into cartoon: Top 10 AI Cartoonizers to Cartoon Yourself Online Free 2023.
11. Neural Love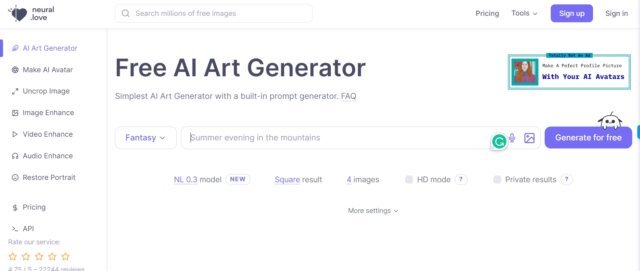 eural Love has an AI painting generator that can generated art images from text. You can generate any kind of painting through inputting the text in the box. The more detailedly you described your imagination, the more accurate the resulting image will be.
With the help of neural networks and artificial intelligence, this AI app allows you to generate paintings of art easily. It provides multiple styles, including Painting, Fantasy, Anime, Sci-Fi, Cyberpunk, etc. On its product page, all the AI paintings generated by all users are shown. You can simply refer to them to see the effect.
One limitation of Neural Love's art generator from the product performance is that it may not produce consistent or high-quality results with every use. The generated art may vary in terms of style, quality, and detail depending on factors such as input image quality and the specific neural network being used.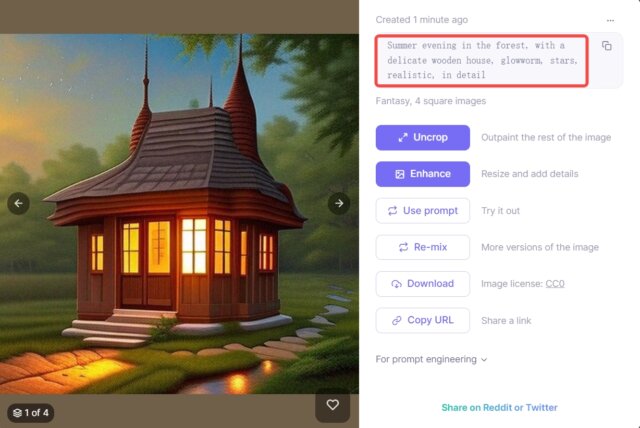 A Sample of Generated Painting by Fantasy Style
Pros
Dozens of artistic styles
Fast image processing
Cons
12. 1SecondPainting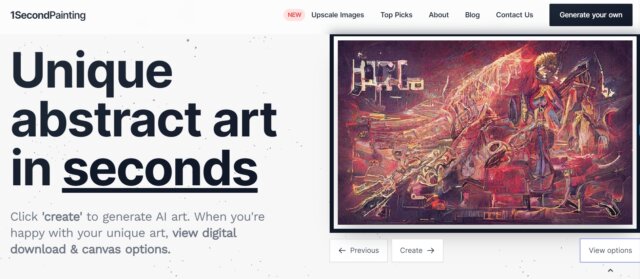 1SecondPainting is an AI painting generator that uses a deep neural network of thousands of abstract paintings to create fresh and unique looking designs. As the name suggests, you can get thousands of different abstract designs in front of your screen with just the click of a button.
It is an appropriate platform for designers, artists, and hobbyists as it provides them with a bunch of fresh designs to draw for themselves. All you need to do is to click "Create" under the image to generate new paintings. You can also reach out to the developers to get an AI-generated painting printed on a canvas.
In our use, we didn't find a text-to-image tool on this platform, but we do recommend this tool when it comes to abstract painting images.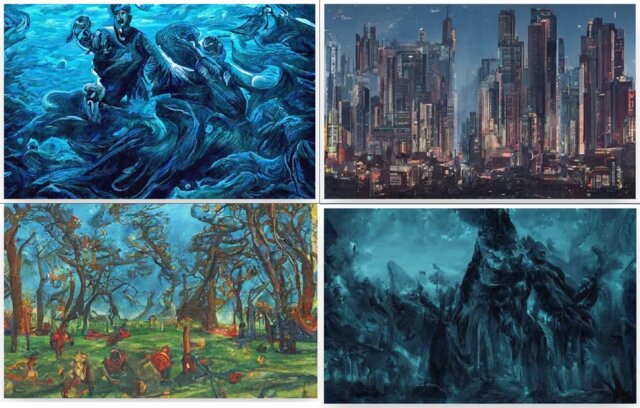 Samples of Abstract Paintings
Pros: 
Free to use
No sign-up required to get started
Affordable printing on canvas
Cons: 
Doesn't provide text to painting generating tool
13. Copista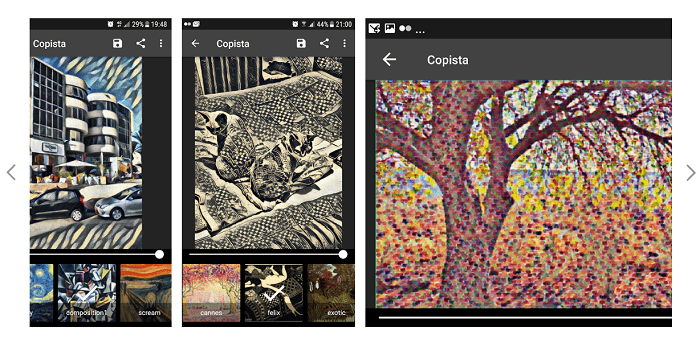 Copista is one of the best choices for you if you want to turn your photos into stunning artworks.
This app is supported by deep machine learning and artificial intelligence. It helps you transform photos into stunning masterpieces of cubism, impressionism, abstract art, and expressionism in seconds. You can access various styles and deep art effects with this AI painting generator.
It supports high-resolution images and original image sizes on mobile devices. What's unique about this app is that it can work offline. This is a useful feature for those who experience an unstable internet connection. It does not upload your images to its servers and all paintings are done locally on your device. But you need to know that this tool generate paintings only from the image you upload.
Pros
Easy and fun to use
Cubism, expressionist AI photo art effects
High-resolution images
Original image sizes
Share with Friends
Works offline
Cons  
14. Painnt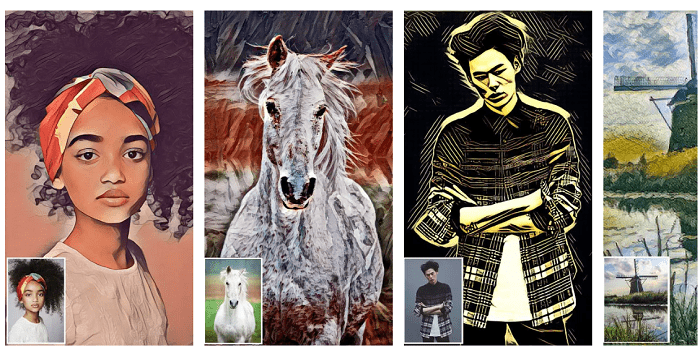 With AI technology, Painnt turns your photos into artistic AI paintings. You can choose from tons of fully customized HD filters to improve your images, including classical, comic books, modern, abstract, and mosaics. It makes your photos look like real paintings.
Preview and adjust your settings for distinctive looking artwork. Render high-resolution painting. Also, you can join the painting community where you can display your artwork, get feedback, and engage other like-minded artists.
And like some of the AI painting generators mentioned above, this app also just provides several 10 filters to generate paintings, generating from text is not supported.

AI White and Black Painting Filter
Pros
More than 1,000 filters and many customized HD filters
Render high-resolution painting
Own community
Cons
Sometimes fail to process
Free version limits output resolution, shows ads and adds a watermark
15. BoredHumans.com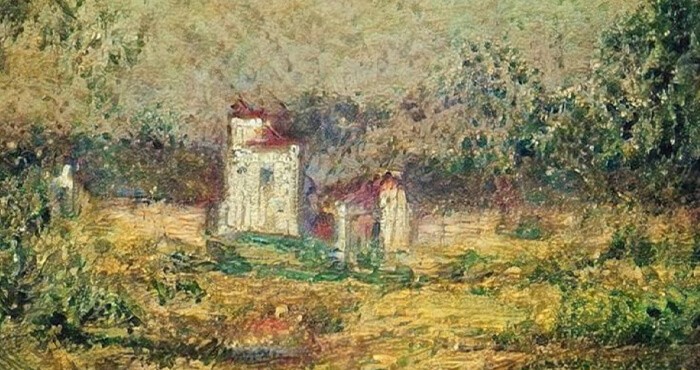 BoredHumans.com is a collection of 50 AI tools that perform different functions, making the website a universal space for many artists.
Besides an AI painting generator, it provides other tools that can perform tasks such as generating lyrics, stories, words, faces, videos, music, poetry, ad slogans, and games.
Its AI Paintings tool uses thousands of famous paintings to create new art, the result is just like being made by a real artist. It provides multiple AI models, including Stable Diffusion, Night Diffusion and so on. However, perhaps due to the undeveloped AI algorithm, the quality of resulted images is sometimes of low quality.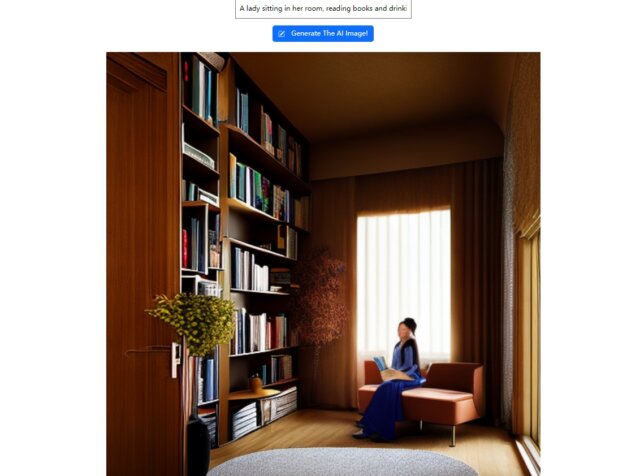 A Sample of the Generated Painting
Pros:
All tools are free
Simple and easy to understand interface
Single place consisting of multiple AI tools
Cons:
Vague results on AI paintings
Summary
In conclusion, AI painting generators have revolutionized the art world by enabling both novice and professional artists to create stunning pieces of art with ease. As we continue to see rapid advancements in AI technology, it's important to consider the impact these tools have on creativity, artistry, and human labor. While AI painting generators offer exciting possibilities for artists, they also raise questions about authorship, originality, and authenticity in art. As such, it's crucial to approach these tools with a critical eye and use them thoughtfully in our creative endeavors.
Overall, the rise of AI painting generators signals a shift in the way we approach art-making, expanding the boundaries of creativity and providing endless opportunities for experimentation. It is essential to continue exploring these technologies while also considering their potential drawbacks.
Check out more tools to transform your portraits in this post: Top 10 AI Portraits Generators Review 2023.
FAQ
1. What's the Best AI Painting App?
VanceAI Art Generator is a recommended AI painting app that can generate AI paintings with various styles. It has an easy-to-use interface, producing high-quality results, and it features the ability to customize parameters. With this tool, you can get your AI painting online.
2. Can AI-generated oil paintings capture the same artistic quality as human-created paintings?
Hardly, While AI-generated oil paintings can produce impressive results, they may not capture the same artistic quality as human-created paintings. AI lacks the nuanced creativity, emotion, and subjective decision-making that make human artworks truly unique and reflective of the artist's vision and skill.
3. Which is the best AI art generator?
When it comes to generating art paintings online, AI Gahaku tops most of its rivals due to its output quality and intuitive interface. If you want to touch up the paintings you get, check out best tools in Top 10 Photo Enhancers Review 2023.