Do you want to reduce your day's work to just a few minutes? This may be a bit exaggerated, but you can do it with the help of AI technology. You can consider applying Writer AI to your work to bring you unprecedented work experience.
Writer AI is an advanced full-stack generative AI platform designed for enterprises, providing comprehensive solutions to empower the entire organization to accelerate growth, increase productivity, and ensure compliance. Writer AI transforms the way you work with enterprise generative AI and accelerates the growth of every team with a secure, full-stack platform.
Overview of Writer

Writer AI's Homepage

Supported Platforms: Online, Desktop app, Chrome, Word
Writer AI is at the forefront of the breakthrough era of AI writing tools, leveraging artificial intelligence technology to improve your work efficiency. Writer AI writing generator represents a revolutionary artificial intelligence writing tool. It offers a great artificial intelligence writing assistant, support when you encounter writing blocks, and a very simple AI script writer solution. What's more, Writer AI is very suitable for teams and enterprises, which can accelerate growth, increase productivity, and ensure governance.

Writer AI LLM

Writer AI is built on secure, enterprise-grade LLMs (Large Language Models), it doesn't rely on third-party, black-box models. Instead, this AI writing tool built Palmyra, which is Writer AI's open and transparent LLMs, to give users the utmost performance, visibility, and control.
Who's for?
Writer AI writing generator is suitable for almost anyone. Whether you need a one-off blog post or want to use artificial intelligence writing across your business, Writer AI is a great choice. Let's say you work in a marketing team or run your own small business and you need an accurate content generation platform. It thoughtfully provides a 14-day AI writer free trial. In this case, the Writer AI writing generator is an excellent choice that comes with a range of features that you can choose according to your requirements.
Use cases
Financial Services
Healthcare and Life Sciences
eCommerce & Retail
Technology
Basic Features of Writer AI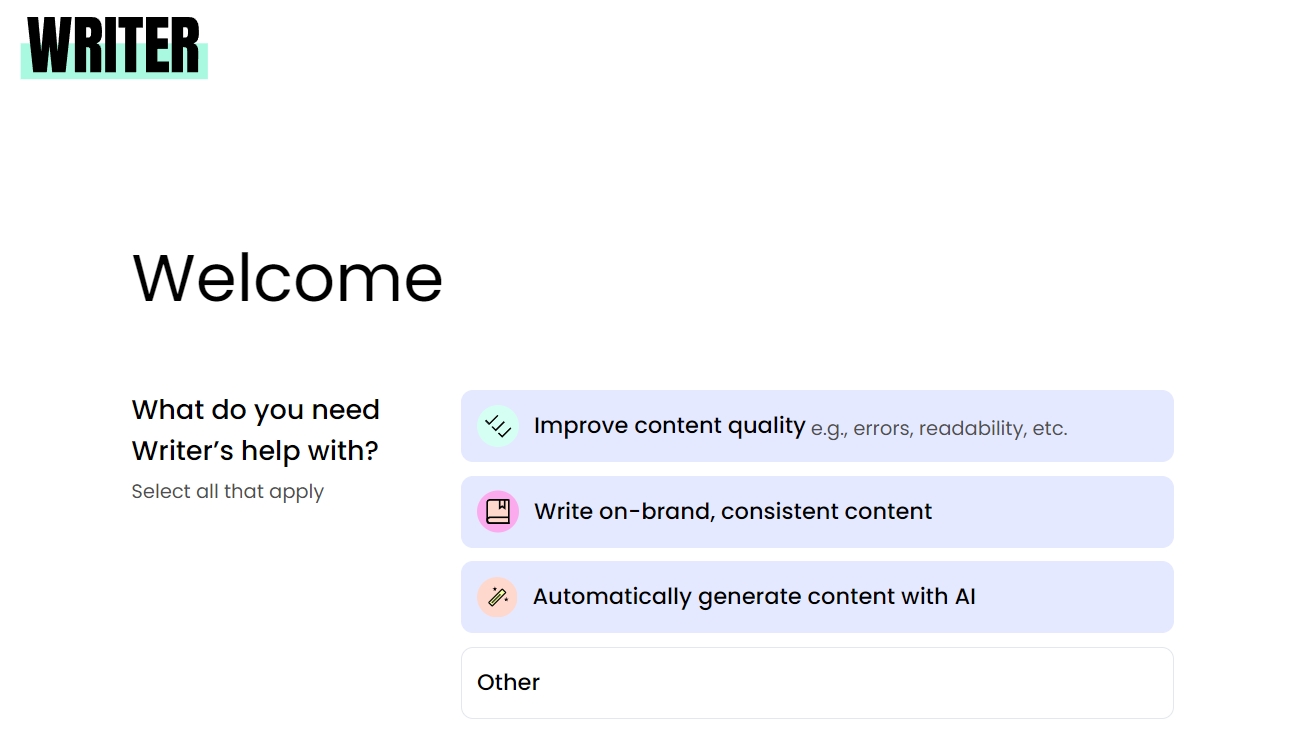 Writer AI Basic Features

With Writer AI, you'll be able to:
Define your content guidelines, from writing style to inclusive writing.
Manage terms and enforce consistent use.
Get writing suggestions anywhere your team writes, including in Figma and Chrome.
Create a reusable Snippets library to save time.
Publish a shareable style guide.
Outstanding Features
Featured

  Easy to use in many ways


Writer AI Easy to Use

Writer AI writing generator is compatible and supports use on multiple platforms, which is suitable for work scenarios of different companies. Writer AI perfectly meets your usage habits. Its user interface is also very simple and easy to learn. It is perhaps one of the best AI writing tools on the market.
Featured

  Prebuilt Templates Offered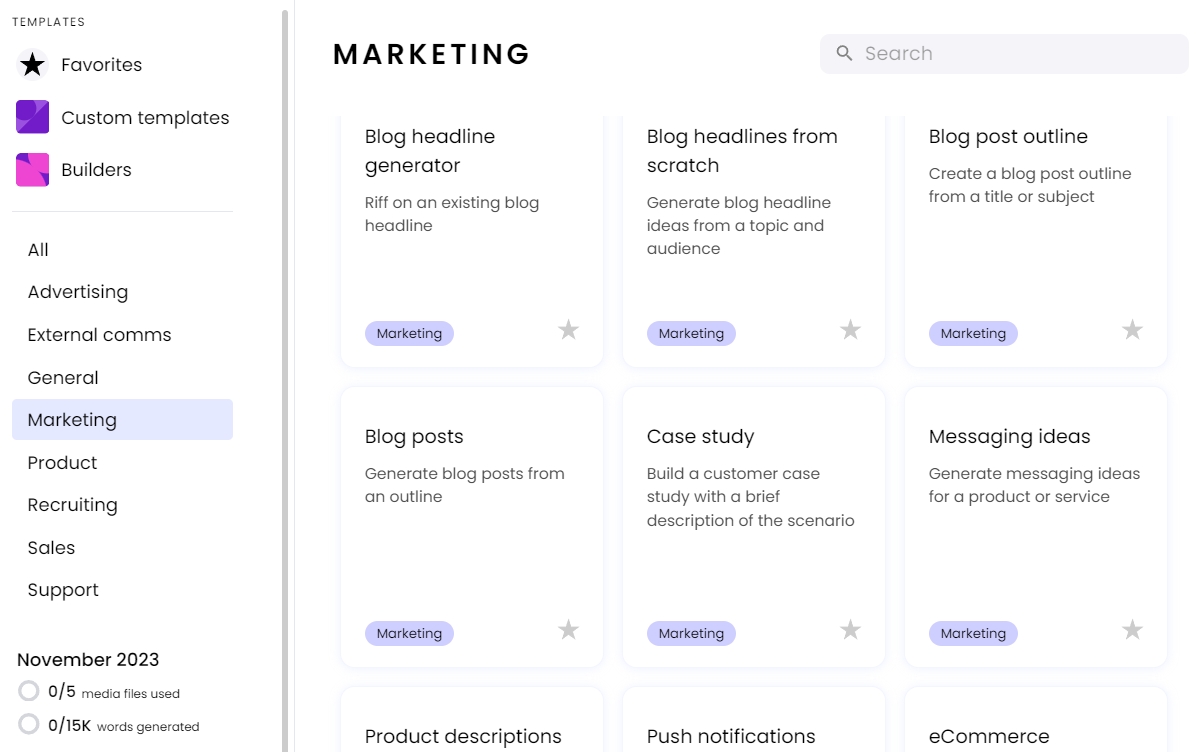 Writer AI's Templates

As you can see, writer AI provides many templates that you may use when creating content. Here, these templates offer you the perfect outline for you to work from, making content generation quick and easy. Writer AI is an excellent AI script writer and a great writing tool for content marketing. You can generate a full blog post, an outline, headlines, messaging ideas, product descriptions, and even push notifications with Writer AI.
Featured

 Ask Writer Chatbot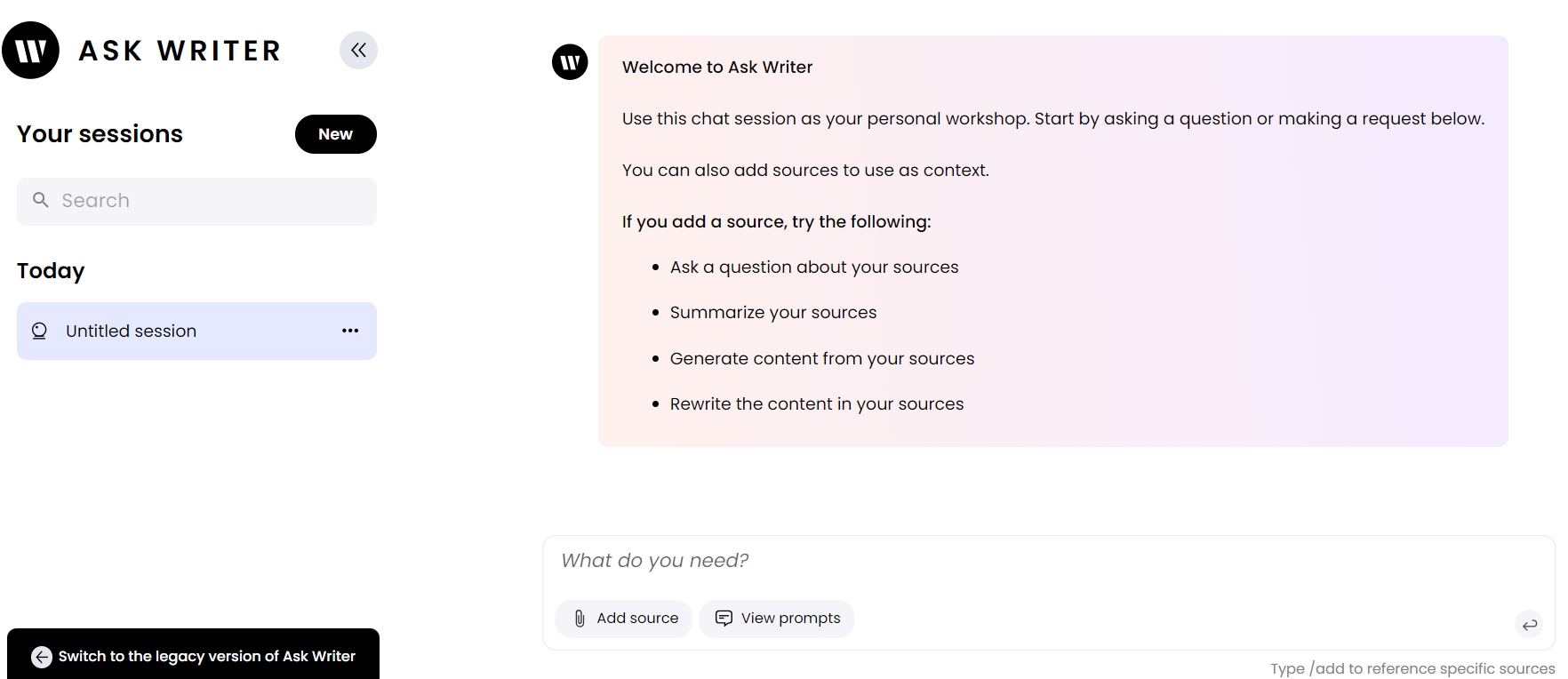 Writer AI's Ask Writer

This function is similar to ChatGPT, Ask Writer is a handy chatbot that you can use to clarify certain questions or even work together to generate content. You can produce entire paragraphs of content by Writer AI paragraph writer. Ask Writer can answer questions and generate outputs based on Writer AI's LLM and your files and data with the Ask Writer chatbot.
Why Editor Picks?
Writer AI is versatile and caters to a wide range of individuals and businesses. It doesn't matter if you require a single blog post or desire to integrate AI writing throughout your entire enterprise, Writer AI is an exceptional option. Its adaptability makes it suitable for various purposes and ensures that it can fulfill the needs of both individuals and organizations.
Whether you're a blogger looking to enhance your content or a business seeking a reliable and efficient writing solution, Writer AI offers the necessary tools and capabilities to meet your requirements effectively. With its user-friendly interface and powerful algorithms, Writer AI empowers users to create high-quality written content quickly and effortlessly.
If you are also interested in other similar AI writing products, you can also try Tinywow.
Our Suggestions
Writer AI has many built-in templates to help improve your work efficiency, and the chatbot can also help you directly produce large paragraphs of text just like an AI paragraph writer. All in all, Writer AI is one of the best AI writing tools for long-form content or short-form marketing content and if you want to use it for the long term, you can try the 14-day AI writer free for trial first. Moreover, you can discover much more interesting AI products at TopTen.AI.
Conclusion
With Writer AI, you gain the capability to accomplish content writing tasks. You can establish your content guidelines, ranging from writing style to promoting inclusivity, as well as effectively manage terms and ensure consistent usage. What's more, you can receive writing suggestions seamlessly across different platforms, such as Figma and Chrome, and enhance productivity by creating a library of reusable snippets, saving valuable time. Lastly, publish a style guide that can be easily shared with others.
Overall, the Writer AI  writing generator presents a substantial progression in the realm of content generation technology, holding the capacity to furnish users with numerous advantages. Also, there is another AI writing tool Compose AI for you as a reference.
FAQs
1.  How to create content with Writer AI?
Writer AI has many different built-in features to help you generate the content you want.
2.  Who is Writer AI suitable for?
Writer AI is well-suited for a wide range of people. Whether you require a single blog post or wish to employ AI writing for your business endeavors, Writer AI proves to be an excellent option.
If you want some equally amazing AI-related products, you can check out our Tool directory.