The article reviews the top 10 best AI pixel art generators from aspects like output quality, customizability, speed, ease of use, and price.
Pixel art has been a beloved art form since the early days of video gaming, but creating it manually pixel by pixel can be tedious and time-consuming and we know how frustrating it can be to spend hours on a task that could easily be automated. Fortunately, with recent advanced artificial intelligence, pixel art generation has become much easier and faster. Pixel art generators powered by AI have emerged as a popular tool among artists and designers for creating intricate designs effortlessly. With a variety of options and customization features available, you can easily create unique and eye-catching pixel art for your website, social media, or other design projects. These generators use AI algorithms to make pixel drawings automatically, resulting in high-quality artwork that is visually pleasing.
Here we will examine some of the top AI pixel art generators available today and give you some references to choose the most suitable one for yourself. We will explore their features, functionality, and ease of use.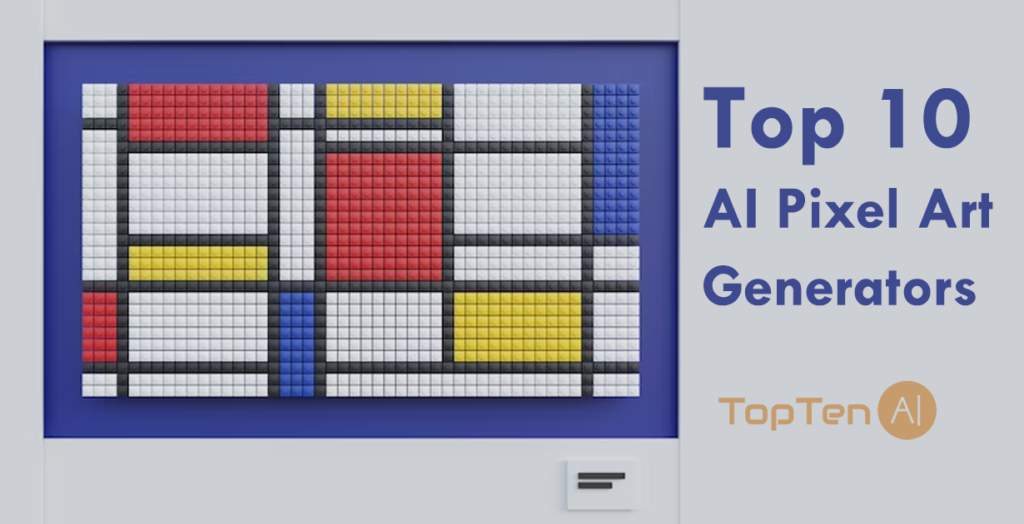 What is pixel art?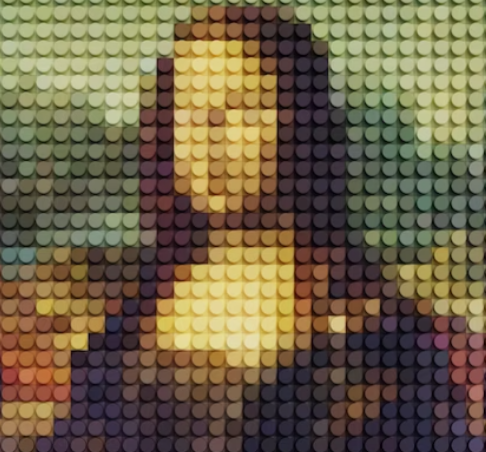 Before you start generating pixel art, you should know, Pixel art is a genre of digital artwork created using graphic design software, in which images are constructed solely from individual pixels (Wikipedia). This form of art relies on the use of small, square-shaped pixels to create visually striking and intricate compositions.
Usually, artists use software to automatically turn images into pixel art, called pixel art generators. It started with the end of the era of 8-bit and 16-bit computer and video game consoles.
With pixel art, artists can craft detailed and expressive designs that evoke nostalgia and capture the essence of classic video games and other retro media. By utilizing the limitations of the medium, pixel art can take on a unique and charming aesthetic that sets it apart from other forms of digital art.
Check out more in this YouTube video:
Top 10 AI Pixel Art Generators Review (July 2023)
Note: As experts in the field, we have personally used and tested the 10 best pixel art generators on the market. Our ratings will be based on objective criteria such as ease of use, versatility, quality of output, and value for money to help users make informed decisions.
After our selection and testing, we have selected the following ten Pixel Art Generators. And we will rate them from aspects like output quality, customizability, speed, ease of use, and price. Without further ado, here are the 10 best pixel art generators available:
| Product Name | Processing Speed | Output Quality | User-Friendliness | Free or Paid |
| --- | --- | --- | --- | --- |
| PixelMe | ★★★★☆ | ★★★★★ | ★★★★★ | Paid |
| PixilArt | ★★★☆☆ | ★★★★☆ | ★★★★☆ | Free |
| Pixel Art Maker | ★★★☆☆ | ★★★☆☆ | ★★★☆☆ | Free |
| Minecraft Image Converter | ★★★★☆ | ★★★☆☆ | ★★★★☆ | Free |
| Piskel | ★★★★★ | ★★★★★ | ★★★★★ | Freemium |
| Pixelator | ★★★★★ | ★★★★★ | ★★★★★ | Paid |
| VanceAI Art Generator | ★★★★★ | ★★★★★ | ★★★★★ | Paid / Free |
| Dinopixel | ★★★★☆ | ★★★☆☆ | ★★★☆☆ | Free |
| Pixel It | ★★★★☆ | ★★★★★ | ★★★★★ | Paid |
| Aseprite | ★★★★☆ | ★★★★★ | ★★★★★ | Paid |
1. PixelMe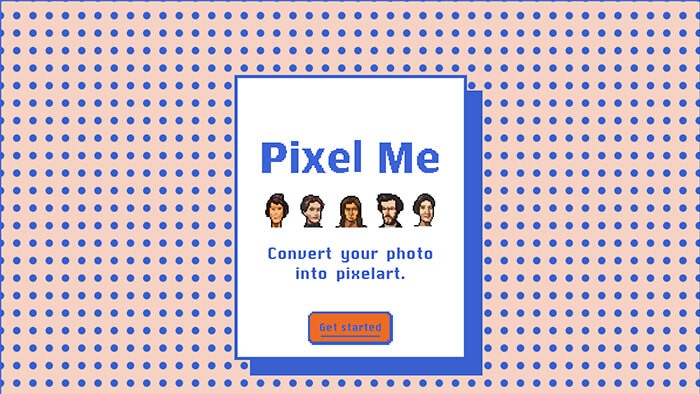 Rating: 9.0/10       Price: Starts at $29/month
PixelMe lets you convert your photos into pixel art. It is an easy-to-use and free pixel art generator with an interesting web design in the style of pixels. One of the standout features of PixelMe pixel art generator is its user-friendly interface. The software is intuitive and easy to navigate, making it accessible for both beginners and experienced users alike.
Additionally, PixelMe offers a wide range of customizable tools that enable users to create intricate and high-quality pixel art with ease. From the color palette to the brush tool, every feature in PixelMe is designed to achieve stunning pixel art designs effortlessly. PixelMe is available for your mobile devices, both on Google Play and App Store.
This is a cat in pixel art style generated by PixelMe. As you can see, you can select pixel size and customize patterns before outputting the final results. These amazing features help you to get the most desired pixel art image. Through our use, we find the drawback of this tool is that it may cause face distortion when converting human portraits image to pixel.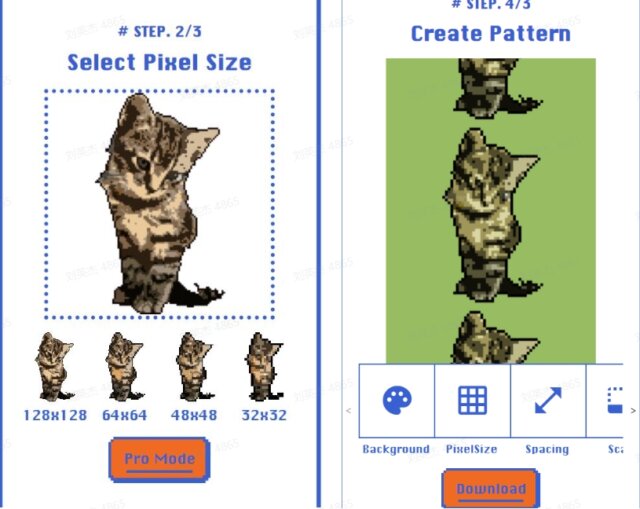 +  PROS

  -  CONS

Easy to use

Free to use

Available on mobile devices

Upload image as refference

Website difficult to use due to the pixel design

Lack of advanced settings

No bulk settings
Also read: Top 10 AI Cartoonizers to Cartoon Yourself Online Free
How to make a pixel art image with PixelMe?
Step 1: Go to the PixelMe website.
Step 2: Click on the "Create" button to start a new project.
Step 3: Choose the canvas size and background color for your project.
Step 4: Select a brush and color to start drawing your pixel art.
Step 5: Use the zoom tool to get a closer look at your artwork.
Step 6: Save your pixel art by clicking on the "Export" button.
2. PixilArt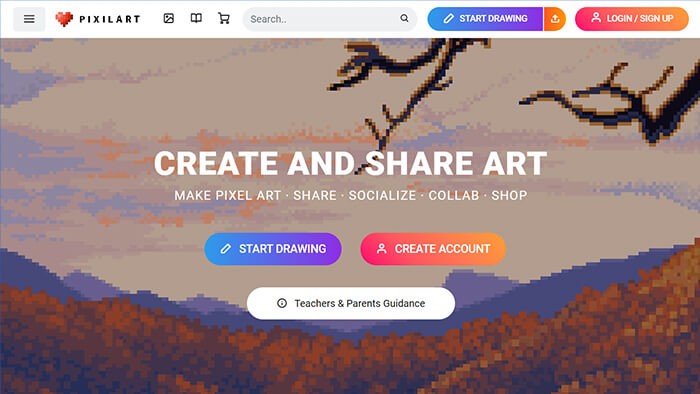 Rating: 8.0/10          Price: Free
PixilArt is a rather advanced free online pixel art generator. One feature of PixilArt that sets it apart from other pixel art generators is its collaborative drawing tool. With this feature, you can create artwork with others in real-time. So it is a great choice for group projects and collaborations. Collaborative drawing sessions on PixilArt allow you to see each other's mouse movements in real-time, which encourages a more cohesive and collaborative approach to creating art.
Additionally, this pixel art maker supports a chat function, enabling users to communicate and brainstorm ideas while working on the same project. Overall, the collaborative drawing tool in PixilArt promotes teamwork and fosters a sense of community among artists.
Its processing interface supports many tools at its left left sidebar, allowing you to fully customize your result and unleash your creative thoughts. However, its comprehensive tool bar might be complex for some beginners who don't have experience in using such tools.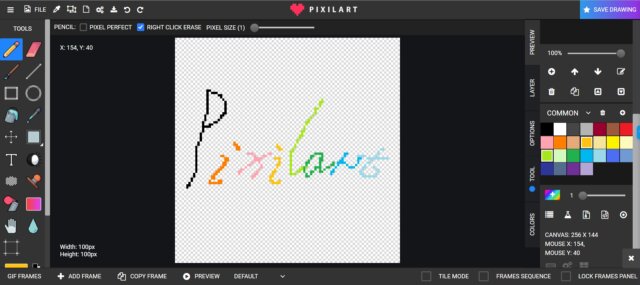 +  PROS

  -  CONS

Good image editor
Supports GIFs
Awesome community
Includes tutorials

No bulk editing
No available for mobile devices
3. VanceAI Art Generator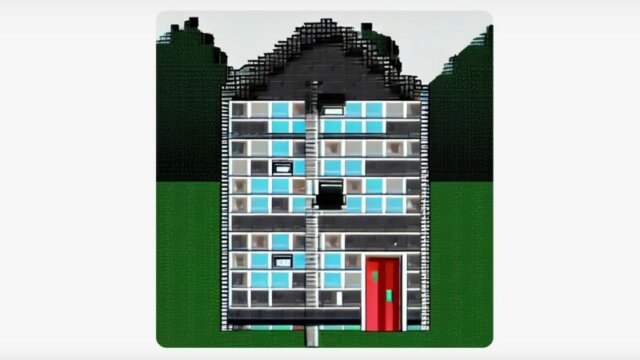 Rating: 7.0/10        Price: Starts at $9.90/month
VanceAI Art Generator is an online tool that uses artificial intelligence to generate photos in artistic styles such as pixel, oil, watercolor, and sketch. It is user-friendly, customizable, and can be used by artists, photographers, and designers to create unique and visually appealing artworks.
Its AI pixel art generator from text can create your pixel drawing through the prompt keywords you enter. Enter "pixel" and other elements you want to include in the keyword input box, and the AI will help you output the pixel art you want. You can set the size and clarity of the image. This process can be done online.
This tool doesn't provide a free version, you only have 5 credits every month and you need to pay for a plan after you consume them.
  +  PROS

  -  CONS

Process fast
Support HD Output
Data Security Guaranteed

Trials Limited
random output
Not manufactured in bulk
When you want to enlarge the generated pixel art images with resolution improved, find a useful upscaler in our Best AI Image Enlarger Review to enlarge image without losing any quality effortlessly.
4. Pixel Art Maker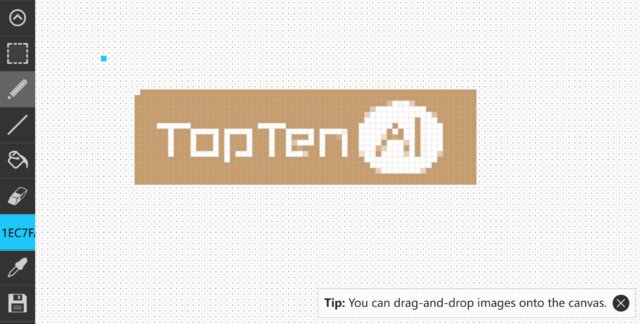 Rating: 8.0/10        Price: Free
Pixel Art Maker is a free image to pixel art converter that allows you to create pixel art easily and quickly. It features a simple interface with a variety of tools and color options for creating personalized images.
It has no homepage to my knowledge.  When you open the website, you are immediately redirected to a full-screen editor. The pixel art editor allows you to select shapes, draw lines with a pencil, erase, add colors, and use various grids. While it is not the most sophisticated image editor, it certainly gets the job done easily.
You can use Pixel Art Maker online whenever you need . The disadvantage of this tool is that you can only create a pixel image yourself with your creativity because it can't be used to convert your photo to pixel art.
  +  PROS

  -  CONS

Easy to use
Has a few tools to edit your images
Customizable grid size and color palette

Lacks additional information
Not HTTPS secured
No bulk editing
5. Minecraft Image Converter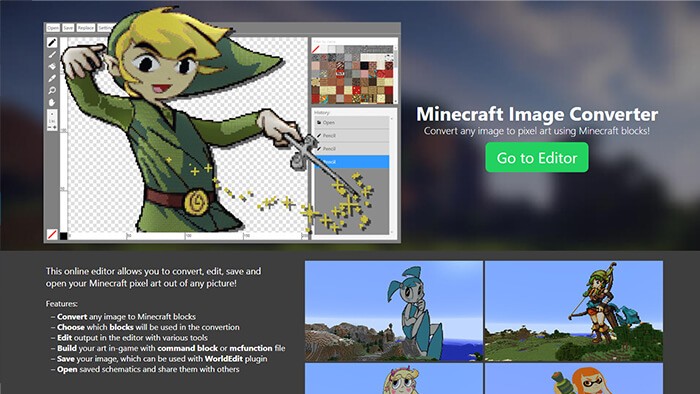 Rating: 8.0/10         Price: Free
Minecraft may be everyone's favorite RPG. Minecraft Image Converter is a free online pixel art converter that allows you to convert any image into a pixel art Minecraft design.
It uses an algorithm to convert the colors of the image into Minecraft block colors, creating a unique and customizable pixel art design. Minecraft Image Converter is a simple online pixel art generator based on this game. This tool helps you create an image from a Minecraft block which you can then replicate in the game.
Consequently, the largest uploaded image can be 256 blocks (pixels) high. Once the conversion completes, you can perform additional edits to the image and even replace some blocks based on your liking. But you might need some creativity when you edit the image with different pixel blocks for a better result.
Read more: How to Turn a Picture into Minecraft Style
Check this video to see how to convert your image to Minecraft style:
  +  PROS

  -  CONS

Great for Minecraft fans
Works very fast
Allows editing

Max height is 256 blocks
Limited customization options
6. Piskel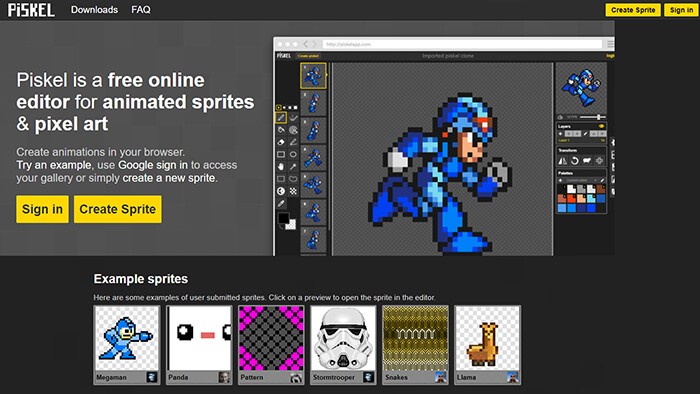 Rating: 8.0/10      Price: Free
Piskel is a free online editor for creating, editing, and sharing animated sprites and pixel art image. It features a user-friendly interface with a variety of tools for designing and animating pixel art.
What is more, everything you create in Piskel can be used for commercial projects, including games you might be developing. For now, Piskel does not exist in an app form; however, this might come in the future.
Moreover, if your browser crashes, Piskel saves all your progress in its cloud, enabling you to recover your lost content. A few additional features include live preview, Google sign-in, offline version, private gallery, and exporting to gif and png. Nevertheless, the toolbar of this pixel art maker is not easy to use. It requires some expertise in graphics.

  +  PROS

  -  CONS

Excellent for game developers
Cloud saving option
Free for commercial use

No mobile app
slower than some other tools
7. Pixelator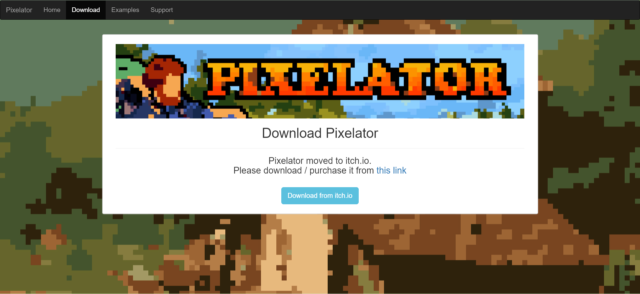 Rating: 7.0/10      Price: Starts at $1.99/month
Pixelator is another pixel converter that allows you to easily create pixel art images. It offers various customization options and can be used to create unique visual effects or to protect sensitive information in photographs and videos.
You can adjust various parameters such as grid size, color palette, and dithering to create a customized output that meets your desired specifications. Additionally, Pixelator offers some unique features such as 3D model rendering and animation creation.
Not only that, but Pixelator also allows you to export to multiple formats, including PNG, BMP, JPG, GIF, and TIFF. It was available at a one-time purchase of $35 or $70 for Studio and Company licenses, consecutively. The inconvenient thing is that this tool doesn't provide an online version, and you need to download a third-party application platform if you want to download Pixelator.
  +  PROS

  -  CONS

Free option
Convert real images into pixelated art
Create prototypes

Company license is quite expensive
Limited customization options
8. Dinopixel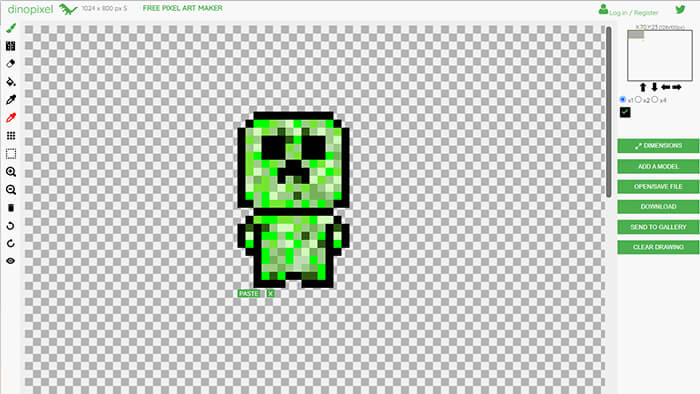 Rating: 7.0/10        Price: Free
Dinopixel is a free online pixel art converter for creating pixel art animations that are best suited for artists and animators. Its main function is to provide you with a user-friendly interface and various customization options for creating animated sprites and GIFs.
Dinopixel immediately loads an intuitive image editor, which allows you to mirror the elements, erase various elements, change the background, and pick colors. Once you are happy with your result, you can download the converted image.
While you cannot upload your own images, Dinopixel allows you to use predesigned models, which are based on popular games, such as Super Mario and Minecraft. Like some of the tools above, the toolbar of Dinopixel also requires some expertise.
  +  PROS

  -  CONS

Simple to use
Various predesigned art forms
Free to use

Does not allow custom images
No additional information
9. Pixel It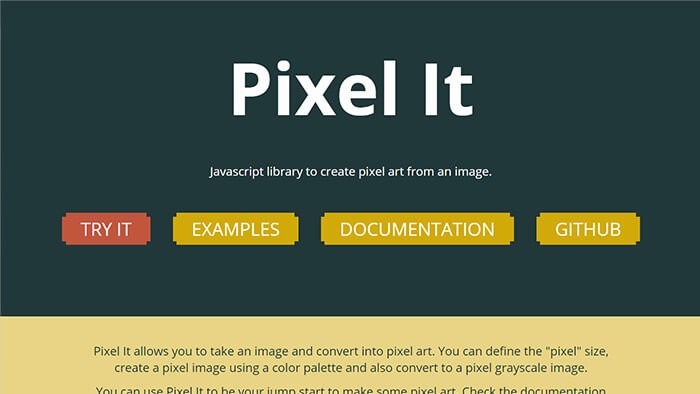 Rating: 6.0/10        Price: Free
Pixel It is a GitHub project based on Javascript that creates pixel art from an image. In the simplest terms, Pixel allows you to define pixel size, create pixel images using a color palette, and convert black-and-white images to pixelated art.
A Colour palette, for example, turns any image into pixel art and then applies a color overlay, effectively changing the color style in your image. In addition, PixelIt offers several output formats, including PNG, JPEG, and GIF, allowing you to easily share and download the generated artwork with others. For any advanced use, Pixel It has its own API with several input parameters.
Check the performance of this tool, the resulting image looks more like being pixelated directly rather than being converted to a cartoon-like pixel image. In a sense, it can be a real pixelated image generator.

  +  PROS

  -  CONS

Uses Javascript
Open-source
Has API

One page website
No community
Lacks image editor
10. Aseprite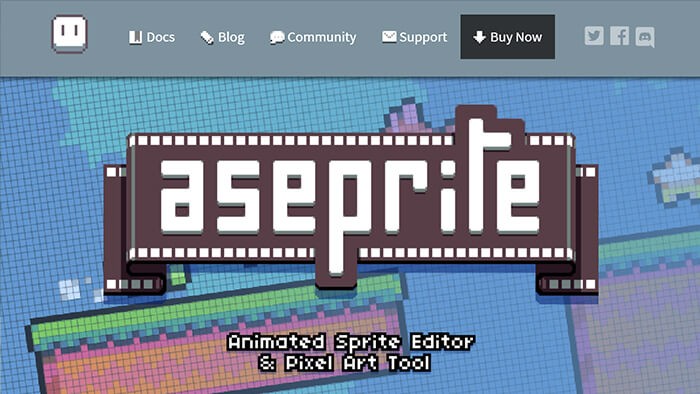 Rating: 6.0/10        Price: Starts at $14.99 one-time purchase
Aseprite is an online pixel art generator with the both free and premium version, which costs US$14.99. Create by David Capello, it is available on Windows, macOS, Ubuntu and on Steam.
In the simplest terms, Aseprite helps you create 2D animations for videogames, from sprites to retro-style graphics, pixel art, and everything in between that falls into the 8-bit and 16-bit world. You get a workspace, workflow, sprite edit options, such as resize, colour mode and profile, and onion skinning.
The only drawback of this tool is that you can't use it online, and you need to pay for the download.
This Youtube video will show you how Aseprite generates pixel art images:
  +  PROS

  -  CONS

Good support
The paid version is reasonably priced
Community

The interface is actually quite old
Takes some time learning to use the app
This ranking is for educational and informational purposes only. We believe that each person may have a different opinion due to their different needs! Feel free to leave your comments and opinions below!
FAQs
1.What's the Best Pixel Art Software?
Pixelator is the best software for pixel art for creating sprite drawing due to its user-friendly interface and customizable features. It offers a range of tools suitable for both beginners and experts, such as layer support, animation creation, and color palette customization.
2. How do I Turn a Picture into Pixel Art?
Take Photoshop as an example:
Step1: Open your photo.
Step2: Turn your photo into a smart object.
Step 3: In the top menu, select Filter › Pixelate › Mosaic. You can also explore other pixelate filters.
Step 4: Select the level of pixelation.
Step 5: Save your Pixel art.
3. How to Create Pixel Art Online?
With the Pixilar, you can follow the simplified steps outlined below to craft your own pixel drawings.
Step 1: Enter the Pixilart, use file to create a new custom canvas size
Step 2: Use the Brush tool to create brush strokes that are pixelated.
Step 3: Experiment with the other tools on the side and top bar.
Step 4: Create GIF frames.
Step 5: Save your drawing when you are done.
4. How Can I Use an AI pixel Art Generator Online?
You can use VanceAI Art Generator online to make pixel art online. This AI pixel art generator can help you turn your imagination into pixel. All you need to do is enter your text prompt and click " Create" to wait for the result.
Find out more in this video tutorial: 
Conclusion
In conclusion, the article has explored various online pixel art generators and photo to pixel art converters that can help artists and designers create intricate pixel animations and convert their images into pixel art. These tools offer a wide range of features such as adjustable pixel sizes, color palettes, and animation options, making it easier for anyone to draw pixel art without any prior experience.
There are several freely available online pixel art generators, each offering a different toolset. Which one you choose, depends on your needs. Do you want to convert your image into pixel art? Choose PixelMe. Do you want to draw pixel art? Choose Photoshop. Do you want to create intricate pixel animations for your game? Use Piskel. However, one issue with using these online pixel art generators is that they may limit the level of creativity that an artist can achieve. While these tools are useful for beginners or those in a time crunch, experienced artists may prefer to draw pixel art by hand to achieve a more unique and personalized style.
Also read: How to Make Digital Art – Best 10 Tools for Beginners