Anime fans and artists looking to create custom anime characters can benefit from this comprehensive review of the top anime character creators available online. The review covers features, pricing, ease of use, and customization options, making it a valuable resource for designing unique anime characters.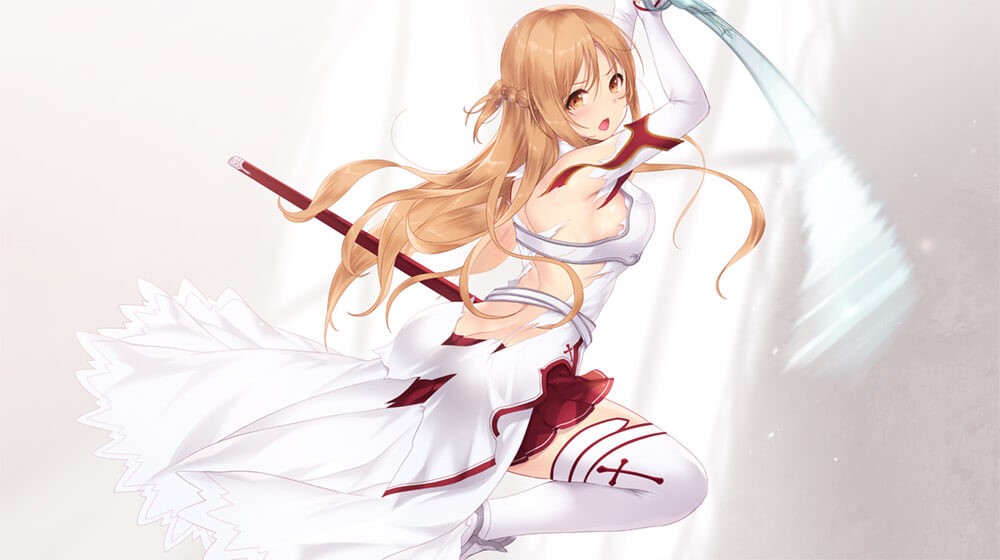 Have you ever found yourself longing to create stunning anime waifu characters that perfectly embody your imaginative vision? Characters that effortlessly captivate hearts and leave a lasting impression? As an aspiring artist or devoted fan of the anime world, you understand the immense effort and time it takes to craft these characters manually. In 2015, an artificial intelligence program called Chainer was released. It is believed to be the first attempt to design an AI that could create anime characters. Then here comes the revolutionary world of anime character creators.
These powerful tools combine cutting-edge technology with your artistic flair, allowing you to generate breathtaking anime waifus with ease. In this article, we delve into the realm of anime character creators, unveiling the best tools available to help you generate awe-inspiring anime characters.
Wanna turn your portrait to selfie? Go to Selfie to Anime with Best Anime Selfie Apps 2022 to find out more tools to do that.
Top 10 AI Anime Character Creator Review (Updated July 2023)
The anime character creators introduced in this article are mainly online anime character makers. They are convenient and easy to access since you don't have to spend time installing any software or extension. You can choose a proper one to create your own anime waifu.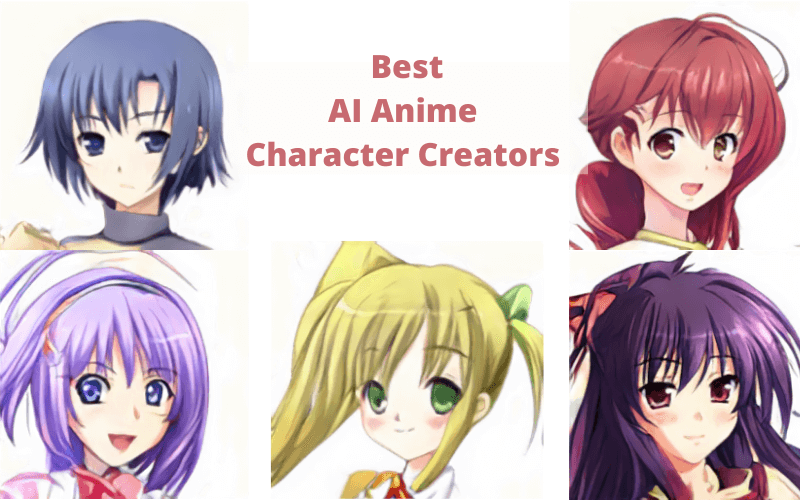 This is a general overview of the 10 best anime generators, if you want to see our more detailed review, please keep reading:
| Software | Processing Speed | Free or Paid | AI-Based | User-Friendliness |
| --- | --- | --- | --- | --- |
| Toongineer Cartoonizer | Fast | Paid | ✅ | ★★★★☆ |
| Waifu Labs | Fast | Free & Paid | ✅ | ★★★★☆ |
| This Waifu Does Not Exist | Moderate | Free | ✅ | ★★★☆☆ |
| Crypko Free Avatar Maker | Moderate | Free &Paid | ✅ | ★★★★☆ |
| MakeGirlsMoe | Moderate | Free | ✅ | ★★★☆☆ |
| ZMO.AI | Moderate | Paid | ✅ | ★★★★☆ |
| Waifu Vending Machine | Slow | Free | ✅ | ★★☆☆☆ |
| Charat.me | Moderate | Free | ❌ | ★★★★☆ |
| Avachara | Moderate | Free | ❌ | ★★★☆☆ |
| Character Creator | Moderate | Paid | ❌ | ★★★★☆ |
Note: As professional and objective reviewers, we have personally tested and evaluated numerous Anime Character Creator AI products. Our ratings are based on extensive hands-on experience, allowing us to provide an unbiased assessment of their features, customization options, user-friendliness, and overall quality.
1. Toongineer Cartoonizer - Anime AI generator
Price: 5 images for free; Paid plans start at $4.95/mo
Toongineer Cartoonizer is an online tool that allows you to transform your photos into cartoon-style images. Its unique feature is its user-oriented interface, which provides simple and intuitive step-by-step instructions for creating professional-looking cartoons.
If you want to create high-quality cartoons without requiring any technical expertise or expensive software, this tool is perfect for you. It's suitable for a wide range of users, from amateur photographers to businesses looking to create marketing materials.
The tool was easy to use, and the final cartoon looked professional and polished. Overall, this product can help anyone looking for an easy and affordable way to transform their selfies or other photos into fun and unique cartoons. But it doesn't provide advanced customization options, restricting the level of uniqueness and personalization in creating anime characters.
Pros:
Intuitive interface
This AI can turn photo into cartoon automatically
Convert selfies and any other images into cartoon-style pictures
Offer a free trial
Cons:
Our ratings: 9/10 
2. Waifu Labs - Make Your Anime Waifu
Price: Free; Paid verisons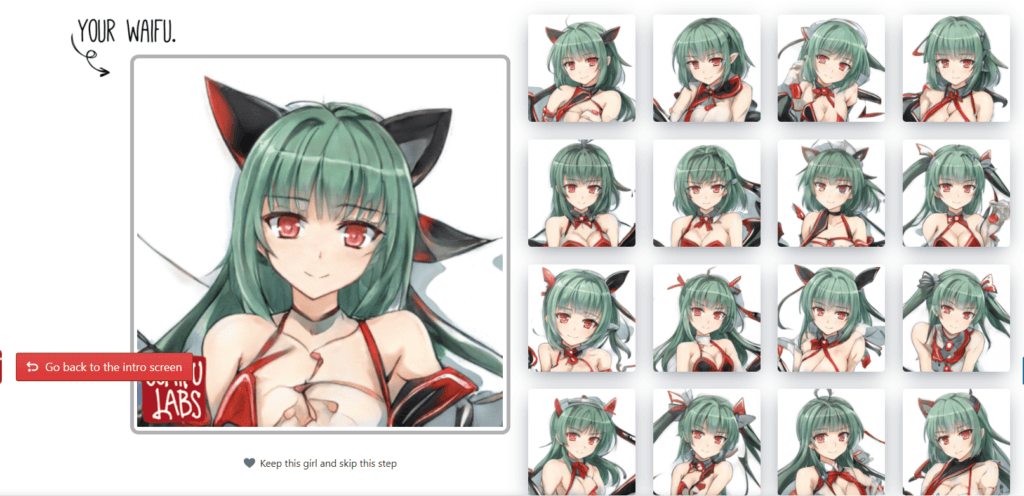 Waifu Labs brings you an AI artist that draws you cool and lovely waifus. You can create your own anime-style waifus, or female characters.
Its unique feature is its AI-generated character designs, which incorporate a wide range of facial features, hairstyles, and clothing options. It help you create custom anime-style waifus without requiring any artistic skill or knowledge.
Feel free to try this tool if you are an anime fan looking to create your own personal characters to artists or looking for inspiration for your project. One drawback of this tool is its Lack of diversity in generated character designs, resulting in a limited range of options for users.
Pros:
Free waifu generator
Choose from different waifu styles
Quick to use
Cons:
Our ratings: 9/10
3. This Waifu Does Not Exist
Price: Free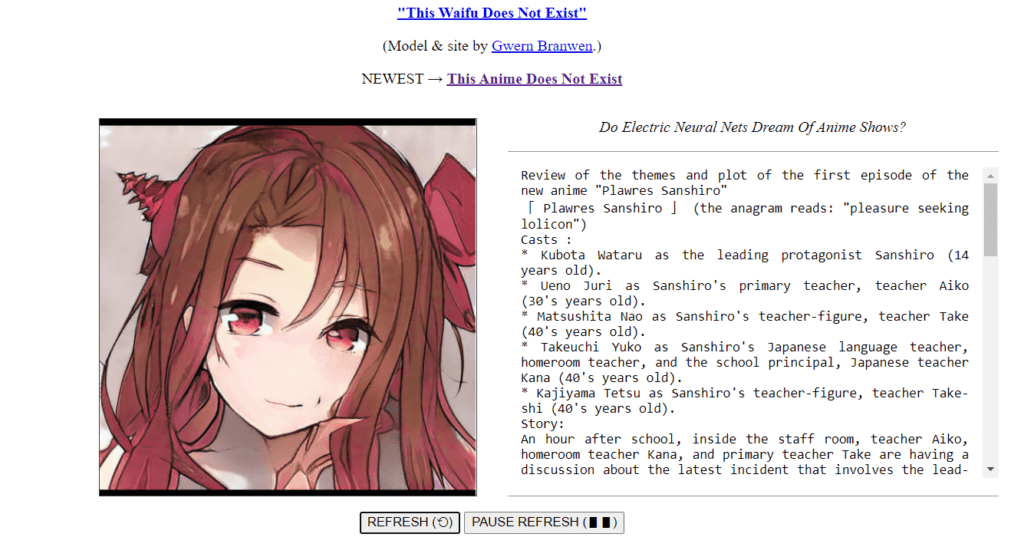 This Waifu Does Not Exist is an AI-powered website that generates unique anime faces on-demand. Its unique feature is its use of a generative adversarial network (GAN) to create incredibly realistic and detailed anime-style faces that look completely original.
The product solves the problem of finding inspiration for character designs or creating custom anime characters without having to spend hours drawing them manually. The quality and variety of the generated anime faces are all very delicate. The faces looked incredibly realistic and could easily pass for original artwork.
For those who are looking to get waifu or anime images online without hassle, This Waifu Does Not Exist is definitely a good choice. What you need to do is just click the "Refresh" button and this website will present you with different fake waifus. However, the generated characters often exhibit unnatural or distorted features, reducing their visual appeal and believability.
Pros:
Free to use
Random waifu generator
Generate anime plot so that you can combine waifu generated with stories
Cons:
Our ratings: 8/10
4. Crypko Free Avatar Maker
Price: Free version; Paid plans for key features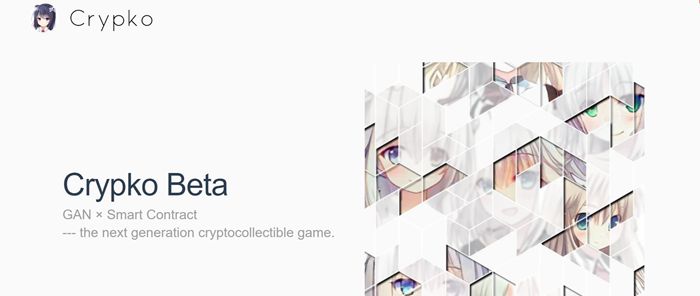 Powered by GAN (generative adversarial network), Crypko can automatically generate anime faces with professional-level quality. This anime waifu generator is regarded as a commercial version of MakeGirlsMoe which is developed by the same team as Crypko.
Through this program, users can purchase Crypko Cards, a special code that is used to generate a specific anime character. These digital cards can be combined to generate more characters.
It does the job of some illustrators since it can easily match human professionals in the anime industry. Yet, the Crypko download is not available now. Its limitation is that it has little free assets and accessories, requiring additional purchases to access a wider range of customization options.
Pros:
Produce results with high-value quality
Cons:
Our ratings: 8/10
5. MakeGirlsMoe - Get Random Anime Characters
Price: Free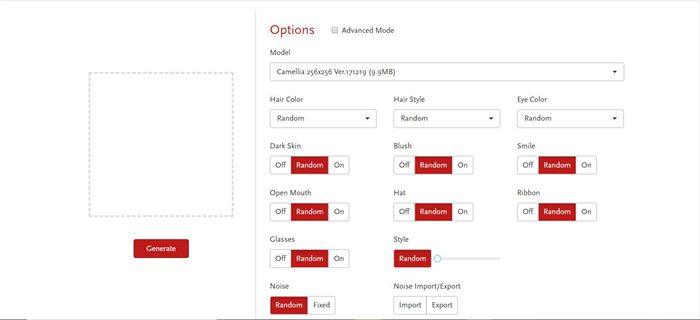 MakeGirlsMoe was developed by a collaborative team from Fudan University, Carnegie Mellon University, Tongji University, and Stony Brook University. This anime girl creator can produce high-quality anime character drawings without almost any help from humans. It was a big hit at the time of its release.
This AI anime character creator is only available for non-commercial use since the value of images it generates would be largely diluted after generating a large number of images. It allows users to easily create personalized anime characters.
Though it can automatically generate random anime characters, a variety of options are provided for you to make some adjustments, such as hairstyle, hair color, eye color, blush, smile, open mouth or not, hat, ribbon, glasses, and so on. But through our experience, the generated characters may lack variety and appear visually similar, limiting the uniqueness and diversity in character creation.
Pros:
A variety of options available
Automatically generate anime characters based on the portrait you upload
Cons:
No preview for each option
Our ratings: 8/10 
6. ZMO.AI
Price: Free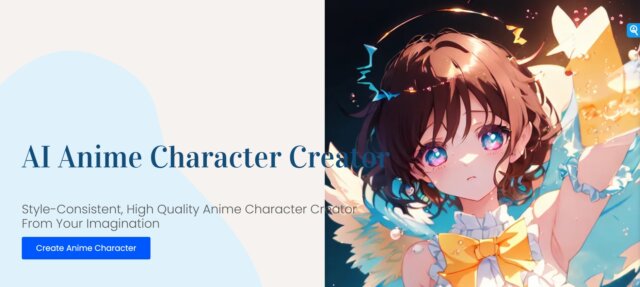 ZMO.AI is an exceptional anime character creator that brings your waifu dreams to life. Its standout feature is the anime AI generator, which generates random waifus with stunning visual details.
This product can design unique anime characters by offering a vast library of customizable features and styles. It's suitable for anime enthusiasts, artists, and gamers looking to create captivating characters for their projects.
Using ZMO.AI was a delightful experience, allowing us to effortlessly craft diverse and eye-catching waifus. However, the limitations include occasional inconsistency in character proportions and limited clothing options. Overall, it's a fantastic random waifu generator.
Here are some anime waifus that are generated by ZMO.AI: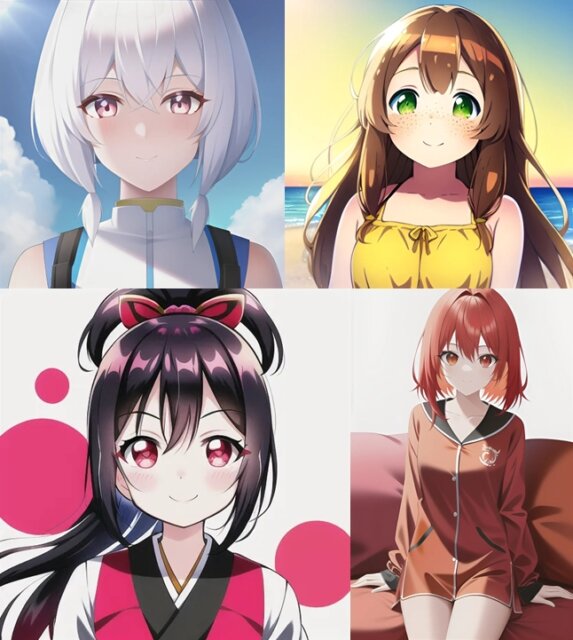 If you want to enlarge your anime images without losing quality through an AI image upscaler, go to Anime Image Enlargers Review to get more useful tools.
Pros:
Support social media sites
Automatically colorize sketch images
Cons:
The result is not in high quality if you want to generate anime character based on your uploaded image
Our ratings: 7/10 
7. Waifu Vending Machine
Price: Free; Paid verisons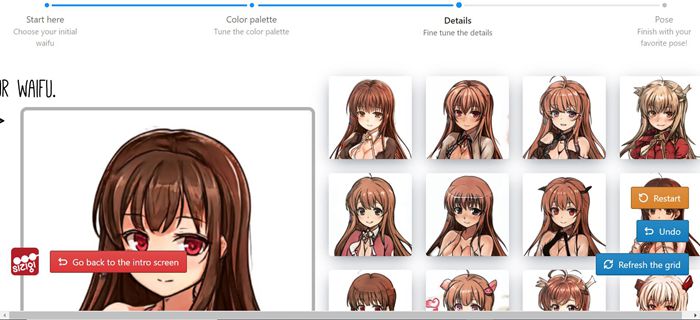 "Waifu", a Japanese term, refers to a fictional heartthrob in manga/anime/gaming culture, especially referring to female characters. Some fans even treat Waifu as an essential part of their lives.
Based on such culture, this AI-powered program creates and provides 16 fictional female characters for users. You can choose whichever you like and tune the color palette for it. Then you need to fine-tune diverse details such as hairstyles, clothing, facial features. You have to make a choice for each feature one by one. But the good thing is that it shows what this feature looks like before you choose it.
You can even buy a printed pillow or poster emblazoned with your Waifu after you finish it. With this anime waifu maker, it's effortless to create anime girls as you like. Due to the lack of fictional male face data, making an anime boy generator is more challenging. And this tool has limited control over the character creation process, restricting customization options and personalization.
Pros:
A lot of options available
An easy-to-use anime girl creator
You can see what this feature looks like before you choose it
Products printed with your finished character are available
Cons:
You can't upload your own images
It only has female characters
Our ratings: 7/10
8. Charat.me
Price: Free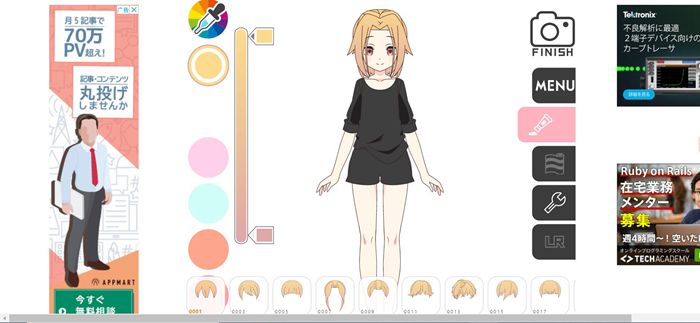 Charat.me is another random anime girl generator helps you create your own anime character or anime waifu from scratch. You can tune the character in the way you like, such as hairstyle, eye color, clothes, belongings, and many more. There is also a preview for the result. But it seems to lack male characters.
It is worth mentioning that the provided options in this anime girl character creator are more well-designed.
Besides creating anime characters, this site also helps you generate your original icon and avatar. However, the available templates and assets may feel restrictive, limiting the freedom to create truly unique and original anime characters.
Pros:
Well-designed features
Many options available
Cons:
The interface is not user-friendly
Some display in Japanese even in the English web page
Our ratings: 7/10
9. Avachara
Price: Free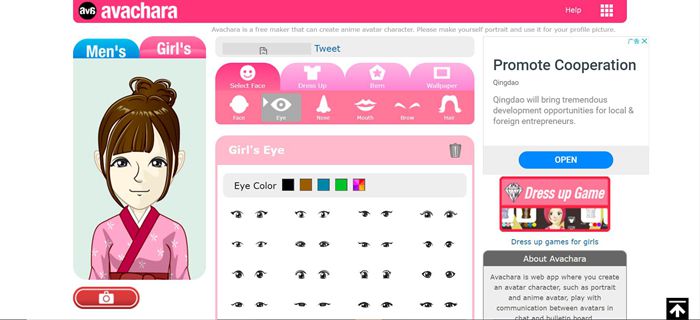 Avachara Avatar is an online tool that allows users to generate custom anime-style avatars. You can just create your own anime character from scratch. After you choose a gender, you are allowed to add details to your avatar, from facial features to dressing up, such as face, eye, nose, mouth, brow, hair. You can also add some items to your avatar, such as glasses, instruments and so on.
It can help create personal avatars to gamers looking for customizable character options. The avatar customization options allows you to create a unique and personalized avatar in just a few minutes.
It is quite fun to generate an anime character from scratch but it also takes much time to find out the best option for each feature. The disadvantage of this tool is that it has limited selection of facial features and accessories, reducing the level of detailed customization available for creating anime characters.
Pros:
Create from scratch by yourself
A lot of options provided
Male characters are supported
Cons:
Many options such as clothes and facial features seem not to be well-designed
Take much time
Our ratings: 6/10
10. Character Creator
Price: Free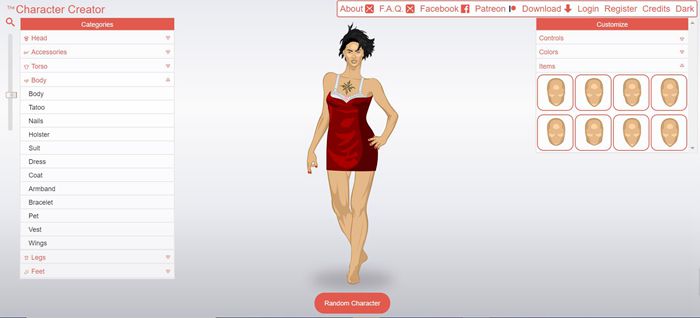 This anime character creator only provides female and male characters for you to make adjustments. You can switch gender, add accessories, wings, pets, and change head shape, clothes, even nails. A wide variety of features are available for you to choose from.
You can also adjust the color for each item. Although some of its designs are not that pretty, you can find some unique designs to create a cool anime character, like using bone wing and batwing. When using this tool, some users may find the user interface and controls complex and overwhelming, requiring a learning curve to fully utilize its features.
Pros:
A wide variety of features
Cons:
Female characters are too muscular
Our ratings: 6/10
Summary
In conclusion, our exploration of anime character creators has shed light on the immense potential and convenience they offer in bringing our beloved waifus to life. These AI-powered tools have emerged as game-changers for artists, enthusiasts, and even those new to the world of anime. With AI, we can now create intricately designed anime characters with ease, customizing every aspect from their appearance to their personalities. The ability to generate unique waifus quickly and effortlessly opens up a world of possibilities for storytelling, fan art, and personal enjoyment.
However, it is important to remember that while anime character creators provide a valuable resource, they should not replace the art of hand-drawn illustrations or the creativity of character design. They should be seen as tools that complement and enhance our artistic abilities, rather than replace them.
At last, if you have interests in how these products work, you can go to Github to check some methods, like U-GAT-IT. If you're also interested in generating your own portrait, check Portrait Generators Review to find out more.
FAQs
1. Can you use anime character generators commercially?
It is fun to use these AI anime character generators, especially for personal use. But when it comes to commercial use, a couple of problems arise since it is still in a stage of development. For example, who should own the copyright of AI-generated anime images? As developers, how to properly price images? Some of them remains an open question and are still under discussion. If you are interested, check Best Anime Character Creator Review from TopTen.AI
2. What does Waifu mean?
Waifu, derived from "wife" in Japanese, refers to a fictional character, usually from anime, manga, or games, that someone feels strong emotional attachment to, akin to a crush or ideal spouse. Waifus often become the focus of fan art, discussions, and other fan-driven activities within the anime community.
3. What's the best anime generator?
The best anime generator varies by individual preferences. However, Waifu Labs is a popular choice, leveraging AI technology for generating visually impressive anime characters. Its extensive customization options and collaboration features let users create anime waifus and other character types easily.