Podcasts have seen a noticeable uprise in popularity in recent years, becoming a vital medium for stories, information, news, and fresh perspectives. There are always new podcasts opening up, which aim to cater to different voices, people, topics, and more.
It is therefore important to have a podcast editor and an AI audio enhancer. In this context, users should consider using Adobe Podcast.
The Adobe audio enhancer can ensure that your podcast sounds professional and engaging. In an era where quality audio is key to success, Adobe Podcast AI is the go-to solution for content creators looking to elevate their production values and captivate their audience.
Overview of Adobe Podcast AI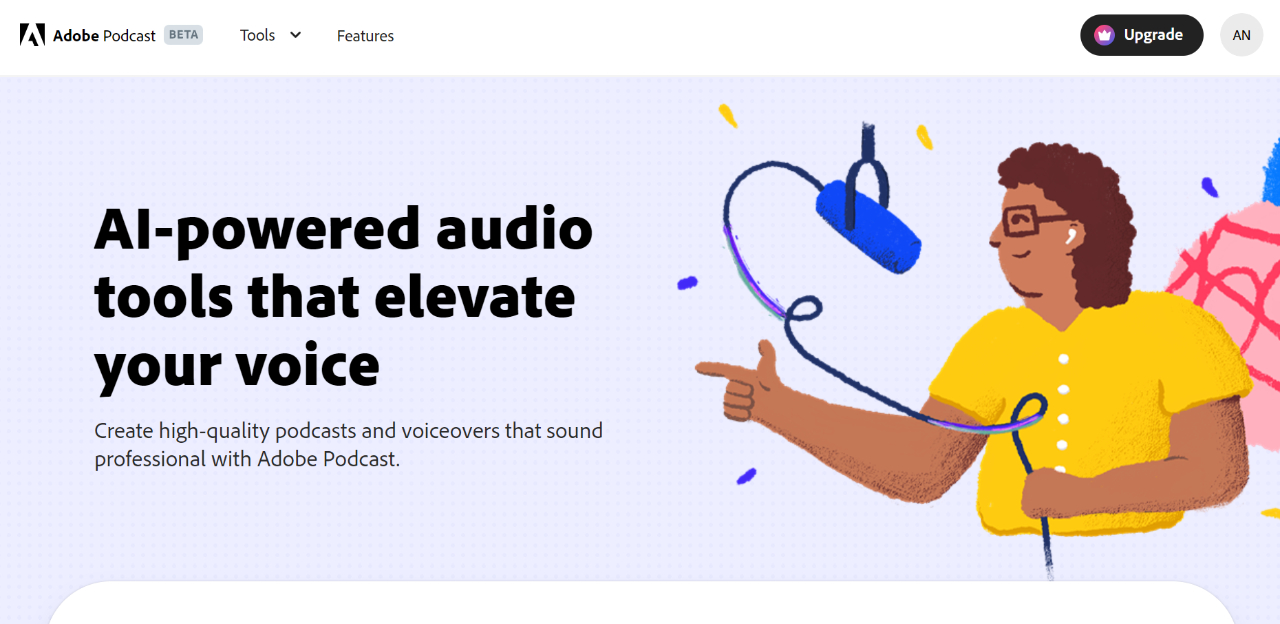 Platform: Online.
The Adobe Podcast enhance app is a cutting-edge audio production tool designed to help podcasters and video editors enhance their content effectively. By using AI technology, the Adobe voice enhancer offers multiple highly useful features that can improve your voice and audio quality, edit audio files, etc. It can remove background noise, optimize microphone settings, and provide professional-grade recording capabilities as well.
With a user-friendly interface, it's accessible for beginners and professionals alike. Adobe, a highly trusted brand for its creative content creation solutions, ensures that Adobe Podcast maintains high standards of quality, making it a valuable asset for content creators seeking to enhance the audio quality of their podcasts and video projects, resulting in more engaging and professional content.
Core Features of Adobe's Audio Enhancer:
Mic Check: The Adobe audio AI lets users first use their mic and then displays how the user's voice is coming through. Users have to speak into the mic and let the AI analyse. It can detect factors such as "distance to microphone", "background noise", etc.
Adobe Express Access: By subscribing to the Adobe Podcast application, users can get access to Adobe Express, which offers plenty of valuable tools for image editing online. This can be great for content creators.
Outstanding Features
Featured

 Adobe Enhance Studio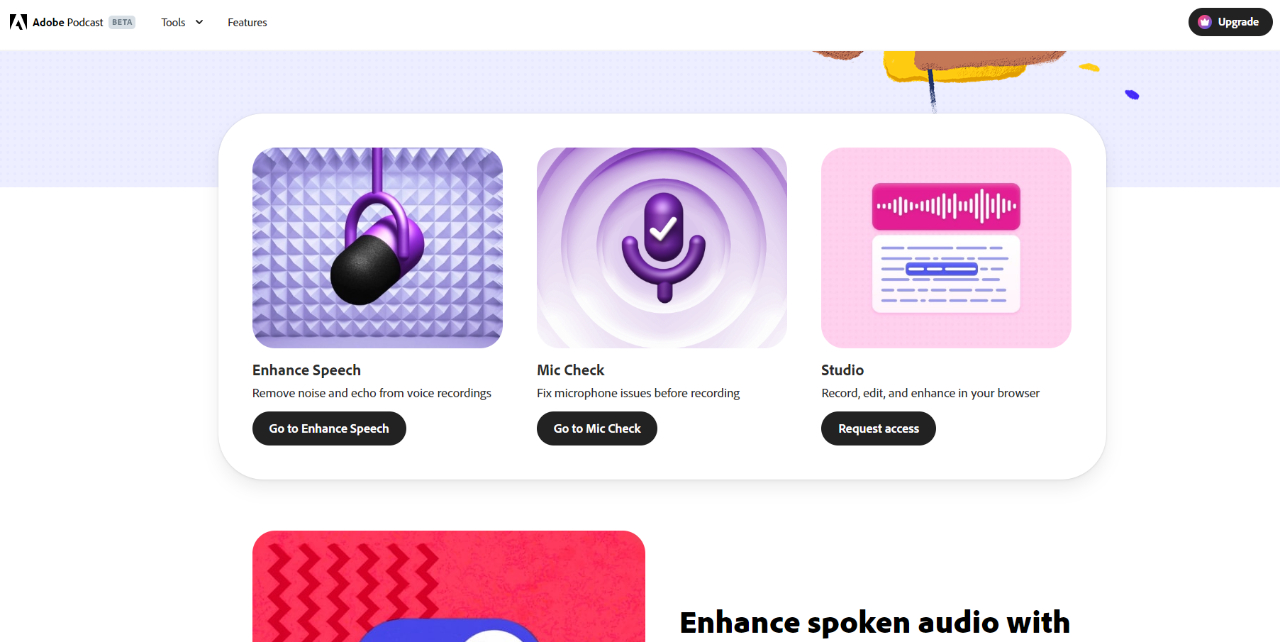 The Adobe Podcast studio is the place where you can enhance your audio files and edit them as well. Besides the Adobe enhance speech features, users can also use it as an AI music enhancer to improve most kinds of audio files.
Adobe Podcast Studio is a game-changing feature that offers podcasters and video editors a seamless and efficient way to enhance their audio content. This innovative tool transcribes spoken words using the transcription technology found in Adobe Premiere Pro, allowing for easy and precise editing, akin to editing a text document.
This feature simplifies the editing process significantly, ensuring that content creators can fine-tune their audio with precision. Whether you're a seasoned professional or just starting out, Adobe Podcast Studio empowers users to create high-quality, professional audio content with ease.
Featured

 Audio Enhance Speech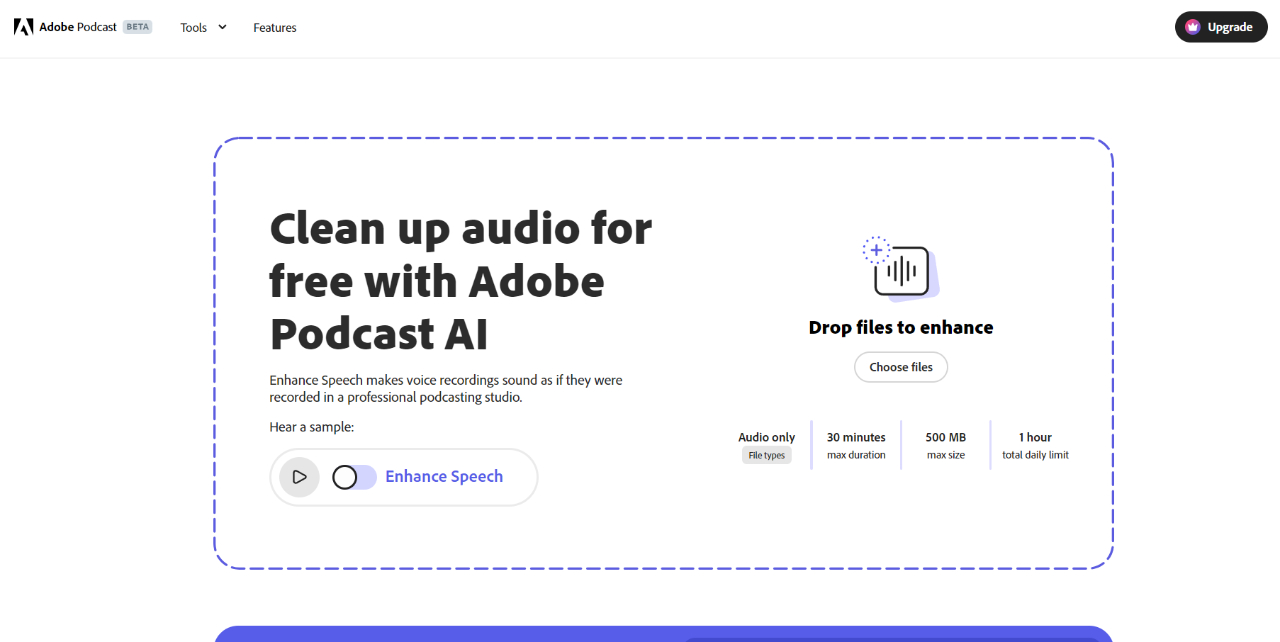 The Adobe Speech Enhance feature is a remarkable tool that can be of immense assistance to podcasters and video editors. It offers a cost-effective way to clean up audio recordings with the power of Adobe Podcast AI. By utilizing Enhance Speech, content creators can transform their voice recordings, making them sound as if they were professionally recorded in a high-end podcasting studio.
This feature is a valuable asset for improving audio quality, removing background noise, and delivering crisp and clear content. With a generous limit of 30 minutes per file, a maximum size of 500 MB, and a daily total limit of one hour, Adobe Speech Enhance is a convenient, efficient, and budget-friendly solution for elevating audio quality in the world of podcasting and video editing.
Why Editor Picks?
Adobe is known for delivering high quality products and the Adobe Podcast application looks promising as well.
Let's say you're a video editor working on a documentary project. You have an interview segment that you need to include in your video, but the audio quality is less than ideal. There's noticeable background noise and a bit of echo that's distracting from the interviewee's insightful comments.
With Adobe Podcast, you can easily address these audio issues. You use the "Enhance Speech" feature to clean up the audio. This AI-powered tool effectively removes the background noise and reduces the echo, resulting in a much cleaner and more professional-sounding audio track.
Our Suggestions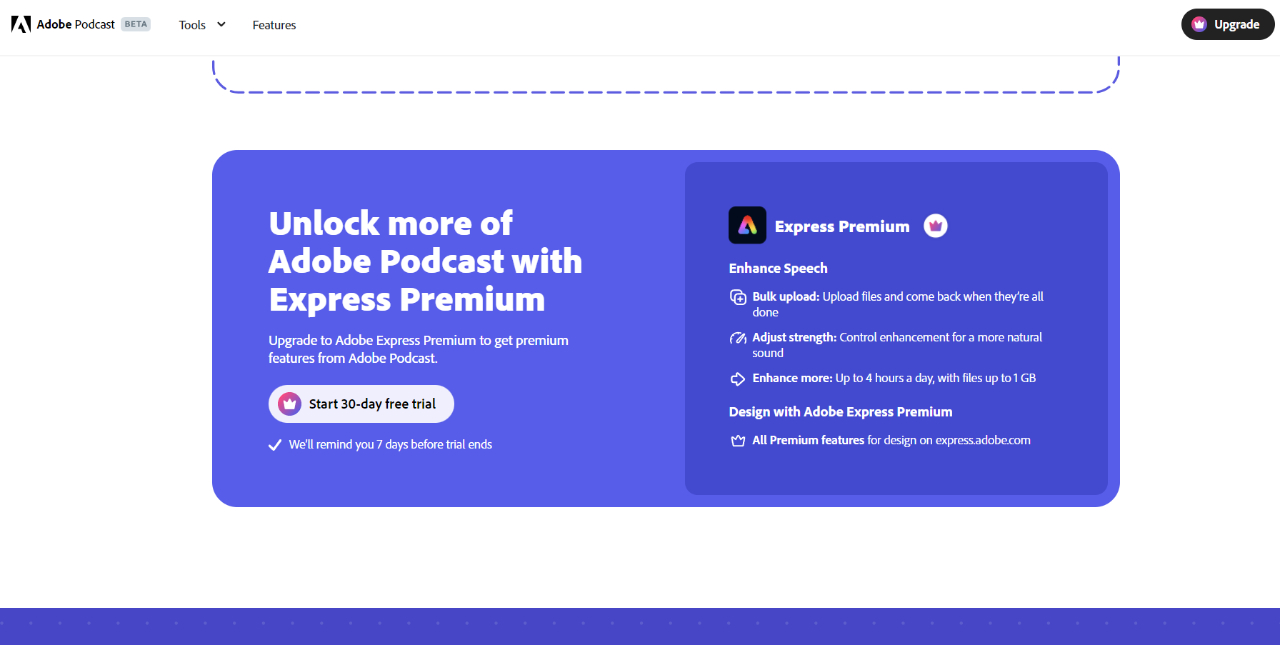 The Adobe Podcast application is suitable for podcasters and video editors who want to improve their podcast videos, especially the audio parts. The online software offers specialized features, such as audio enhancer, mic test, and more, that assist professionals in knowing whether their content is up to the mark. If not, they can use Adobe Podcast to enhance their content.
The software is definitely worth purchasing, but it won't be able to offer much at this moment since it is still in Beta. The current version offers audio enhancement and mic tests, but they aren't enough to warrant a subscription. Therefore, users can use these two features to get an idea of how the platform works and make the purchase later when all of the features, especially the Studio, have been made available.
Users can search for similar apps on TopTen.AI till then.
Final Thoughts
The Adobe Podcast application shows plenty of potential and the features that it provides in the Beta version work really well. Not to mention that the brand Adobe is a trusted one, capable of delivering high quality products. However, users should still wait till the company releases the application in its full capacity before going ahead with the purchase.
FAQs
? Is Adobe Podcast Free or Free to Try?
Adobe Podcast is not a fully free application. In order to access all that it has to offer, users will need a subscription. However, it does provide a couple of free to use tools at the moment, which are the Mic Test and Audio Enhance tools. Through these tools, users can get a fair idea about the overall platform.
How to use Adobe Audio Enhancer?
Step 1: Click on the link given for Adobe Podcast. There, scroll down a bit and click on "Enhance Speech" to get to the tool page.
Step 2: Use the "Choose Files" option and upload the audio file that you want to enhance. The tool will process the file and display the output.
Step 3: You can then use the download option given to save the file.
How to use Adobe Podcast Editor Beta faster?
In order to use the Adobe Podcast editor or studio, you will need to put in a request through a Google form provided on the website.
In order to do that, click on "Studio-Request access". You will be redirected to the Google form. Fill in and submit. You should receive an email soon.