This article is a review of the top 10 video enhancers, analyzing their features, capabilities, and performance. It discusses the features of using such software and provides an overall evaluation of their effectiveness in improving video quality.
In today's fast-paced world, capturing memorable moments through videos has become increasingly popular. However, issues such as shaky hands, inadequate lighting, or low-quality video resolution can hinder the overall quality of your recordings. As an experienced professional, I understand the challenges users face in obtaining the best possible video quality.
In this review, we will address these issues by introducing and evaluating powerful video enhancer software solutions. These tools can help stabilize shaky footage, improve lighting, and upscale video resolution, ultimately enhancing your home videos and bringing out the best in your cherished memories.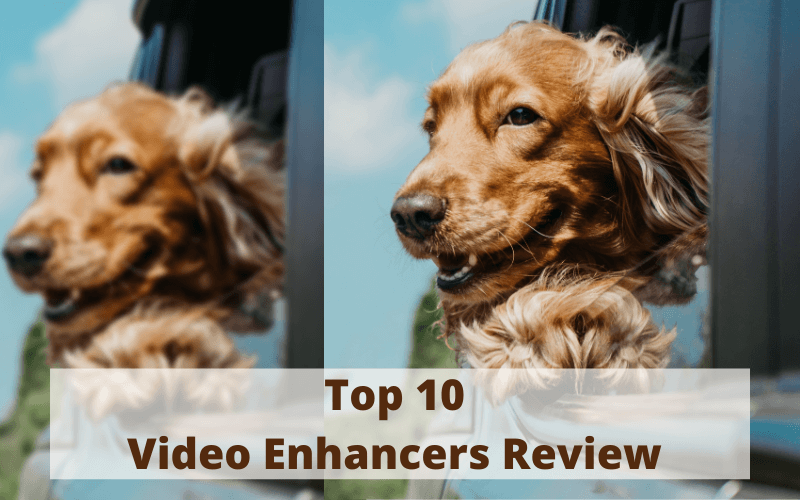 What can a video enhancer do?
Normally, you can expect a video enhancer to have the following features:
Upscale resolution
Better lighting
Improved stability
Denoising
Brightness adjustments
Cropping, rotating, and flipping
Filters
Effects and animations
Why choose an AI video enhancer?
Sometimes "Upscaling" video doesn't make your video "better" in quality. It simply allows it to be displayed on a screen with more pixels than the source video, without black bars. Some products are just producing output in higher specifications instead of higher quality. But things change when it comes to AI and some other advanced technologies.
You may find it challenging to locate a good video enhancer with AI since self-claimed AI video enhancers fail to be in line with their statements. Therefore, we choose some natural AI-based video enhancers for you and hope you enjoy them. Check it out now!
Here we made a general overview table, if you want to see our more detailed review, please keep reading:
| Tool | Processing Speed | Output Quality | User-Friendliness | AI-Based | Suitable for |
| --- | --- | --- | --- | --- | --- |
| DVDFab Video Enhancer AI | ★★★★☆ | ★★★★★ | ★★★★☆ | ✅ | Professional video editing |
| HitPaw Video Enhancer | ★★★★☆ | ★★★★☆ | ★★★★★ | ✅ | Novice video editors |
| Aiseesoft Video Enhancer | ★★★☆☆ | ★★★★☆ | ★★★★☆ | ✅ | Basic video enhancement tasks |
| Adobe Premiere Pro | ★★★★★ | ★★★★★ | ★★★★☆ | ✅ | Professional video editing |
| FonePaw Video Converter Ultimate | ★★★★☆ | ★★★★☆ | ★★★★☆ | ✅ | Converting and enhancing videos |
TOP 5 Video Enhancers (Powered by AI)(Updated April 2023)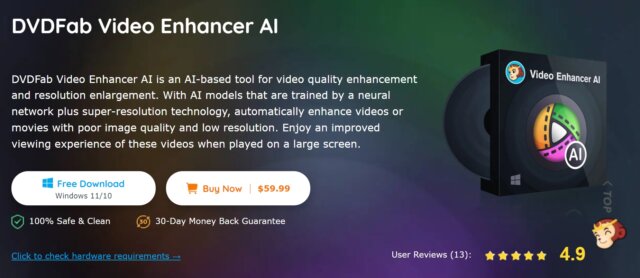 Price: You can use a free trial. Otherwise, there are three paid plans that you can choose from One month, one year, or lifetime subscription. They cost $59.99, $79.99, and $99.99 respectively.
Compatibility: Windows 10 and 11.                            Technology: Artificial Intelligence.
Features:
AI based video enhancer, which is both helpful and rare as compared to other apps.
The AI design allows you to enhance videos without spending much time. Just upload the video and wait for a few seconds as you focus on other tasks.
Multiple paid plans, with the lifetime plan being a good deal.
You can turn any resolution to 4k.
Available for Windows 11.
Rating: 10/10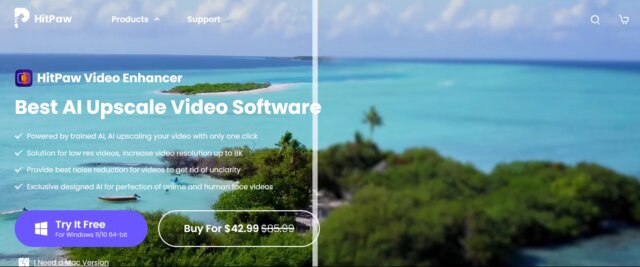 Price: $42.99/mo; $99.99/year                           Available on: Windows & Mac
Features:
AI upscale video with one click
Upscale video to 8K
Diverse AI models
Note: HitPaw video enhancer provides exclusive designed AI for perfection of anime and human face videos. And our experience with HitPaw Video Enhancer was mostly positive, but the relatively high subscription price might be a concern for some users. Nevertheless, the software's advanced AI features make it a worthwhile investment.
Rating: 9/10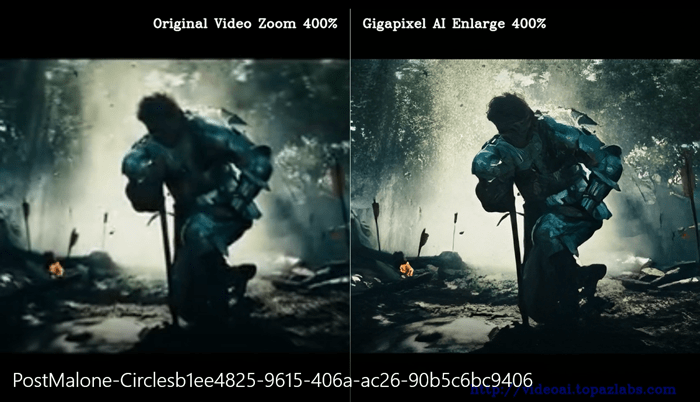 Price: Varied                           Available on: Windows
Features:
Upscale low-quality video 400%
SD to 4K
HD to 8K cropped
Note: Before you install it, you can go to its site and have an online trial. You can also upload your videos and make it process your videos online without installing the software. And the fees vary according to your choices.
However, we encountered some issues with its facial recognition and processing capabilities, which may be attributed to the software being in the trial phase.
You can also find a lot of other AI solutions to video, audio, and image processing on its site, like Sharpen AI, Denoise AI, etc.
Rating: 9/10
4. Aiseesoft Video Enhancer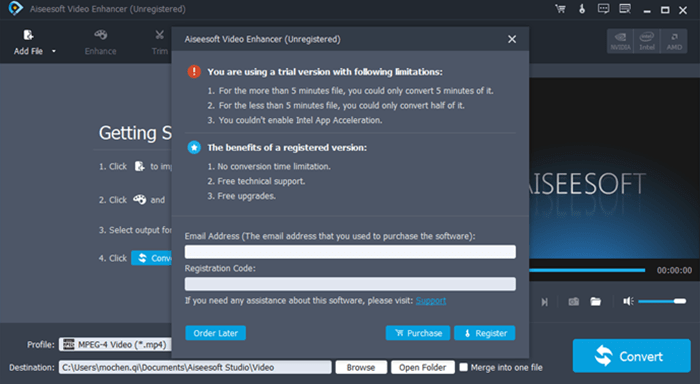 Price: $17.50/year $27.30/lifetime                           Available on: Windows, Mac
Features:
Upscale video resolution high up to 1080p HD even 4K
Optimize brightness and contrast automatically
Remove video noise to get a clear video vision
Reduce video shaking to get a stable video file
Rotate, flip, watermark, enable 3D, crop video easily
Process multiple videos at once, as you can assign separate encoder profiles to each item and convert them all in one quick operation
Note: The interface is quite clear and suits novice well. Some functions like upscaled resolution are only available on a paid version, but it is worth the price. It also provide Aiseesoft for Mac.
Rating: 9/10
5. GDFLab - Video Upscaler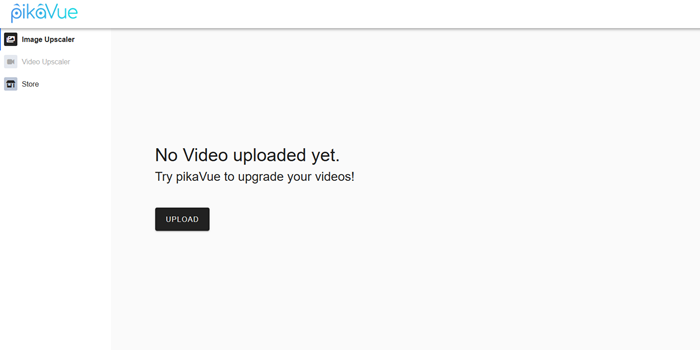 Price: not specified                           Available on: ONLINE Video Enhancer
Features:
Upscale videos by increasing both the resolution and quality up to 4x the size and up to 4K UHD (2160P)
Upload your images and videos simultaneously to all the major platforms you want such as YouTube, Facebook, LinkedIn, Twitch, etc.
Note: Korean Artificial Intelligence technology company GDFlab uses AI technology to develop IT solutions for image and video upscaling, recognition, and compression technologies. It claims that for example, FHD input video can be upscaled up to 16K video while 360p input videos could deliver FHD video in the mobile app through embedded GDF AI upscaler. But it didn't perform well in testing.
You can go to this site to have an online trial. It will send you a link through email and you can click the link to go to another site for an online trial.
Rating: 8/10
Conclusion
It couldn't be more perfect and professional when AI is applied to improve video quality. As super-resolution technology emerges, there are many solutions on the market to upscale resolution with AI. Most of them can only upscale image resolution and really do a very good job in this field. When it comes to video enhancement, however, it costs much more effort and only a few solutions are available now.
Check 20 Best Video Quality Enhancer You Shall Use 2023 | Free&Paid for more programs to enhance your video.
---
Top 5 Video Enhancers (NOT Powered by AI)
1. Adobe Premier Pro
Price: $20.99/month                           Available on: Windows, Mac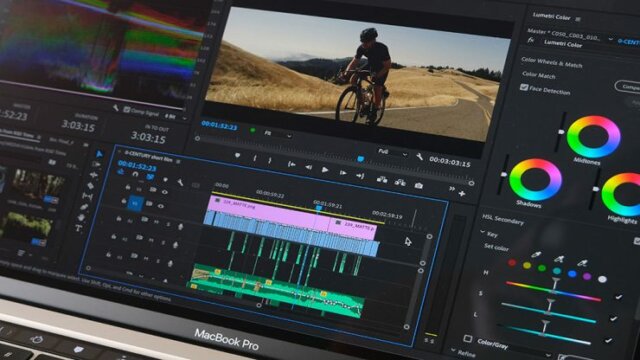 Features:
Adobe Premier Pro is powerful enough to satisfy not only novices but also to play a great role in the hands of professional video editors
Adobe Premier Pro is compatible with and supports thousands of different and useful plug-ins
With a comparison view, Auto Color Correct is available
There are several Auto Reframe choices available, including Default, Slower, and Faster motion
Supports several file formats and a variety of transition effects
Adobe Premier Pro can handle both shared and concurrent tasks
Note: Adobe Premier Pro requires a high level of performance and storage space on your computer, but it's so powerful that it's worth upgrading your computer if you need to do so.
Rating: 10/10
2. FonePaw Video Converter Ultimate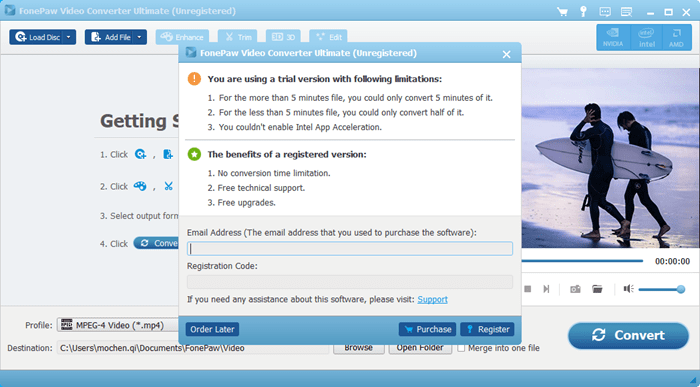 Price: $29.95/lifetime $59.95/family license          Available on: Windows, Mac
Features:
Upscale resolution in one click
Convert low-resolution video to high resolution
Adjust brightness and contrast to improve dark video quality
Reduce shaking to stabilize videos and denoise videos
Improve the light and color balance of a video by adjusting hue, saturation, brightness, and contrast
Apply text or image watermarks & cropping
Support a wide range of formats (MKV, AVI, WMV, MP4, FLV, and MP3, WAV, M4A, WMA, 3GP, MJPEG, etc.)
Note: It is easy to use with a clear interface. Despite its impressive capabilities, Adobe Premier Pro requires a high-performance computer with ample storage space. However, its power and feature set justify upgrading your computer if necessary.
Rating: 9/10 
3. Pinnacle Studio Pro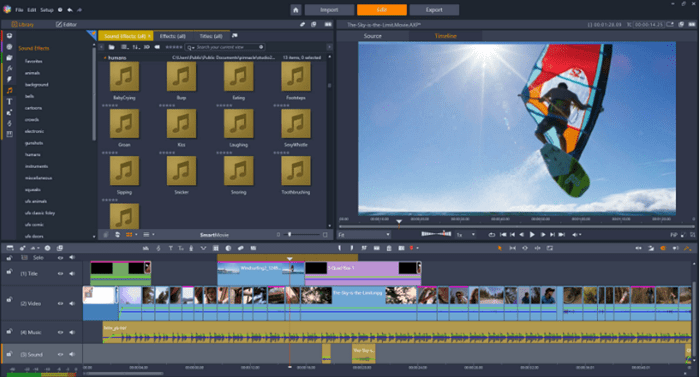 Price: $59.95/entry-level $99.95/Plus $129.95/Ultimate           Available on: iOS
Features:
Fast rendering performance and transitions controls
Individual frame editing
Unlimited creative possibilities with 2,000+ filters and effects
New workflow efficiency to streamline your editing process
Edit 360-degree VR content
Multicam editing
4K and H.265 support
Note: It's also an excellent app for people who want to post enhanced videos on social media, with easy share buttons for YouTube, Facebook, Twitter, etc.
But we also met some disappointing things like occasional crashes in testing, unreliable motion tracking, and uneven 360-degree VR implementation.
Rating: 8/10
4. Avidemux
Price: FREE                           Available on: Windows, Mac, Linux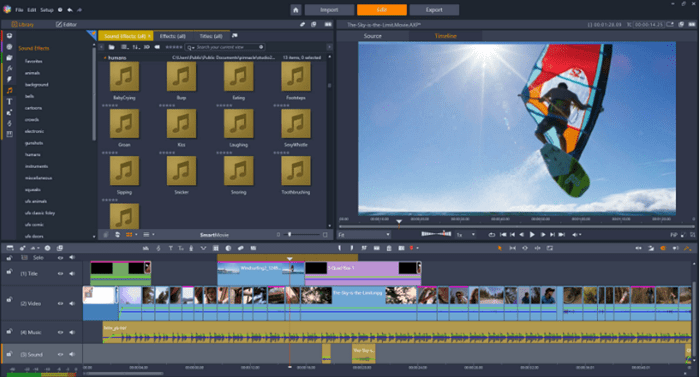 Features:
Support non-linear video editing, visual effects, and transcoding
Support muxing (multiplexing) and demuxing
Support  popular subtitle formats: SUB, SSA, ASS, SRT
Powerful scripting capabilities (tutorial available here)
Multiple filtering options: auto-resize, gauss smoothing, deinterlacing, chroma shifts, add black borders, etc.
Comes with a GUI (graphical user interface) and command-line interface
Various output formats supported: MKV, Flash, AVI, MPEG-1/2, OGM, MP4, etc.
Built-in video encoders for: MPEG-1, MPEG-2, FFHuffYUV, FFV1, H.263, H.263+, HuffYUV, MJPEG, MPEG-4, Snow, x264, x264, Xvid, Y800
Built-in audio encoders for MPEG-1 Layer 3 (MP3), Vorbis, AAC, MPEG-1 layer 2 (MP2), AC-3, MPEG-1 layer 2 (MP2), Microsoft RIFF WAV PCM, LPCM
Stabilize and upgrade videos regular into high definition resolution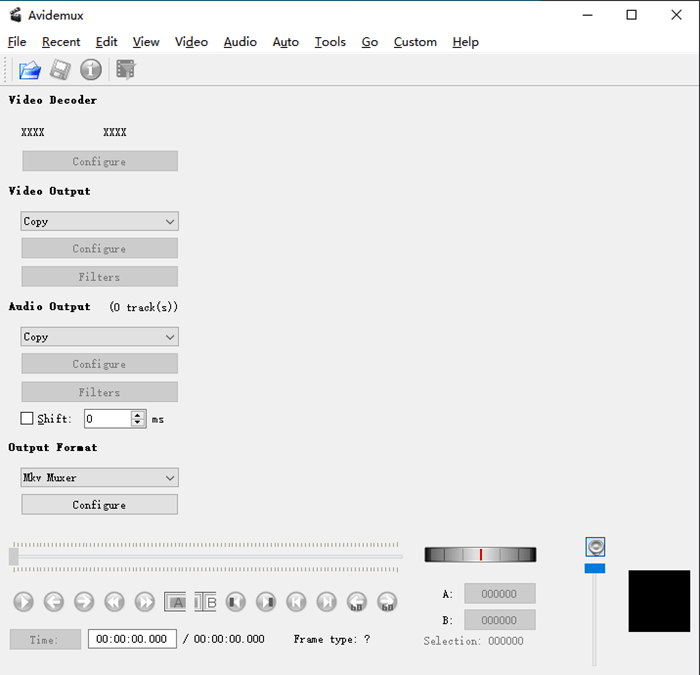 Note: You can't upscale resolution through this software.
A video timeline or creative effects are not offered. The interface is somewhat complicated for the novice. Some of the menu settings and names aren't intuitive for a raw beginner. Unless you're already familiar with terms like 'deblocking' and 'VBR time map,' expect to spend some time looking them up first.
Avidemux has a somewhat dated interface; not the most professional looking freeware program out there. It has only a few icons and instead you have to rely heavily on the sometimes confusing menus.
Rating: 8/10
5. Filmora Video Editor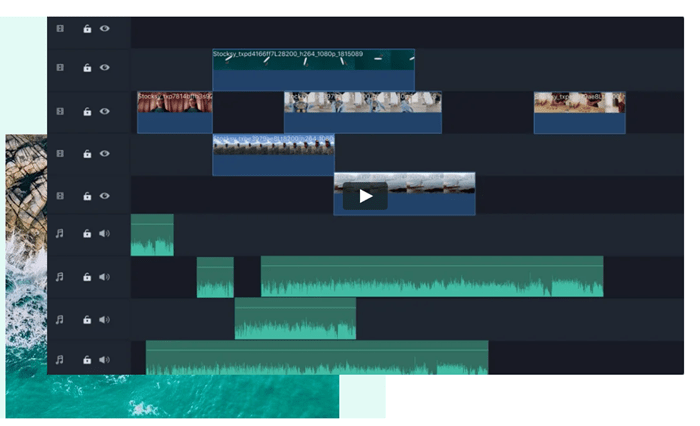 Price: $39.99/year $59.99/lifetime                           Available on: Windows, Mac
Features:
Improve stabilization, brightness, contrast, tint, & saturation controls
Add overlays, motion graphics & title templates
Multiple video formats are supported
Note: You can't upscale resolution through this software.
Before installing, you are suggested to check your graphics drivers in case you fail to reach the best performance.
A free version is available, but it leaves a watermark on your content and doesn't give you access to the vast library of effects through the store.
Supported OS: Windows 7/Windows 8.1/Windows 10 ( 64 bit OS).
Processor: Intel i3 or better multicore processor, 2GHz or above.
(Intel 6th Gen or newer CPU recommended for HD and 4K Videos).
RAM: 4 GB RAM (8GB required for HD and 4K videos).
Graphics: Intel HD Graphics 5000 or later; NVIDIA GeForce GTX 700 or later; AMD Radeon R5 or later.
2 GB VRAM (4GB required for HD and 4K videos).
Disk: At least 10GB free hard-disk space for installation (SSD-Solid State Disk recommended for editing HD and 4K videos).
Sometimes, you may need a mobile video enhancer to add some visual effects, edit footage, or make slight adjustments to your videos. In this case, we recommend some free apps that are easy to use but with fewer features and functions.
Also read our detailed and comprehensive review about Filmora Video Editor
Rating: 8/10 
---
Top 5 Mobile Video Enhancer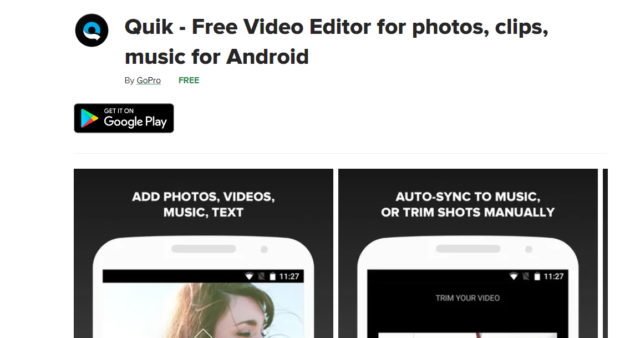 1. Quik – Free Video Editor for photos, clips, music
Price: FREE                           Available on: Android, iOS
Features:
Create videos from photos, music, and videos.
Speed up footage or play it in slow motion.
Do its magic with Smart Cuts or use full video clips.
Automatically syncs transitions to the beat of the music.
Note:
Adding transitions screws up the time-lapse.
It crashes at about 50% of the video download.
Rating: 10/10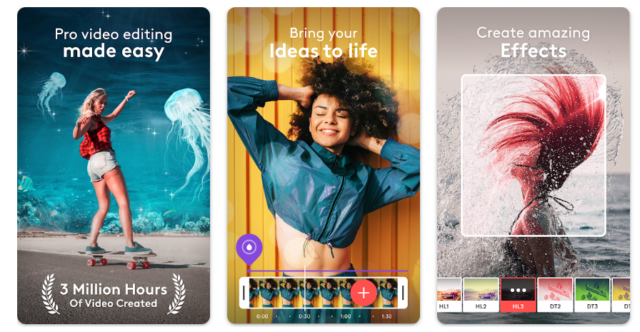 Price: FREE                           Available on: iPhone, iPad
Features:
Layer-based editing of transformation, masking and blending modes.
Keyframe animations, green screen, and chroma key compositing.
Special effects like a prism, defocus, emojis, filters, etc.
Color correction of brightness, contrast, saturation, etc.
Over 100 sound effects for video enhancing.
Note:
Green videos and overlays are paid.
It gets laggy when you add too many layers of stuff.
Rating: 9/10
3. InShot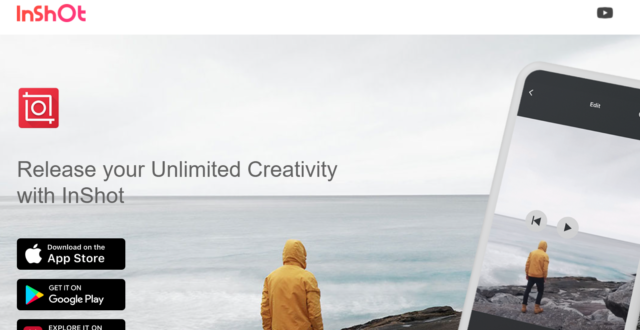 Price: FREE                           Available on: Android, iOS
Features:
Make and edit videos
Edit audios
Trim, split, merge videos
Many filters and effects
Speed controls
Convert video formats
Note: This is a top-rated cross-platform mobile app with more than 100 million downloads of its Android version. It has a preset list of size ratios that cover all the leading social platforms so your video will be suitable for every audience.
Rating: 8/10
Conclusion
If you are looking for an affordable video enhancer or even a free one, you can check the products that AI does not power. Those products perform well in editing videos, like improving brightness and contrast or adding some effects, but not so good at video resolution enhancement.
Those mobile products may not meet your requirements when you want to upscale your video resolution on your mobile phone. If you're going to do so, please pick the paid version or try the online version of those powered by AI.
Before you install or buy any product, please make clear your demands and learn about the functions and requirements of that product.
If you also need a product to enhance your photos, you may find a proper one in Top 20 Best Photo Enhancers Review 2023 | Enhance Photo Quality.