Writesonic is an application that can push away all your writing anxieties. Writing is something we all do but only a few can do it professionally and in a way that elevates a business and persuades people to actually take action. That action can be anything from liking a post, sharing a video, or buying a product or a service from you. But what is Writesonic? It is an AI powered content writing app that automatically provides you with written content that is rich in quality and useful to readers. With that said, in this writesonic review, we will examine all the important aspects of the AI content writing tool in order to get to a conclusion.
What is Writesonic?
So what is writesonic and how does writesonic work? Writesonic is basically an automatic content writing tool that assists you greatly when it comes to written content creation. Considering the amount of marketing done online, basically everyone needs to write content for some reason or another. Not to mention that each marketing vertical requires a different style and tone of writing.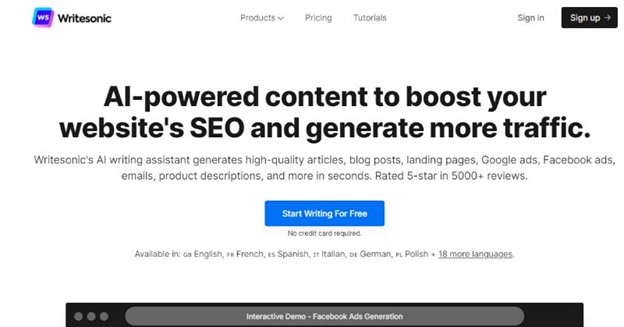 How writesonic works is that it first asks users to give a few key details about their company, product, or service, which the user can provide in just a couple of lines. After that, users only need to click on the Generate button and the AI content writing algorithm starts automatically generating copies. Moreover, it creates multiple such copies, differing slightly from each other, so that users have options and they can choose the one they like the most. Since it is AI based and has been designed to understand context based writing as well, it more often than not imitates natural writing styles of people and hence avoids sounding like spam or a bot. Now writesonic is also regarded as a alternative for ChatGPT, read more: Top 10 Alternatives for ChatGPT.
How to use Writesonic?
Writesonic offers a bunch of different styles and types of content writing as well as copywriting texts. However, the steps to set up an account and get to the main dashboard for all these features remain the same.
1. First, you can use this writesonic link to access the website. There, you can scroll down to read further info about the app and what it can offer you. Click on the Start Writing for Free button to proceed ahead.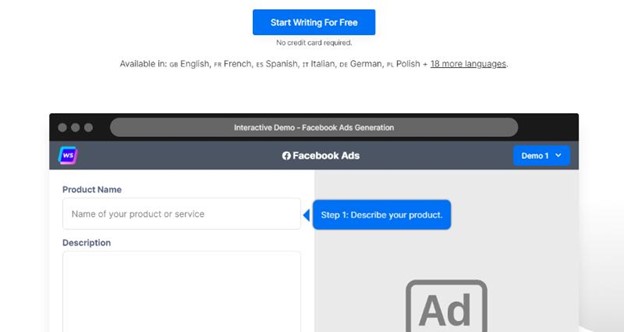 2. This is where you create an account. Do not worry though, as you have options of using your Google or Microsoft account to do a quick sign up into writesonic. Once you do that, the app will ask you a few questions in order to customize its app as per your work and requirements.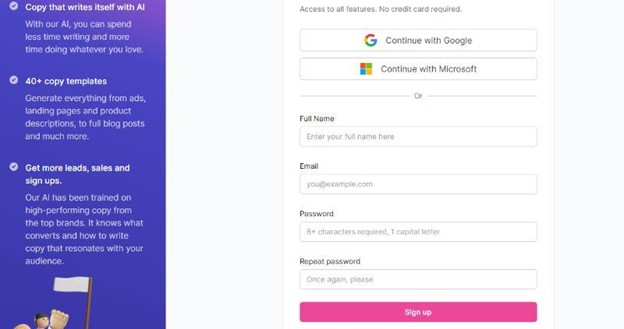 3. After clicking on Next, you will be taken to the dashboard, wherein you can access the features that writesonic offers.
Is writesonic free? Users get ten free credits which they can use any way they want. After that, you will need to buy a subscription.
Performance and Features of Writesonic
With an AI content writing app like writesonic, you can get expert assistance in just about any form of copywriting and content writing. The AI of this app is trained well enough to handle everything from article intros to entire articles. As per the official website, it categorizes its services based on platforms and verticals. When it comes to website based copy, the app provides landing pages, features to benefits, headers, and more. Similarly, it offers content writing services for ecommerce copies, digital ads copies, article and blog copies, and also other useful tools.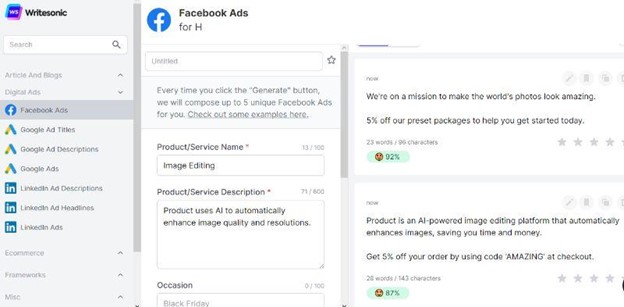 This is an example copy or content generated from this app. The results were provided within a couple of seconds only. On the left, you will see the Product / Service Name and below it a textbox asking for a small description of said product or service. After filling those details out and hitting the generate button, the writesonic app will present multiple versions of copies that you can use.
The app also gives a sort of ranking to its own copies through the heart-eye emoji. As you can see on the right-hand side, each copy has a specific rank and they are all placed in order of the ranking itself. While the rankings do give more info to users, they are not an absolute indicator of quality.
Conclusion
Writesonic can be a highly welcome addition to your toolkit for marketing and more. Given how essential a well-written content piece and copy is, you will never run out of uses for such an app. Not to mention that its AI based design makes it quick to use but also really easy as well. As a user, you just need an account and select the type of content you want written. The Writesonic app handles everything after that.
When it comes to the paid options, there are plenty. You can start off with the Basic account which costs $15 per month with 100 credits and additional features offered.
Read more: Top 10 AI Writer Applications Review 2023