AI Writer Applications streamline the content creation process using artificial intelligence to generate articles, emails, ads, and more. AI Writers can save time and effort for writers, and generate quality content for marketing purposes.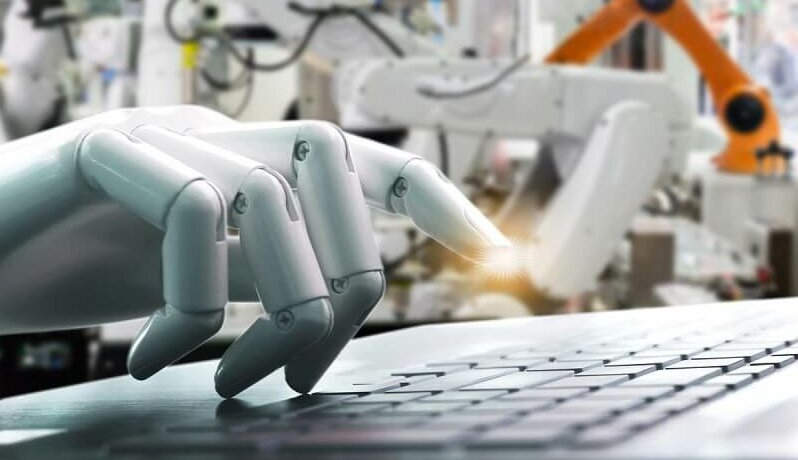 Everything is being automated these days including writing. While the technology that allows us to generate pieces of written content using artificial intelligence is still in its infancy, it can already produce some pretty decent articles. Provided you're using a good AI writer application of course. Keep in mind that not even the best AI writing software can replace human writers at the moment, however, some of these applications can do a fantastic job at streamlining your work flow. In addition, AI writers are also capable of putting together some very interesting works of fiction you might enjoy.
If you're interested in learning more about these types of applications you definitely came to the right place. That's because in this article we're going to take a look at the top 10 best AI writer applications currently available on the market. With that out of the way, let's get started, shall we?
Also read: Top 15 AI Image Upscaler for 2023 | Make Images Professional with AI Upscaling.
Top 10 AI Writer Applications
| Product | Price | Content Generation | SEO Optimization | Customization | Article Rewriting |
| --- | --- | --- | --- | --- | --- |
| Bertha.ai | $20/mo+ | ★★★★☆ | ★★★☆ | ★★☆ | ★★★☆ |
| Zyro | Free | ★★★☆ | ★★☆ | ★★☆ | ★★☆ |
| AI-Writer | $29/mo+ | ★★★★★ | ★★★★ | ★★★☆ | ★★★★ |
| Sassbook AI Writer | $32.5/mo+ | ★★★☆ | ★★☆ | ★★★☆ | ★★★☆ |
| Writer | $11/mo+ | ★★☆☆☆ | ★★★★ | ★★★★ | ★★☆☆☆ |
Top 1

  Bertha.ai
Price: Free/month 1, then start at $20/mo
Bertha.ai content creator is a revolutionary tool that uses cutting-edge natural language processing and artificial intelligence to help you create compelling, engaging content in a fraction of the time it would normally take. With Content Creator, you can easily generate blog posts, social media updates, product descriptions, and more, all with just a few clicks. Not only is Content Creator incredibly easy to use, but it's also fully customizable, so you can tailor it to your specific needs and preferences. Whether you're looking to improve your SEO rankings, boost your social media engagement, or simply save time and effort, Bertha.ai's Content Creator has you covered.
Pros:
Saves time, create content quickly
Uses AI algorithms to suggest keywords, tone, and style
Cost-effective
Cons:
Limited customization
Limited domain expertise
Not suitable for complex content
Top 2

  Zyro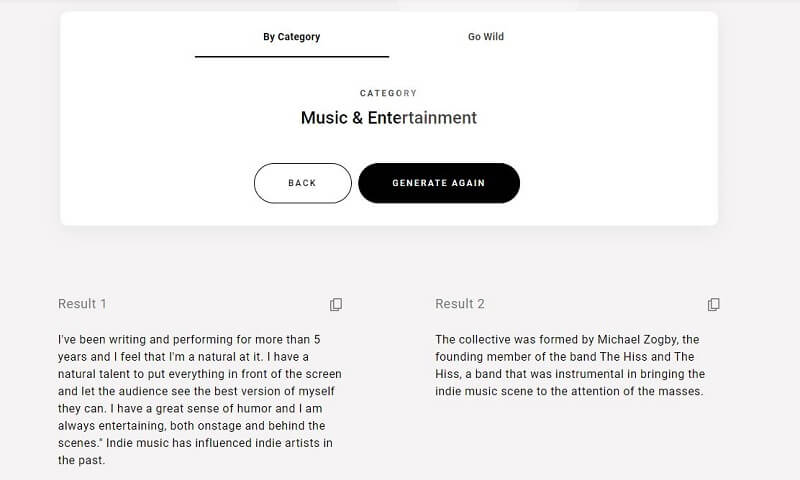 Price: Free
Zyro is a well-known company that offers many interesting products like logo makers, image upscalers, policy generators, and more. One of their newest and possibly best products, however, is an advanced AI content generator. There are two ways of using the application. The first method requires you to select from a list of categories and then letting the AI generate appropriate text. The other method is a bit more interesting. You start by typing a few sentences and then let the AI continue the story for you. These results are pretty random but the story does make sense, most of the time.
Pros:
Easy to use
'Go Wild' mode is a lot of fun
Very fast
Cons:
Category mode is limited
A lot of the generated text sounds outlandish
You may also be interested in Top 10 AI Image Diff Checkers Review 2023.
Top 3

  AI-Writer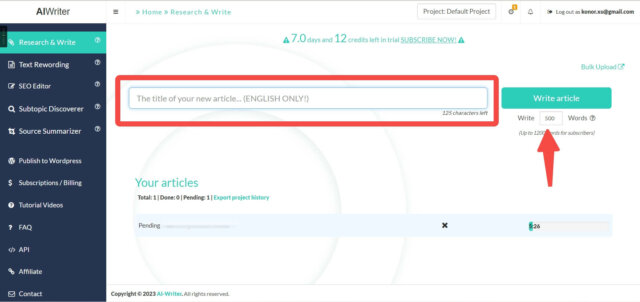 Price: $29/mo for the basic plan, and $59/mo for the standard plan. Free trial for 1 week.
Not to be confused with the AI Writer app mentioned earlier on this list, AI-Writer is a content generation platform capable of creating entire articles in just a matter of minutes. And, even better, it only requires a headline as its first input. The resulting content is guaranteed to be unique and the AI even gives you a list of citations to go along with it. AI-Writer even takes SEO into account when composing your articles. In addition to being able to generate unique content, the app can also rewrite existing articles.
Pros:
Unique content generation
Article rewriting
SEO efficient
Cons:
Better for drafts than ready-to-publish articles
No free plan
If you want to know more about AI Writer and how to use it read How to Use AI-Writer To Create High-Quality Content?
Top 4

  Sassbook AI Writer
Price: Free. Paid plans start at $32.5/mo
Sasssbook AI Writer is a pretty good choice if you're looking for a way to generate articles or reviews that sound somewhat believable. You start off by typing a 15-30 word prompt along with a few keywords (optional) and then letting the AI article writer continue things for you. The AI will not generate an entire article but rather just a couple of paragraphs. You can then decide if you want to enter the next prompt yourself or let the AI writer generate the next bit. Essentially, you're working in tandem with the AI instead of letting it do all the work for you.
Pros:
Useful configuration options
Tries to spice things up by adding links
Let's you choose the style of the article
Cons:
A lot of features are locked behind a paywall
Auto-generated links are usually not helpful
Also read: Top 10 AI Image Generators Review.
Top 5

  Writer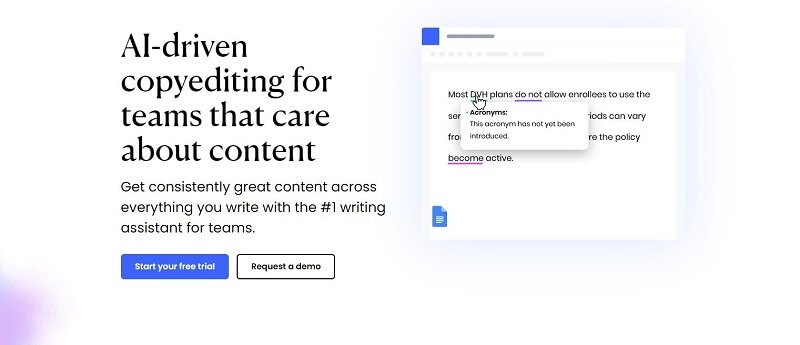 Price: $11/mo. Free 30-day trial.
This next application is known simply as Writer and has been around for quite a while. Unlike a lot of the other apps on this list, Writer is not an AI content generator. Rather, this is a writing assistant that can help you improve your workflow in a wide variety of ways. This includes everything from autocorrect and insights to term suggestions, and more. The application is primarily aimed at organizations with multiple writers that require a streamlined and uniform style of writing. That said, Writer can also be helpful to individual users. Check out the free trial if you want to test it out for yourself.
Pros:
One of the best writing assistants on the market
Plenty of useful features
Great for big publications
Cons:
No free plan
Doesn't involve a lot of automation
Also read about the Novel AI: A pioneer in AI writing and drawing.
Top 6

  WordAI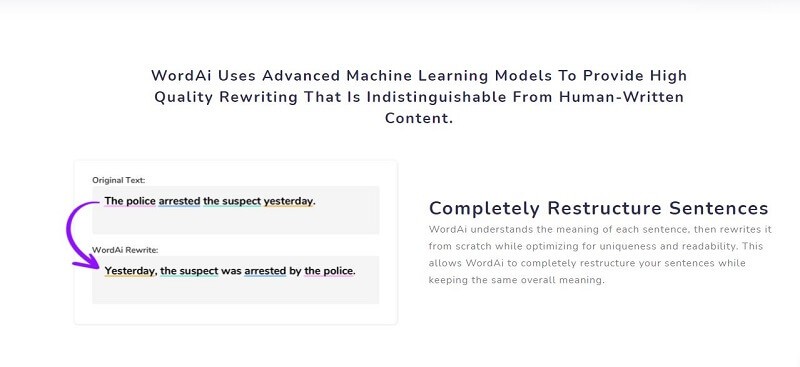 Price: Starts at $49.95 per month. Free trial.
WordAI is a very ambitious application that promises to rewrite anything you throw at it. Not only that but it is seemingly able to use machine learning to provide human-quality content that passes plagiarism checks. Among other impressive features, WordAI also provides bulk article rewriting, allowing you to increase your content output by a very high margin. Naturally, your results will vary depending on the complexity of the article you're trying to rewrite. Make sure to focus on simple articles if you're planning to pick up WordAI.
Pros:
Human-quality rewriting
Bulk rewriting
Passes plagiarism checks
Cons:
Very expensive
Limited (3-day) free trial
Top 7

  SmartWriter

Price: Starts at $49/mo. Free trial.
Next up we have another AI content generator, this time one that can help you automate emails. Forget about having to come up with personalized email messages because SmartWriter can do all the heavy lifting for you. The app pulls data from a variety of sources like websites, news articles and LinkedIn profiles and uses it to compose email templates that you can then send to your clients and associates. This is the perfect tool for backlink building, LinkedIn personalization, and tailored cold emails.
Pros:
Generates quality email templates
Good for backlink building
Good for LinkedIn targeting
Cons:
Few uses outside email template generation
Expensive, with limited (7-day) free trial
Top 8

  Kafkai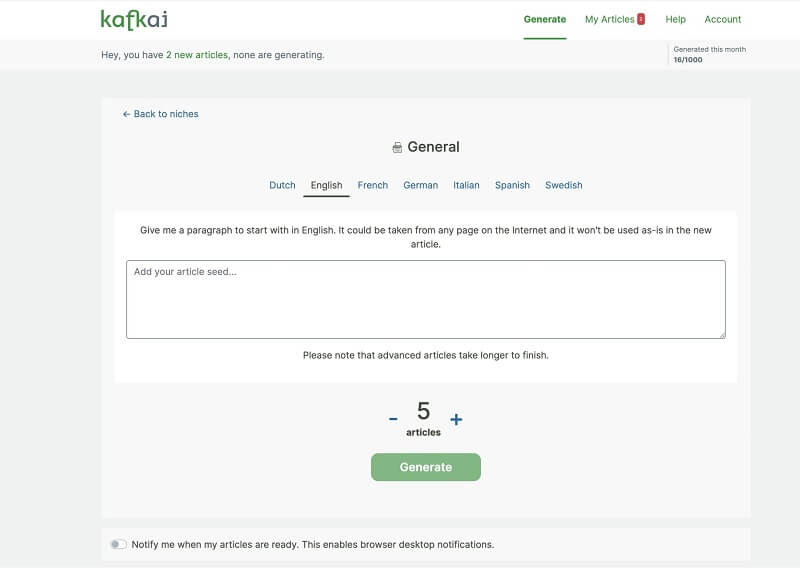 Price: Starts at €27/mo. Free trial.
The idea behind this next AI writer is that it can create original pieces of content from scratch. Well, for the most part. You will need to give the AI a paragraph or two to get the ball rolling but you can simply sit back and relax afterward. Kafkai also has a mode where you simply select the niche and let it write a random article without requiring any starter text, but the resulting content usually requires a lot of editing. Similar to a lot of other AI content generator tools, Kafkai is best used for short articles.
Pros:
Supports three different writing modes
Lots of niches to choose from
Writes in 7 different languages
Cons:
Not great for long-form articles
Expensive, with limited (3-day) free trial
Top 9

  Writesonic – AI Article Writer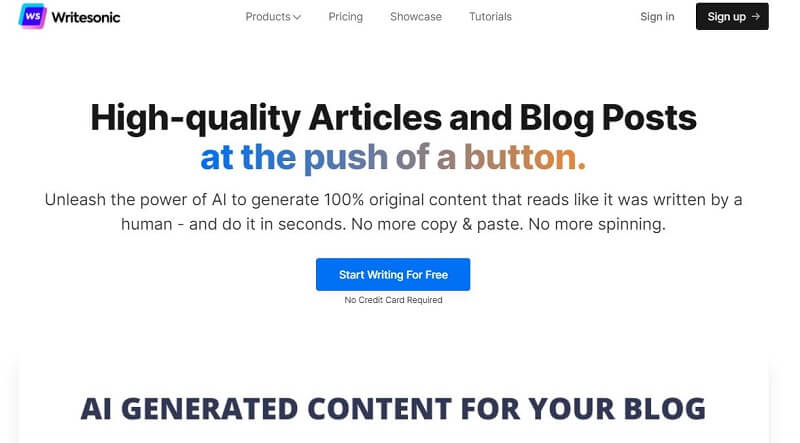 Price: $25/mo. Free trial.
Writesonic is one of the top content generation platforms on the market in 2023. The AI writer app has quite a few features, including article summarization, marketing copy generation, rewriting, grammar checks, and more. The content generated by Writesonic can be used as is in some cases but it's better to have an editor look at it if you're aiming for high quality. The company also offers a different yet related product that does a great job at generating relevant ads for platforms like Facebook, Google, LinkedIn, and more.
Pros:
Many features to play with
Great for marketing
Very fast
Cons:
Better for drafts than ready-to-publish articles
Very limited free trial
Top 10

  Conversion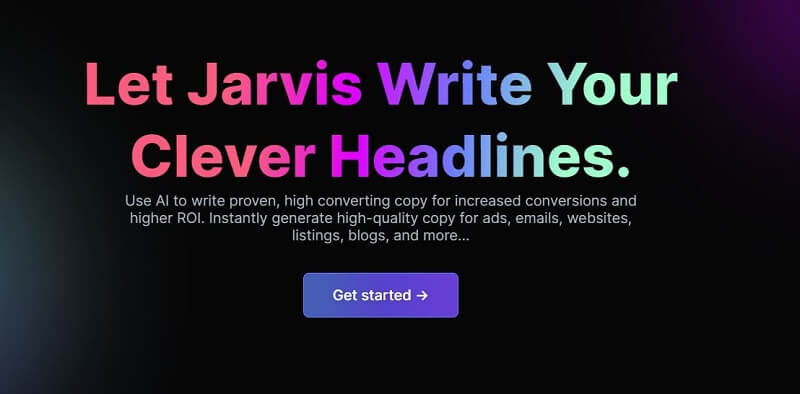 Price: Starts at $29/mo
Last but not least we have Conversion and the company's Jarvis AI; a pretty obvious nod to Iron Man. While this particular Jarvis isn't nearly as advanced as Iron Man's assistant, the AI is advanced enough to generate copy quickly and with perfect grammar. Jarvis is an excellent tool for generating very short content like descriptions, listings, emails or ads. Therefore, it works best in combination with other AI writers that are better at generating long-form content. If you only need things like descriptions, though, Jarvis definitely works great all by itself.
Pros:
Great for short-form content
Very fast
Perfect grammar
Cons:
Not very useful for longer articles
No free trial
Also read: Top 10 AI OCR Software Review
FAQs
How does AI writer work?
Most of the AI content generation tools available today are based on GPT-3 (Generative Pre-trainer Transformer 3), an advanced language model that creates text using deep learning. The resulting text aims to mimic content written by humans. This is the third generation of the technology, which was developed by Elon Musk's OpenAI.
What is an AI writer?
An application or tool that creates content using artificial intelligence algorithms is commonly referred to as an AI writer. These tools come in a few different varieties, some of which assist the writer with useful recommendations for improving the content while others write most if not all the content themselves. 
Can AI replace writers?
There's a lot of debate surrounding this question and the short answer is: partially. AI writers are not capable of injecting sufficient personality and creativity into the content to replace articles created by human writers. However, these tools are definitely good enough to create generic text meant to ease some of the workflow of human writers.
Final Thoughts
AI writers are a fairly new development coming from the fascinating world of artificial intelligence. GPT-3, the technology powering most of the modern ones, was only made publicly available in 2020, and has yet to reach its full potential. But even in their current form, AI content generator applications can be used to make things easier for many writers. Though AI will probably never replace human writers completely, we can already imagine how they might one day write a lot of the content we find online. If you want to be one of the people using AI to generate this type of content, make sure to check out the applications mentioned in our article. Also read: Top 10 AI SEO Software Tools Review