Pebblely can be your premium solution to removing and creating brand new backgrounds for your product photos. Its AI enables you to create great visuals easily.
Pebblely is an AI application that can significantly enhance your product photography. Giving your products a great presentation is crucial if you want potential customers to consider purchasing or at least bookmarking. For that to happen, you will need to have stunning photographs of all your products.
The AI product photographer offers a variety of features to help you give your products a fresh look within seconds, such as background AI, prompts, etc.
Check out the full list of Top 10 AI Product Photo Generator Review
Overview of Pebblely AI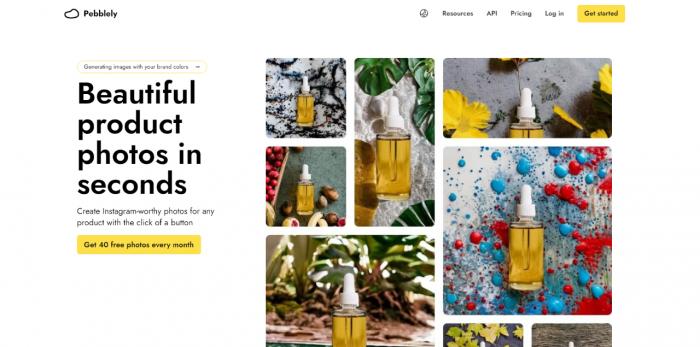 Images Credit: Pebblely AI

Price: Pebblely Standard costs $19/month. The Pro edition will cost $39/month.

You can also get a more personalized experience with Pebblely AI photography with the Bespoke custom plan.

Platforms: It is available online. You can also opt for an API.

The Pebblely AI photography brand offers a seamless solution for users seeking to enhance their ecommerce photography effortlessly. With its professional photo background and image enhancement capabilities, the AI product photographer empowers brands and creative professionals to create impressive product photos in seconds.

Users can choose from a variety of themes or customize their visuals, giving them room for experimentation. However, if you want to stick to a set idea, they can do that too. The AI product photographer offers a responsive and welcoming UI design, which can appeal to all users regardless of their experience with product photography.

Not to mention that the Pebblely AI background generator uses advanced AI algorithms, similar to the best AI background remover apps.

Fundamental Features of Pebblely AI Photography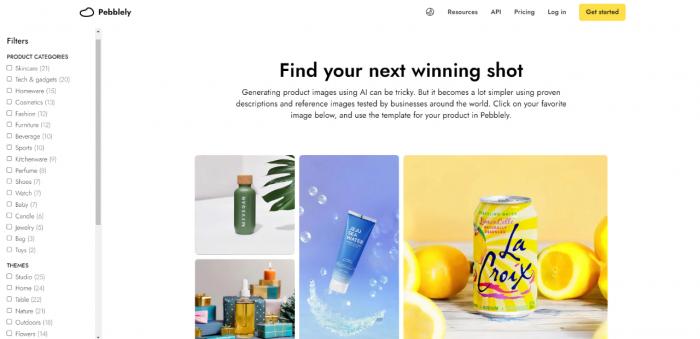 Product Photo Gallery: Once you sign up for an account on Pebblely, you can view a vast library of product photos along with the prompt used to generate each photo.
Search: You can filter your page in order to view product photos of a specific theme or product category, such as skincare.
Background AI: Besides editing, the Pebblely AI background generator can also remove backgrounds from images with good accuracy.
Outstanding Features
FeaturedAI Generating Background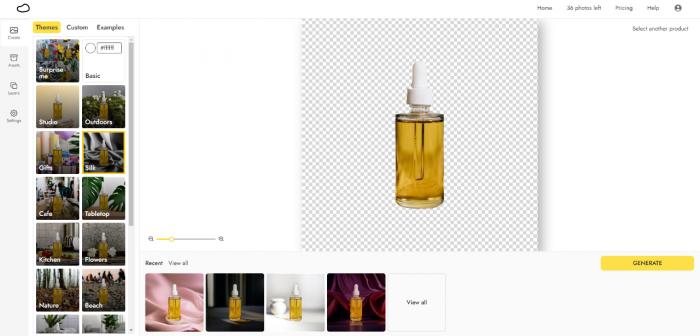 The Pebblely AI product photographer is able to produce new backgrounds according to the theme you choose. In this case, choosing the Silk theme produced the four images that you see below the product photo. Considering these results, it can be said that Pebblely AI photography technology can create a professional photo background.
Another advantage of using Pebblely is that it provides plenty of themes to choose from. Popular and commonly used themes, such as Tabletop, Kitchen, Nature, and Cafe are present.
With a paid subscription, users can get access to the Pebblely AI background generator as well. You can type prompts describing the kind of background you want.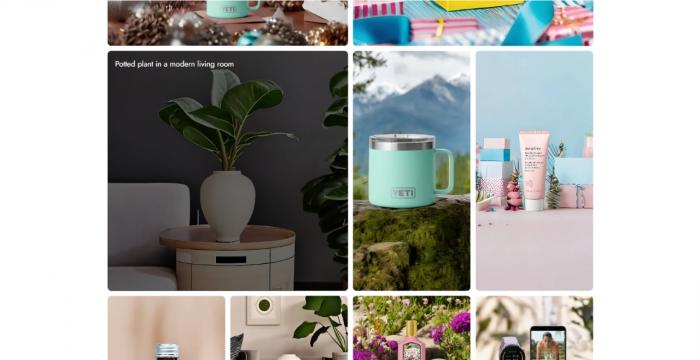 You could use it as an AI poster generator as well. This innovative approach draws on proven descriptions and reference images, tried and tested by businesses worldwide. With a simple text prompt, users can let their creativity take over and explore possibilities.
FeaturedOne Image. Multiple Pieces of Content.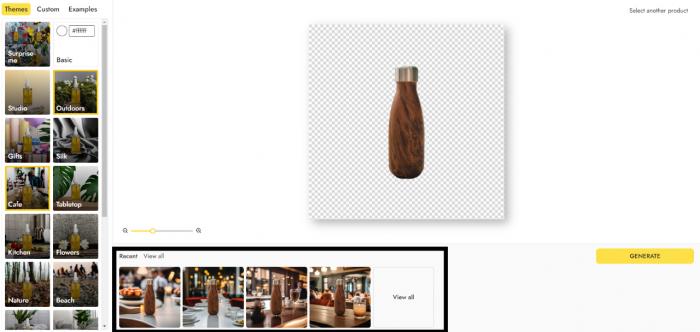 Pebblely AI background generator produces multiple backgrounds for each image, making it a versatile feature for users looking for creative product photography. With this innovative functionality, a single product image can be effortlessly transformed into multiple captivating visuals, each set against a different background theme.
Whether it's a cafe, nature, urban, or any other theme, users can explore diverse settings and moods for their product, enhancing its appeal and resonance with their target audience. This not only saves time but also offers the flexibility to tailor marketing content for various occasions and platforms, ensuring a consistent yet dynamic brand presence.
The AI product photographer also enables users to create image output in different sizes, which also cater to social media dimensions.
Why Editor Picks?
If you're into product photography or background editing in general, then Pebblely is a valuable application to have. It can not only provide a professional photo background through its features, but it is also an accurate background remover tool. There aren't many applications that offer clean background removal and replacement in the same package. In a way, Pebblely can be a good alternative to transparent background maker tools.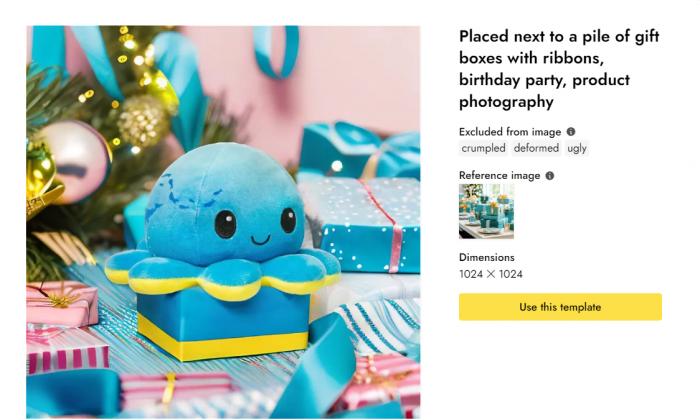 Pebblely Specific Background

Pebblely's AI capabilities can be useful to showcase your product in various scenarios. For example, you could type a prompt to show your shoe products would look in various settings, such as the beach, nature, city, and more. In the above sections, we also showcased a bottle placed in a cafe.

Pebblely also offers a really good UI. Its intuitive interface streamlines the process of creating stunning product images. Users can effortlessly navigate through the platform, selecting themes, customizing backgrounds, and generating visuals with ease.
Our Suggestions
The AI product photographer app caters to a broad spectrum of users, making it an indispensable asset for various individuals and businesses. For e-commerce entrepreneurs and small business owners, it addresses the need for cost-effective and efficient product photography, enabling them to experiment freely and offer diverse visuals.
Creative agencies and designers find value in Pebblely's ability to swiftly generate eye-catching visuals for marketing campaigns and mood boards, streamlining their workflow. Moreover, it benefits social media managers and marketers, enabling them to create engaging content across multiple platforms with ease. Overall, Pebblely, due to its remarkable performance and features, is definitely worth buying.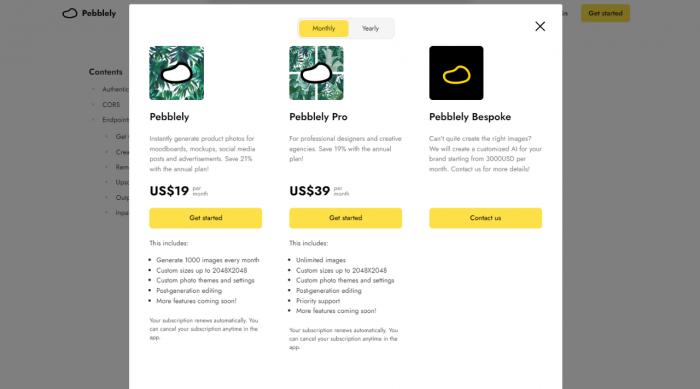 Pebblely Pricing Plans

When considering the paid options and the features that it provides, the information given on the website is viable. For freelance designers, creative individuals, and similar, the standard edition would be enough, as it offers 1000 images, high resolutions, and other features. For teams that need to experiment with images frequently, the Pro version would suit them well enough.
Conclusion
Pebblely stands out as a remarkable app that excels not only in adding new backgrounds but also in background removal, a unique combination rarely found with such impressive performance. Leveraging AI technology effectively, it empowers users to craft distinctive backgrounds that align with their brand's style while also encouraging creative experimentation.
For new users, the primary limitation may be the somewhat restricted functionality in the free version, which may not fully showcase the app's capabilities. However, as users explore Pebblely's reliability and transformative potential, it becomes evident that it's a valuable tool for enhancing product photography and fostering visual creativity.
FAQs
?What are the common image sizes for e-commerce platforms?
Amazon:

Product images: 1000 x 1000 pixels, JPEG format, 72 dpi

Other images: 250 x 250 pixels, JPEG format, 72 dpi

eBay:

Product images: 1200 x 1200 pixels, JPEG format, 72 dpi

Other images: 1000 x 1000 pixels, JPEG format, 72 dpi

Walmart:

Product images: 1200 x 1200 pixels, JPEG format, 72 dpi

Other images: 1000 x 1000 pixels, JPEG format, 72 dpi

Target:

Product images: 1200 x 1200 pixels, JPEG format, 72 dpi

Other images: 1000 x 1000 pixels, JPEG format, 72 dpi

Shopify:

Product images: 1200 x 1200 pixels, JPEG format, 72 dpi

Other images: 1000 x 1000 pixels, JPEG format, 72 dpi

Generic Ratios:

1:1(Cover), 3:2, 4:3

4:5, 16:9 (Banner)
It is important to be aware of the common image sizes for various e-commerce platforms, especially the more popular ones. You can use the two images given above as your reference to create images that fit the criteria. Images that satisfy the criteria have a better chance to rank higher and get more engagement.
?Can product photography images with AI-generated backgrounds be allowed to use on Amazon or other e-commerce platforms?
The rules are not quite clear when it comes to using AI-generated backgrounds or images in general. However, in order to maintain credibility, it is suggested that you research the e-commerce platform's rules and ensure that you're allowed to commercially use your images from the software you use for creating backgrounds. Also, create backgrounds in a way that does not interfere with the product.