AI product photographer applications are key if you want to boost your product photos online. With the right app, you can get your photos to bring more engagement.
AI product photo generator applications can give your company or brand a massive boost in terms of how many photos you can produce in a time plus the level of quality. If you are a user who deals with creative photo editing for e-commerce, social media, and other similar platforms, you will need to have an AI product photographer app that can assist you with content creation.
You can find Soona, a product photo photography platform, online, but you will notice that while they offer exquisite photography services, their prices are very high compared to the AI Product Photo Generator that we will mention next. That's why many users who prefer to look for apps that suit their budget and workflow better.
In this list, we will go through apps that can help you set up a professional photo background and more.
Top 10 AI Product Photo Generator Review
Top 1

 CreatorKit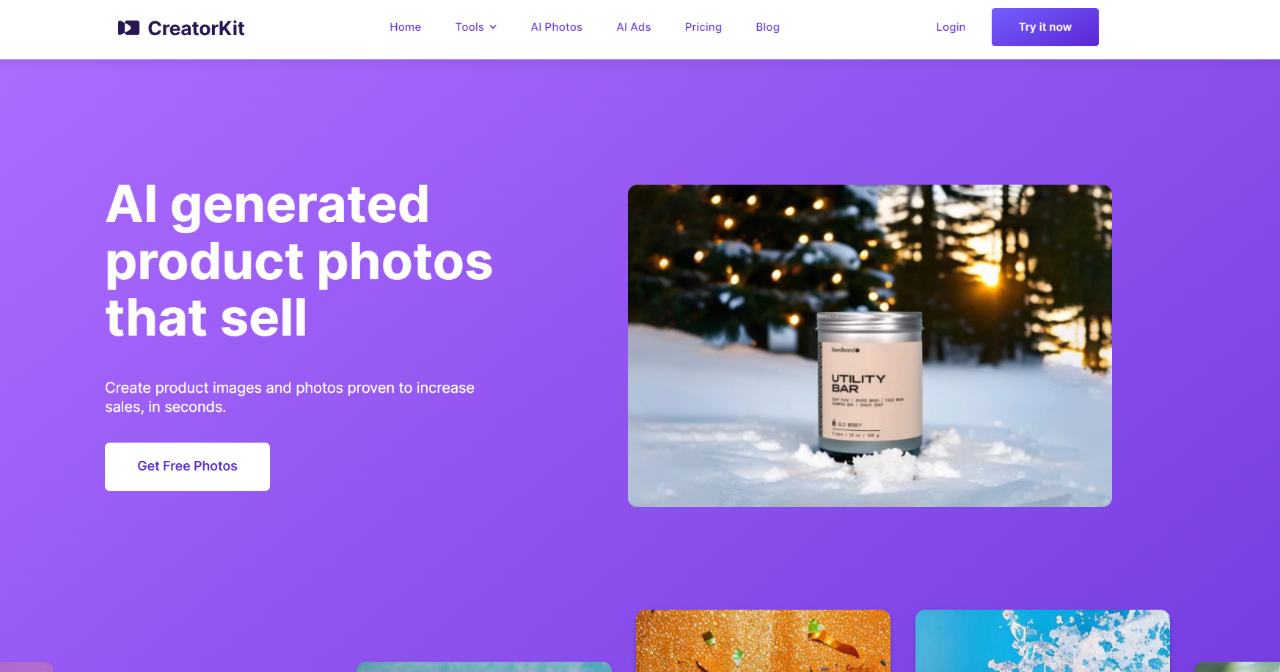 Price:
Free plan
Pro: $29/month
Business: $49/month
CreatorKit is an AI background generator for product photos, specializing in generating high-quality product photos designed to boost sales. This innovative platform allows users to effortlessly create compelling product images with AI-generated backgrounds and impeccable quality, without having to lose quality on the image.
Integrated with Shopify, it caters to e-commerce businesses looking to enhance their product visuals and improve online sales. With a well-designed UI and website, CreatorKit is a valuable resource for entrepreneurs and online retailers seeking to optimize their product presentation. It also offers high-quality image generation through prompts, similar to AI image generator apps.
+ Pros
Offers many features.
Offers a good free edition.
- Cons
Custom backgrounds could be better.
It can take some time to apply changes.
Check TopTen.AI's full detailed review of CreatorKit AI
Top 2

 PixelCut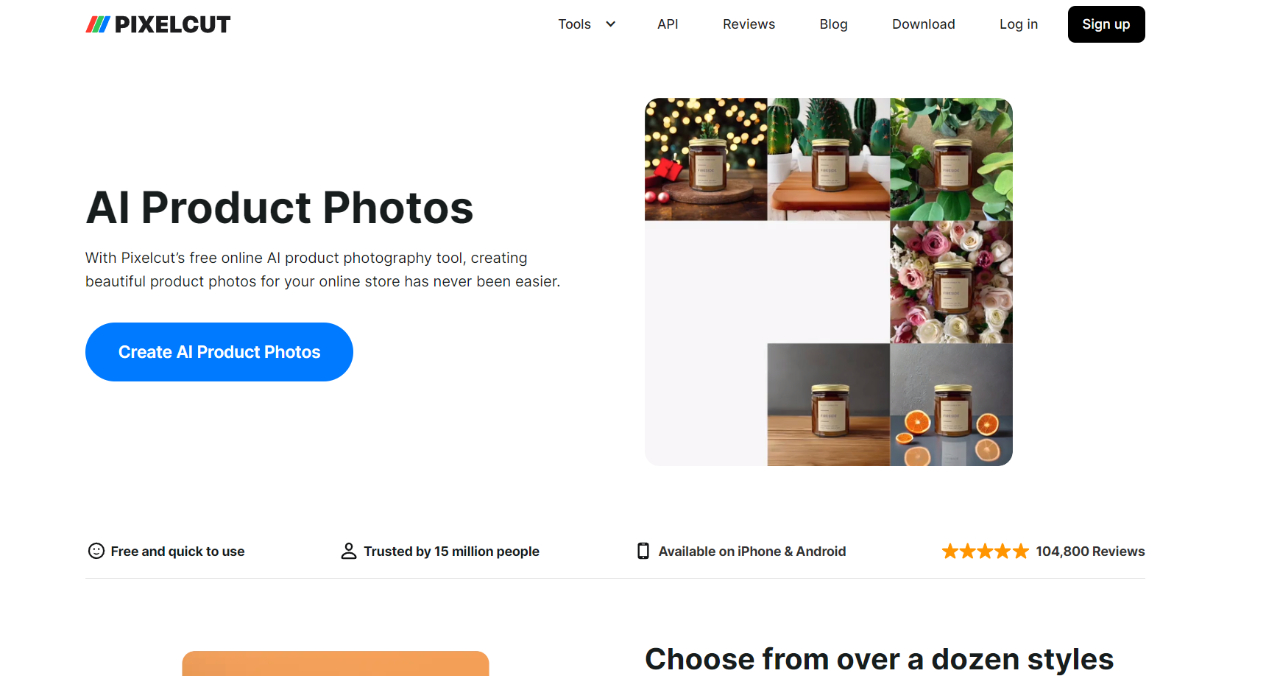 Price:
Free version.
Pro: $9.99/month.
$59.99/year.
PixelCut is an AI background application that also offers other editing features on its website. Besides the online version, it can also be used on mobile devices running on Android and iOS.
PixelCut is a powerful and popular tool in the realm of product photo generation, simplifying the process of creating compelling visuals for online stores. With over a dozen style options, including seasonal and classic themes, it offers suitable backgrounds for product photos automatically. It adds shadows to the product images as well, adding a sense of realism. Check the detailed review of the PixelCut AI product photo editor.
+ Pros
It offers many styles to choose from.
Realtively quick turnover.
Automatic processing like CreatorKit.
- Cons
Some styles may not work with the product.
A bit low in processing.
Top 3

  Pebblely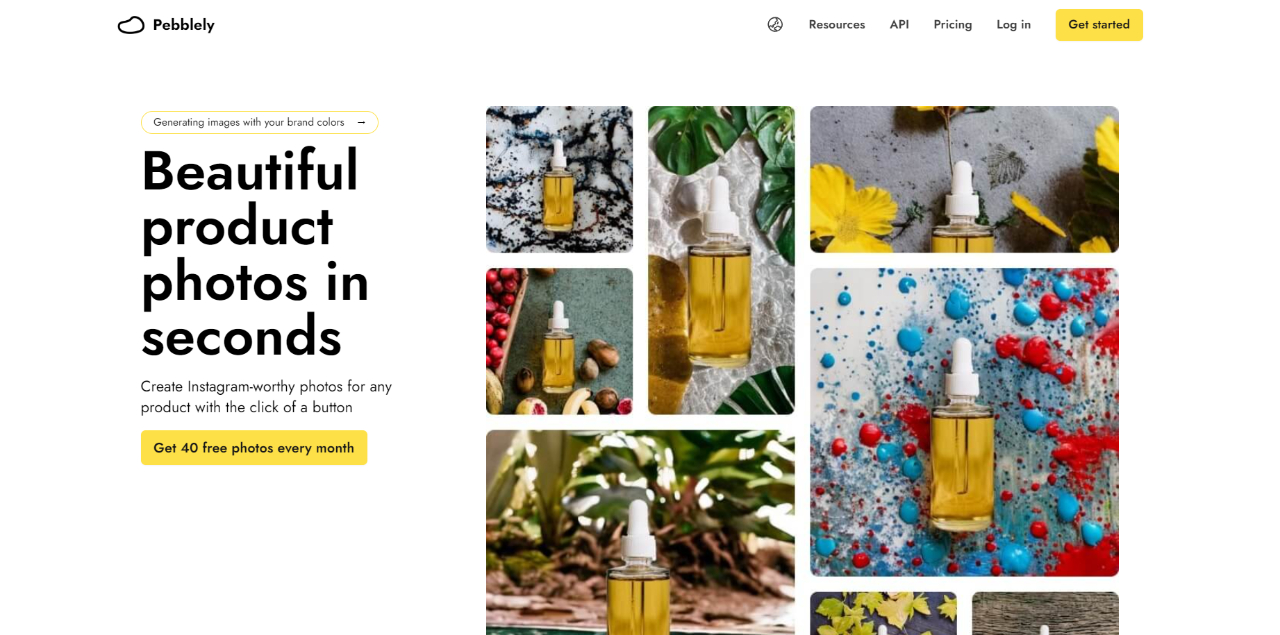 Price:
Free version: 40 Photos
Standard: $19 per month.
Pro: $39 per month.
Bespoke: Custom price.
Pebblely is a versatile tool that significantly aids in product photo creation by being a background generator and remover. This platform offers a range of features to streamline and enhance the process of generating high-quality product images. Users can choose from various styles and backgrounds, allowing for customization that aligns with their brand identity.
It can be used as a free transparent background maker as well. By utilizing Pebblely, businesses, brands, and other creative professionals can save both time and resources, eliminating the need for extensive photoshoots.
+ Pros
Automatic background removal.
High quality backgrounds and styles.
- Cons
Limited free use.
Not many features.
Read our detailed review of Pebblely AI.
Top 4

 VanceAI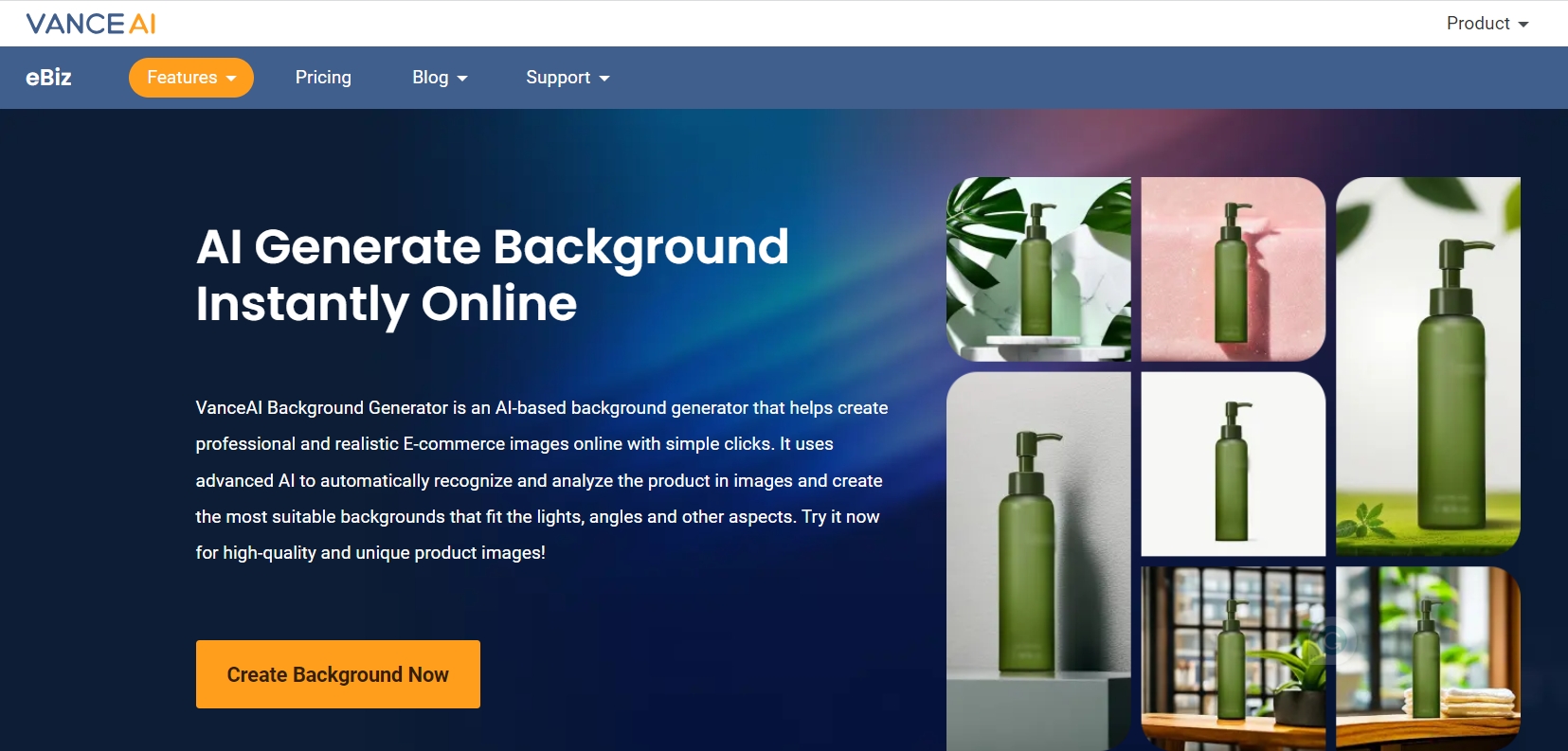 Price:
Free trial
Online Start at $4.95/100 credits
PC $99.9/year with free cloud service
VanceAI Background Generator is an AI-based background generator that helps create professional and realistic E-commerce images online with simple clicks. It uses advanced AI to automatically recognize and analyze the product in images and create the most suitable backgrounds that fit the lights, angles, and other aspects.
VanceAI product photo generator can be used combined with other VanceAI image processing functions like AI Image Upscaler and AI Image Sharpener to meet the users's need to generate product images of different sizes and applicable scenarios.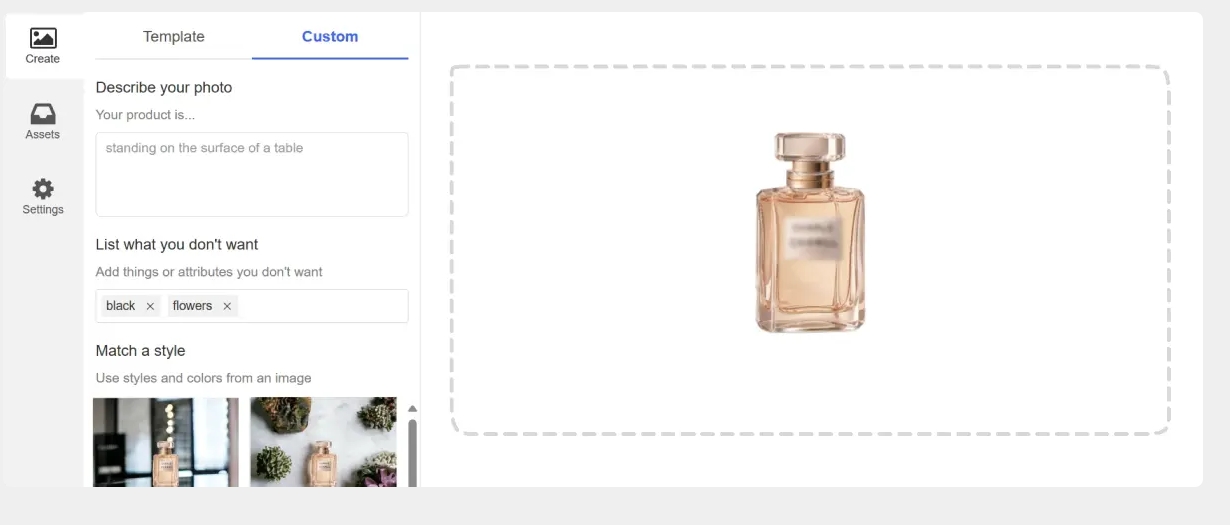 The background generation function of VanceAI is very easy to use, and its unique feature is that you can use AI generation technology to generate the product images you want based on text descriptions.
+ Pros
Easy to use
Various price plans available
Various templates provided
- Cons
Batch processing is not currently supported
Top 5

 Booth.AI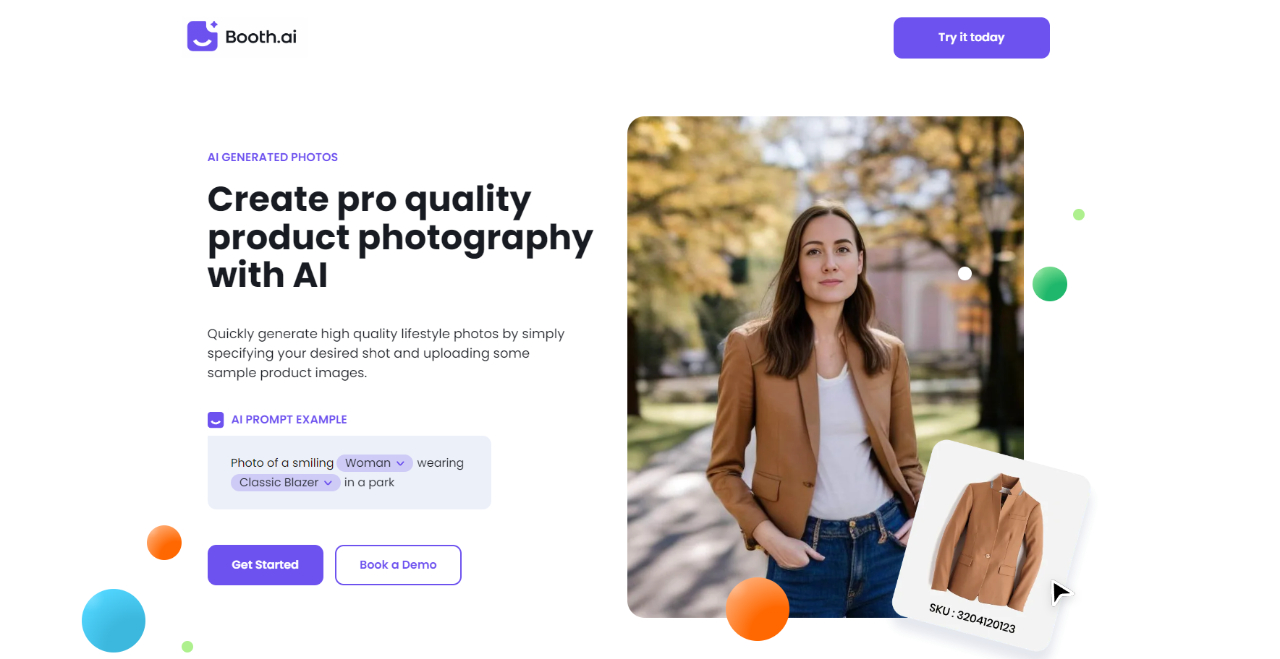 Price:
Premium: $99 per unit per month.
Booth.AI is an AI driven solution for product photography. You can write prompts to switch various aspects of the image without changing everything, making it a highly flexible and one of the best AI text-to-image tools for product photos.
With this approach, along with other useful features, Booth.AI can be an excellent background creator for creative individuals who love to experiment and come up with new ways to market their brand or product. You can swap clothing, accessories, and even the person.
+ Pros
Innovative background creator.
Automatic processing.
Great features.
- Cons
Confusing UI.
Users have to get a subscription before using it.
Top 6

 PhotoRoom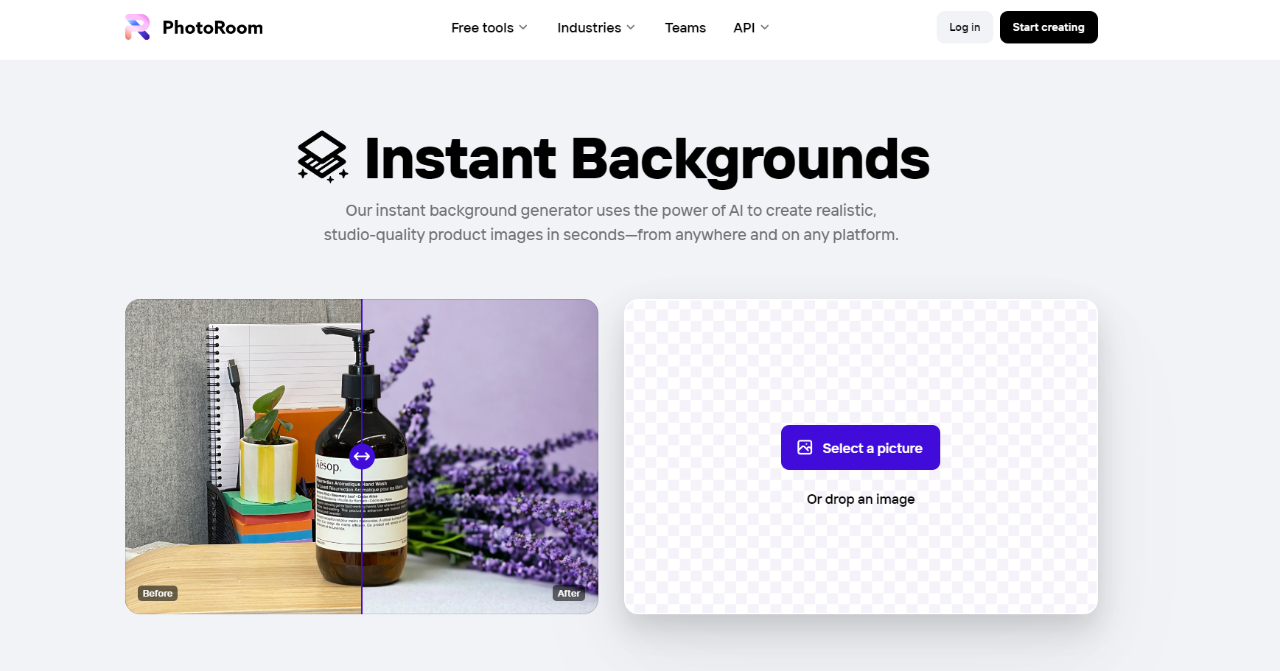 Price:
Free version.
Monthly plan: $12.99 per month.
Yearly plan: $7.50 per month.
PhotoRoom is a versatile platform for creating a professional photo background. The platform lets users upload their product photo and apply a variety of backgrounds for free, although the free edition image will have a watermark.
PhotoRoom allows users to effortlessly remove backgrounds, leaving the product as the central focus. This is invaluable for e-commerce businesses and online retailers, as it enables them to create clean, uniform product images that can be seamlessly integrated into websites and online marketplaces.
+ Pros
Great performance.
It offers many editing options.
Users can add elements to their images.
- Cons
Unlike Booth.AI, there are no prompt features.
Low quality plus watermark exports for free edition.
Top 7

 Claid.AI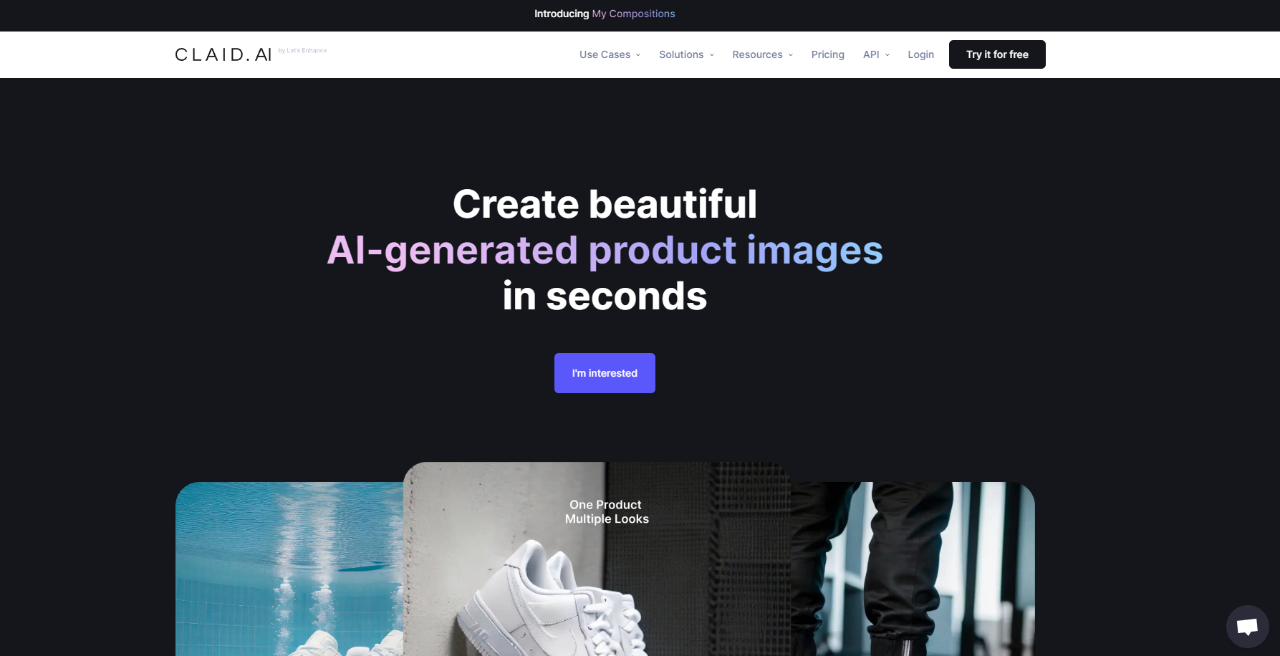 Price:
Free version.
Basic plan: $19 per month.
Professional plan: $49 per month.
With a focus on content creation, Claid.AI provides users with backgrounds and other assets that they need for a great product photo. Moreover, it can first remove the background of an image, similar to Pebblely. Users can choose a background beforehand and let the product be placed in it.
Besides that, Claid.AI has a comprehensive suite of AI-powered tools designed to streamline and enhance the process of image creation and editing for businesses.
+ Pros
Creative approach to photo editing.
AI-powered app.
Great backgrounds.
- Cons
The UI can be made more cohesive.
It can be a bit confusing.
Top 8

 Mokker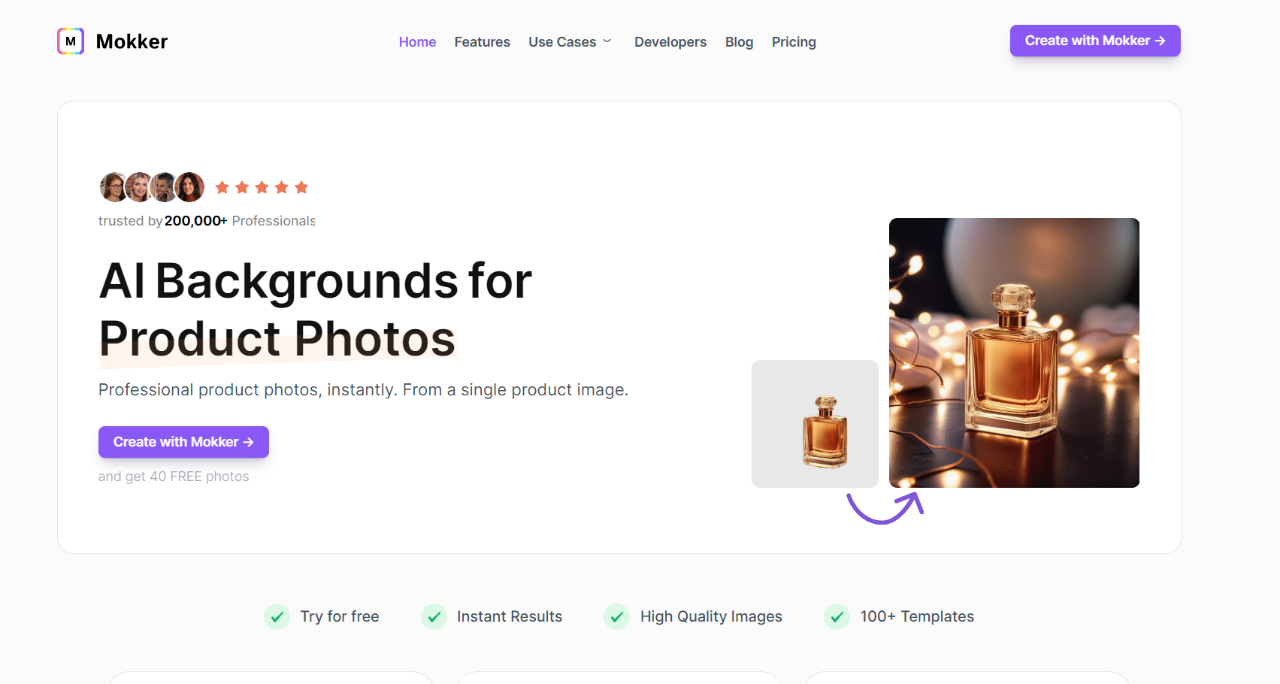 Price:
Free version.
Starter: $19.99 per month.
Team: $45 per month.
Organisation: $99 per month.
Mokker's AI engine is designed to work with any type of product image, providing predictable and customizable results. This platform is particularly useful for those looking to streamline the process of product photography and image creation, eliminating the need for traditional photoshoots and manual editing.
Just like PixelCut and CreatorKit, users can easily swap backgrounds and try different styles. It is also possible to upload a photo and let the tool add a new background on its own. Mokker also lets users scroll through templates in its editor mode.
+ Pros
Plenty of templates.
Varied subscription plans.
- Cons
A bit expensive.
Not easy to use.
Top 9

 Kittl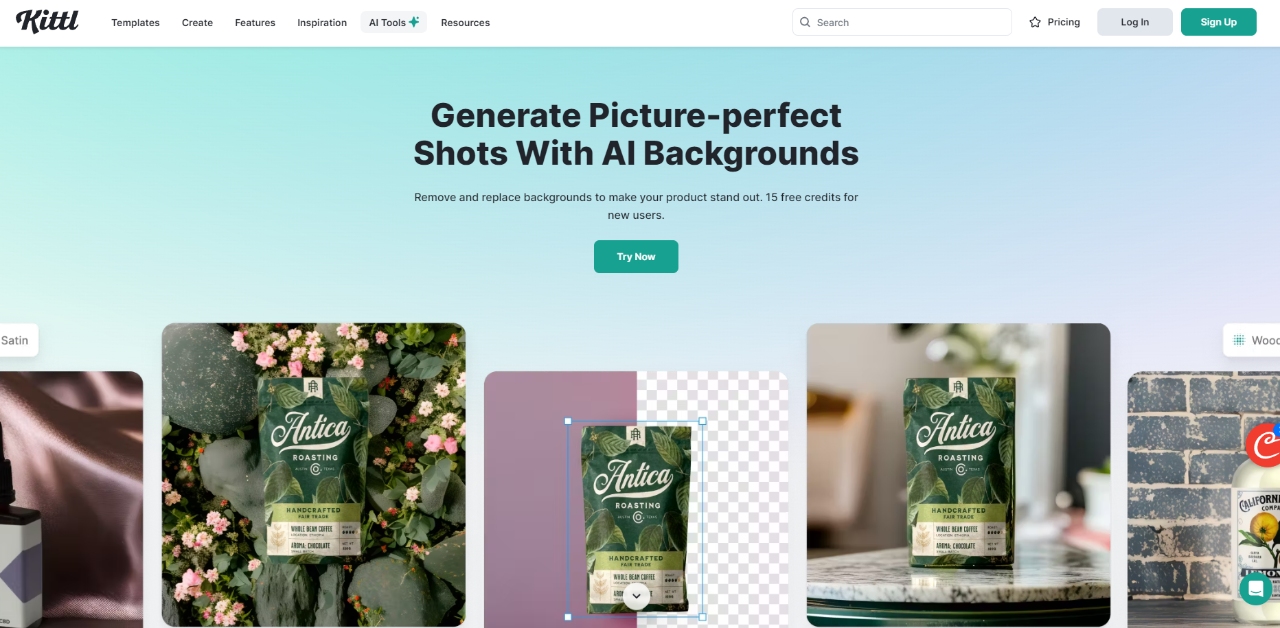 Price:
Free version.
Pro: $10 per month.
Expert: $24 per month.
Kittl is a valuable AI background generator platform that simplifies the process of creating stunning product images with dynamic backgrounds. Its intuitive interface allows users to effortlessly remove backgrounds from product photos and insert them into AI-generated scenes, making their products truly stand out.
This cost-effective solution eliminates the need for expensive photoshoots, enabling businesses to generate high-quality visuals for websites, social media, and promotional materials. Other than Booth.AI, even Kittl has a text-to-image feature which can be used as an AI painter or for creating new images.
+ Pros
Custom backgrounds.
AI-based features.
Easy to use.
- Cons
Slow processing at times.
The UI can feel cluttered.
Top 10

 Ecomtent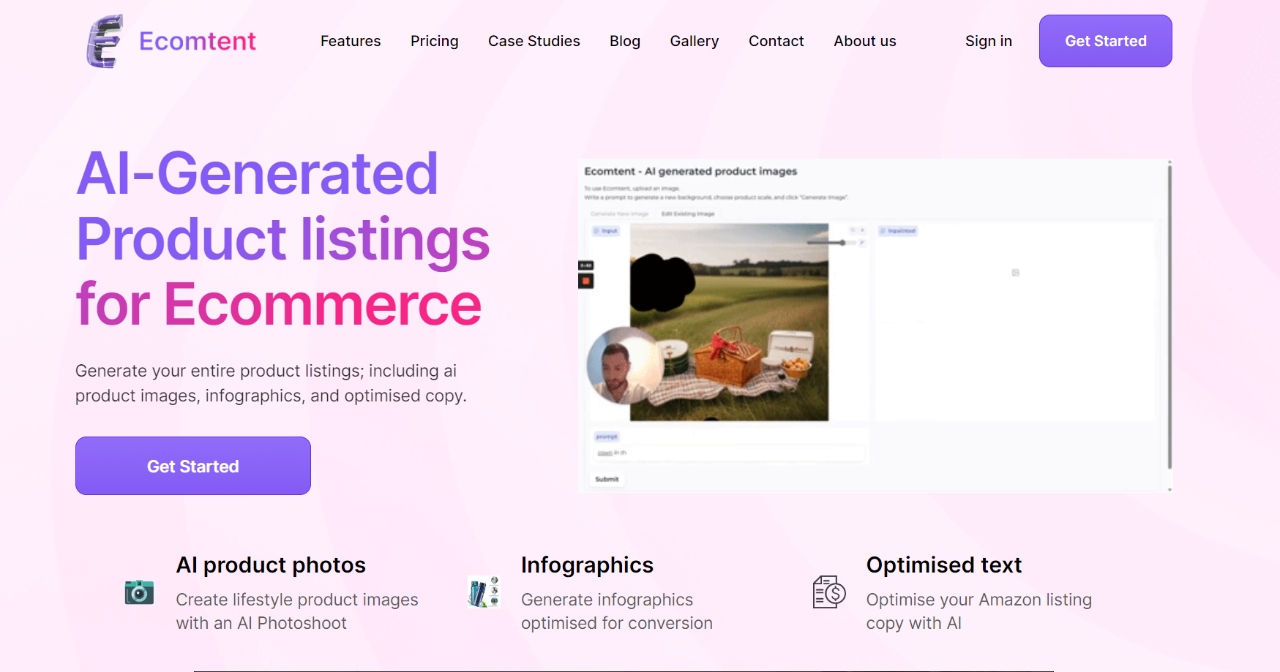 Price:
Basic edition: $95 per month.
Premium version: $135 per month.
Pro version: $165 per month.
Enterprise edition: $2500 per month.
Ecomtent is an online platform that provides product photography based solutions to professionals dealing with e-commerce, brands, online businesses, and more.
You can create product pictures, infographics, and text quickly. This saves time and money compared to traditional methods. You can make different types of product images and descriptions easily. Many people trust Ecomtent for their Amazon listings and other online stores. It's a practical solution to improve your e-commerce business.
+ Pros
Variety of tools and features.
Assists in many fields.
- Cons
No free version.
Below average UI design.
How to Choose?
| | | | | |
| --- | --- | --- | --- | --- |
| Product | Price | Output Quality | Features | Suitable for |
| CreatorKit | $29/month | | Excellent | Graphic designers |
| PixelCut | $9.99/month | | Excellent | Graphic designers |
| Pebblely | $19/month | | Very good | E-commerce professionals |
| VanceAI | $4.95/100credits | ★★★★★ | Excellent | E-commerce professionals |
| Booth.AI | $99/month | | Very good | Designers, photographers, etc. |
| PhotoRoom | $12.99/month | | Excellent | Designers, e-commerce, etc. |
| Claid.AI | $19/month | | Excellent | Designers, editors, etc. |
| Mokker | $19.99/month | | Very good | E-commerce professionals. |
| Kittl | $10/month | | Very good | E-commerce professionals. |
| Ecomtent | $95/month | | Good | Designers |
Apps like CreatorKit, PhotoRoom, VanceAI, and similar image editors for product photos are incredibly useful to users because they simplify the process of enhancing and editing product images. These tools are designed to remove backgrounds, add professional touches, and optimize photos for online stores and marketing materials. They save users valuable time and resources that would otherwise be spent on complex photo editing software or expensive photoshoots. Additionally, these apps often come with user-friendly interfaces, making them accessible to individuals and small businesses without specialized design skills.
Editor's Picks and Suggestions
While all of the apps listed and discussed in this guide are great for product photo editing, our team found PhotoRoom, Claid.AI, and PixelCut especially useful. Using these will also depend on the kind of editing that you want to do. If you simply want to experiment with different styles quickly and also adjust your image a bit, then PhotoRoom is the ideal choice.
Claid.AI is for those users who want to come up with something totally unique for their product photo. For that, the app's AI-based features can be quite helpful.
VanceAI product photo generator has a simple and user-friendly interface and can combine VanceAI's other image processing functions with flexible ordering plans. After our professional testing, we think it is a product worth buying.
Lastly, PixelCut offers many good features for editing, plus it is more accessible as well.
FAQs
1.

 What Benefits of Using AI Product Photo Generator?
Time-saving: AI product photo generators can produce high-quality images in seconds, removing the need to use complicated and high-end software that requires practice.
Cost-saving: They reduce the costs associated with professional photographers, studio rentals, and post-production editing, making it a more budget-friendly option for businesses.
Variety: Users can generate numerous variations of product images to cater to different marketing channels and audiences.
2.

 Who Should Use AI Product Photo Generator?

The apps discussed in this list are varied and diverse, able to offer solutions to many types of users. E-commerce professionals can pick up a tool like PhotoRoom and get started easily, even if they don't know image editing. At the same time, designers, photographers, marketers, and other professionals can use these apps to improve their product photos.
Final Words
Product photos play a pivotal role in e-commerce, with their popularity stemming from the fact that customers rely heavily on visual information when making purchasing decisions. High-quality product images can significantly impact sales and conversions. AI product photographer apps can help you come up with great designs quickly while not impacting your budget too much.
What sets them apart is their user-friendliness. AI makes it easy for almost anyone to harness their power. While Claid.AI is a noteworthy choice, exploring alternatives like CreatorKit, PixelCut, VanceAI, and others can help users find the perfect fit for their specific needs, given their unique features and capabilities. It's about finding the right tool to elevate your product presentation in the competitive e-commerce landscape.