When it comes to visual content, photos and videos, it is important to capture them in high-quality and to optimize them. When we talk about optimization, we need a video converter app. Videos need to be in the right format so that they work with specific websites and platforms.
With that said, Wondershare Uniconverter can be the right tool for users across many industries. One of the primary reasons users turn to video converters is the need for compatibility. By having a uniconverter application, you can rest easy knowing that you can convert your content at any time.
Overview of UniConverter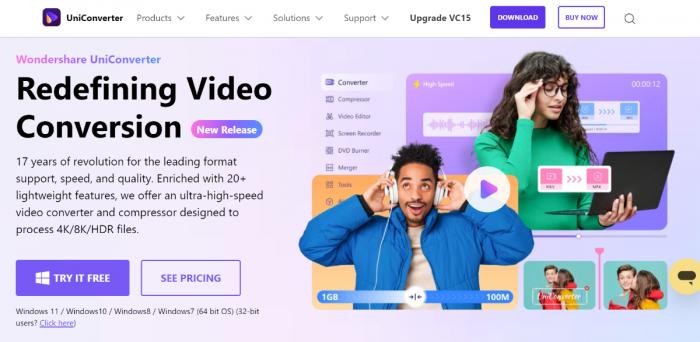 Price: The video converter offers multiple paid plans. The monthly plan costs $9.99 per month. Yearly plan is priced at $49.99 every year. Lastly, the one-time, perpetual purchase costs $55.99.
Platform: Available for Windows 7 to 11.
Supported Formats: Wondershare supports a wide range of formats. Some of them include MKV, MP4, MOV, WEBM, and more.
Wondershare is a brand that has a reputation for delivering high-quality editing tools that are beneficial to all kinds of users and for boosting productivity. While the Uniconverter seems like a converter tool, its features allow it to provide more solutions. Not to mention that Wondershare is quite an active brand, which pays attention to its products and how they can be upgraded.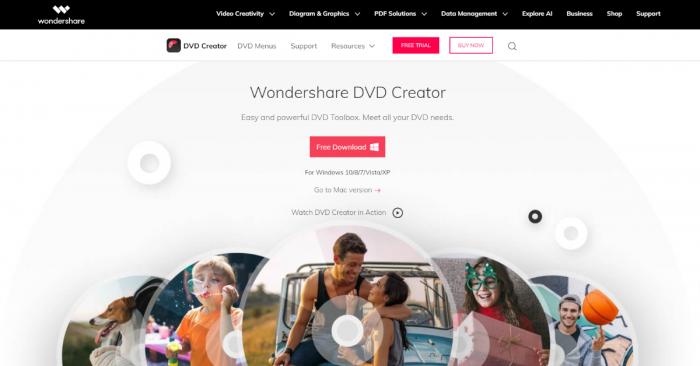 Wondershare also offers tools for different purposes. For instance, Wondershare DVD Creator is a professional-grade tool to burn DVDs, edit them, and more. Video editors can use this along with the Uniconverter.
Filmmakers and video editors can find UniConverter beneficial for its advanced features. It can handle batch conversions, enabling efficient processing of large media libraries.
The software's video editing capabilities, including trimming, cropping, and applying effects, make it a valuable asset for content creators. Moreover, UniConverter can create DVDs, Blu-rays, and even 4K-quality videos.
Essential Features of Wondershare Uniconverter
Video Conversion: Convert videos between various formats, including MP4, AVI, MOV, and more.
Audio Conversion: Convert audio files between different formats, such as MP3, WAV, AAC, and more.
Video Editing: Edit videos with tools for trimming, cropping, adding watermarks, applying effects, and adjusting brightness/contrast.
DVD/Blu-ray Creation: Create DVDs and Blu-ray discs from video files with customizable menus.
| | |
| --- | --- |
| Pros | Cons |
| Supports a long list of formats. | Limited free use. |
| Responsive and quality performance. | Need a good system to run it smoothly. |
| It offers many features. | The editing tools are not as advanced. |
| Great UI design. |   |
Outstanding Features
Similar to DVDFab video converter, the Uniconverter is filled with valuable key features that users can profit from.
HD Lossless Conversion for 4K & Above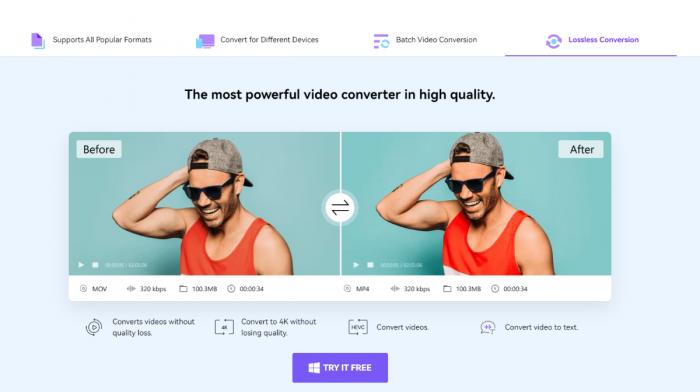 Wondershare Uniconverter excels in preserving video quality during conversion, particularly for high-definition content. It supports lossless conversion for 4K and even higher-resolution videos. This feature ensures that users can convert their videos to different formats without sacrificing the sharpness, clarity, and detail that are characteristic of high-quality video. It's especially valuable for professionals who want to maintain the integrity of their 4K content while using it across various platforms or devices.
Screen Recorder
The built-in screen recording feature in UniConverter allows users to capture everything happening on their computer screens. This versatile tool is invaluable for creating tutorials, presentations, or gameplay videos. Users can record their entire screen or select specific regions, and they can include audio from their microphone and system sound. The recorded content can be saved in various formats and easily edited within the software.
DVD Features
Users can edit and burn DVDs for various purposes. They can choose between DVDs and Blu-Ray, hence making it more accessible. They can also preview the disc before burning it and also do some finetuning so that the output is close to what they expect. Not to mention that there is a wide format support even for DVDs. With excellent features and UI design, Wondershare offers a high-end DVD feature. To know about more options, you can also check out Freemake video converter.
Basic Editing Tools
Uniconverter offers a bunch of basic editing tools that would prove useful for users who want to make slight adjustments to their videos. While it is not as sophisticated as some other dedicated editing apps, it can provide minor solutions and possibly save time as well.
Why Editor Picks?
First of all, Wondershare Uniconverter gets pretty much all of the basics right, be it performance, responsiveness, ease of use, UI design, etc. Therefore, users of varying skill levels can all try out the Uniconverter without worry. Not to mention that the subscriptions are reasonably priced if you're the kind of user who requires such tools regularly.
With Wondershare Uniconverter, you can do more than just convert DVD to MP4 or vice versa. With its range of features, it can heavily benefit multiple types of users, including content creators, educators, marketing experts, and more. For example, content creators, especially those who make videos on various platforms, can use the screen recorder feature to capture high-quality footage without having to rely on other software apps.
Our Suggestions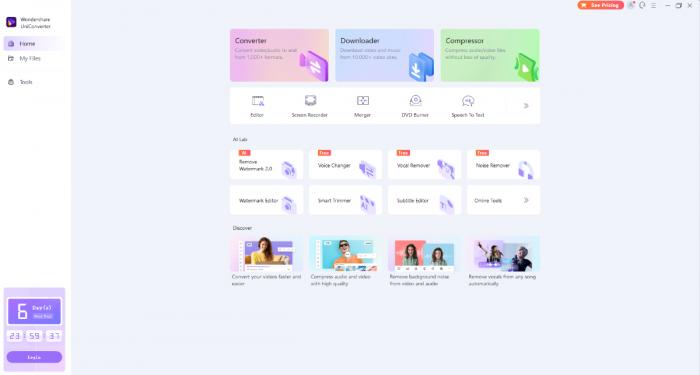 Wondershare UniConverter is recommended for a wide range of users, from content creators and educators to marketing professionals and multimedia enthusiasts. Its user-friendly interface, comprehensive feature set, and commitment to preserving video quality make it a valuable tool for managing and enhancing multimedia content for both personal and professional purposes.
Wondershare UniConverter offers a free trial version, which I strongly recommend everyone to try before making a purchase. The trial version allows users to explore the software's features, and users can try tasks such as AVI to MP4 conversion. It is an excellent way to get a feel for how UniConverter works. You can edit a few videos and experience the user-friendly interface, which boasts a pretty good and approachable UI design, ensuring most users won't face usability issues.
However, it's important to note that UniConverter can be resource-intensive, especially when dealing with large video files or performing batch conversions. To ensure smooth operation, it's advisable to have a reasonably powerful system with ample processing power and RAM. This will help you avoid slowdowns and enhance the overall performance of the software.
Conclusion
Wondershare Uniconverter offers strong performance and credibility in most aspects. Due to this, it features among the best 15 video converter review list of tools. Be it a marketing professional or an entertainment content creator, they can utilize and get value out of Uniconverter.
One of its standout features is its exceptional video format conversion capability, supporting an extensive list of formats. This means users can effortlessly convert videos to formats suitable for different devices, platforms, or editing software. Moreover, UniConverter's ability to convert audio files, such as FLAC to MP3, exemplifies its comprehensive functionality.
FAQs
What audio conversion formats does Uniconverter support?
Wondershare UniConverter supports a wide range of audio conversion formats, including but not limited to MP3, WAV, AAC, FLAC, OGG, and more. The software is known for its high-quality audio conversion, preserving the fidelity and clarity of the original audio source. It ensures minimal quality loss during the conversion process, making it an excellent choice for music enthusiasts, professionals, and anyone who values audio quality when converting between different formats.
What image conversion formats does Uniconverter support?
Wondershare UniConverter supports a wide range of image conversion formats, including popular ones like JPG, PNG, BMP, TIFF, and GIF, among others. This is ideal for photographers and those who use multiple devices, such as professional cameras and smartphones. Different devices can process images in different formats, which can make editing tricky sometimes. With Uniconverter, you can get all of your resources in the same format in the same place.
To know about more AI tools, you can check out our Tools Directory.