This article highlights the top 10 AI-powered quote generators, which use advanced algorithms to create inspirational quotes for various purposes such as social media posts, presentations, and more. 
Do you ever find yourself struggling to come up with the perfect quote for your social media posts, presentations, or essays? Crafting a compelling and impactful quote can be challenging, and it's easy to feel stuck or uninspired. But what if there was a way to make this process easier and more efficient? The answer is AI quote generator. In times when motivation and a positive perspective are crucial, inspirational quotes have the power to uplift and energize us, instilling renewed enthusiasm in both our personal lives and professional endeavors.
These powerful tools use artificial intelligence to generate unique and thought-provoking quotes that will surely capture your audience's attention. No longer do you have to spend hours racking your brain for the right words - with the help of AI, you can create custom quotes in just seconds.
In this article, we will explore the top 10 AI quote generators on the market today.
Best 10 AI Quote Generators (July 2023)
| Product Name | Processing Speed | Accuracy & Quality | User-Friendliness | Free/Paid | Suitable for |
| --- | --- | --- | --- | --- | --- |
| InspiroBot | ★★★★☆ | ★★☆☆☆ | ★★★★☆ | Free | Those who want fun or unique quotes |
| Simplified.co | ★★★★☆ | ★★★★☆ | ★★★★☆ | Paid | Small-business owners or entrepreneurs |
| QuoteRules | ★★★☆☆ | ★★★☆☆ | ★★★☆☆ | Free | Writers or bloggers |
| BoredHumans.com | ★★★★☆ | ★★★★☆ | ★★★★☆ | Free | Writers or creatives looking for inspiration |
| Codepen.io | ★★★★☆ | ★★★★☆ | ★★★★☆ | Free | Web developers or designers |
| Random Word Generator | ★★★★★ | ★★★★☆ | ★★★★☆ | Free | Writers, poets, or creative professionals |
| Robot Quote Generator | ★★★☆☆ | ★★★☆☆ | ★★★☆☆ | Free | Anyone looking for quick quote inspiration |
| ZenoZeno | ★★★☆☆ | ★★★☆☆ | ★★★☆☆ | Freemium | Social media users or digital marketers |
| ScatterPatter's Incorrect Quotes Gene. | ★★★☆☆ | ★★★☆☆ | ★★★★☆ | Free | Humorists or those seeking a laugh |
| Mini Web Tool | ★★★★☆ | ★★★★☆ | ★★★★☆ | Free | Marketers or content creators |
Note: As professional and objective reviewers, we have personally tried and tested each AI quote generator on our top 10 list. Our ratings are based on in-depth evaluation, considering factors such as accuracy, relevance, usability, and overall user experience.
1. InspiroBot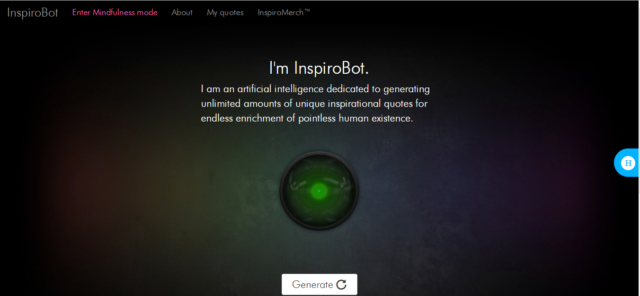 InspiroBot is a quote generator powered by AI and machine learning. While you can't exactly query it like a search engine (e.g., what's that quote about flowers again?), InspiroBot will help put your brain in the right mood to get inspired when you need it most.
InspiroBot was designed to increase productivity by providing inspirational quotes at work, home or school. Just ask it for something motivational and inspirational, wait for its answer and let InspiroBot do all the rest!
You don't even have to leave your browser or open another application. You see results on the screen instantly. And if inspiration doesn't strike you instantly — no worries, InspiroBot keeps answering different variants of your query until you find something worthy enough. This inspirational quote creator recognizes inspiration as an emotion resulting from exposure to novel or significant stimuli.
Limitations: While InspiroBot generates inspirational quotes, its limitation lies in the lack of human context and understanding, resulting in occasional nonsensical or irrelevant quotes.
Pros:
Offers unique, quirky quotes.
User-friendly interface.
Free to use.
Cons:
Quality can be hit or miss.
Limited customization options.
Our ratings: 10/10
2. Simplified.co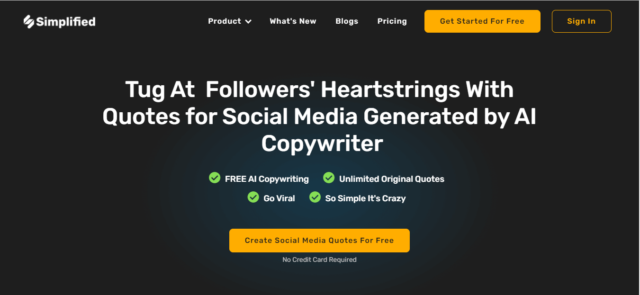 Social Media Quotes Generator from Simplified makes smart and relevant quotes for your business by extracting keywords from your social media feed. Using Simplified.co quotes generator will save you a lot of time and effort in creating new content to promote your business. It is a great way to create engaging, targeted and easily shareable posts.
You can also decide whether you want it short, medium or long length depending on what fits into your marketing strategy best. You can use these qualities generated quote posts on Facebook, Twitter, LinkedIn etc or as part of YouTube video description/comments/tags. You can even tweak them manually based on client needs if you wish.
Limitations: One limitation of Simplified.co's quote generator is the limited range of sources it draws from, which may result in repetitive or less diverse quotes.
Pros:
High-quality and professional quotes.
Customizable options for specific industries.
Good customer support.
Cons:
Paid subscription required.
Limited quote styles.
Our ratings: 9/10 
3. Vexels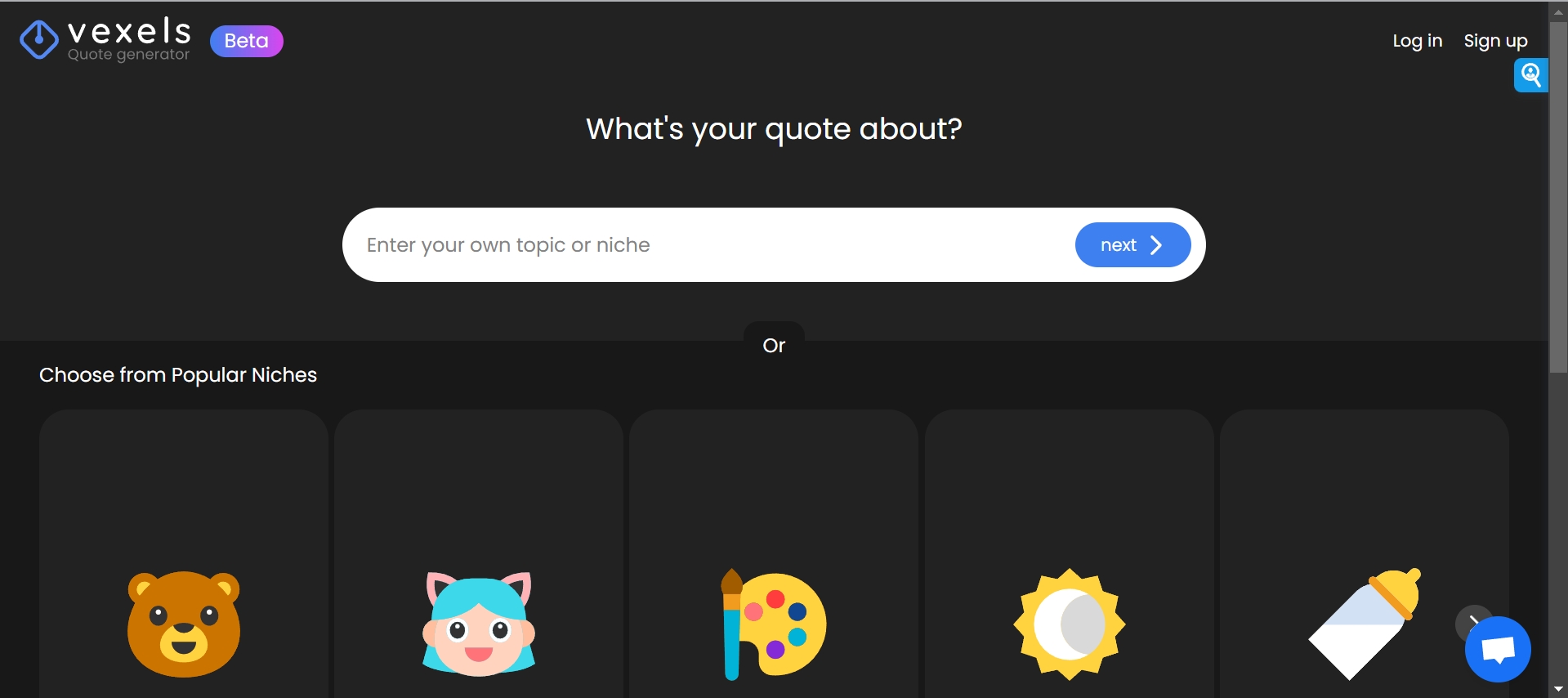 Vexels brings the first AI Quote Generator for Merch, this tool empowers users to effortlessly create unique quotes for their products, setting it apart from any other quote generator available, it lets the user generate new quotes based on specific topics or niches while ensuring trademark compliance. With this tool, users can save valuable time by instantly creating captivating taglines for t-shirts, mugs, totes, and various other products.
This product solves the challenge of overcoming creative blocks and the time-consuming process of brainstorming and researching quotes. It is suitable for merch sellers, creators, or simply someone in search of original quotes for their designs. By allowing you to select or write a niche, as well as choose the mood and length of your quotes, it ignites your creativity.
Limitations: It seems it operates based on similar prompts, so you may come across quotes that follow a similar formula or logic across different topics.
Pros:
Focus on product selling with trademark checked quotes.
Easy customization options for personalized quotes.
Seamless and time-saving quote generation.
Cons:
Accuracy and quality can vary across topics
Our ratings: 8/10
4. QuoteRules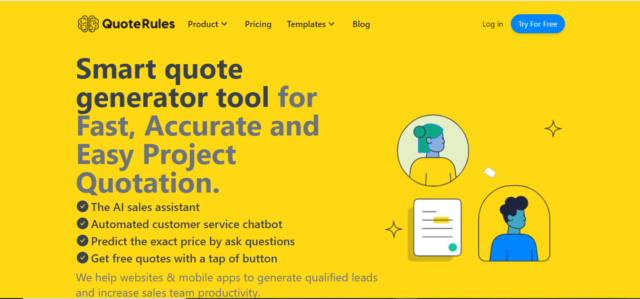 It's not hard to find truly quality quote generators online; you just have to know where to look. On QuoteRules, you can generate a list of AI quotes!
The tool's database is seemingly unending, and there are lots of interesting AI-related quotes to be found here. The website is well structured, pays attention to detail and is highly optimized to deliver the best results.
Limitations: QuoteRules' limitation is the reliance on pre-existing quote templates, which can sometimes restrict the creativity and uniqueness of the generated quotes.
Pros:
Simple and easy to use.
Provides a wide variety of quote topics.
Free to use.
Cons:
Accuracy and quality can vary.
Limited customization options.
Our ratings: 8/10
5. BoredHumans.com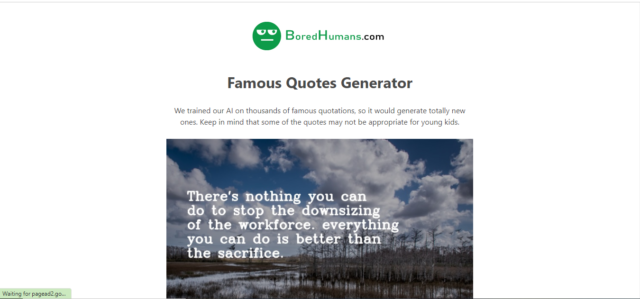 This is a simple yet powerful AI quotes generator tool that allows you to choose from a variety of themes and subthemes, which include things like love, death, fame, success, failure and all sorts of other topics. You can then select a specific quote based on your preference in terms of language and font size. The final product is essentially an image with a textual representation of whatever you want to be imprinted on it.
With this AI quote generator, there are no limits to what you can create – meaning there are literally thousands of potential combinations. I'm impressed by how easy it is to customize every aspect of each quote; unfortunately, some basic components – such as spacing between words – need further improvement.
Limitations: The limitation of BoredHumans.com's quote generator is the potential lack of accuracy or authenticity, as quotes are generated algorithmically without human expertise or validation.
Pros:
Good quality quotes.
Wide range of categories.
Free to use.
Cons:
Limited quote styles.
Can become repetitive.
Our ratings: 8/10
6. Codepen.io
Write a javascript function to generate an AI inspirational quote based on keyword input. It should print out one inspirational quote per line. You've heard it said before: "Only the most amazing quotes should be placed on your website." And you were right! Now, the AI Quote Generator will fetch you great quotes to make your website more amazing than others.
All you need to do is type the text you want to quote and click Generate. The algorithm will then find the right source and edit it into a beautiful quote.
Limitations: Codepen.io's inspirational quote creator may be limited by the fact that it primarily caters to developers, resulting in quotes that may not resonate with a broader audience.
Pros:
Versatile tool for web developers.
Variety of customization options.
Free to use.
Cons:
Not solely dedicated to quote generation.
Steep learning curve for beginners.
Our ratings: 8/10
7. Random Word Generator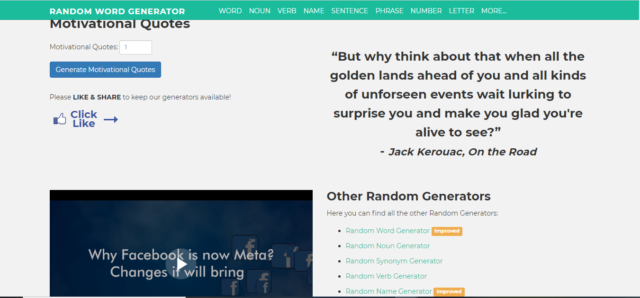 This is one of our favorite AI quote generators online. It's a super simple random quote generator, which means you don't have to worry about designing anything or worrying about picking colors; everything just works for you.
There are a lot of options, including categories like Motivational quotes and Funny quotes, so you can easily make your selection by clicking on that category.
This site is easy to use, quick and covers nearly all of your text needs! However, not only does it generate images with your selected text but you can even download these and save them to a folder on your computer as well as send them directly to someone via email.
Limitations: The limitation of the Random Word Generator is its inability to provide contextual meaning or coherence in the generated quotes, often leading to nonsensical combinations.
Pros:
Generates unique and creative quotes.
Wide range of word combinations.
Free to use.
Cons:
Limited control over the generated quotes.
Accuracy and quality can vary.
Our ratings: 7/10
8. Robot Quote Generator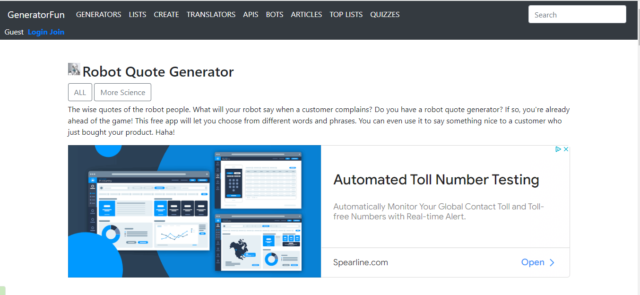 Robot Quote Generator helps you to write about the AI robot and get a good quote. This AI quotes generator will help you to make the most hilarious quotes by using the quote generator, this is a good tool for people. Anything you create can be used in your creative projects.
This generators use artificial intelligence to create content, so it is possible that the words and sentences they create may belong to another party. You must verify the source of the content. If you make use of our generators, please link back to their website.
Limitations: The limitation of the Robot Quote Generator is the absence of human emotions and experiences, which can result in quotes lacking depth or genuine emotional resonance.
Pros:
Quick and easy to use.
Large database of pre-generated quotes.
Free to use.
Cons:
Limited customization options.
Quality can be hit or miss.
Our ratings: 7/10
9. ScatterPatter's Incorrect Quotes Generator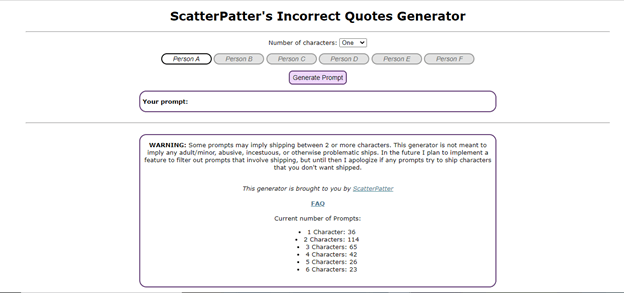 If you want some really funny yet completely incorrect quotes, then you can use a website called ScatterPatter's Incorrect Quotes Generator. This website is a wonderful tool to create quite intriguing and funny quotes.
You may find yourself trying to understand what these quotes actually mean, but that is what makes them so unique and amazing to look at. The great thing about AI Quotes Generator is that it allows you to choose exactly how long your quote should be and whether or not you would like it in a nice font or large font. It's up to you!
Limitations: While the Incorrect Quotes Generator by ScatterPatter can be entertaining, its limitation lies in generating quotes that are intentionally incorrect and may not provide meaningful or accurate insights.
Pros:
Unique and humorous quotes.
Wide range of categories.
Free to use.
Cons:
Accuracy and quality can vary.
Limited control over the generated quotes.
Our ratings: 6/10
10. Mini Web Tool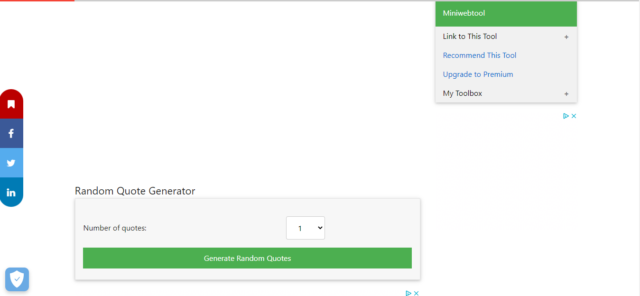 This ai quotes generator produces random inspirational quotes. It seems to be based on an online database of inspirational quotes, and it's probably updated regularly. This means that you don't have to spend much time looking for interesting quotes because they are constantly added. You can choose between two separate modes – first line only or whole text.
Each quote is stored in a cookie on your device, so you won't lose them if you leave your current page open in another tab or close your browser entirely. The list of quotes doesn't seem to be organized alphabetically or by any other criteria; instead, a few seemingly random ones appear first followed by newer ones from higher up in the list.
Limitations: Mini Web Tool's quote generator may have a limitation in terms of the limited range of sources it draws from, potentially resulting in quotes that lack diversity or freshness.
Pros:
Good quality quotes.
Wide range of categories.
Free to use.
Cons:
Limited customization options.
Can become repetitive.
Our ratings: 6/10
Conclusion
In conclusion, this article delved into the world of AI quote generators, examining the top contenders in the field. From inspirational quote generators to short quote generators, each product showcased its strengths and limitations. While AI quote generators provide a convenient way to generate quotes instantly, it is important to remember that true inspiration and creativity come from within. While these tools can offer a starting point, it is our personal understandings, emotions, and unique perspectives that truly make a quote meaningful and impactful.
By combining the capabilities of AI quote generators with our own insights, we can craft quotes that resonate deeply with audiences. Let us embrace these tools as aids in our creative journey, while ensuring that our personal touch and authenticity shine through in the quotes we share with the world.
FAQs
1. What's the best AI quote generator?
The determination of the best AI quote generator can vary based on individual preferences and needs. Some popular AI quote generators include OpenAI's ChatGPT, InspiroBot, and QuoteGenerator.AI. It is recommended to explore and test different options to find the one that aligns with your specific requirements.
2. What's the best inspirational quote generator?
When it comes to the best inspirational quote generator, options like InspiroBot, Wisdom of Chopra, and QuoteGenerator.AI are worth exploring. However, the "best" generator ultimately depends on personal preference and the specific style or theme of inspirational quotes desired.
Also Read: How to Use AI-Writer To Create High-Quality Content?