DVDFab Video Converter is a valuable tool from DVDFab that makes it very easy for any user to convert their video file formats within a few seconds.
DVDFab Video Converter works as a solution for video format conversion needs. There are plenty of times when we want to watch a video, but the format is not supported on our device. There are several video formats and incompatibilities are common. To fix that, you'd need a converter video tool.
With support for a wide range of video formats, you can effortlessly convert your media to formats compatible with your preferred devices, be it smartphones or more, by using DVDFab.
This tool is ideal for casual users wanting to experience top-quality videos and video editors who'd prefer their videos to be in a certain format.
What is DVDFab Video Converter?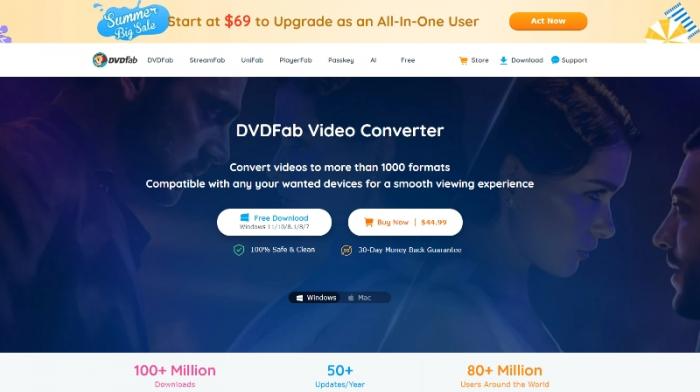 DVDFab is a massive software brand that, for the past 20+ years, has been providing solutions and features for video editing, enhancement, streaming, etc. It offers a wide array of tools designed for DVD and Blu-ray enthusiasts, making it a go-to choice for both individuals and professionals in the media and entertainment industries. DVDFab's toolset includes DVD/Blu-ray copying, video format conversion, streaming features, and more.
Among its library of tools exists DVDFab Video Converter. It allows you to convert videos from one format to another, which is particularly handy for professionals in the film and video production industry. Whether you need to make videos compatible with specific devices or simply want to enhance and customize your video content, DVDFab Video Converter offers an easy way to do so. Click here to view Full Video Converter
Overview of DVDFab Video Converter
Price & Platforms: DVDFab Video Converter can be used on Windows and MacOS based systems. The cost of the software is $44.99, regardless of the type of system you're running. Lastly, for Windows, the supported versions are from Windows 7 to 11 and for MacOS, it is from MacOS 10.10 to 13.
Once you install the DVDFab software, you can initiate the free trial, which will include the free video converter version of the tool as well. DVDFab Video Converter may sound simple, but it does include some really useful features through which video editors and even casual users can benefit. Let's discuss some of its key features.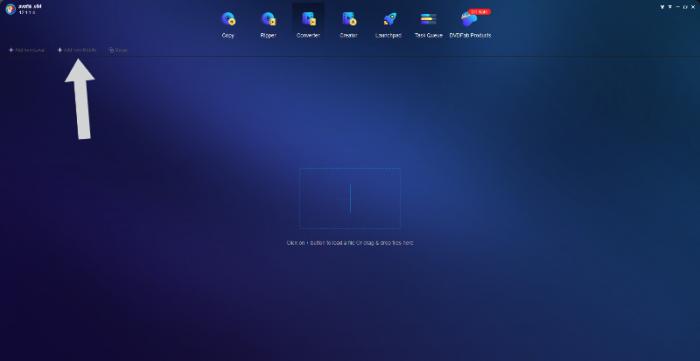 First, when you get to the main page of the video converter tool, you can use multiple upload options to upload your video. One is, of course, uploading videos through the desktop itself and the other is a mobile upload feature, wherein, you can scan a code to connect DVDFab with your phone and take it from there. This shows the level of accessibility users can have with the software.
DVDFab Video Converter leverages hardware acceleration technologies like NVIDIA CUDA, AMD, and Intel Quick Sync to significantly boost conversion speeds. This is a huge time-saver, allowing users to complete tasks quickly and efficiently. Those who do have impressive GPUs can take advantage of the technology to get results faster.
While this is for the DVDFab Video Converter Pro version, the feature of batch processing is extremely useful to get more done in less time, especially if you can leverage your high-end system. Video editors often work with multiple videos and clips, so having batch processing can be a big time-saver.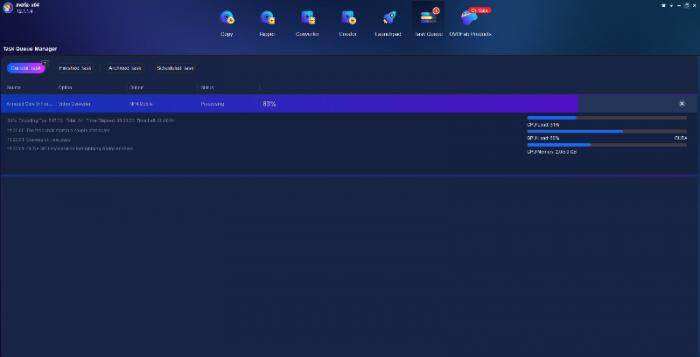 The above image shows a video that was recorded on a desktop being converted to a mobile-based format. The results are pretty good. After uploading a video, users can get into the advanced settings and make all the important adjustments. By selecting the option to keep the quality high, you can be rest assured that the software will deliver impeccable results. Besides that, the processing is quick too, with users being able to see how their system is performing. If a user wants to use the software as DVDFab YouTube video converter for desktop and mobile, they can do so easily.
Pros
Highly responsive software with great performance.
Clean and attractive UI design.
Easy to use.
Cons
Limited free use. As a result, the free video converter is limited too.
What can DVDFab Video Converter Pro provide?
The image below shows a well-presented distinction between the Standard and Pro versions:
| | | |
| --- | --- | --- |
| Features | Standard ($29.9) | Pro ($64.9) |
| Convert video/audio into any format | ✅ | ✅ |
| Customize video/audio parameters | ✅ | ✅ |
| Trim, crop, or merge video and audio | ✅ | ✅ |
| Output Audio Channel | Multi-Channel | Multi-Channel |
| Output Video Resolution | Up to 8K | Up to 8K |
| Convert between video and image |   | ✅ |
| Deinterlace/de-shake/denoise videos |   | ✅ |
| Add text, time, and image watermarks |   | ✅ |
| Customize video effects |   | ✅ |
| Add filters, transitions, overlays and text to video |   | ✅ |
| Access royalty-free music and sound effects |   | ✅ |
| Multifunctional video editing tracks |   | ✅ |
| 28 independent video/audio tools |   | ✅ |
| Hardware Acceleration | ✅ | ✅ |
How to use DVDFab Video Converter?
You can follow the guide given below to install the DVDFab software and utilize it for video conversions.
Step 1: Click on the link given to access the converter video format tool. There, you will see the option of "Free Download". Depending on your OS, click on the respective link and install the software in your system.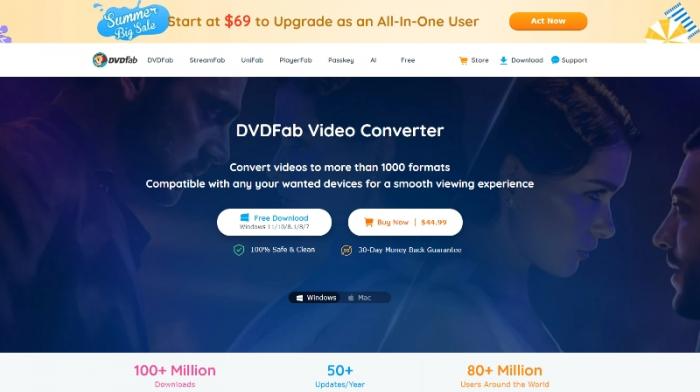 Step 2: Run the software and click on the "Converter" option present in the upper tab. Now, upload a video using the options given and you can then use the advanced settings to customize your output. Lastly, click on the "Start" button.
Step 3: The converter video tool will work on the video while displaying the progress. Once it is done, you can download the video.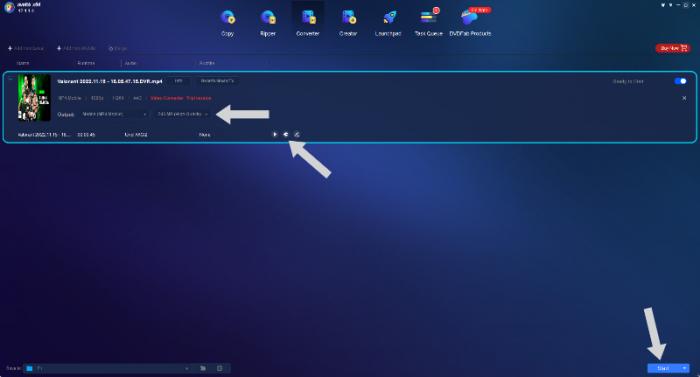 DVDFab Video Converter VS Freemake Video Converter
Products

DVDFab Video Converter

Freemake Video Converter

Features

More features, including video converter,

DVD ripper, Blu-ray ripper, etc.

Video converter only

 

Speed

Fast, especially with high-end systems

Fast

Ease of use

Easy to use and responsive

Easy to use

Price

30-day free trial,

Video Converter Standard at $29.99,

Pro edition at $64.99

Free trial, Lifetime key at $59.95

 
Overall, not only does DVDFab Video Converter hold advantages when it comes to video format conversion, it also takes a lead in other features that it provides to the user. Not to mention that DVDFab offers greater value for money if you're looking to purchase a software application permanently. For more options in video converter apps, you can refer to another guide discussing the best video converter apps.
Conclusion
Video converters are essential for plenty of users, professional or otherwise. DVDFab is a software application that not only makes video conversions easy, but also provides a wide range of features that could enhance the videos that you want to use.
DVDFab Video Converter supports a vast array of video and audio formats, making it highly versatile. This means you can convert your media files into formats that are compatible with virtually any device. One of its standout features is the ability to convert videos while retaining the original quality. This is crucial for professionals and enthusiasts who require top-notch audio and video quality in their converted files.
Apart from these, advantages of having batch processing and GPU acceleration have already been discussed. In conclusion, DVDFab Video Converter completely justifies its price tag by aiding users with video conversion in a way that is simple, smooth, and high-quality.
Now you can get a quick overview of the various tools in use from our Tools Directory.
FAQs
Can I try it first before order DVDFab Video Converter?
The DVDFab software comes with a free trial, in which you can use multiple DVDFab tools, including the video converter. Although the number of uses are limited, they are enough to get a good idea about how the tool works.
What are the requirements for DVDFab?
The minimum requirements are listed below:
Windows 11/10/8.1/8/7 (32/64 bit)
Pentium 500 MHz.
2GB of RAM or above.
100GB of free hard disc space.
A DVD-R (W)/DVD+R (W)/Blu-ray Drive.
Live Internet connection required to register DVDFab (little network traffic used)
Better and more modern systems, especially a GPU, will provide faster performance.