Do you want to download multiple video conversion tools to convert your files to different formats? Look no further than Freemake Video Converter. This versatile software allows you to convert your videos to over 500 formats, making it an essential tool for anyone working with video files. Whether you're a professional videographer or need to convert some files for personal use, Freemake Video Converter covers you.
And if you're working with high-quality 4K videos, you'll be pleased to know that this converter also supports 4K video conversion. In the TopTen.AI review, you will know what it is and what this software offers.
What is Freemake Video Converter?
Freemake Video Converter is a popular software that allows users to convert videos to over 500 formats, making it a go-to tool for anyone working with video files.  This versatile software is easy to use and offers a range of features, including the ability to edit videos, extract audio, and even burn DVDs.
According to PCMag, an American Computer Magazine,  "Freemake Video Converter combines video editing and conversion into one well-built application. It is essential for anyone who can easily convert and edit their video files."
We have also reviewed other 14 video converters: Top 15 Video Converter Review | Free And Paid, Mac And PC 2023
Freemake Video Converter Review
This is a popular software that allows users to convert video and audio files between different formats. It is a powerful and easy-to-use tool that can handle various file types and convert them to formats suitable for playback on various devices. Here, we will take a look at closer main functions and comment on its overall performance.
The main functions of this video converter are as follows:
Video Conversion: Freemake video downloader allows Freemake to convert video files to various formats, including MP4, AVI, MKV, WMV, and more. Users can also choose from multiple pre-configured settings for devices like smartphones, tablets, gaming consoles, and TVs.
Audio Conversion: Freemake Video Converter or mp3 converter can convert audio files to various formats, including MP3, AAC, and more. Users can choose from multiple quality settings to optimize the file size and sound quality.
DVD Burning: With Freemake Converter, users can also burn video files to DVD or Blu-ray discs. Users can choose from various menu templates and customize the menu options, such as adding chapter titles and subtitles.
Video Editing: Freemake Video Converter also has a big video editor allowing users to trim, crop, and rotate videos. Users can also add text and image watermarks to videos.
Gif to video converter: it's a versatile tool that converts videos to various formats and can convert videos into live photos and GIFs into videos.
Freemake Video Converter is a reliable and user-friendly software offering various valuable functions. It is beneficial for those who need to convert video and audio files to different formats for playback on different devices. The software is free to use, but a paid version offers additional features, such as faster conversion speeds and support for higher-quality output.
Reviews and Ratings
Some users have commented positively on this platform, highlighting its ease of use and ability to handle a wide range of file types. For example, one user wrote, "Freemake Video Converter is simple, yet powerful. It handles all kinds of video and audio files and makes it easy to convert them to the format I need. I also appreciate the built-in video editor, which allows me to edit my videos quickly before converting them."

However, some users have also noted that the software can sometimes be slow, especially when converting larger files. Others have pointed out that the software can sometimes crash or freeze, although these issues appear relatively rare.

Overall, this converter is a solid choice for those looking for a free and easy-to-use 4k video converter tool or an mp3 mp4 converter downloader. While it may not have all the advanced features of some paid software, it offers a range of valuable functions sufficient for most users.
Pricing, Pros, and Cons
Here is a chart that outlines the pricing and pros and cons of Freemake Video Converter: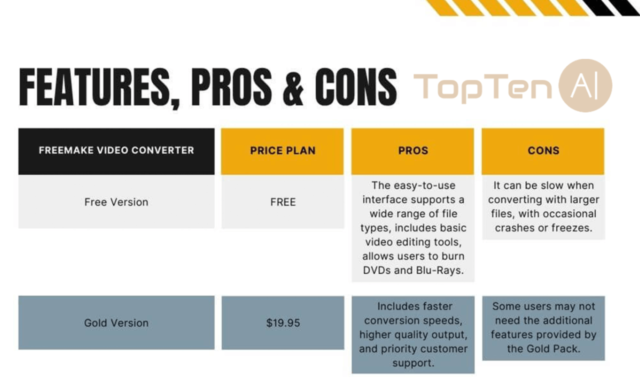 How to use Freemake Video Converter?
Using Freemake Video Converter is easy and straightforward. After our use and referring to the methods given on the official website, here are the steps we summarized to use this tool:
Step 1 - Download and Install: First, download the software to the platform website. Once the download is complete, run the installer and follow the on-screen instructions to install the software on your computer.
Step 2 - Add Files: Launch Freemake Video Converter and click the "+ Video" button to add the video files you want to convert. You can also drag and drop files directly into the program.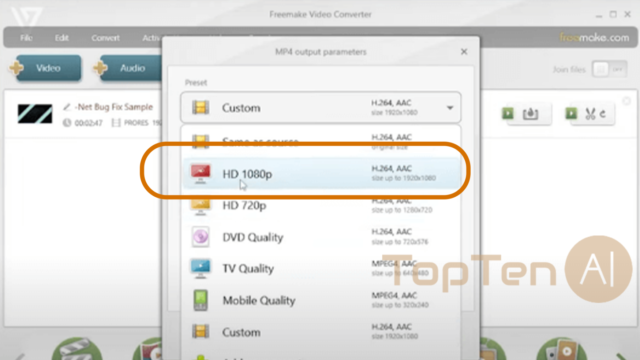 Step 3 - Choose Output Format: Select the output format for your converted video files from the list of available options. You can choose from a range of formats, including MP4, AVI, MKV, and more. You can also choose a pre-configured setting for different devices, such as smartphones and gaming consoles.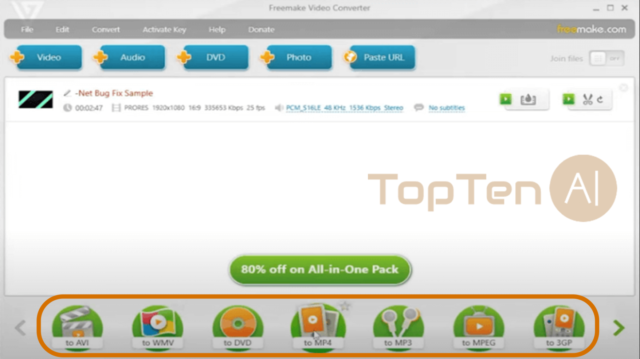 Step 4: Customize Settings: If you want to customize the settings for your converted videos, you can click the "Settings" button to adjust things like resolution, frame rate, and bit rate.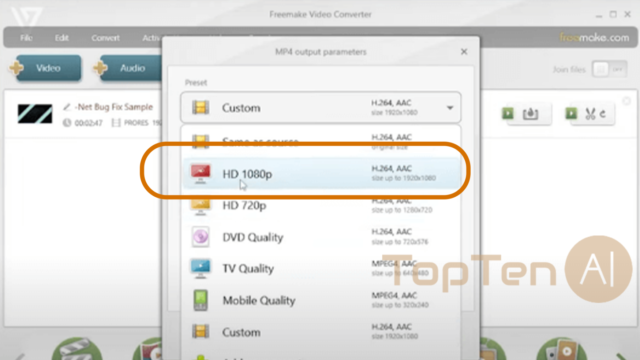 Step 5 - Convert: Once you've selected your output format and customized your settings (if necessary), click the "Convert" button to start the conversion process. The software will show you the progress of the conversion and will let you know when it's complete.
That's it! With these simple steps, you can easily convert your video files to different formats and enjoy them on a wide range of devices.
More About Freemake
Freemake Video Converter has various more essential functions in addition to video conversion. A video downloader, for example, allows you to save movies from major websites like YouTube, Vimeo, and Dailymotion. It should be noted, however, that this tool cannot download YouTube copyright-protected videos.
Freemake Converter also has the ability to burn DVDs and Blu-ray discs. This is useful for folks who want to make physical copies of their video files or watch their videos on a DVD or Blu-ray device.
Conclusion
Freemake Video Converter is a powerful and user-friendly tool for converting and managing video files. With a wide range of supported formats and customization options, it can handle almost any video conversion task you throw at it. The software includes several other useful functions, such as video downloading and DVD/Blu-ray burning. However, it's worth noting that the video downloader tool does not support downloading YouTube copyright-protected videos.
Another feature worth mentioning is the ability to convert videos to MP3 format, making it a convenient tool for converting videos to audio files for listening on the go. So if you're looking for an affordable and easy-to-use video converter and management tool, this converter is worth checking out.