The article provides a review of the top 10 SpongeBob voice generators available online. The review covers various features of each voice generator, such as quality, ease of use, and compatibility with different devices. It also includes pros and cons for each voice generator to help readers choose the best one for their needs.
Sponge bob is one of the cartoons on Nickelodeon and we spend our childhood watching the Bikini Bottom world. SpongeBob and his friend lived in the city of Bikini Bottom since 1999. SpongeBob created in 1999 by Stephen Hillenburg. Millions of people loved the character over the world. If anyone wants to immerse in SpongeBob world by generating the character voice, he can use a different SpongeBob voice generator.
SpongeBob generator is a tool used to change the voice. Anyone can make SpongeBob say anything he wants. Just specify a message and this tool will generate SpongeBob's voice based on that. It is tough to spot the difference, not only SpongeBob we can create voices for other characters like Squidward, Patrick Star, Sandy cheeks, etc.
Here we make a review of some of the best SpongeBob Voice Generators on the market:
Top 10 SpongeBob Voice Generators in 2023 (Updated April)
Many people mostly choose online solutions that they can use anywhere and anytime. This is the reason I have a collection of the top 10 most famous SpongeBob text-to-speech generator websites.
| SpongeBob Voice Generator | Performance | User-Friendliness | Free or Paid | AI-Based | Output Quality | Suitable for |
| --- | --- | --- | --- | --- | --- | --- |
| TopMediai | ★★★★✩ | ★★★★★ | Free/In-App Purchases | ❌ | ★★★★★ | All levels of expertise |
| Uderducks | ★★★★✩ | ★★★★✩ | Free | ✅ | ★★★★✩ | Beginner/Intermediate |
| Fakeyou.com | ★★★✩✩ | ★★★✩✩ | Free | ❌ | ★★✩✩✩ | Entertainment |
| 15.ai | ★★★★★ | ★★★★✩ | Free | ✅ | ★★★★★ | Intermediate |
| Voice changer | ★★★✩✩ | ★★★★✩ | Free | ❌ | ★★✩✩✩ | Entertainment |
| iMyFone MagicMic | ★★★★✩ | ★★★★✩ | Paid | ❌ | ★★★★✩ | All levels of expertise |
| Celebrity voice changer | ★★★✩✩ | ★★★★✩ | Free | ❌ | ★★✩✩✩ | Entertainment |
| Baviux | ★★★★✩ | ★★★★✩ | Paid | ❌ | ★★★★✩ | All levels of expertise |
| Voice changer Plus | ★★★✩✩ | ★★★★✩ | Free/In-App Purchases | ❌ | ★★✩✩✩ | Entertainment |
| Fiverr | ★★★★✩ | ★★★★✩ | Paid | ❌ | ★★★✩✩ | All levels of expertise |
1. TopMediai
Price: Free; $11.99/mo for Premium; $22.99/mo for Pro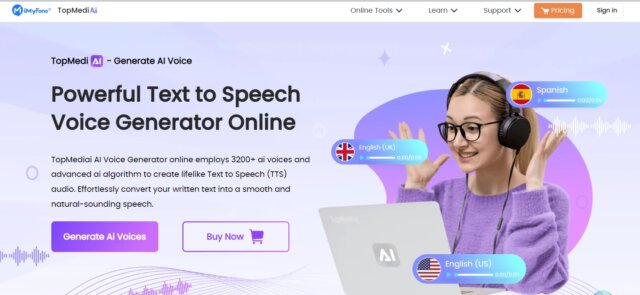 TopMediai is one of the best text-to-speech generator websites. It allow you to generate lifelike speech for your content.
The platform's SpongeBob voice generator is particularly impressive, bringing the beloved cartoon character to life with ease. This product solves the problem of time-consuming voiceover work while enabling users to create high-quality, professional audio content in just minutes.
The product is suitable for anyone looking to produce audio content quickly and efficiently, including video creators, podcasters, and bloggers.
Pros:
Wide range of voice options, over 3200+
User-friendly interface
High-quality audio output
Cons:
Limited customization options
Pronunciation errors may occur
Higher pricing for more extensive use
2. Uderducks
Pricing plan: Free: $0 per month/ Creator: starts from $9.99 per month/ Clone: starts from $23.99 per month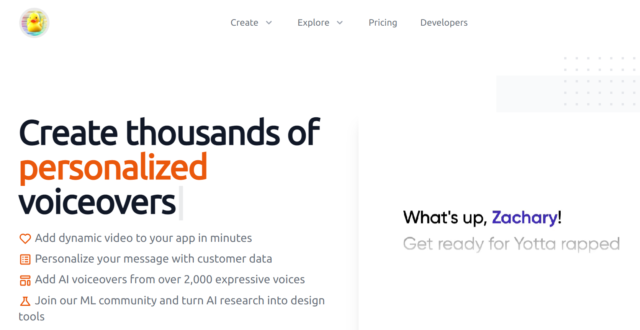 Uberducks is one of the fantastic SpongeBob voice from text to speech generators. Uderducks is an artificial intelligence tool, which can convert specific text into SpongeBob's voice with just a single tap.
You will be able to listen to and download SpongeBob tts voice file with Starbucks. The best thing is that Uderducks allows us to create voices for other characters for example Plankton, Squidward, and Patrick.
Just click on the website, this will help you to visit the Uderucks site. It download te SpongeBob voice as WAV file.
Pros:
Starbucks is the rarest feature of that choice of reference speech for output voice into SpongeBob speech from text.
It has easy-to-use interference.
It can synthesize the custom text.
Cons:
The limitation is we Ave to create an account to use Uderduck's free online tool.
Underdeck does not provide the option to generate a permalink of our SpongeBob voice.
3. Fakeyou.com
Price: Free to use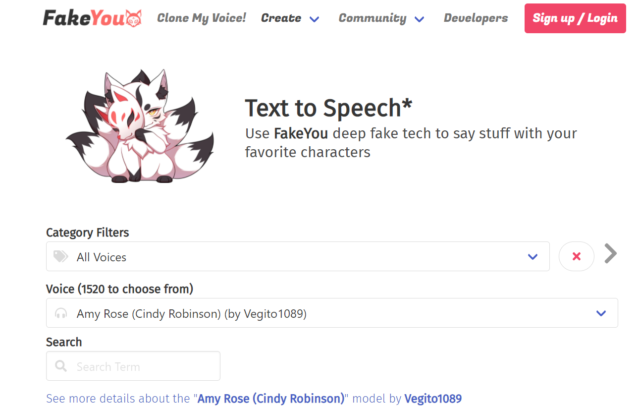 Fakeyou.com is one of the best SpongeBob voice text to speech online. It is an online free site and anyone can join fakeyou.com to support them by uploading voice models.
This site is open-source and backed by its community. Fakeyou.com has an extremely talented staff that personally handles voices clone requests. Just click on the link to visit the website.
Pros:
It is an Open-source site.
It is easy to use.
It is a fast converter.
Cons:
Complicated sentences are not handled by the tool.
4. 15.ai
Price: free to use.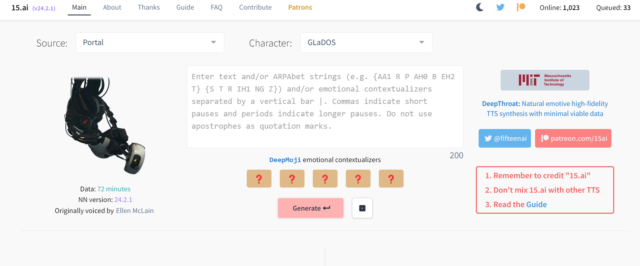 15.ai is one of the best SpongeBob text-to-speech voice generators. This can find anywhere and anytime. This was the first site to generate the voice with complicated text structure and even it was not falling even once.
At 15.ai you find the cartoons character you want and use the site to create cartoon character text to speech voices on this site.
Pros:
The quality and speed of synthesis of the voice are superior to uderducks and vocodes.
It provides 3 variations of quality of speech for the single same text.
Cons:
It has fewer trained models which means fewer model characters to choose from.
5. Voice changer
Price: Free to use online.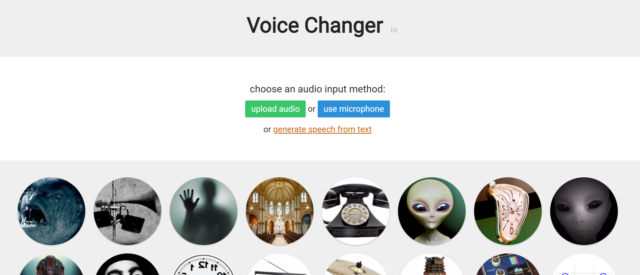 The Voice changer tool is a clear indication by its name of what is established. Voice Changer is a simple one-purpose utility.
The software is the better option for manipulating audio. It provides flexibility to modify the voice of pre-recorded audio clips and generate a new one. You should have a microphone and a web browser to start a new audio recording session.
Pros:
We can choose dozens of voice effects that can make sounds of aliens and villains.
Cons:
We cannot share generated voice directly on social media, first, we need to download it.
Audio recording quality depends on the microphone of the user's computer.
6. iMyFone MagicMic
Price: Free trial/ Quarterly: $9.95/ Yearly: $19.95/ Lifetime: $39.95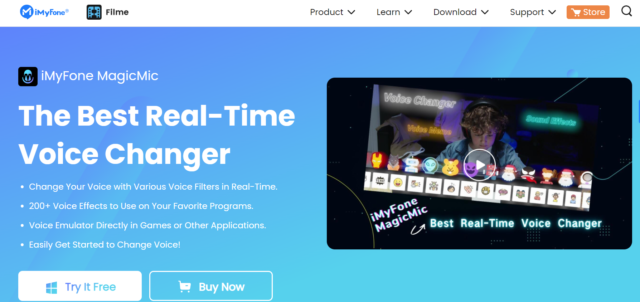 It is free online too to filter voice by adjusting the voice setting. MagicMac is voice changer software that is accessible on Windows PC platforms.
This program is very good for beginners. The key features are new sounds are updated every month. To try this tool just click on the link to reach the site.
Pros:
Easy to use
High-quality output voice
20 plus filters of voice
190 plus sound effects
Cons:
To buy this app is expensive
7. Celebrity voice changer
Price: Free to download
This app is a mobile application that is created by HatsOfApp Inc and powered by Voice AL voice changing and voice cloning technology.
This voice changer works on both IOS and androids platform. We can instantly change our voice tone in seconds. This is easy to use without any complex voice programs.
Pros:
Based on Deep Learning Technology
Gets better day by day
A pioneer in the AI development field
Cons:
The user is not able to transfer the material to another person on any other server
8. Baviux
Price: Free to install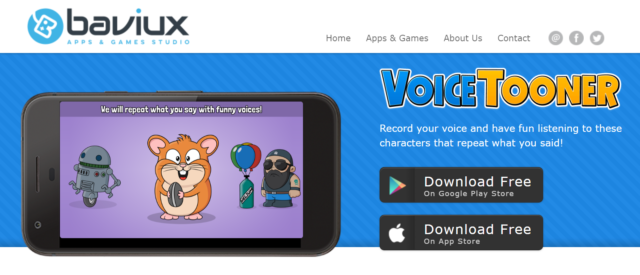 Voice toner is easy to use. The method to use this app is just to record the voice, then touch any character and then this will repeat the generated voice.
Some interesting sound characters are present in this app for example robot, a squirrel, and a monster. A lot of fun creating and amusing films can be shared with friends by using VoiceTooner.
Pros:
Birthday, Christmas, and fun videos are easily created.
Easily send by using various messaging platforms like social networks, emails, etc.
Cons:
Don't have many characters
9. Voice changer Plus
Price: free to download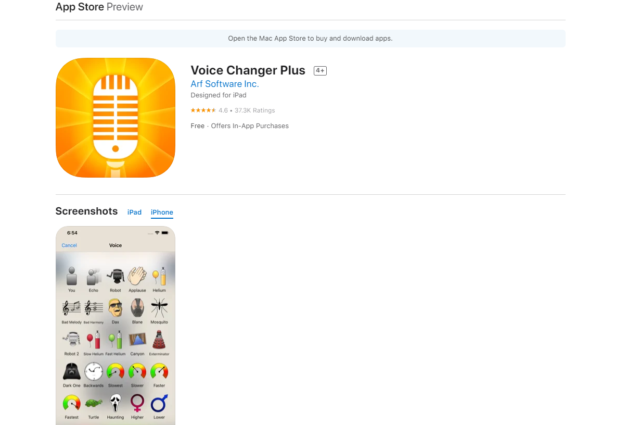 The software offers iPhone and iPad owners full creative flexibility to modify the sound recorder and can help users looking for a voice changer for iPhones and iPad.
For those who want to be free to shape the recordings. More than fifty voice effects are present and allow users to record their voiceovers.
Pros:
Trim setting to delete some parts of audio recording
The supported platform is iOS
Free to save and record
Cons:
10. Fiverr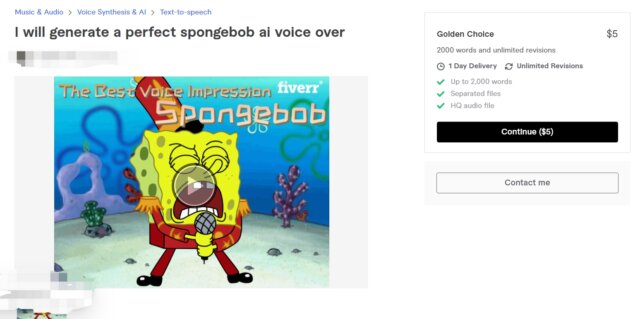 Many SpongeBob generators on fiver help to convert text to speech. Some accounts are mentioned below that can help you a lot to generate a SpongeBob voice generator.
It is best to hire a voice artist from fiver instead of finding TTS software online. This will make you save time and you will receive clear audio with excellent SpongeBob voice. The pice and the artist are mentioned below:
(1) Scottwaltonvo is the best for replicating SpongeBob's voice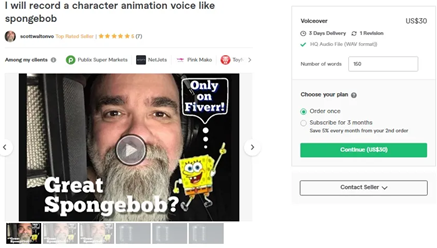 (2) Frankgerardvo is best for multiple character voices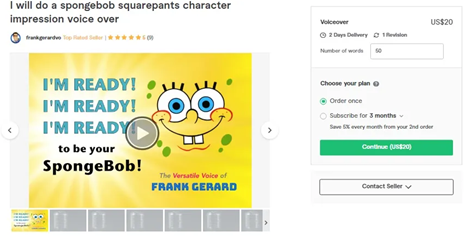 (3) Blueburn67 is best for doing SpongeBob and Patrick voices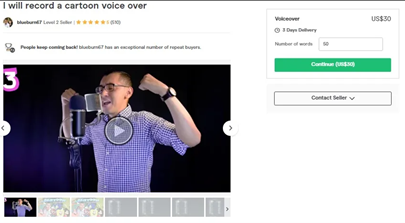 Conclusion
In this article, you explored the top 10 best SpongeBob voices from text to speech generator websites. You can use any application, you can create SpongeBob speak anything. Do check these excellent websites to create funny SpongeBob memes. Voice convertor online is free but you can make offers on fiver too to make SpongeBob voices. For your videos, I highly recommend VanceAIs, which will enhance photos to the next level with high resolution and graphics. It is an efficient, convenient, intelligent, and easy to operate AI photo enhancer.
More auto generators also read: Top 10 Lyric Generator Review 2023.