Do you ever think of letting your content go beyond text? Do you ever think of generating high-quality spoken audio in any voice? Finding the right voice actor to dub a production isn't always an easy task.
ElevenLabs is a generative voice AI with advanced AI text-to-speech technology. It supports multiple languages and sound styles. Eleven Labs is a must-try for all people who would like to create audio files effortlessly within mere seconds. ElevenLabs AI text to speech is one of the most powerful AI audio generators you've ever seen.
Overview of ElevenLabs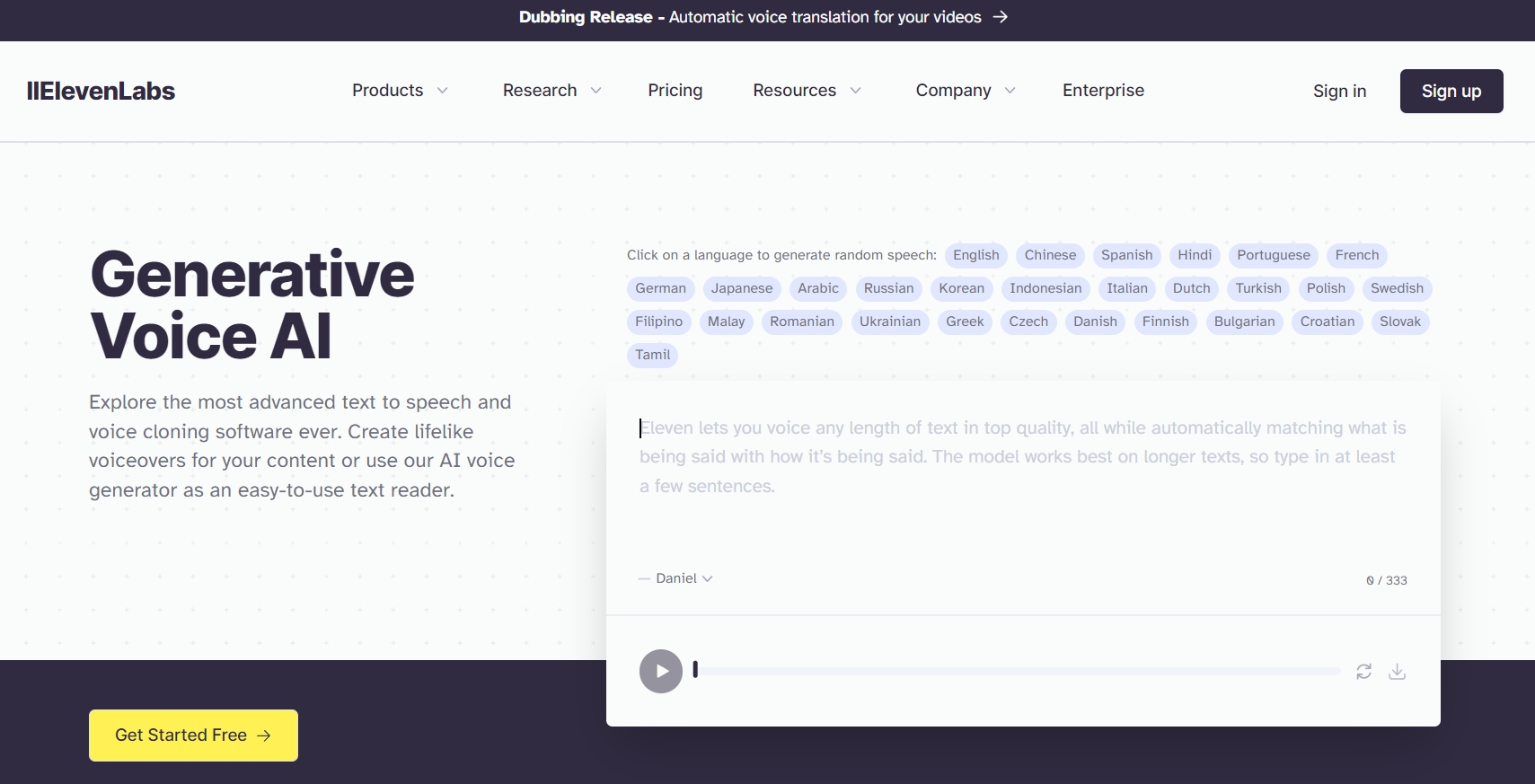 ElevenLabs Homepage
Platform: Online (Browsers)
Eleven Labs is a cutting-edge AI audio generation tool, which is a text-to-speech, voice cloning, and AI voice generator tool built on the latest research in the field of generative AI. This versatile audio tool is invaluable for a wide range of applications, including videos, games, chatbots, audiobooks, etc.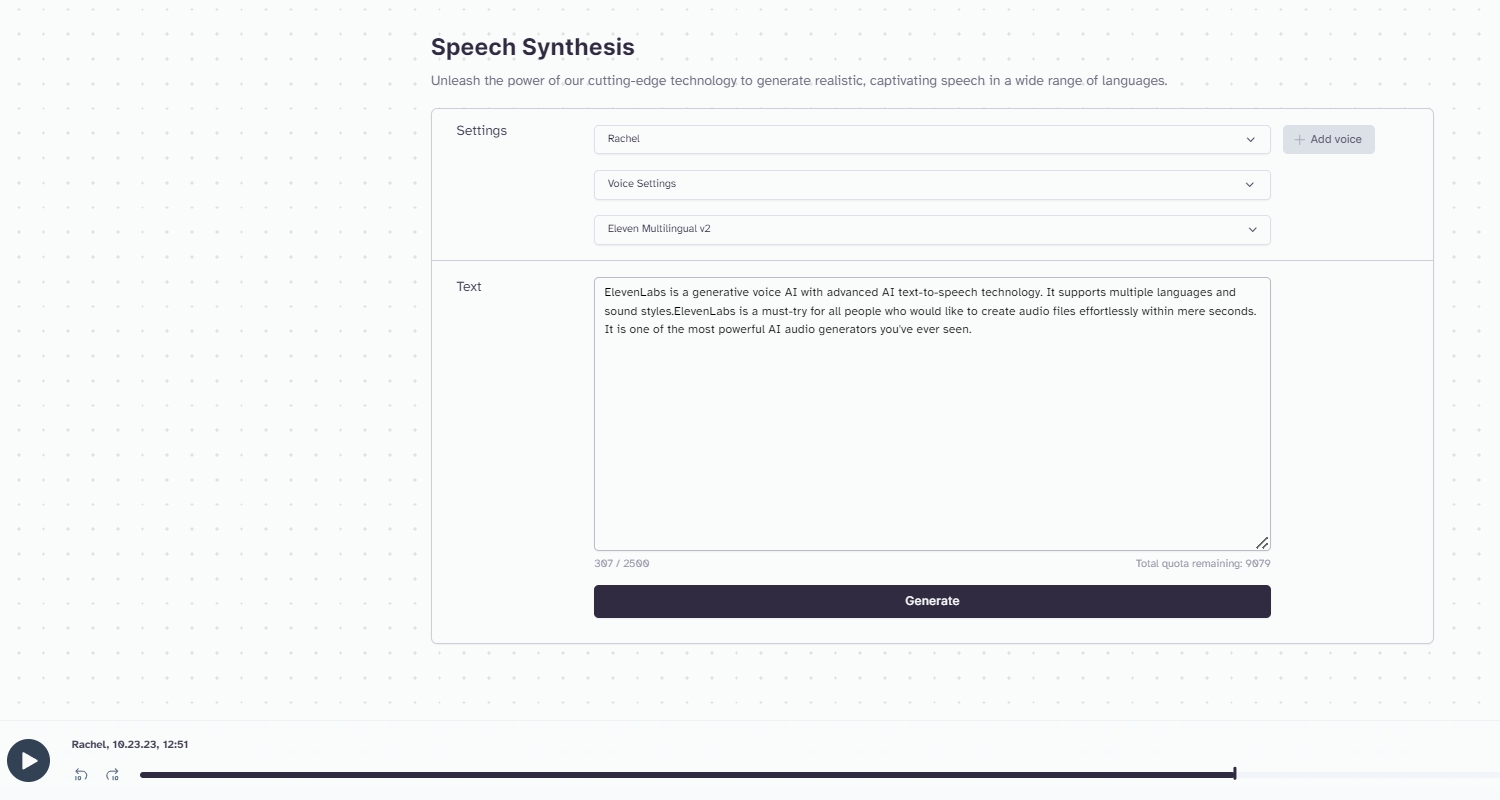 ElevenLabs' Interface
Eleven Labs AI voice generator offers a user-friendly interface that makes it accessible to a diverse user base, from content creators and marketers to amateur users seeking to streamline their content generation process. 
The ElevenLabs ai text to speech brand has gained a positive reputation as a company that pushes the capabilities of AI voice generation. It is very similar to Murf text to speech.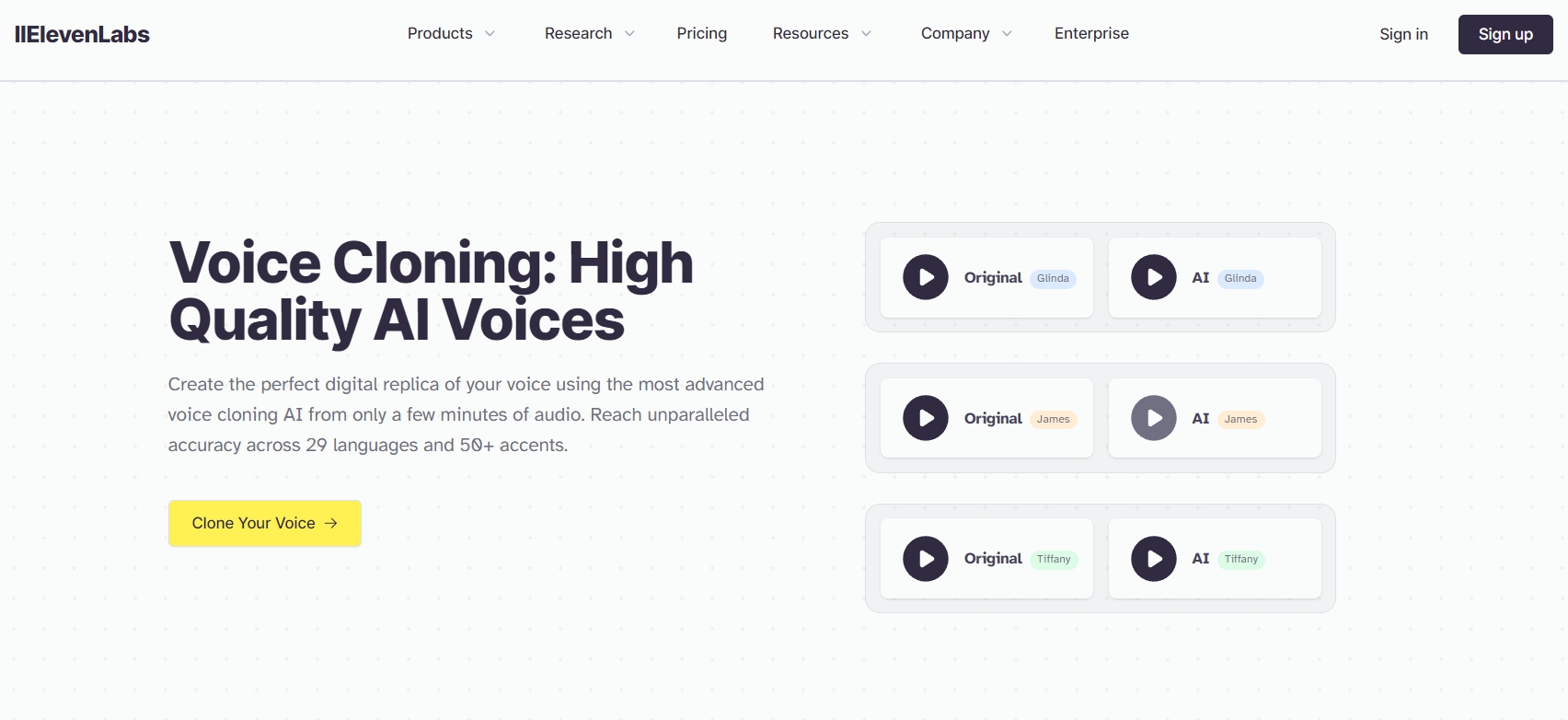 ElevenLabs' Voice Cloning
Basic Features of Elevenlabs
 Text-to-speech: Advanced text-to-speech technology allows you to enter text and get the audio files you need online immediately without any professional voice-over experience required.
 Voice cloning: Elevenlabs' cloning technology allows you to create a digital voice that sounds like a real human. It allows you to clone your voice or create an AI celebrity voice online in minutes. Whether you're a content creator or a short story writer, Elevenlabs' voice generator lets you design captivating audio experiences.
 Multiple languages and tones: Eleven Labs can turn text into lifelike audio across 29 languages and 120 voices, which is indistinguishable from human speech. Ideal for digital creators, get high-quality TTS streaming instantly.
Outstanding Features
Featured  AI Dubbing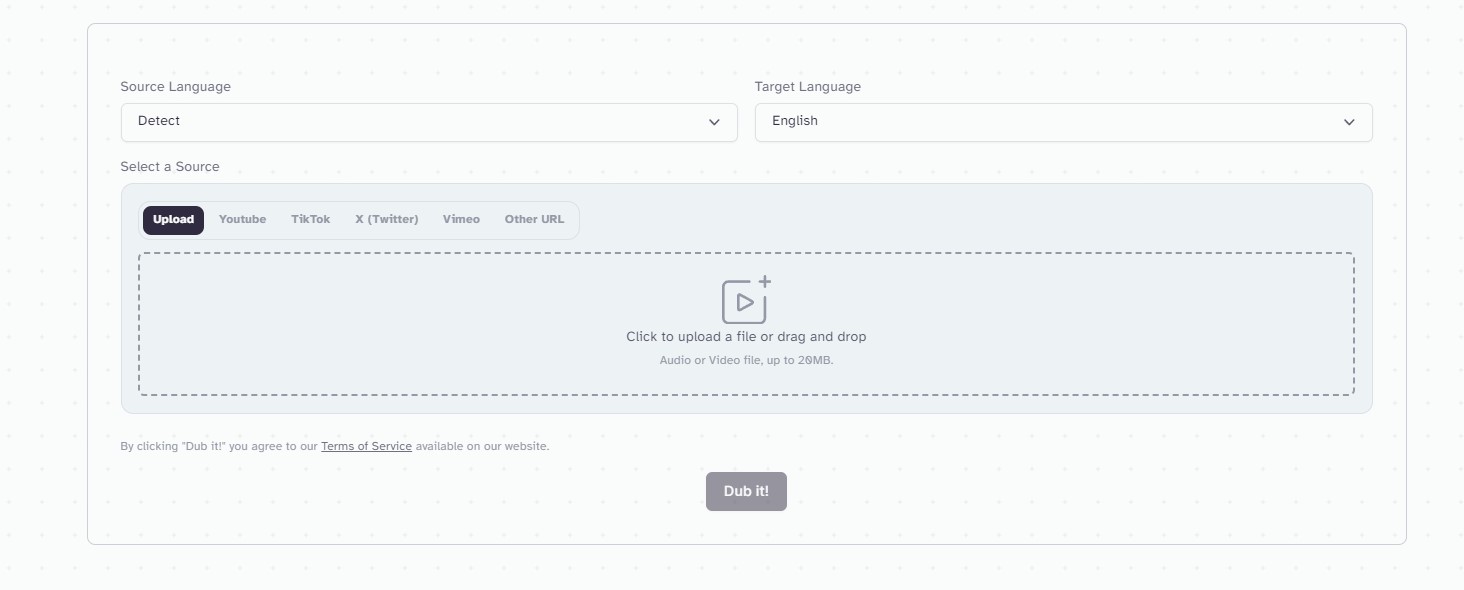 ElevenLabs' Dubbing 
Automated dubbing or voice translation is a process for translating and replacing the original audio of a video with a new language while preserving the unique characteristics of the original speakers' voices. AI analyzes the audio, translates the speech, and synthesizes the translated text into a new audio track that maintains the original voice tone and style. 
After several trials, the result is a dubbed version of your video that sounds natural and authentic, especially suitable for Tik Tok, and ready to resonate with audiences globally with the great Tik Tok voice generator.
Featured  Long-form Text to Speech with Projects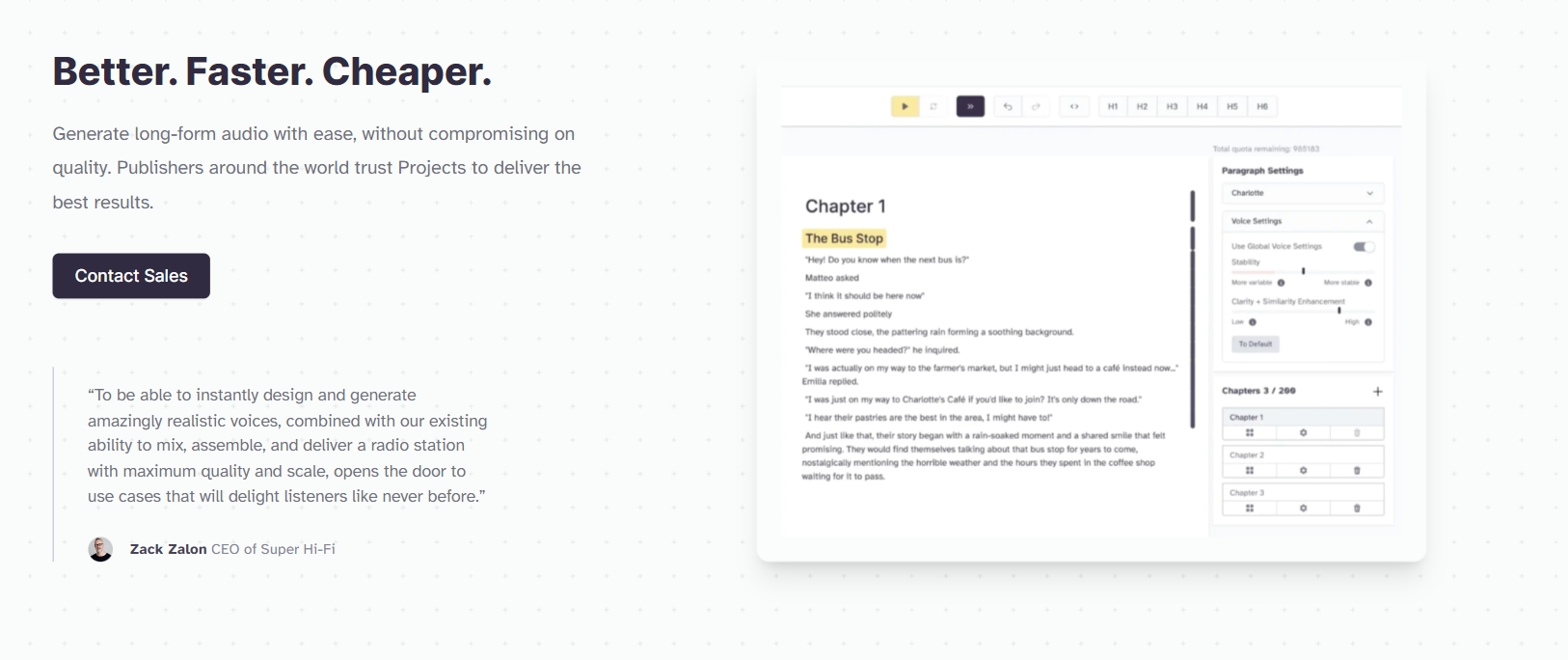 ElevenLabs' Projects Function 
Eleven Labs for directing and editing audio, providing you with complete control over the creative process for the production of audiobooks, long-form videos, and web content. You can import in a variety of formats, including .epub, .txt, and .pdf, convert entire books into audio, and manually adjust the length of pauses between speech segments to fine-tune pacing. 
What's more, a wide range of languages and voices to create the perfect text-to-speech audio experience is available. After evaluation, our research team believes that Eleven Labs AI text to speech with projects is very helpful in improving work efficiency.
Why Editor Picks?
After giving ElevenLabs multiple tries, we find it very useful for text to speech audio creation. It has a really simple and clean UI design that would make any beginner comfortable. You can choose from a wide range of languages and voices to create the perfect audio experience. You can convert your written masterpieces into captivating audiobooks, reaching listeners on the go and manually adjust the length of pauses between speech segments to fine-tune pacing. Eleven Labs caters to a broad spectrum of users. Content creators, including bloggers, marketers, and video makers, can greatly benefit from its audio-creating capabilities. Amateur users can also benefit a lot from Eleven Labs AI voice generator since it is an ideal Tik Tok voice generator as well. The price is compatible, compared with other products that we have reviewed like FakeYou.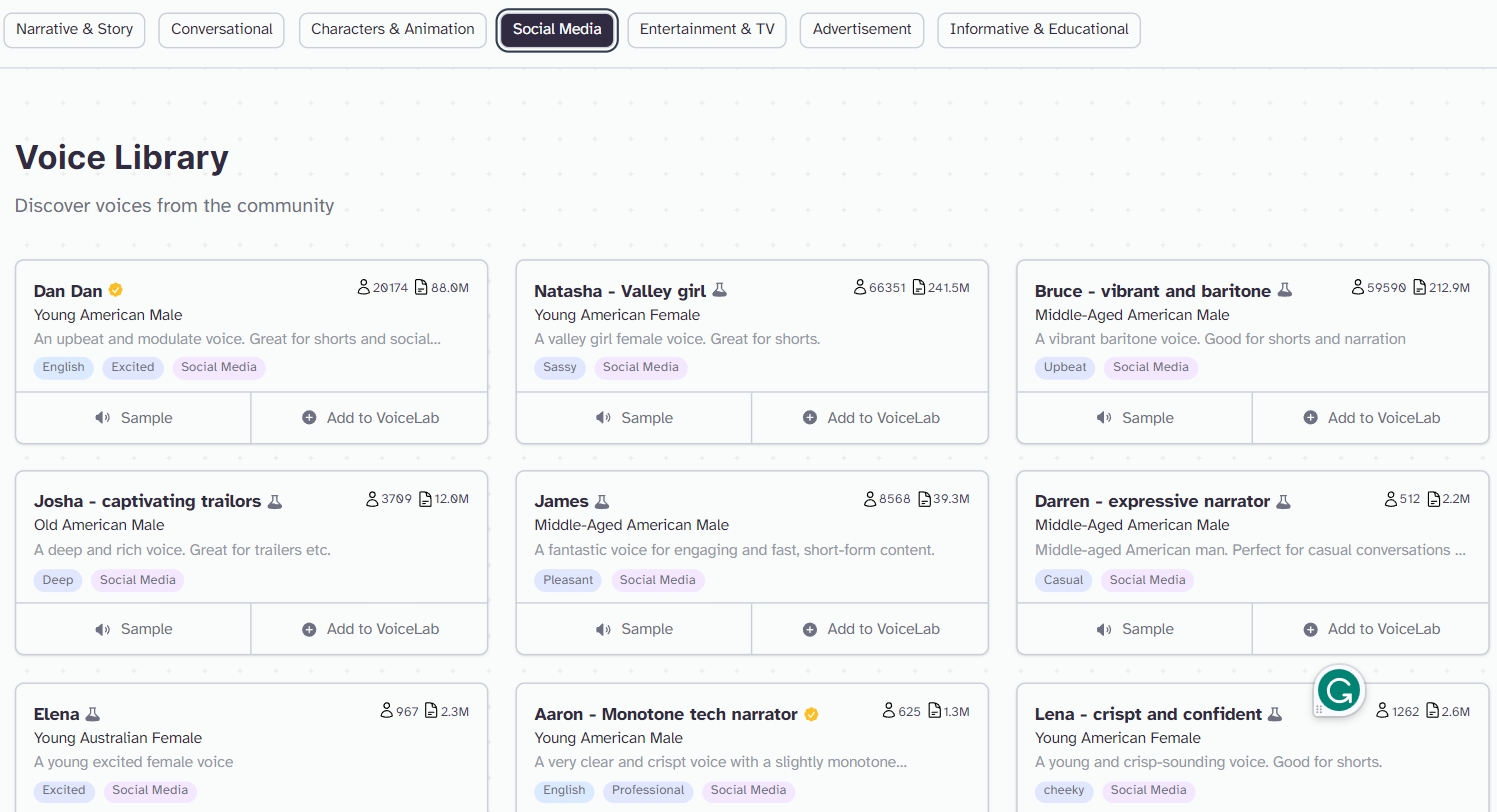 ElevenLabs' Voice Library
Our Suggestions

Eleven Labs is a comprehensive text-to-speech AI audio generation product that offers speed, efficiency, and high-quality audio output. If you frequently need to use audio-related files, then ElevenLabs is a worth-buying product. If you are an amateur, you can also try using it. The platform's advanced features and capabilities deliver natural and smooth sound output, effortlessly handle long-form text, and make it stand out from other audio generation products on the market. 
Conclusion

ElevenLabs is powered by cutting-edge audio artificial intelligence technology, which meets video, games, audiobooks, and chatbot creators' needs. It supports multiple languages, tones, intonations, and accents. You can save the cost of hiring voice actors by using ElevenLabs.You can also check out the Top 12 Text to Speech Tools in 2023 to learn about other similar tools.
FAQs 

1.  Can I publish the content I generate on the platform? 
Everything generated during your paid subscription is yours to use commercially forever, whereas anything created before or after the subscription period will always require attribution.
2.  What audio formats does ElevenLabs support?
ElevenLabs only delivers audio in the MP3 format
44.1kHz/16bit MP3
64kbps (Free, Starter)
96kbps (Creator, Independent Publisher, Growing Business)
You can find many more impressive AI applications at TopTen.AI.