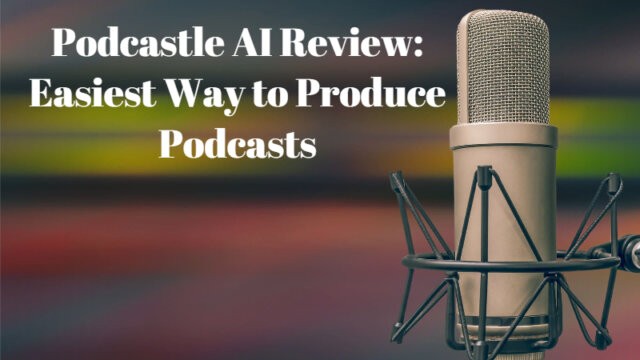 If we had to summarize the purpose of Podcastle AI in short, we would say that Podcastle AI is here to make your reading material, no matter how lengthy, easily digestible and fun. In this review of Podcastle AI, we will brief you about Podcastle itself while also familiarizing you with its features as well as the fundamental 'how-to' steps.
What is Podcastle AI?
Podcastle AI is an online AI based text converter tool that helps you record and create high quality podcasts through its website or extension. It also offers various features such as interview mode, revoice features, and more. Podcastle AI is a rather famous podcast creation application used by recognizable brands such as Business Insider, Bustle, Digital Trends, and more.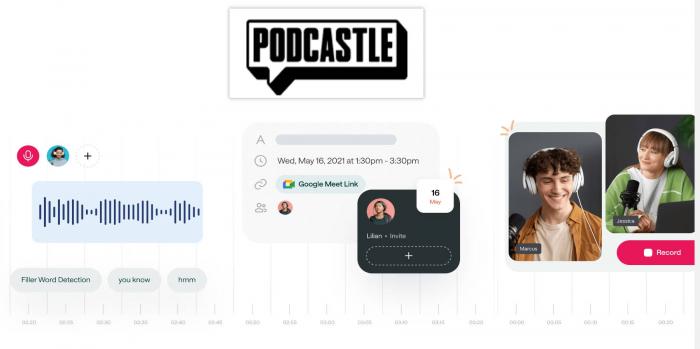 What can you do with Podcastle AI?
Podcastle AI will naturally help you create a really clean and professional podcast through its various tools. These tools include Recorder, Audio Editor, Magic Dust, and more. Each tool is going to enhance your podcast in different ways and you can use these features together or separately, depending on the situation. For instance, if you have unwanted background noise in your recording, you can make use of Magic Dust, which is an AI based noise cancellation tool. The Recorder and Audio Editor tools are, of course, for recording audio and editing it. Overall, you can utilize all these tools to create amazing podcasts. Not to mention that you can not only use Podcastle AI online, but also use it as a Podcastle AI Chrome extension.
How does Podcastle AI work?
Of course, as the name suggests, Podcastle AI and the Podcastle AI extension both work with AI based mechanisms and audio based features. Depending on the type of feature you use, Podcastle AI will implement AI based technology to memorize audio and upgrade it in high detail. If you are using the AI noise cancellation feature, it will separate the background with the voice and get rid of the former. It also has a collection of AI voices that you can merge with your text. The AI voice will study and then read out the text with speech that sounds natural and human. Similarly, Podcastle AI uses AI in different ways in order to upgrade and enhance your podcasts in every way possible. Plus, it does all this with just a few clicks automatically.
Use Podcastle AI Online
We will take a look at how to use Podcastle AI from its official website online.
1. You can click on the link in title in order to access the official website of Podcastle. From here, you can see a summary of the various features it offers. To get started, click on Join Now and create a free account. You can use your Google or Facebook accounts to sign-up quickly.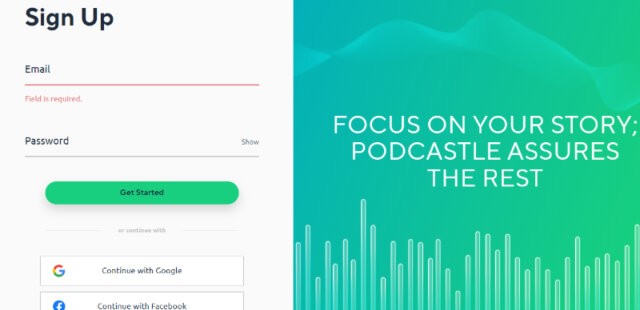 2. Now you will see a few options before getting started with editing. Choose the option you want. For instance, the Record option is meant for recording audio firsthand while the Revoice option is about text to audio conversion.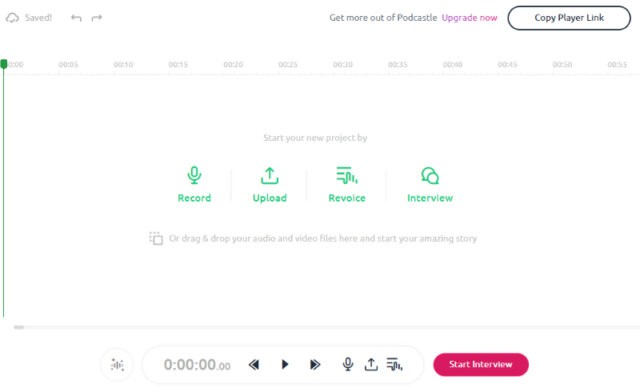 3. You can work with the editor and use the feature you chose. You can also rechoose your features as they are shown in the middle of the editor. If you are using Revoice, you can simply type some text on the text editor and start processing. Once done, save your work by using the Export button.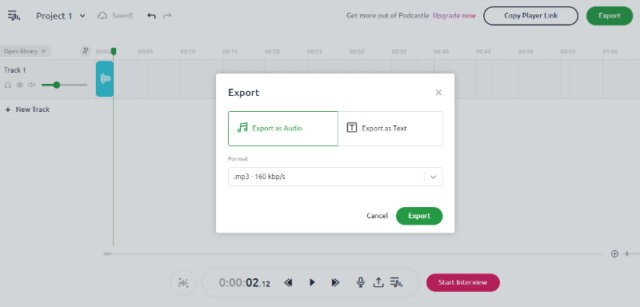 Use Podcastle AI Extension
The Podcastle AI Chrome extension can be a really crafty tool to have, mainly due to its portability and responsive design. So, now let's see how to use the Podcastle AI Chrome extension with ease.
1. Once you are logged into your Podcastle account (free or otherwise), you can click on your user avatar or icon to see a drop down menu. Click on Extensions, which will open a web page that looks something like the image below. Install the extension from there.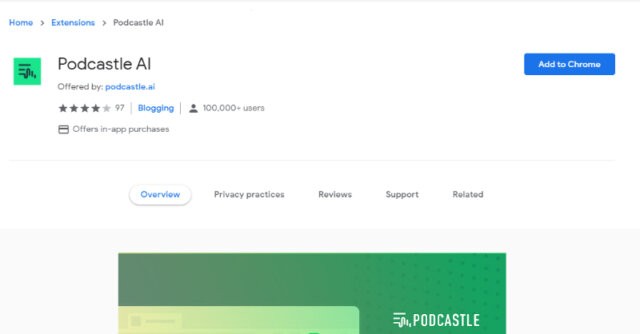 2. After installation, the extension will be available to use as long as you have the browser open. You can access the extension by clicking on the puzzle icon on the top bar. Now all you need to do is open any web page with text and click on the Podcastle AI extension button. You can also choose between a male and female narrator.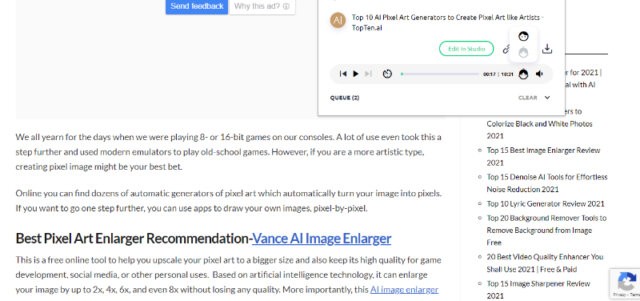 3. Lastly, you just have to use the Download icon to save the recording or use the Share icon to share the audio anywhere.
Verdict
Podcastle AI makes a really efficient use of its AI based system and UI to make sure that users don't face difficulties or inconveniences during the podcast creation process. Not to mention that it even offers a smoothly working Chrome extension. Hopefully, it can also support other browsers in the future such as Edge, Firefox, Opera, etc since Chrome is a bit limiting. The features it offers, such as Revoice, Audio Editor, Magic Dust, etc are also valuable addons. While it has a decent free user plan, a Storyteller subscription of $11.99 is surely worth considering too. Also read: Top 10 AI Podcast Editors Review