Summary: Reviewing the top podcast editors, which are AI-driven software that helps with post-production tasks like editing and sound cleaning. These editors are essential for creating high-quality podcasts, and users can choose from a variety of options depending on their needs and budget.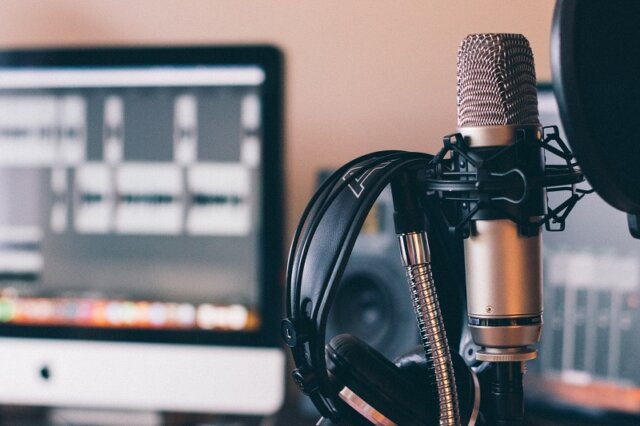 Today's content consumer is still experiencing a rising revolution in the liberalization of entertainment and information. Podcasts are part of this trend. If you want to start a podcast from scratch, it's not easy, but it is satisfying. You will practically go through the whole process of creating a show: analysis, branding, production, editing, publishing, promotion, monitoring and improvement. In this article, we will speak about podcast editing through a list of the best podcast editors around. A podcast editor will be your best friend in the post-production process of the podcast, from voice recording, cutting, and sound cleaning to voice over effects.
Best AI Podcast Editors Review
| Product | Price | AI Features | Multilingual Support | All-in-One Editor | Free Trial |
| --- | --- | --- | --- | --- | --- |
| Descript | Starting at $12/mo | ★★★★☆ | ✗ | ✓ | Very limited |
| Otter.ai | Starting at $10/mo | ★★★☆☆ | ✓ | ✗ | Limited to transcribing |
| Podcast.co | Starting at $29/mo | ✗ | ✗ | ✗ | Limited |
| Podcastle | Starting at $11.99/mo | ★★★★☆ | ✗ | ✓ | Generous |
| Auphonic | Starting at $11/mo | ★★★☆☆ | ✗ | ✗ | Very limited |
If you are at the beginning of the road, we do not recommend investing directly in a software until you have played with the free or trial ones. In this section, we will make a brief review of 10 podcast generators to make it easier for you to find the right podcast editor.
1. Descript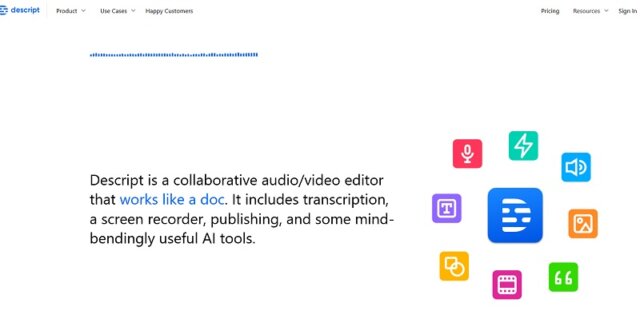 Price: Starting at $12/mo
This podcast maker aims to ease the whole post production. Descript has many features that help the user to record or import audio, mix, edit, and add music and different sound effects. You can edit an audio file by adding text, transcribing and doing a multitrack recording. This is a powerful and unique AI podcast editor that saves you time. You can also record and this podcast editor will transcribe the narration for you. Edit the transcript and Descript will edit the underlaying audio.
Pros:
- Fix audio mistakes such as interjections by typing with the help of AI algorithms
- Realistic text-to speech generator
- A vast stock of different voices
Cons:
- UI performance. There can be a delay because it`s synced to the cloud
- Frequent updates
- Very limited free trial
2. Otter.ai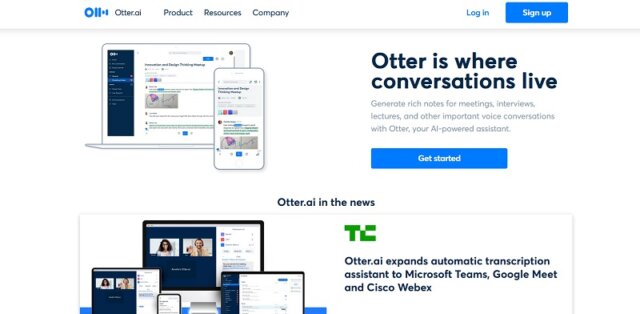 Price: Starting at $10/mo
Otter is AI podcast editor that offers a multi-language audio text convertor service. Based on several machine learning models, the transcribing process also includes automatic punctuation. You can use this website if you want to publish a podcast episode text on your blog. Or you can just use it to translate text from one language to another.
Pros:
- Supports 30 languages
- Easy to use
- Export audio transcription in many formats
Cons:
- This podcast editor is limited to transcribing audio files
- Not an all-in-one podcast editor
- You need to check the transcribed document
3. Podcast.co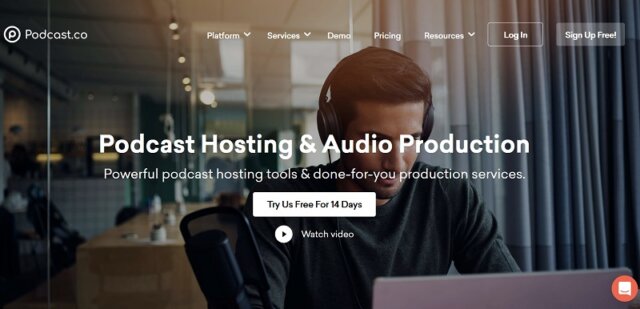 Price: Starting at $29/mo
This software only manages distribution and hosting, so you need an external podcast editor to do the rest of the job. We're only mentioning this site because most people think it's a full-fledged podcast generator, so we need to demystify that misconception. But it is true that this website has a production house that offers sound services for podcasts. In addition, there are various other services that can be very useful for those looking to start their own professional podcast.
Pros:
- Deliver episodes across the globe through a fast network
- Upload an episode at the same time on all platforms such as Spotify, Apple and more
- A dedicated podcast landing page
Cons:
- It is not an all in one service, this is not a podcast generator
- Occasional technical issues
- Limited free trial
4. Podcastle
Price: Starting at $11.99/mo
Podcastle is an online podcast editor that has everything you need. The free subscription offers multiple services, with the most important one being the advanced sound editor. This free version doesn't have noise reduction and speech enhancement but you still can achieve your goals even without those features. Through this podcast editor you can record professional quality audio and edit multiple tracks as easy as pie. Besides all of this, you can turn any text into realistic podcasts.
Pros:
- A podcast editor that's easy to use
- Generous free plan
- Efficient
Cons:
- With no internet connection, can be unreliable due to its online-only nature
- Noise reduction can be used only with a paid subscription
- Only 4 voice skins in the free plan
5. Auphonic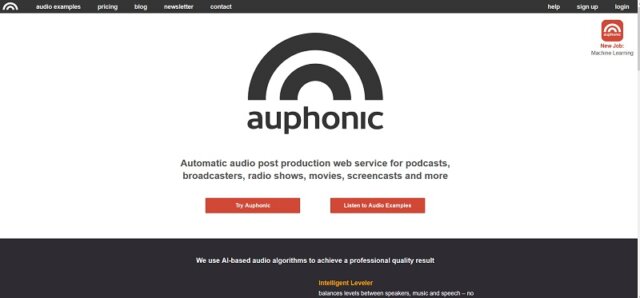 Price: Starting at $11/mo
This AI podcast editor is entirely automatic but you need to manually check the final material to make sure it is 100% clean. With this podcast editor you cannot record, but you can upload the recorded material. Then, this AI podcast software will automatically apply noise reduction. There are a couple of options you can tweak but, for the most part, everything here is automatic. That can be either a good or a bad thing depending on how you look at it.
Pros:
- Automatic
- Easy to use
- A good adaptive leveler
Cons:
- Very limited free trial: 2 hours/month and expensive plans
- Does not guarantee quality since is an automatic AI podcast editor
- You must constantly make sure that the audio material is spotles
6. Speechtext.ai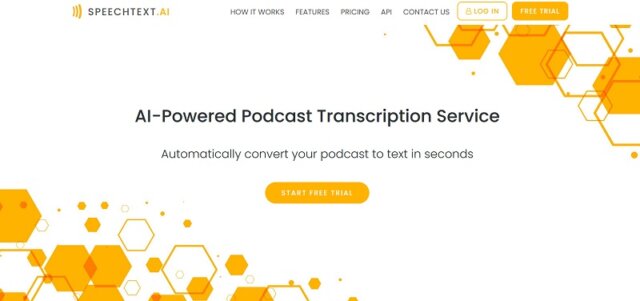 Price: Starting at $8.33/mo
This AI podcast editor offers recording and transcribing of all sorts of audio files. It can be connected to Google/Microsoft Calendar, Dropbox and Zoom. Speechtext.ai can be useful for anyone who wants to turn an episode of a podcast of his or her into a blog post. The software can also come in handy if you're the type of person who frequently attends Zoom calls.
Pros:
- Automatic
- Easy to use
- A good solution for keeping track of Zoom discussions, conferences for businesses owners
Cons:
- This podcast editor is limited: only recording and transcribing services
- Transcription stops at 45 minutes
- You must constantly make sure that the audio material is spotless
7. Podscribe.ai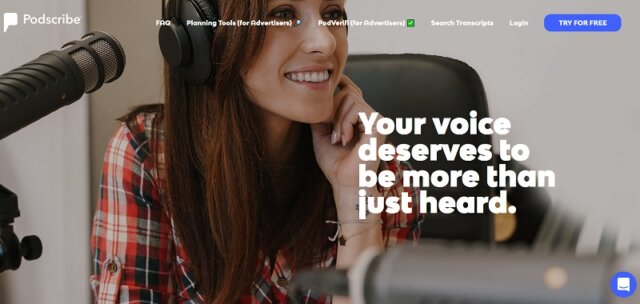 Price: Starting at $79.99/mo
This is another podcast editor focused only on transcriptions and is designed specifically for people who enjoy making podcasts. This podcast generator transcribes new episodes from your favorite podcast channel or even your own after they went live. The accuracy is 90- 95% but it`s best to check the text yourself just to be on the safe side.
Pros:
- Fast
- Accurate and interactive
- Automatic
Cons:
- Only transcribing services
- Aimed primarily at advertisers
- Expensive
8. Alitu.com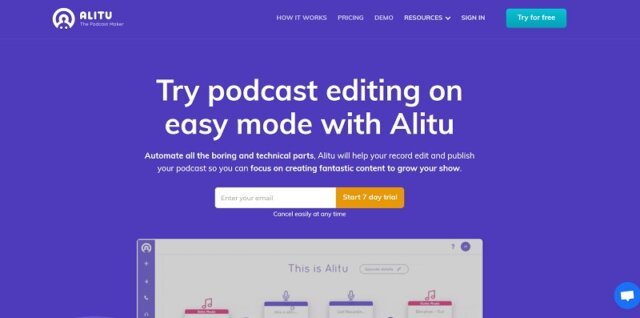 Price: Starting at $32 /mo
Another good podcast editor is Alitu. With the help of this online podcast maker you can do whatever you can do a number of things to enhance your podcasts. You can record and edit your audio files with just a few clicks. You also can add music, cut any mistakes, trim and you can even use the automated audio cleanup option to have the software do most of the work for you.
Pros:
- Easy to use
- Free courses to help you produce and grow your show
- Fast and efficient
Cons:
- Limited free trial
- Check the quality sound to ensure the automatic reduce noise is correct
- Limited sound effects
9. Magellan.ai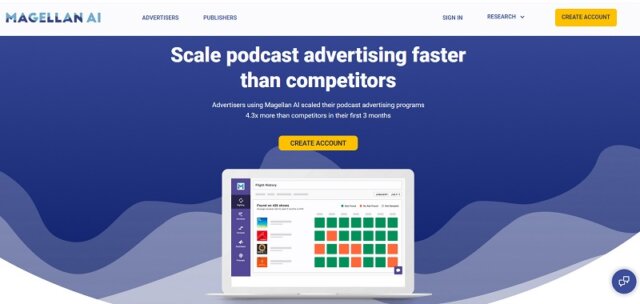 Price: share media kit with advertisers looking to buy
This podcast generator is dedicated only to advertisers and publishers. This is not a podcast editor but it can help simplify media planning for podcasts. The business model used by Magellan is quite unusual but it does come with some benefits for those who want to get into the podcast making business for free. Again, though, the software is mostly for advertisers.
Pros:
- Best builder for podcast media plan
- Easy to use
- Discover best shows to promote a product
Cons:
- Limited free trial
- Not a podcast editor
- Not recommended for freelancers
10. Adobe Audtion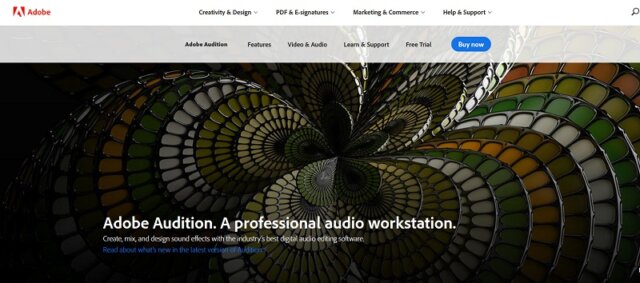 Price: Starting at $20.99 /mo
This is the ideal professional podcast editor. Adobe Audition is the perfect podcast editor software because it has everything you could possibly ask for. You can record, create, mix, restore, edit, create or add sound effects. It is easy to learn how to use this podcast editor and the time invested in it will guarantee that your podcasts will be of the highest quality.
Pros:
- Easy to use
- It has all the tools needed for creating a professional podcast
- Efficient
Cons:
- Limited free trial
- You need to invest time in learning all the features it offers
- Mandatory updates
Final Thoughts
Out of all podcast editors on this list we first and foremost recommend Adobe Audition because it incorporates everything you need at a fair price. But each of these podcast editors has its own unique flavor and offers something a little different for its users. Now it is up to you to decide with which podcast editor you resonate the most. Setting up a podcast is not the hardest thing in the world, as long as you have some important things in mind: a clear idea of what you want to achieve, the tools needed for recording, and a good podcast editor. Also read: Podcastle AI Review: Easiest Way to Produce Podcasts
FAQs
1. How can I make podcasts online?
You need a microphone for recording and you can use one of the online podcast editors mentioned above. A good example is Podcastle online podcast maker.
2. What is the best podcast recording software?
The best podcast editor is Adobe Audition. It offers a wide range of possibilities for both audio recording and editing. Before purchasing, it is a good idea to learn and test its abilities via the free version. Remember that you need to install the program on your computer.