High quality e-commerce or product photography can make a big difference in your marketing and branding efforts. It is commonly known that people are driven by visuals, which makes product photos a priority. PixelCut provides an online AI product photographer application that can give your e-commerce photography a quality boost.
The PixelCut AI product generator comes with various useful editing and enhancement tools that make it easy to come up with new ideas for product photos.
If you're a photographer, designer, or similar, Pixel Cut can be the app for you.
Overview of Pixelcut AI Product Photo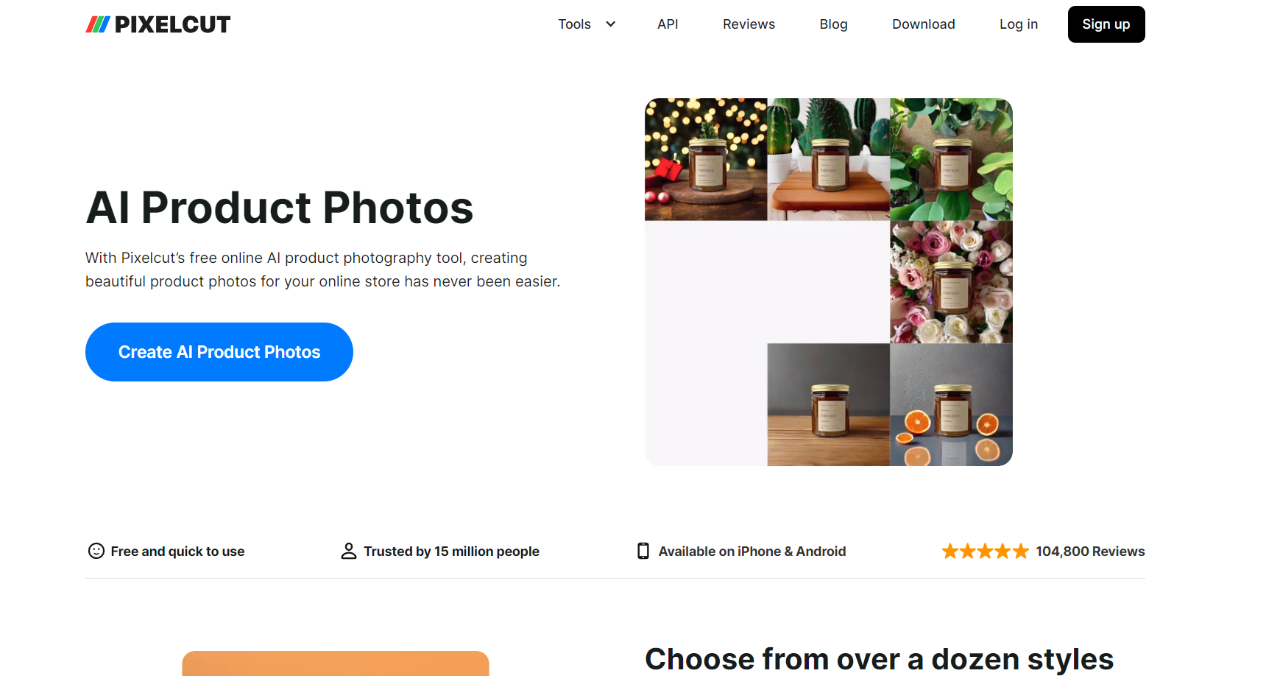 All screenshots credit: Pixelcut AI

Platforms: Online on Desktops, Android, and iOS.

Batch edit: Available

PixelCut has emerged as a reputable brand by providing convenient and innovative ways to create professional photo background. The PixelCut AI design generator is one of their most well-known tools due to its advanced features. By leveraging AI technology, the AI product photographer creates and enhances photos with realism and creativity.

Pixelcut AI background generator makes the whole process of background removal and replacement pretty easy. Users can simply upload their product photo and rest easy as the AI product photographer removes the background and offers plenty of other background style alternatives. Due to the automated and professional approach, users stand to save a ton of time otherwise spent on such editing tasks.

The PixelCut AI design generator can give a boost to your workflow and productivity when it comes to product photography.

Must-Know Features of PixelCut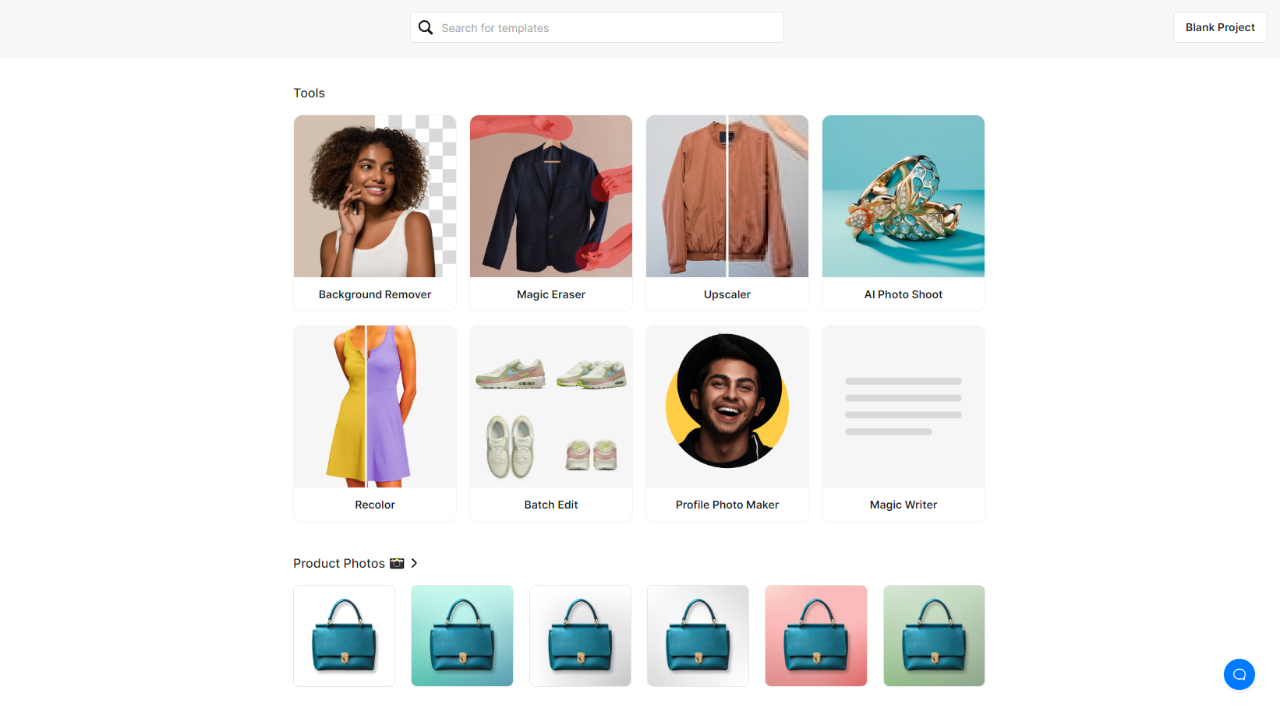 Background Remover: Similar to Transparent Background Maker, you can use PixelCut's background AI to automatically remove backgrounds from images. A clean background can make editing easier.
Image Upscaler: You can use the PixelCut photography application to upscale images either by 2x or 4x the original size. The processing speed is quick and it delivers images of high quality as well.
Magic Eraser: The PixelCut photography platform offers the magic eraser feature wherein users can mark spots on their photos with a brush tool. The marked spots will be erased or taken out of the image. It can be used for specific object removal, though this tool is not as accurate as you'd like.
Outstanding Features
Featured AI Photo Shoot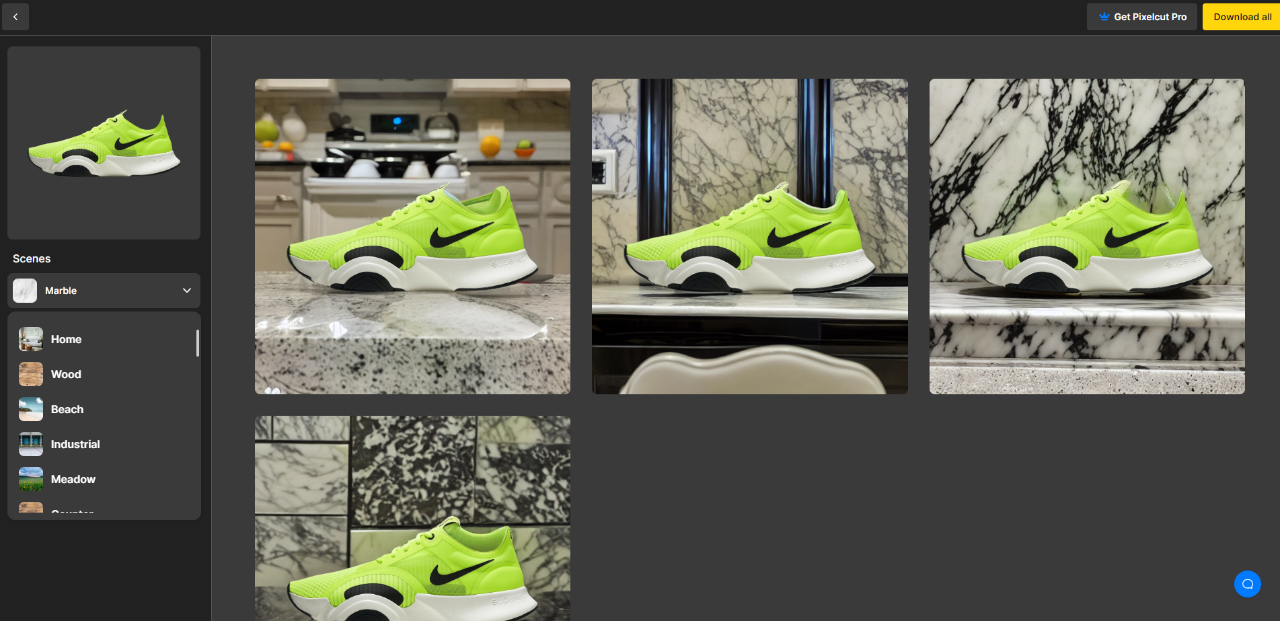 With AI Photo Shoot, the PixelCut AI product generator brings AI to the forefront of creating a professional photo background. This innovative tool allows users to effortlessly upload their product photos and automatically replace the background with a selection of diverse themes, such as marble, home, wood, garden, white, and more. You can also do a white background photoshoot with this feature easily. This can immensely help creative professionals with ideation and brainstorming for background ideas.
Users simply have to upload their image and let the Pixelcut AI background generator take it from there. It creates multiple images with the same theme so that users have options to choose from. Designers and photographers can generate images like this and edit them further to add their own ideas or edits. This feature, along with other editing tools, can work together as an AI poster generator as well.
If you are working for a marketing agency where you need many images quickly, a feature like this can be quite helpful.
Featured Automatic Recolor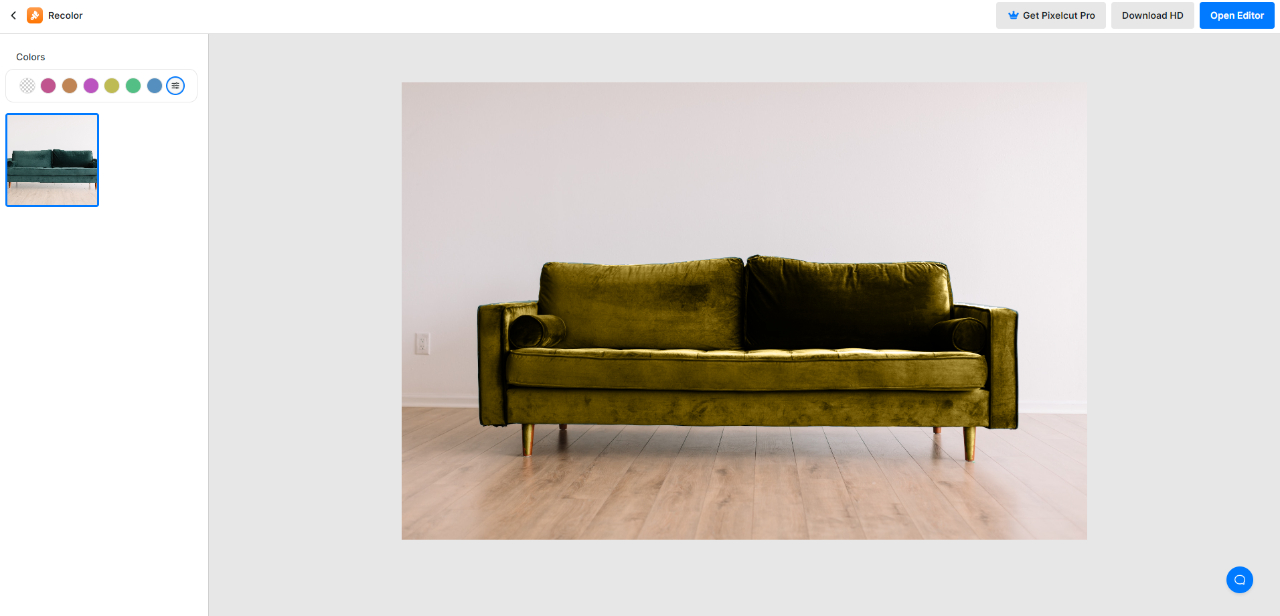 The Recolor feature of the PixelCut AI product generator provides plenty of options for creative image editing. With this feature, you can change the color of certain aspects of an image instantly. First, you would have to upload an image and let the PixelCut app AI scan the image.
It will detect objects that it can colorize. For instance, you can upload a product photo of a couch and then change the color of the couch with just one click. Therefore, not only can this be useful for product photography, but for other tasks as well. You can experiment and check various color combinations with clothes, for example.
Using this feature with other PixelCut AI background generator tools can open up creative options. It provides a user-friendly platform to explore and experiment with various color schemes, making it perfect for designers, photographers, etc.
Why Editor Picks?
TopTenAI thinks that there are several compelling reasons to consider using PixelCut for your photo editing needs. First and foremost, PixelCut excels in terms of stability and performance. It's a platform you can rely on for consistently smooth and efficient operation.

During our testing of this AI tool, we found that one of the best aspects of PixelCut is its generous free edition. Users can access and try out all the features of the platform easily. Moreover, you can download your images in HD quality, which is not common among other platforms. Through the free version alone, users will get a really good idea of how PixelCut works.
The platform's AI Photo Shoot and Recolor features are invaluable for creative photo editing. Whether you're a photographer or designer, these tools empower you to transform and enhance your visuals with ease, unlocking new dimensions of creativity and precision. They can be used with other PixelCut AI background generator tools.
For example, whenever we want to change the background of a product photo, we can simply go to PixelCut and either remove the background or use AI Photo Shoot to apply new backgrounds.
Our Suggestions
PixelCut is an incredible platform for those who are constantly dealing with product photography and object photos in general. The platform has features that are more geared towards product photo editing. However, the background removal tool can be used by anyone who simply wants to remove the background from an image, because the tool performs well and is one of the best AI background removers for product photos.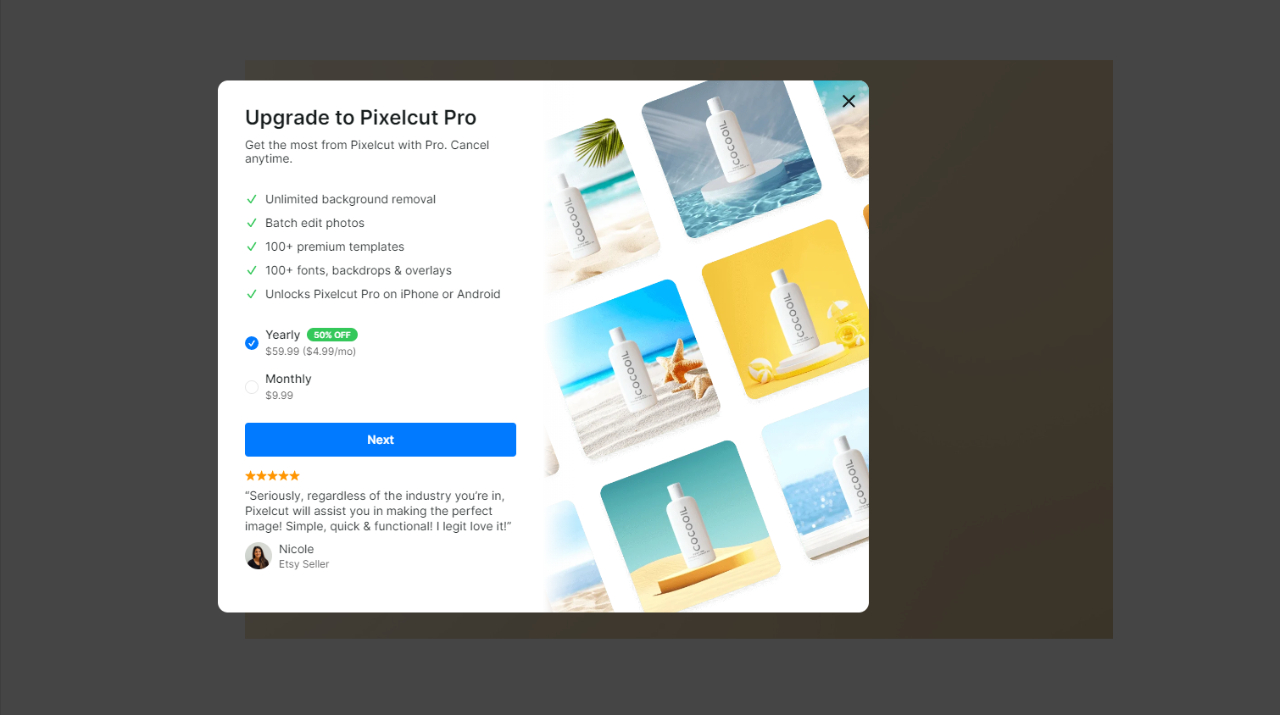 As discussed earlier, the PixelCut photography platform has a really great free version that you can try out. You can use the features freely, edit your images, and have them exported in high quality. Therefore, any professionals looking for a new application should consider PixelCut. Similarly, it is also suggested for beginners since it is easy to use.
If you are looking to get a paid subscription, you can either get a monthly or a yearly subscription. The features that you get from either of the plans remain the same. With the monthly plan, you will be paying more on a month-to-month basis, of course. If you intend to use PixelCut regularly for the long-term, get the annual plan.
Conclusion
PixelCut is an exciting application, particularly for product photography, owing to its stellar website performance, rich set of features, and AI-powered tools. The platform's great free edition, which includes HD image downloads and advanced functionalities, sets it apart from many other options in the market. However, there's room for further improvement by expanding its feature set to include tools that can enhance product photo editing and image editing in a broader context. For example, the addition of features that allow users to create objects from text prompts could make PixelCut an even more comprehensive and indispensable tool for creative professionals.
FAQs
1. What are the best alternatives to PixelCut?
While PixelCut is an impressive platform, there are many other applications that you can try out anyway. For example, you could try CreatorKit, which also offers product photo editing and AI features that boost creativity. If you are looking for a more AI-intensive approach, you can try Claid.AI as well.
You can also check out our Tools Directory for more AI applications.
2. What other features does Pixelcut have?
PixelCut has a nice range of tools on offer. These tools can help in image editing and enhancement. You can try the background remover, as it is pretty accurate and quick when it comes to image processing. Another very useful tool would be the Image Upscaler. As the name suggests, you can upscale your photos with AI through this tool.