Kaiber AI is a leading AI video generation platform. It is primarily about leveraging AI and cutting-edge technologies to create videos from a simple image, text and audio. This high-end, tech-driven engine takes just a few minutes to transform your ideas into stunning visual stories.
Nowadays many short video makers are using Kaiber AI to produce in addition to amazing and very hot videos. Such as the following one: 
Kaiber AI can be a useful AI tool for businesses looking to improve their advertising efforts. Companies could use it to create eye-catchy promotional videos showcasing their products or services.
Discover more about the features and power of this state-of-the-art AI generation engine.
Overview of Kaiber AI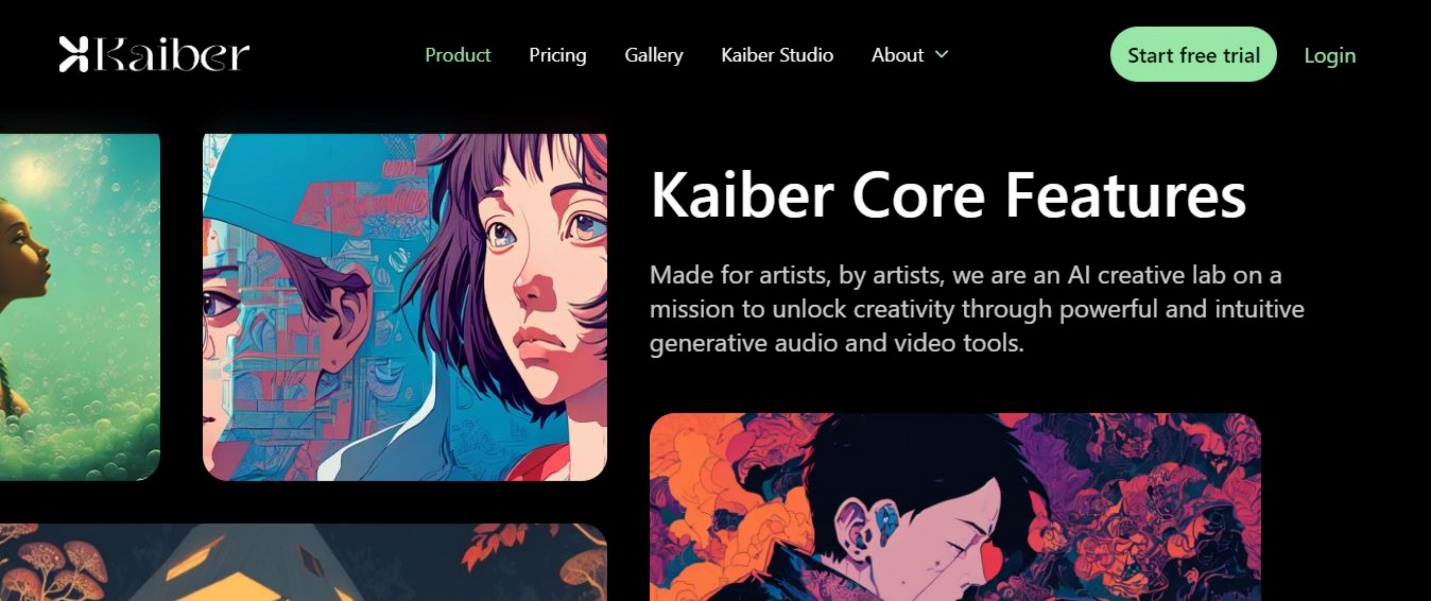 All screenshots credit: Kaier AI

Operating System: Windows, macOS, and Linux.

Kaiber.AI is an AI-powered image-to-video generator launched in May 2023. This top-notch AI-driven application is designed around the training of neural networks in order to produce impressive videos.

Kaiber has emerged as a reputable brand. It is popular among artists, content creators, musicians, YouTubers, and digital marketers. Businesses can use it to generate high-quality videos for a wide array of applications.

Kaiber.AI works by first transforming the text description into a structured layout. Similar to VanceAI art generator, it uses a mix of machine learning and natural language processing to produce outputs based on user inputs.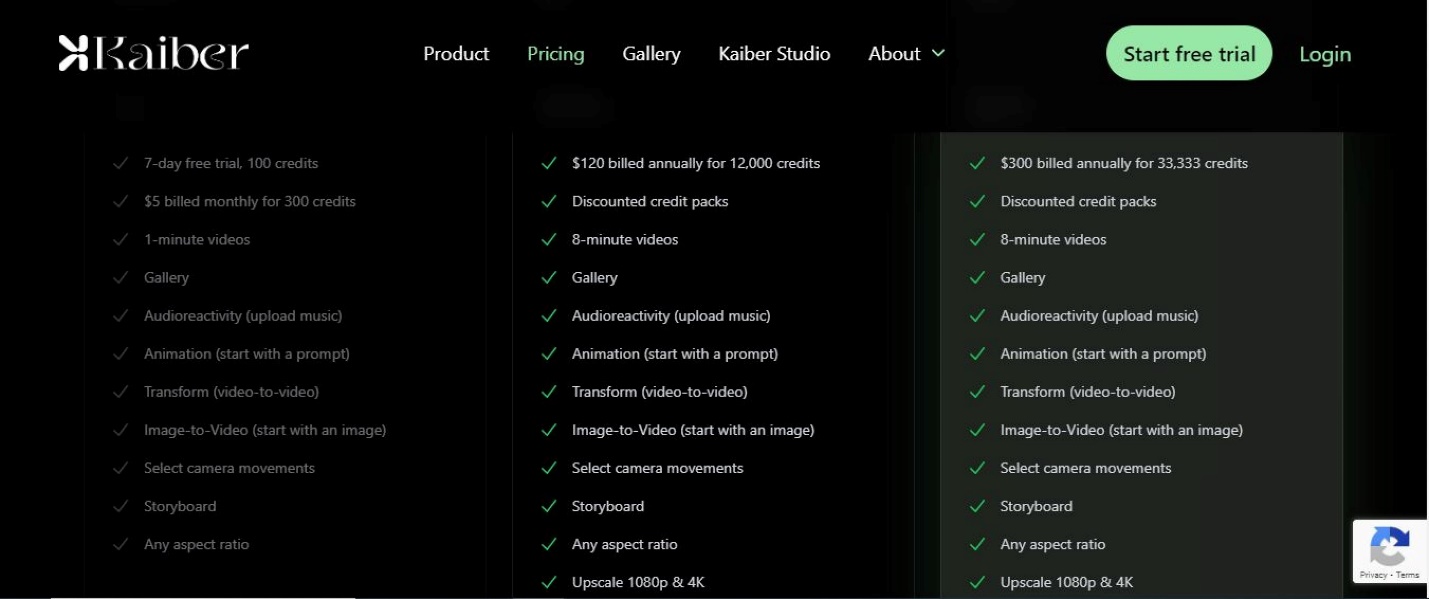 Fundamental Features of Kaiber AI
User-Friendly Interface: Kaiber is designed with an accessible and intuitive interface that makes it simple for all users to navigate and use its features easily.
Customizable Features: To enhance the video making process, you can easily adjust video dimensions, length, camera movements, and other settings.
Spotify Canvas Generator: Musicians can use the Spotify Canvas feature to enhance their tracks with visually appealing and looping videos.
Curated Styles: You can choose various styles like AI animation, concept art, and impressionism to give your creation a unique visual identity.
Outstanding Features
Featured

 Text & Image To Animation

Kaiber anime has an AI creative lab that elevates art to new heights. Two unique animation styles are available from Kaiber: "Flipbook" for frame-by-frame AI animation and "Motion bro" for smooth, consistent anime video.

Kaiber AI Motion is a recently added feature that enables users to turn text and photos into smooth animations. The motion bro feature offered by Kaiber lets users turn static images into dynamic AI animations.

With this best AI art generator, you can start with a few words or upload your image. Within a couple of minutes, it can animate your photos into dynamic, moving masterpieces.
It is a fun tool that allows futurists to express themselves in a uniquely innovative way using AI technology. This feature is a miracle for artists and content creators who always try to create unique and visually appealing content for their audience.
Featured
Audio-reactivity
Audio-reactivity is another outstanding feature of Kaiber.AI. It is a valuable feature, particularly for musicians who work on engaging music videos. By creating looping videos, musicians can enhance the listening experience and boost engagement on a well-known music streaming platform.

It caters to musicians and film production companies by offering a Spotify Canvas generator. They can use Kabier.ai to create beautiful, next-level videos. It allows them to enhance their tracks on Spotify streams with Canvas videos within no time.
Do you want to add your favorite song to your collection of photos? Here you can. Similar to the best AI image generator, no complex process is required. The audio-reactivity feature allows you to upload your song and add your artistic style. Let the software's audio analysis technology create their beats automatically.
Featured
Transform Video Styles
Kaiber.AI takes video transformation to entirely new styles and aesthetics. It offers multiple video templates for different types of business projects. This sophisticated platform allows users to effortlessly upload their existing videos to transform them into more exciting ones. The software's AI algorithms will intelligently reimagine your videos and convert them into something unique and captivating.

This feature makes Kaiber an ideal solution for content creators looking to reuse their existing content. It offers visuals with unmatched creativity, detail, and synchronization.
This AI video generation tool allows you to unleash your creativity with new perspectives. Using different prompts and media inputs as "scenes," you can bring your storyboarding approaches to life in a whole new way. To use this feature, upload your source video and prompt. Adjust the setting, select your frame, and download your high-quality anime video. That's it.
Why Editor Picks?
It is not only about unleashing creativity, but it also has endless potential thanks to its power. The core technology behind Kaiber AI is impressive and can analyze and understand user input within minutes. It is a highly responsive artist tool.
You don't need to be an expert to create stunning visualizations. It's extremely easy-to-use UI interface makes it accessible to everyone.
Applications that offer the same features and results at the same price are few and far between. So, Kaiber AI can be an excellent alternative to AI video generator tools.
Our Suggestions
If you're a musician, an artist, or a content creator on YouTube or TikTok looking to engage your audience, then Kaiber AI is the tool you need. It can uplift your creativity and bring your ideas to reality.
Since the price of Kaiber AI is kind of high, you can subscribe to the Explorer plan for just $5 if your budget is limited. However, we still recommend choosing the Pro plan ($10) because it supports 8-minute video and all premium features.
We recommend using detailed prompts when using AI to generate unique assets from scratch. NightCafe Creator which can create image from text prompts and pixel-art making tool, AI pixel art generator, are other alternatives you can use.
FAQs
How to use Kaiber AI to change my video style?
Firstly, sign up for the official website. Click the "Create Video" option and start with your existing video. Go to the video setting to change the video style. Adjust length, ratio, camera moments, evolve, and other settings. Next, click on the preview frame option. Here, you can see the transformed style of your video. Click on the download video option to save your video. For more tutorial details, see this video:
Is Kaiber AI free to use or free to try?
No, it is a paid product, but you can try it for free for 7 days. However, it offers affordable packages that a you can purchase.
Final Thoughts
Kaiber.AI is an innovative, user-friendly tool that enables users to create their dream videos effortlessly. The platform is designed to help creators bring their visions to life with a range of versatile features. Despite some reported billing and credit issues, the user experience of Kaiber.AI is mainly positive. So, try Kaiber AI that can be an amazing addition to your workflow.