Summary: Here are 10 best AI image generators, which have revolutionized image creation and editing, offering solutions to challenges faced by traditional methods, enabling people to easily create stunning images with minimal effort
Are you tired of spending hours searching for the perfect image to accompany your blog post or social media posts? Do you struggle with creating visually appealing graphics for your website or marketing materials? These are common problems faced by many content creators and marketers today. Fortunately, the AI image generator can help solve these problems.
With the power of AI image generators, you can create professional-quality images quickly and easily, without requiring any design skills. Say goodbye to the hassle of finding the perfect stock photo or hiring a graphic designer. Instead, use AI technology to generate stunning visuals that capture your audience's attention and enhance your brand's message. In this article, we will review some of the best AI image generator tools available on the market and provide an in-depth analysis of their features and capabilities. Check more information about the best AI image upscalers.
Alright, first let's explore what AI image generator is and how it works.
What is AI Image Generator?
An AI image generator is a really complex tool that has the ability to generate images and illustrations just through text descriptions. This is a phenomenal breakthrough technology when it comes to natural language processing since it can have potentially several amazing uses once the algorithm is given to anyone with expertise.
How does AI image generator work?
AI picture generator technology is commonly called under the GPT-3 codename and while it hasn't yet achieved a mainstream name among other futuristic technologies such as Deep Learning, Internet of Things, etc. it is still a technology that is widely used among many, many applications.
The greatest part is that you can use such AI image generator tools today even without knowledge of sophisticated deep learning technology. In this review, let's delve into 10 best image generators, five of which are powered by AI.
Check out in this YouTube video from PiXimperfect:
Now let's dive into some of the top AI image generators on the market:
Top 10 AI Image Generators Review (July 2023)
Note: As a team of AI experts, we've tested and ranked the 10 best AI photo generators on the market based on their ability to easily produce high-quality, visually appealing images. Our ratings are based on our hands-on experiences using each product, ensuring that our reviews are both professional and objective.
| Product Name | Generating Speed | Accuracy | Free/Paid | Online/Offline |
| --- | --- | --- | --- | --- |
| VanceAI Art Generator | ★★★☆☆ | ★★★★☆ | Freemium | Online |
| Dall-E 2 | ★★☆☆☆ | ★★★★★ | Paid | Online |
| Simplified | ★★★★☆ | ★★★★☆ | Paid | Online |
| Freepik AI | ★★★★☆ | ★★★★★ | Freemium | Online |
| getimg.ai | ★★★★☆ | ★★★★★ | Paid | Online |
| Canva | ★★★☆☆ | ★★☆☆☆ | Freemium | Online |
| Craiyon | ★★★☆☆ | ★★★☆☆ | Free | Offline |
| Hypotenuse AI | ★★★★☆ | ★★★★☆ | Free | Online |
| PicsArt | ★★★☆☆ | ★★★☆☆ | Freemium | Online/Offline |
| DeepAI | ★★★★☆ | ★★★★☆ | Paid | Online |
| Glitch Image Generator | ★★★☆☆ | ★★★★☆ | Free | Online |
Please note that prices and detailed features of the following products are subject to change as products are updated. We will try to update the articles as much as possible so that the information presented is correct.
1. VanceAI Art Generator
Notable Features: Stable Diffusion, Multiple Art Styles, Advanced Settings
Price: Free for limited use, multiple paid plans available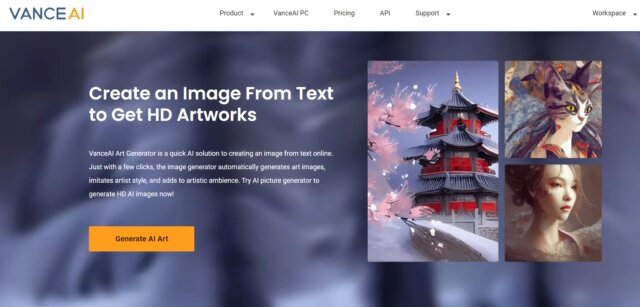 From the time we explored VanceAI Art Generator, one of the best AI art generators, it became clear that it stands out for its unique capabilities. Specifically designed for digital marketers, social media managers, and bloggers, it offers an array of artistic styles not commonly found in other platforms.
What sets this tool apart is its incorporation of Stable Diffusion to generate various artistic styles, such as those of Van Gogh and Monet. During our tests, we observed that you could also adjust output settings for enhancement, iterations boost, and color preservation, allowing for a high degree of customization.
It also allows me to upload the image, which can be a sketch or a rough smeared image, and then the AI art generator will change it to other art forms. Before type in your prompts, I think you should read the notes, the key to write a good prompt, which will help you to make image better.

Here are AI generated images from text that I create, and here are the drawing prompts:
Traditional Chinese pavilion, Edge of a serene lake, Branches of blooming plum blossoms, Ancient dark wood construction, Intricate carvings, Curved, sweeping roof, Stone path leading to entrance, Still water reflecting the sky, Ripples from passing koi, Cartoon style, Very detailed, Petals of plum blossoms floating on the lake.
However, from my experience, the main drawback lies in the limited utility of the free version. Such as the processing speed may be slow for the free users, who may need to line up when there are too many people using the service. The Pro version offers extended usage but at a somewhat steep price point.
| | |
| --- | --- |
| Pros:      | Cons: |
|  It has a great UI. |   The free version is limited in terms of usage. |
|  It can create fantastic-looking results. |   The Pro version of this tool is too steep. |
2. Midjourney AI Art Generator
Notable Features: High-Quality Image Generation, Diverse Outputs, Advanced AI
Price: Pay-as-you-go model, price depends on complexity
Midjourney, a Discord enerate Your Art HereAI art generator, as we found in my examination, offers a robust platform for producing high-quality images with a remarkable range of complexity and diversity. And it is a very popular AI model lately in the whole world. It recently upgrade its Midjourney V4 to V5.
Leveraging an extensive dataset and advanced neural networks, Midjourney V4 and V5 have trained their own AI model, which may be the best and most popular model now, showcasing their strength in generating intricate visual concepts. In my hands-on experience, we found the degree of control over the output attributes particularly impressive.
And on Discord, you can communicate on this issue and go through the AI generated images from text by people from all over the world. Their picture prompts are also shown on Discord.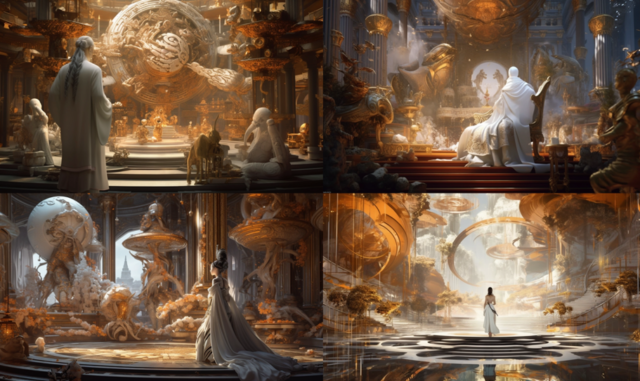 This is the image that I generated with the art prompts (We will use this drawing prompts for the image generators mentioned later):
the greatest journey: true legend of lao tzu, in the style of futuristic settings, dark white and amber, venetian scenes, rococo extravagance, cinematic view, captivating figures, spatial concept art --ar 76:45
Another tips of using Midjourney is that, you can also change your own image to other styles and send the image to Midjouney to get the prompts of this image.
One potential downside we noted was the challenge of accessing the platform, necessitating using Discord. However, the reasonable pay-as-you-go pricing model somewhat mitigates this issue.
| | |
| --- | --- |
| Pros:      | Cons: |
|  Can provide ultra-realistic image |  Complicated accessibility (Need operated on Discord) |
|  Diverse Image Generation |   |
3. Dall-E Online 2
Notable Features: Based on OpenAI's mature AI model, text to image, and image to image.
Price: $15 for 115 credits
Dall-E 2, developed by OpenAI, standing out for its ability to generate high-quality images from textual descriptions, is also one of the best generator on our list, more specifically speaking, one of the best text- to-image AI art generator. After our research, we found it especially useful for creating intricate visuals involving multiple objects.
As you can see in the image below, compared to Dall-E 1, DALL-E 2 represents a significant step forward in terms of generating higher-quality, more complex, and diverse images with greater control over attributes.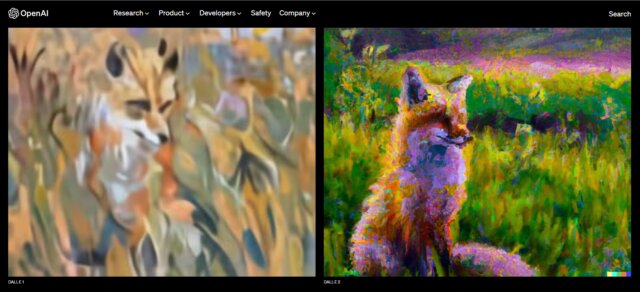 From our experience, the advanced transformer architecture and improved training data contribute significantly to Dall-E 2's effectiveness. This allows the model to understand and generate more nuanced visual concepts.
Here are some images (Made by Dalle image generator) and their drawing prompts:

A hand-drawn sailboat circled by birds on the sea at sunrise
A Shiba Inu dog wearing a beret and black turtleneck
A comic book cover of a superhero wearing headphones
However, during our testing, there is no free Dall-e try, you need to pay at least $15 to get 115 credits. And if you want to use it better, you may need to contact OpenAI about the API issue.
| | |
| --- | --- |
| Pros:      | Cons: |
|  Well-trained, capable of generating images accurately |  No free trail |
|  Reasonable pricing. |   |
4. Freepik AI Image Generator
Notable Features: Multiple styles, high-quality images, text-to-image tool, user-friendly interface, advanced AI algorithm
Price: Multiple paid and free plans available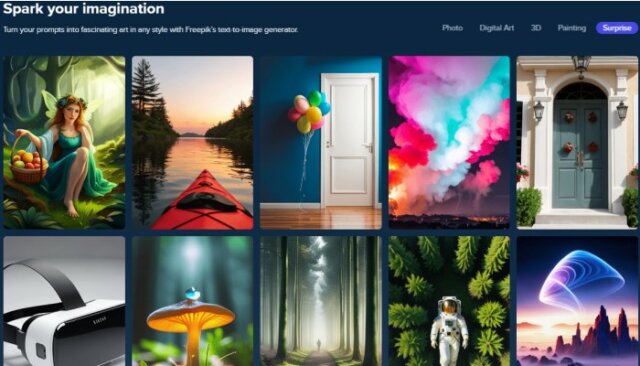 Freepik AI Image generator stands as another top-notch tool, leveraging advanced algorithms to produce a diverse array of high-quality image styles. The output precision is exceptional, and the entire process is remarkably simple and swift.
I am consistently impressed with the results, particularly when entering straightforward words. It effortlessly generates five different images per prompt, spanning landscapes to animals, with numerous customization possibilities available through the different styles offered and Freepik's online editor.
Moreover, Freepik offers an extensive AI-generated image library, serving as a valuable source of inspiration. If you're seeking a quick and convenient way to find high-quality images, I wholeheartedly recommend Freepik as a go-to solution.
Pros:
User-friendly
Accurate results
High-quality and realistic outputs
Five outputs per prompt
Online Editor
Cons:
Account registration needed
5. Simplified AI Image Generator
Notable Features: Auto-Layout, AI-Friendly Languages, Customizable Templates
Price: Free with account registration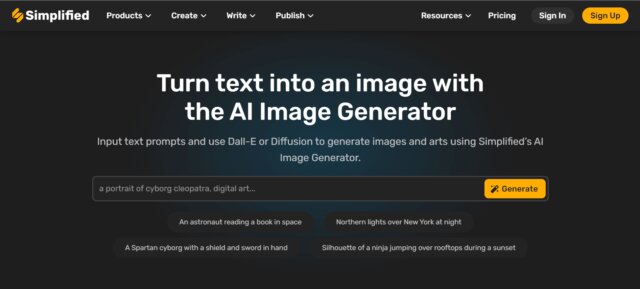 Simplified, as its name suggests, is another drawing generator that offers a straightforward and efficient solution for those in need of professional-looking designs. From my experience using the product, it seems to be particularly advantageous for those lacking advanced design skills.
The Auto-Layout feature, which optimizes the arrangement of design elements on a canvas, stands out as a key feature. After testing the tool, we found its offering of customizable templates, design elements, and AI-friendly languages like Python and Ruby, to be quite impressive.
Here are images generated by Simplified with the same picture prompts with Midjourney:

Prompt: the greatest journey: true legend of lao tzu, in the style of futuristic settings, dark white and amber, venetian scenes, rococo extravagance, cinematic view, captivating figures, spatial concept art
However, we found that one drawback was the accuracy of the results and the difficulty to access the API. This could present a challenge for some users.
| | |
| --- | --- |
| Pros:      | Cons: |
|  Instant results and no need for downloads. |  The results are not always accurate. |
|   |  The API is difficult to access. |
6. getimg.ai
Notable Features: Image to OtherStyles, Image Inpainting, Custom AI Models
Price: $12 - $99/month depending on needs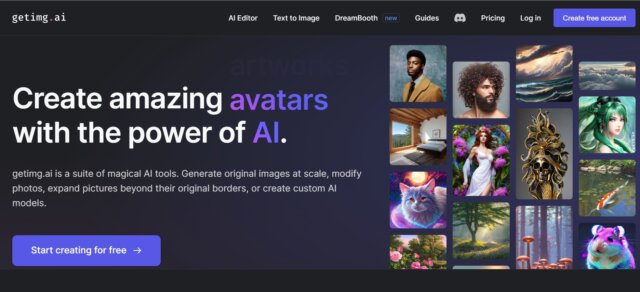 From the perspective of experience, I have to say that getimg.ai is real a versatile drawing generator that can generate unique images at scale, edit photos, and even build custom AI models. In terms of image generation alone, however, it is also a well-done product.
During our testing, we appreciated the flexibility of the tool, from creating any type of image or art with words to expanding images beyond their original dimensions. The tool also provides more than 20 models for use, such as AI selfie generator and  AI character generator, and the ability to create custom settings.
Here are images generated by getimg.ai with the same drawing prompt mentioned previously (In Midjourney AI part):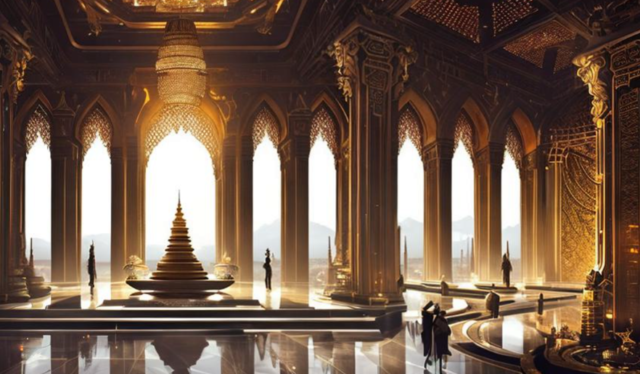 It is worth mentioning that getimg.ai can help you expand your images (inpainting), using the AI technique to add missing parts and make them more complete.
We also noticed that some faces that made by getimg.ai could be wrong and strange.
| | |
| --- | --- |
| Pros:      | Cons: |
|  Unlimited supplementary images are possible. |  Not very accurate |
|  Many modes are available. |   |
Price: $12 - $99/mo, you can choose Basic, Starter, Hobby and Pro depending on your needs.
7. Canva
Notable Features: Design Generation, Text-to-Image Feature, Multifunctional, Multi-styles for Generation
Price: Free for non-commercial use, $19.99/month for unrestricted us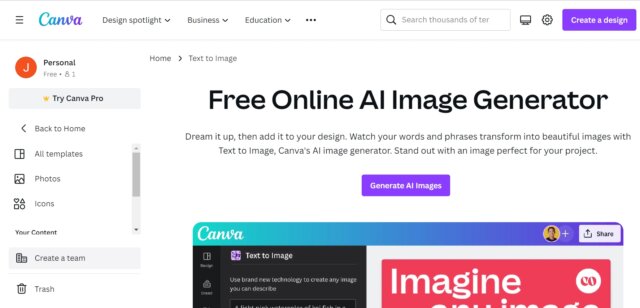 As an experienced user of AI tools, Canva is an excellent resource for creating professional-looking designs without the need for advanced skills. You may already know and have used many functions about Cavas before, and now it applies AI to image editing, like the text to image, to make image editing more creative.
Unlike other best AI art generator on this list, canvas embeds ai generated images directly into their entire image editing tool. This is a very efficient tool for those who want to edit images without having to switch between different tools to complete image editing.
For example, when I want a picture frame, I may need to go to a gallery to search for the image, and may need to pay to download it, and have to pay attention to the copyright issue. But in Canvas, I just need to let ai generate one on the spot and drag it to my canvas.
As you can try and find, the details in the image made by Canvas are not enough. It may be more suitable to generate some simple image for design.
| | |
| --- | --- |
| Pros:      | Cons: |
|  It an All in one tools |  The output quality may be not so outstanding |
|  You can use the output images in designs that somehow use faces. |   |
Also read: Top 10 AI Portraits Generators Review.
8. Craiyon Image Generator
Notable Features: Smart Selection, User-friendly Interface
Price: Free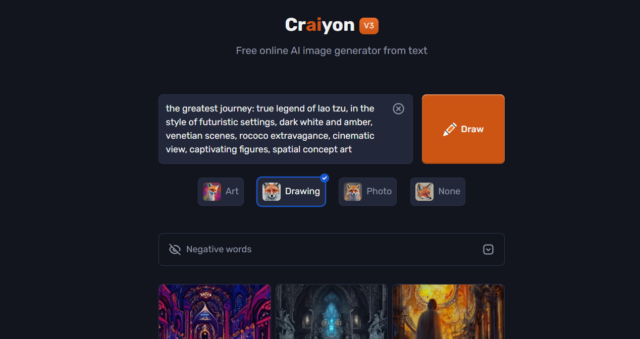 Craiyon is another AI art generators that went popular, and it can be said that Craiyon AI is the best free AI image generator. This image artwork tool offers a unique feature called "Smart Selection." And one of the most feature of it is the simple interface and easy-to-operate. I can type prompt as long as I open the website.
When I first interacted with this tool, there are only few functions, and can not choose the styles. But now, I can see the developers of this site are keep trying to make CraiyonAI better. It trianed their model to V3 and provide more styles like Art, Drawing, Photo.
I tried it again and type the drawing prompt that I mentioned previously (in Midjourney AI part) and select "Drawing", then I got this image (The left one) , It is not quite the same as the other products generated, but it is equally surprising: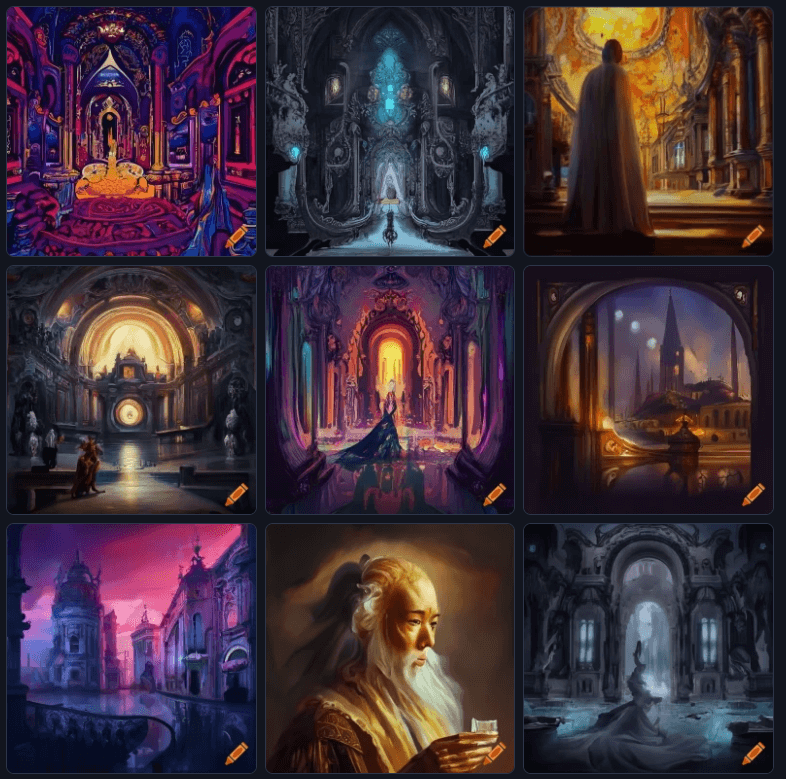 Craiyon AI also provide another special service, that is, I can see the image that I generated on a T-shirt, and click it to buy directly. Wear my own design, sound great!
Also read: Producing Art With Craiyon AI
| | |
| --- | --- |
| Pros:      | Cons: |
|  Provide image printing on T-shirt service. |  Limited features compared to other AI image generators |
|  User-friendly interface with easy-to-use tools |  60s+ processing time |
9. Hypotenuse AI
Notable Features: Neural Art Style Transfer, Multiple Customizations (Type, Aesthetic, Mood, Style, etc.)
Price: 7 days (15 credits) free trial, Starts at $9/month with 50credits ($29 for 100 credits)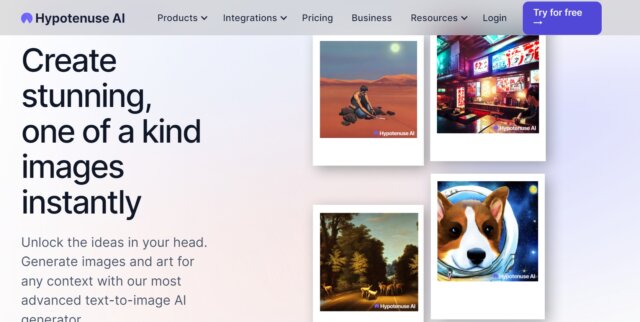 Hypotenuse is an advanced image generation tool that offers a unique feature called "Neural Art Style Transfer."
As a graphic designer, I find Hypotenuse AI image generator's "Neural Art Style Transfer" feature to be incredibly useful. This tool allows me to transform ordinary photos into stunning works of art by applying the styles of famous painters or custom styles to my images. The results are impressive and visually striking, making them perfect for use in various design projects. I have used this feature to create unique and eye-catching designs for social media, advertisements, and print materials.
Here are images made by Hypotenuse AI with the same drawing prompts: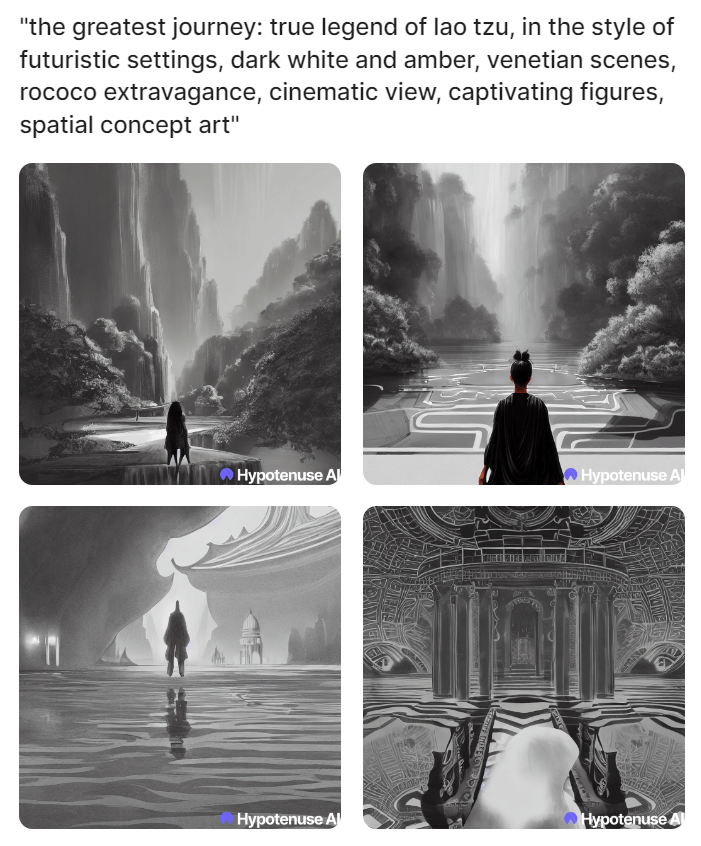 In addition to Neural Art Style Transfer, Hypotenuse AI image generator also offers a range of other features such as Background Removal, Image Upscaler, and Face Enhancer.
| | |
| --- | --- |
| Pros:      | Cons: |
|  Neural Art Style Transfer for creating unique and artistic images | 120-second processing time |
|  Multiple customizations | Some users may find the pricing too high |
10. Picsart Image Generator
Notable Features: TextArt Tool, Wide Range of Editing Tools
Price: Free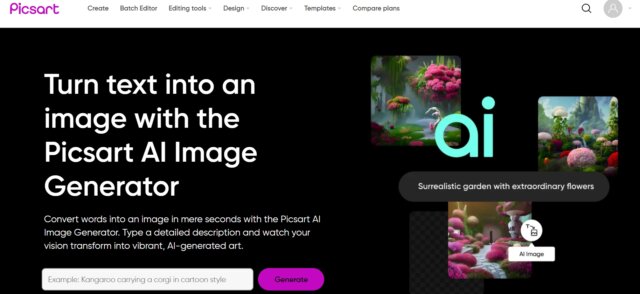 Picsart is a comprehensive image editing and generation app that offers a wide range of features and tools for creating stunning visual content. And also its image generator.
Just like Canvas, Piscart is a web-based all-in-one image editor. And the AI image generator an be used directly on the same tools, you just type the prompts and select the style and more detail and element, then the AI will help to generate the image for you to drag on your editing canvas.
This is a screenshot of when I used Piscart to create an image with the art prompts: A kangaroo carries a corgi in cartoon styles: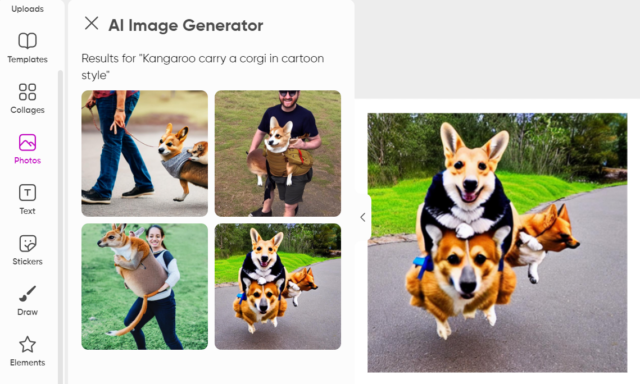 Compared with other tools, I think the accuracy of the images generated by piscart needs to be improved, and there are still some small errors in the images. But the color and realism are very satisfying.
| | |
| --- | --- |
| Pros:      | Cons: |
|  All-in-one image editing tool |  No so accurate |
|  Wide range of editing tools and pre-built templates |  Details missing |
Additional Option
DeepAI
Notable Features: Free, Straightforward UI
Price: Free; API Pricing: $5 per 100 API calls, or $5 per 500 for DeepAI Pro subscribers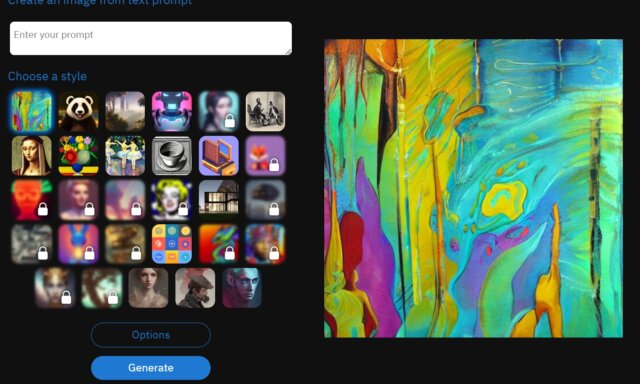 DeepAI, despite its promise as an AI image generator, didn't perform as expected during our testing. It's a tool that could be useful for those seeking a free, simple AI tool.
The product's most notable feature is its straightforward UI, which could be beneficial for users new to AI tools. It also offers free access and reasonable API pricing.
However, based on our observations while trying out the product, the image output was not so inaccurate either. And the website often does not work (Like "Oops, something went wrong with the request") This could be a significant drawback for users needing precise image generation.
| | |
| --- | --- |
| Pros:      | Cons: |
|  Free |  Inaccurate image output |
|  Straightforward UI |  Slow to open the site and processing |
Price: Free; API Pricing: $5 per 100 API calls, or $5 per 500 for DeepAI Pro subscribers
Also read: Top 10 AI Animation Software Review 2023
FAQs
1. How to go from text to images?
With VanceIAI Art Generator, you can successfully transformed text into images. The following steps will help you generate images from text:
Step 1: Hit AI Art Generator on VanceAI navigation bar.
Step 2: On the AI Art Generator Workspace, input your prompts and also can choose the style that you want for the generated Image.
Step 3: Preview and download your artwork.
2. What is the Best AI Image Generator?
Personally I vote Jasper Art as the best AI text to image generator. Jasper Art is the new tool of Jasper AI. Introduced in August 2022, it was the first publicly available AI image generator powered by DALL-E 2. Jasper Art can generate stunning images, illustrations, and artistic pieces in just a few seconds according to any prompt that you feed into it.
Conclusion
In conclusion, the AI image generator is an exciting technology that has revolutionized the way we create and use visuals. This article has provided a comprehensive review of some of the top AI image generators available today, highlighting their strengths and weaknesses.
However, as with any emerging technology, there are also concerns regarding the ethical implications of AI-generated images, particularly in relation to issues such as bias and authenticity. It is important for users to be aware of these issues and take steps to mitigate them in their work. Overall, the AI image generator represents a powerful tool in the designer's toolkit, but it must be used responsibly and with careful consideration of its limitations and potential drawbacks.
Want to let Artificial Intelligence to create anime characters? Read Best Anime Character Creator Review from TopTen.AI to get more information.