Are you a Youtuber? Or if you are teaching online classes? How to remove background from video is just one click away. You are at the right place because I will provide you with all the things that you need. An easy platform on which you can work to overcome the difficulties you face while removing background from videos.
Without a green screen, removing background is not available. How to remove background from video without a green screen is now at your service. You need not worry about anything as it is free of cost. All it requires is just a bit of your time and clicks.
Kapwing - A Powerful Tool To Remove Background From Video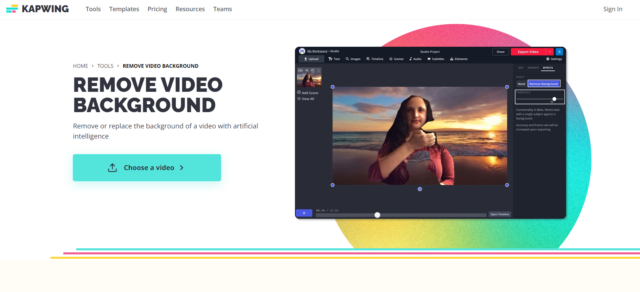 The Kapwing smart background removal tool can solve all your problems with removing background from video. A powerful tool that does not require anything but gives you everything. You need to follow a few steps for this process which we will briefly explain to you. All you need is to follow these few steps that we are providing, and everything will be easy for you.
How To Use Kapwing
Step 1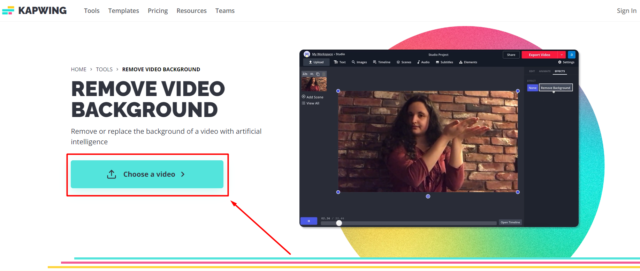 Choose your video or any other video that you want to test as it is for free. Upload it on the Kapwing studio. On the top right, there is an effective option click on it.
Step 2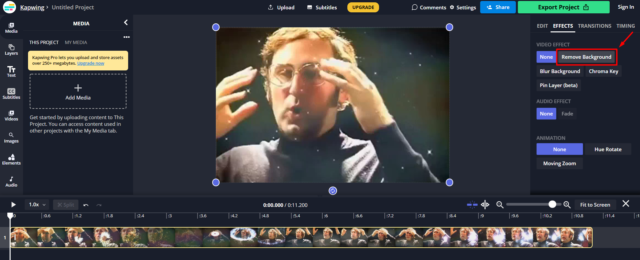 Just after the effects option, there is an option to remove background click on it and then wait a few secs; your video background will be removed. After that, you can review your video and make any changes to it. The removed areas will be visible.
Step 3

You can review the video, play it and see which areas have been removed and if any pieces of the background are remaining. Adjust the threshold slider to the right. If you went a bit far to the right and removed the parts of the video that you need, then come back to the left. That's how it's done; it is a piece of cake even if you are a beginner.
Step 4
Now, if you want to change your removed background we will explain it to you. Upload a background that you need. You can upload it by selecting it, or if you want it to be easier, you can simply just drag and pin it.
When everything is according to your demand, click on the export button and wait a few secs. When it is done, you can easily download your video. You can also upload it on social media; the option for social media is also available.
Pros
It is free of cost.

Easily accessible

It is a powerful tool

Everything is processed online
Cons
It requires an online system.

As it is powerful, it requires a system to operate on.
Alternatives
Are you facing difficulties in how to remove background from video while using the platform we provided? If you cannot open the website and you cannot open it. The website is down or taking a long time to open. The website is not reachable in your region. We have a solution for all your problems; we can provide you with alternatives.
Unscreen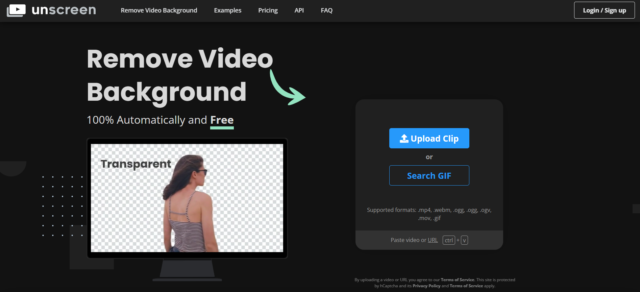 Unscreen background removing it does the same as before, but the steps are different. With Unscreen, you can say goodbye to your greenscreen. With the help of Unscreen, you can easily record your video anywhere or at any place you want to. After recording the video, the background can be removed.
It is 100% automatically done, and you can get rid of the background within no time and without a single click. Pixels, colors, and paints are not required. It analyzes your video automatically and gives a high-quality result that you can have within no time. It is this simple; all it requires is a few moments, and your work is done.
Pros
Amazingly accurate

100% performed automatically

It gives a high-quality result
Cons
It requires money for its full operation

Take some time to process
Cutout Pro
Suppose you are still facing difficulties with these two platforms. Still, you are not able to get the result that you wanted. Are you having the same difficulties that you had in the first one? Relax, we have another great option for you.
Cutout pro background removing is also an amazing tool that you can use to overcome your difficulties in how to remove background from video.
Register yourself on cutout pro. Upload your required video to cut out pro's video background remover. When the uploading process is finished in 5 secs, it will show you a preview of your video in 360p. You can adjust the background image. Color of the video or image.
You can download your image when rendering is finished at 100% and share it immediately on your social media platforms.
Pros
Professional editing system

You can sign up using your google account to save your data

it gives good visuals
Cons
Requires money for more advanced features

Takes time in between processing
Conclusion
I will recommend you Kapwing if you want to do things for free. It has all the features of video background removing for free. You can easily test your videos to acknowledge their editing features.
Unscreen is an amazing platform if you want to record your videos anywhere you want. There is no need to upload it on the platform; you can simply just record it there. The background will be removed automatically. No need for any editing. This platform requires cost for its processing features. Cutout Pro provides a platform for professionals as it has many editing features but requires registrations. If you can afford things, then you can use this, but it is not a platform for practicing as it requires cost.
FAQs
Q1: How Can I Change The Background Of a Video Online?
You can remove it online by Kapwing video editor. It is available online and easily accessible.
Q2: Can You Edit The Background Of The Video?
Yes, you can edit the background of the video by cutout pro and Kapwing platform.
You may also be interested: Top 10 AI Video Generators Review