AI Video Generators are likely to come into web fashion as the technology is making its advancements. There have been talks about a video generator called BHuman. It is an online AI video generator by which you can create personalized AI videos according to your job. With the name BHuman, we can get a clear-cut idea that it is related to human intelligence. You can not only make AI videos, but also it is a platform that is used for AI music generators.
But we still need to fix you guys with some other completely developed alternatives that work more smoothly! Here are the top 10 AI video generators that can help you create some brilliant videos online. But first, let's talk about the premium product first, i-e, BHuman AI Studio.
Top 11 AI Video Generators Review
1. VEED.io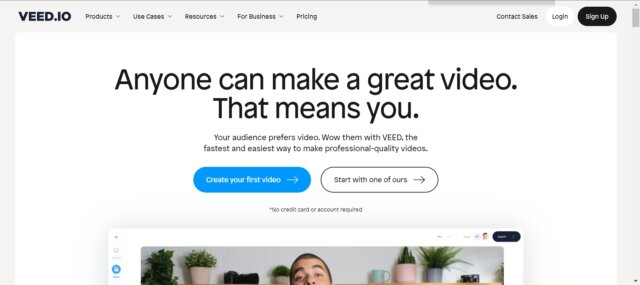 Veed.io can be the most comprehensive video generator AI which can be helpful in editing videos and transcribing audio. It is mostly used to perform great-quality edits to your online video works. Usually, the transcription feature is not available in many software, but the developers really went above and beyond on this one.
All the process is performed within three steps; uploading video and editing it using the addition of texts and templates etc, and finally, processing and downloading.
Price: Starting from $12 to $24 per month
Pros
Provides a free plan for exporting a 10-minute video.

Multiple options for video editing templates.

Enjoy limitless editing with limitless rendering for your videos.
Cons
While adding the auto subtitle feature, there will be some issues.
Get more information about how to make your unique videos with Veed: Veed.io Review: Anyone Can Make Great Video Now
2. InVideo.io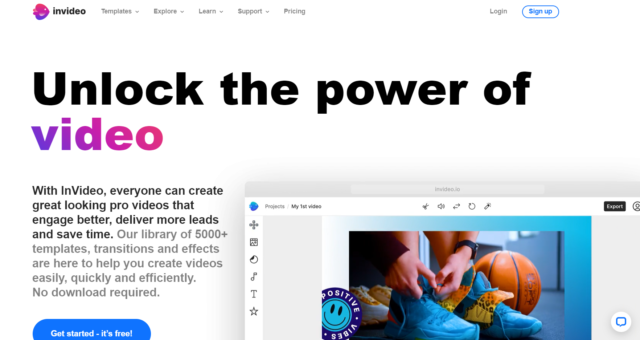 This is not just a simple video editing software! It can change texts into videos. Coming with a great collection of templates, Invideo.io is a complete package with a great music library, stock media pictures, filters, and much more.
If templates are not what you are looking for, then I would like to tell you that this platform has prepacked 50+ themes that can be used instantly. When done with editing, you can easily customize your videos if required.
Price: Starting from $15 to $60 Per Month. Providing annual plan.
Pros
Almost every language supported.

Free plan enables the creation of a 40-minute video.

Unlimited exporting of HD videos.
Cons
Local storage will be required to store your max-size videos.

Cloud Storage is less, only stores 100 GB of data on the cloud.
3. Synthesia.io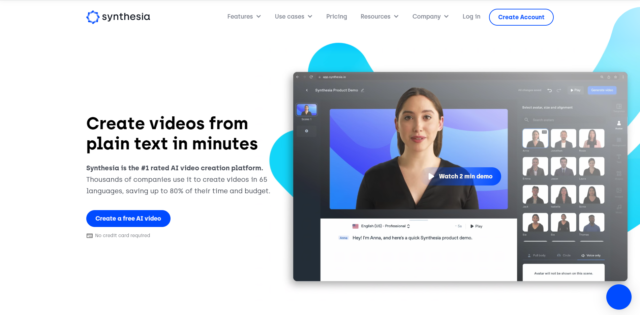 Synthesia.io can be a great fix for you if you are looking for perfect realism in video making with a genuine touch of professionalism and script enabling. Its jaw-dropping realistic and fine artificial technology is one of the many things to witness as it prolongs towards perfection.
This platform is one of the finest when it comes to online video editing and AI video generation. Synthesia.io contains more than 40 avatars that are always available to be used. However, users can also create their own avatars by going through the customization option.
Price: Starting from $30 to customizable for work.
Pros
SEO marketing videos.

More than 30 minutes long videos.

Create videos in more than 60 languages.

Custom background availability.
Cons
Some avatars will not feel realistic or even natural

You will have to go through a list of options to find your fix.
Click here to know more about Synthesia.io: How To Create Videos From Plain Text In Minutes
4. Pictory.ai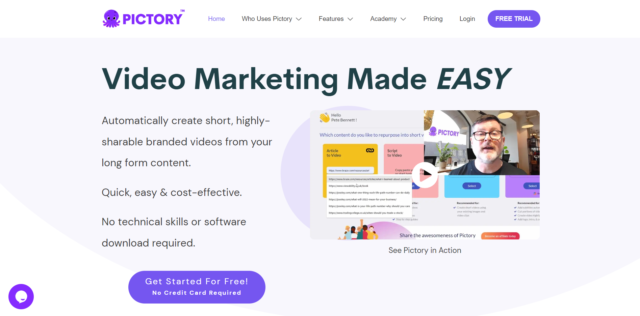 Here we are! Bringing you one of the best in the game. Pictory.ai is an incredible text-to-video generator used online by a magnitude of users. If you haven't heard about it, don't worry because this review will give you a good insight into it.
You can bloom your blog posts using this online AI video generator software or also create videos out of fun. It's totally up to you! Want more details about InVideo? Check this article: Pictory.AI Review: AI-Powered Video Creation For Everyone
Price: Starting from $29 to customizable enterprise options.
Pros
Very Simple and user-friendly tool.

Easy to navigate interface.

Multiple accents for text-to-speech videos.
Cons
Pricing might be a bit too much for freshers.
5. Deepbrain AI
Deepbrain AI is an innovative AI video ediotor that enables users to produce professional videos by converting text into speech in just a few minutes. As a pioneer in AI video technology, Deepbrain AI uses artificial intelligence to generate videos.
With Deepbrain AI, there's no need to hire actors, use cameras, or record in a studio. Instead, you can create explainer videos with ready-to-use AI avatars and voiceovers. The platform supports over 80 languages and allows you to edit and update your videos whenever necessary.
The quality of the AI model produced by Deepbrain AI is exceptional. It's even used as an AI anchor for conducting news broadcasts. This amazing platform also offers the ability to convert PowerPoint presentations into videos. With a great AI presenter, you can produce a video in no time. Plus, Deepbrain AI offers a free trial, so don't miss this fantastic opportunity.
Price: Starts at $30/mo
Pros
User-friendly and simple interface.
Voiceovers in 80+ languages
No editing experience needed
Cons
Comparatively high price for nonprofessional.
6. Fliki
Fliki is a text-to-speech AI that turns any type of text into speech. You may use AI voice to create videos. Add extra information to your article and make short YouTube films about your idea. It is a natural reader that utilizes artificial intelligence to read any type of text you feed it.
Since it has been designed with reading AI algorithms that can read anything in text or handwritten form, the AI thoroughly analyzes the text. It doesn't matter if you don't have text in English because it supports over 75 languages, making text-to-speech conversion easy for you. The user may translate it into his own language and employ specific AI voices that read the material in your selected language loudly and clearly, outperforming any speaker. More about Fliki: Fliki Review: Turn Text Into Videos With AI Voices
Price: Starting From $6/month for basic, $21/month for Standard, and $66/month for Premium.
Pros
Make short films and other forms of storytelling.
Fliki's process is one of the finest for developing tales.
Without any problems, convert text to voice.
Customer service is responsive.
Cons
Limited video transitions.
The text layout and video clip editing functions are limited.
7. BHuman AI Studio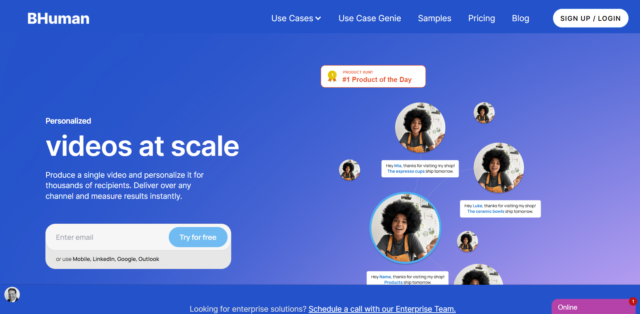 BHuman AI Studio is an online platform used for media purposes online. AI video generator that provides AI-generated youtube videos and AI music video generator free of cost. Professional audio-video editors make it with a lot of experience in this field; hence dont hesitate to use it. You will get an exact result as if done by a hired professional.
BHuman AI Studio Functions
Here is a list of various functions that BHuman AI Studio can perform.
Ecommerce
It creates AI-personalized videos according to your requirement so that you can join us for different purposes. You can use it for business or eCommerce by creating videos for your ads. If someone is at your website and has issues, create a video related to the problems, and it will be played automatically when the user experience errors. You can create an engaging environment between the customer and your product so that if he leaves it, he will come back to get it. You can also make videos from anyone. Use videos of celebrities so that your product will have more popularity.
Innovative Videos to Deal with Customers' Texts
You can create AI personalized videos according to your customer's demands. AI video generators can create videos that relate to the texts of your customer. If the customer wants to buy something from your product page, he will send a text. He will automatically receive a reply with a video message that will instantly provide him with all the necessary product details. You can relax by replying to all of the customers at once. It is very user-friendly. You can avoid negative customer messages and just give them the required information whenever they send a text.
Features
Create AI personalized videos.

AI music generator.

AI video generator.

AI video generator from the text.
Pros 
You can deal with more problems at once.

Auto reply with videos.

Create personalized messages to provide information.
Cons 
Users might need help getting the required information correctly.

Only some of the information can be provided in videos. 

Video loading takes more time than loading simple text.
8. Rephrase.ai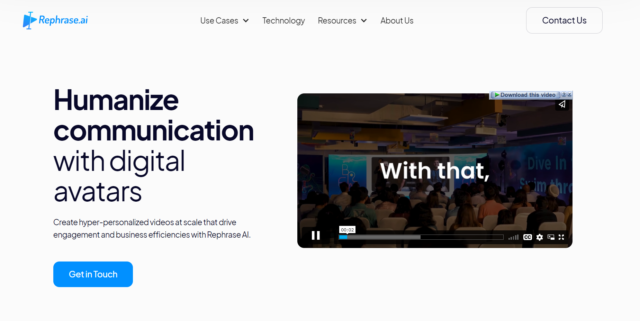 With rephrase.ai, users will be able to create videos that can provide the marketing impact that they are so longing for. This tool is a great way to improve your ROI and engage customer conversions.
Just like any other AI video generator, Rephrase.ai provides quality video creation with the help of its Artificial Intelligence technology. All that the user requires is simply plain text, and the AI will automatically recognize it.
After careful auto recognition, an AI video will be generated from the user's input. If you are looking to bloom your business with videos via marketing, you have got to try this out, as it is one of the easiest tools available online under the category of AI video generators.
Price: Starting From $25 To $500
Pros
Supreme Conversions At Business-level

Digital Avatar Setups

Engaging and Targeted Marketing Campaigns
Cons
Not very useful for professionals.

Paid Users Only.
9. Flexclip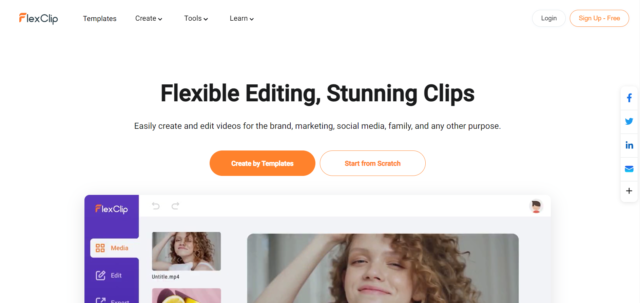 Flexclip is your one touch go-to platform if you are looking for something sleek, quick, and easy to operate. With the help of its AI technology, users will be able to create impacting videos that not only function for killing time but also for professional purposes as well.
This is a platform that provides a lot of templates to dangle with, as you can create engaging content as well as personal videos via Flexclip. Most of the users online really love trying newer platforms. However, if you try this one that keeps your heart at bay, Flexclip will be your one true AI Video Generator love.
Price: Starting from $5.99 to $19.99
Pros
Thousands of Templates To Use.

Built-In Resources; Text Animations, Elements Etc.

Royalty Free Stock Photos
Cons
It's too Straight forward, with lesser options to discover.
10. Lumen5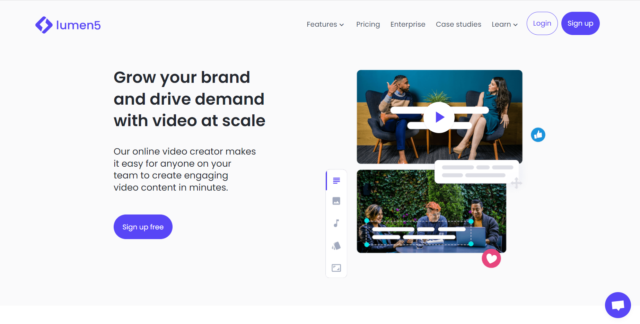 With over 700,000 users, Lumen5 has become one of the fastest-growing networks of online AI video making. Lumen 5 is so easy to use that even people with zero editing knowledge will be able to operate it.
You can easily create videos by typing in some text, and finally, the AI will reveal its final product in front. These altercations are performed very smoothly using Lumen5's enhanced technology and development.
Price: Starting from $12 to $24 per month
Pros
Availability of video creation insights to fortune progress.

The free plan is offered for test purposes or basic editing as well.

Millions of free media files to access at Lumen5.
Cons
It takes too long for output files to render.

Slow processing speed.
11. Wisecut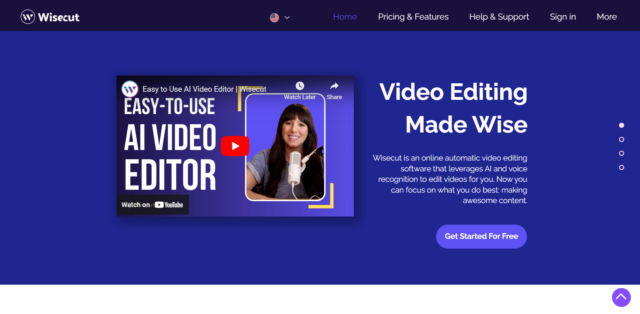 With Wisecut, users will be able to easily perform video edits as well as run social media video campaigns using quality content. We can truly say that this platform contains one of the best music libraries to add music to your collection and videos.
The best thing and feature that we like about this platform is that Wisecut has some great fixes for people with hearing impairments. Not only that, you can also integrate subtitles into your videos just to make them look more professional and engaging.
Price: Starting from $0 to $50 per month
Pros
Very easy and operable platform to use.

Drag and drop feature enabled.

Integrated social media coverage including YouTube.
Cons
Expensive in terms of price and professional package.
12. Designs.AI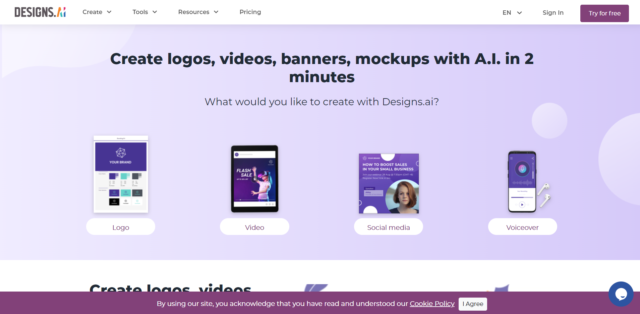 Last but not least, Designs.ai is a great tool under the category of free AI video generators. This platform is incredibly fast and contains an easy-to-use interface with lots of capabilities to perform.
Enjoy the possibility of stunning visual effects for your videos with Designs.ai, as this platform comes with all the tricks in its bag, including; animations and music, etc.
Price: Starting from $29 to Customizable Options For Enterprises
Pros
A profound fix for small businesses and setups.

Create Perfect videos for social media campaigns.

Professional and accurate output results.
Cons
Longer Video Rendering time

Might be costly for some users
What Makes BHuman Unique?
BHuman is unique from all other AI video generators as it generates messages that relate to your text. It not only generates simple images or videos. It is an AI video generator, AI music video generator, and an AI video generator from text. 
You can perform all these activities here without issue. Simply create AI personalized video to give auto-reply for your online platform. Create unique videos that are nowhere else to be found programmed with your design and capability. It does not create videos for fun or enjoyment; it creates work-related videos to boost your business profile. 
FAQs
 Is BHuman AI Studio Free?
It is free of cost for most of its editing features. You can freely sign in and account and create personalized videos for free up to the beginner level. You have to pay a little bit if you want to get some professional videos for your website or blog. It is not free but relatively inexpensive compared to other platforms. 
Is there any BHuman AI Studio Alternative?
There are a few alternatives that provide exact services, like BHuman AI Studio. It is unique and does not have that many competitor platforms.
You may also interested: Ultimate Novel AI Review