Now you can automatically edit your videos or add more details to them for professional use with pictory. The Pictory.AI provides all types of functions that you would need in order to hype the demand for your videos online.
What is Pictory?
Pictory is a cloud-based Ai software that allows you to create unique and amazing videos without any hard work. Now you can modify and customise your video with proper AI assistance. You can use these tools for video creation in no time. Get yourself a list of script templates that you can add to your videos. Create awesome highlights of your video to portray noticeable moments of your videos. All those editings that require a lot of time can now be done within a few minutes when you have pictory AI.
Pictory Review
Pictory is an online cloud-based video creation software that automatically transforms long-form text and video content into short-length videos. It uses a powerful artificial intelligence system in order to convert your videos accurately without any errors or issues. You can instantly convert any long video into short form without any kind of special skills. Even if you're a beginner, you can perform video content creation online like a professional video creator. The features of the tool are easily operable that require nothing more than just simple skills and focus. Pictory provides some white labelling capabilities that allow its users to personalise their videos with custom logos, colours and fonts to help them establish a proper brand perfectly.
If you're working in an organisation and you want to create a video for your work with proper captions or text to your video, then you can use this tool. Pictory allows you to add text to videos using only audio; you can edit your captions and transcriptions using automated suggestions provided by pictory AI. You can automatically create video highlights automatically from webinars and other long videos. It allows its users to schedule automatic posting on various social media platforms via Hootsuite integration.
Alternative and Comparison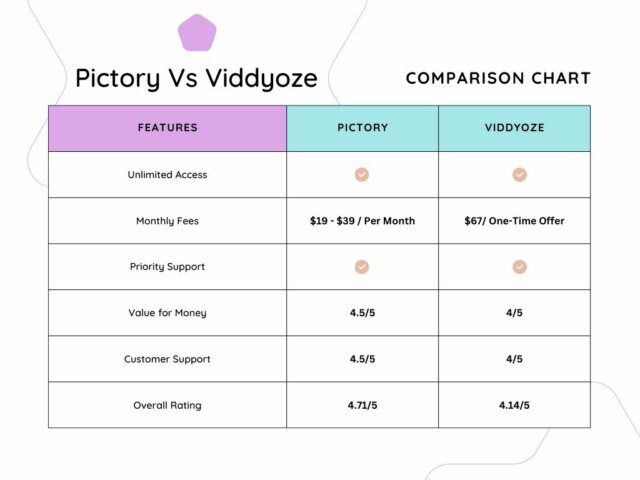 There is also another product that stands as an alternative to Pictory. Viddyoze as it is quick and easy to operate its tools. It allows you to build clean videos exactly how you want them.
Features
The customer support of pictory is better than viddyoze as they properly take care of their users and respond to them at the perfect time.
Pictory AI requires less cost and provides more features, while viddyoze requires more cost but with fewer features.
The functions of pictory AI are much better than that of the viddyoze.
Pros
Pictory creates high-quality video content for you based on a simple script. Viddyoze is a fantastic platform where you can make scroll-stopping videos within a few minutes.
The pictory Ai tools are easy to operate, and editing is easier. Viddyoze tools are professional-level tools that are also simple.
The overall UI/UX are clean, and anyone can get started immediately with pictory AI. viddyoze has good-quality animation along with a variety of styles.
Cons
You cant use multiple audio files on pictory. You need to buy more templates if you need them on Viddyoze.
Sometimes the AI miss in choosing the stock content on pictory. You will have to wade through aggressive sales tactics in order to get into a product of viddyoze.
Price
The individual plan requires 97$ USD, and the commercial plan requires 127$ USD.
The standard plan of pictory requires 19$ per month/ per user. The premium plan requires 39$ USD per month/ per user.
Main Function 1: Article to Video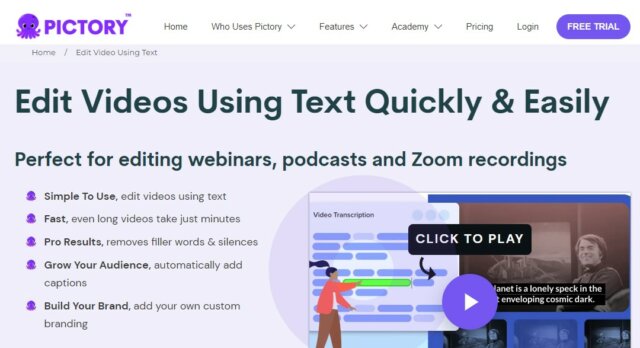 Pictory allows you to have all types of video creation as much as you want without any kind of effort. You can edit your videos simply by using text and nothing else. Now you can forget complex and fudgy timeline editors that take a lot of time in order to process a simple text into a video properly. You can create videos just by using articles with this feature of pictory. You can edit any type of video by using any kind of text you want that can be simple, such as a document. It is perfect for webinar videos, demo videos, e-learning and training videos, video podcasts and zoom recordings. If you have some long videos that are taking a lot of time to process, then you can simply bring them to pictory AI and quickly generate long videos within a few minutes. Even if you're a beginner, you can still get professional results with the help of powerful AI that seamlessly removes filler words and silences. You can automatically ad captions to your videos so you can view them without any audio. Add logos to your videos and fonts to create a custom brand video.
Main function 2: Script to Video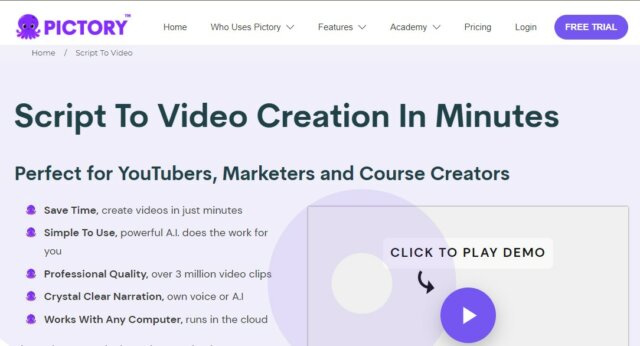 You can get super-fast video generation that can be built from scratch. The pictory AI has powerful reel-fast technology that allows you to instantly convert your scripts into a video instead of waiting for more hours for a single video. As you know that it is based on an AI system, then there is no need to worry about the performance and result. The pictory AI does the hard work for you, and you dont have to worry about anything in your video from now on. Now you can create your videos from the script in less than 10 minutes.  Pictory Ai provides a huge media library in which you can enjoy an automatic selection from over 3 million videos. There are about 15000 music recommendations for you on pictory. It has AI royalty, which means that you wil face any type of copyright issue with your videos. You can record your own voice within the app or upload any recorded voice, or you can select any of the four realistic AI voiceovers that will do the talking for you.
Main function 3: Blog Post to Video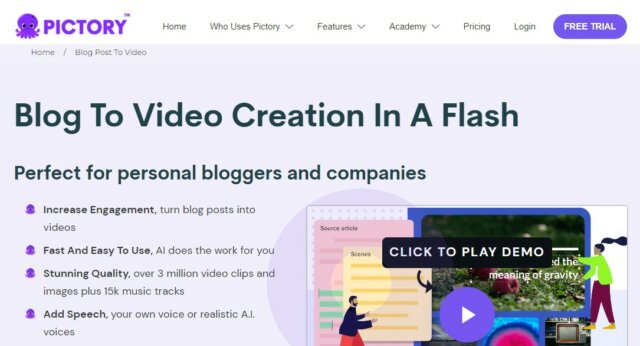 Now you can bring life into your blogs without any effort. Convert your normal or simple posts into jaw-dropping professional videos with just simple clicks. It is a fast and easily operable feature that converts blog posts into videos within no time. The leading powerful AI does all the work for you, and you won't have to worry about anything related to your video from now on. It does not even require any experience or skills. The quality of your videos is high and reasonable for your videos. You can create videos with stunning quality automatically, narrate your videos by adding speech to your videos, and use your own voice or let one of the AI voiceovers of Pictory do the job for you.
Main function 4: Create Video Highlights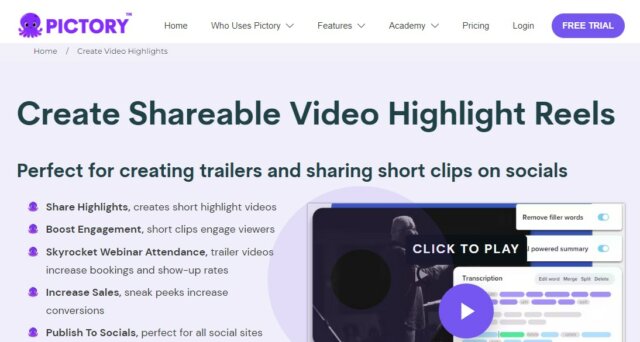 Now you can automatically create perfect highlights of your videos that will show the best parts of your videos automatically. You can showcase the cherishing moments of your videos to your audience on social media platforms. These short video clips that will portray your highlight increase your clients' engagement towards your video properly. Now without any manual effort, you are able to create short-term videos with short trailers on sale pages or social media that leads to more bookings and an increase in rate. You can peek at what is behind your paywall and explode your sales. This feature is social media compatible and allows you to share your videos directly to your social media platforms with one click in no time. The pictory highlight reels are perfect for any social media you use. If you are looking for a tool that allows Facebook video creation and Instagram video creation, then you can use the features of the platform.
Other Functions
Rather than the mentioned features of the platform above, there are some other amazing functions that Pictory.AI perform. If you have some long videos that you would like to be summarised, then the pictory AI has a proper feature for this procedure. You can automatically summarise long videos the way you want them to be without any hard work. Another amazing function of this platform is that you can automatically generate captions for your videos that you are not able to understand. If you want to properly convey your video, then you can add some captions with pictory. Automatically transcribe your videos online with pictory AI. These are the other extra functions of the platform that were not mentioned above.
Final words
If you are getting bored form the manual editors that are consuming a lot of your time, then you should start using Pictory AI. It is the perfect tool for you if you want to save time and effort both at once. Once you start using this tool, you will get more attached to its due to its awesome performance. If you want to pursue a professional video editing life, then you should use this too. Read more: Veed.io Review: AI Video Creator
FAQs
Can I use Pictory for the Youtube video script?
Yes, you can use Pictory for youtube video scripts, as Pictory allows you to convert scripts into videos. It doesn't matter which type of social media platform you are using it for.
Who is suitable to use Pictory?
Anyone who has a craze for social media videos, highlights, reels or any other kind of content that is related to video is suitable to use Pictory.