Summary: This article presents a detailed review of Veed.io, a versatile video editor. It explores the product's features, ease of use, and editing capabilities, providing insights for users looking to enhance their video editing workflow.
Have you ever found yourself with a collection of videos that lack that professional touch? Do you struggle with complicated video editing software, unable to achieve the desired results? Well, fret no more. Introducing Veed.io, the solution to all your video editing woes.
With Veed.io, you can effortlessly transform your raw footage into polished and captivating videos.
Say goodbye to complex interfaces and steep learning curves. Veed.io offers a user-friendly and intuitive platform that empowers anyone to create stunning videos, regardless of their editing experience. Discover the ease of trimming, cropping, adding text, and applying filters with precision. Unleash your creativity and take your videos to the next level with Veed.io.
Note: Our comprehensive Veed io review will assess various aspects of this video editor, drawing information from the official website and firsthand experience. We aim to provide an unbiased evaluation by testing its features and functionality. And we will strive to maintain the article's accuracy by incorporating the latest developments.
What is Veed.io?
Veed.io is a cloud-based software that enables teams to collaborate without any effort. You can transfer your files fastly without any hesitation. The veed.io allows you to edit your videos according to your requirements without any issues. It allows several companies to work together on one project. You can benefit from server-based cloud computing with your collaboration. Share your videos with your friends with the help of the URL. It allows you to create a library of your videos and embed those videos into a website. The Veed io is an easy tool that anyone can operate without any effort. You can become a professional video editor with the help of veed video editor without having any type of skills or experience in this field. If you have any interest in marketing, you can coordinate with your team on certain videos.
Veed.io Review
Veed.io is a simple and effective platform that is used for creating any kind of video within no time. You can create podcast videos and short video clips for social media marketing and educational purposes. If you have only audio files that you would like to share on your social media, then you can use this tool. You can convert these audio files into video files that you can share on your social media. Veed.io aims to make professional videos for your work simply without any hard work.
The veed studio is an online platform that allows teams to record, edit, review and share videos. The veed video editor provides all kinds of features that a professional requires to edit his videos online. It has single-click features that transform your videos into something amazing with one click, such as auto subtitling, translations, transitions, custom branding of your business, social media formatting, and a massive list of animated templates.
Features of Veed.io
It allows you to edit videos.
Ads subtitle to your videos.
The veed studio has veed transitions.
Veed video compressor.
Proper screen and video recording.
Video hosting and storage.
Cloud-based team collaboration.
Commenting on video reviews.
Website embedding.
Clean your audio using noise removal.
You can stream with veed studio.
Custom branding for your business.
Pros
The video editing and audio editing interface is user-friendly.
Produce video clips from your provided audio samples.
There is a library of unique templates that you can use to create your design.
You can export your video to your device.
Add captions to your videos.
Cons
Low accuracy of auto-generated captions.
There should be more graphics to add to your videos.
Not enough range of audio grams.
Rating: 9/10
Video.io Pricing
The basic package requires 10$ per user.
The pro package requires 18$ per user.
The business package requires 59$ per user.
Tool 1: Video Editor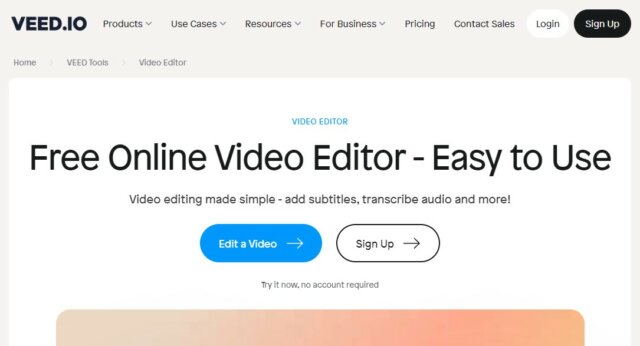 Edit your videos without any effort within no time. All the tools of the video editor are easily operable. You can become a professional video editor without having any kind of special skills or experience. Edit your videos properly that are according to your requirements. Just simply upload a video from your device and start editing it. There are a lot of video editing features that Veed video editor offers to make your videos perfect. The tools are easily accessible and quite simple to use; rather than that, the performance of the tool is quite powerful too. You can create videos with a single click without wasting any time.
You can promote your brand by making marketing videos and grabbing the attention of the viewers with videos. If you want to make videos for educational or knowledge purposes, then add subtitles to your videos. Create animations of your videos and add voiceovers. Translate your videos into 100-plus languages.
Tool 2: Veed io Converter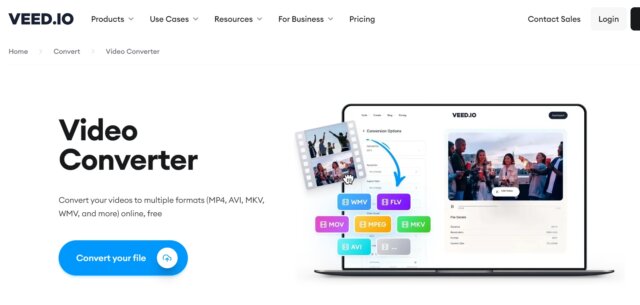 Veed.io's online video converter allows you to convert videos into various formats, including MP4, AVI, and MOV. One unique feature of the product is its ability to support a wide range of input and output formats, making it versatile and user-friendly. The product solves the problem of compatibility issues when trying to play videos on different devices or platforms that require specific file formats. With Veed.io, you can easily convert their videos to the desired format without needing to install any software on their device.
This product is suitable for anyone who needs to convert videos for personal or professional use, from content creators to casual you. The interface is easy to use, and no technical knowledge is required. Veed io Converter is a reliable and efficient tool. However, the conversion speed may vary depending on the size and quality of the original video.
Tool 3: Screen Recorder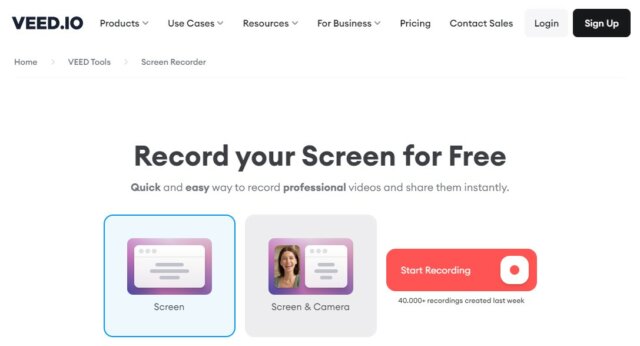 The screen recorder allows you to record your videos easily with one click on any kind of device you want. Capture the moments on your screen that you cherish and record those moments online. It works on all sorts of platforms that you like, as it works for both Microsoft and windows. Now you won't have to download any kind of software or application on your device. Just simply operate it online within no time.
Now if you are busy and have an online meeting, they can simply use this recorder to record online meetings so they can watch them when they're free and relaxed.  You can record live shows if you don't have any time to watch them at that moment; just turn it on and record it with the veed studio to watch it when you like. You can use a free online screen recorder app with a webcam and microphone to record high-quality videos for yourself.
Tool 4: Veed io Video Compressor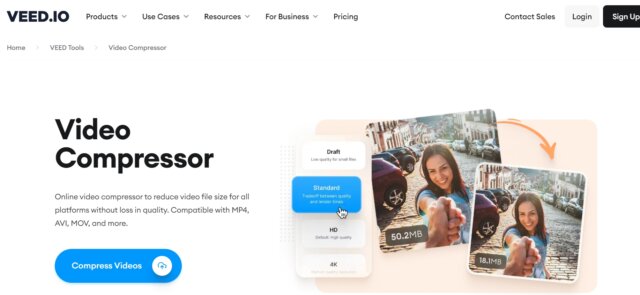 Veed.io Video Compressor is an online tool that allows you to reduce the file size of their videos without compromising quality. With this tool, you can easily compress their videos for faster uploading and sharing on various platforms such as YouTube, Facebook, Instagram, and more.
The Veed.io Video Compressor supports a wide range of video formats, including MP4, MOV, AVI, WMV, and FLV. You can choose from different compression options, such as resolution, bitrate, and frame rate to customize the output file according to their needs. The tool also offers a preview feature that enables you to see the quality of the compressed video before downloading it.
Additionally, this tool is user-friendly and easy to use. It is accessible from any device with a web browser, and users do not need to download or install any software to use it. Overall, Veed.io Video Compressor is an excellent tool for anyone who needs to compress their videos quickly and efficiently.
Tool 5: Live Streaming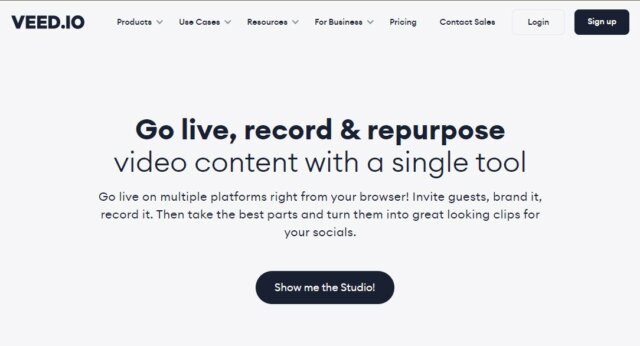 User can perform live activities with the help of the veed io app. Go live with friends who are using those platforms for as much time as you want without ever getting bored. And also use can live on not just one single platform but on multiple platforms with your friends. Go live on multiple platforms at the same time without having any type of skills. You can perform certain customization on your live videos and make them more entertaining for your viewers. You can just get live without actually getting live; just record your videos while performing live activities. After you have completed your life, then it can be further uploaded live. You can edit your live recordings by highlighting interesting parts of them by turning them into awesome edited videos.
Tool 6: Subtitles and Transcriptions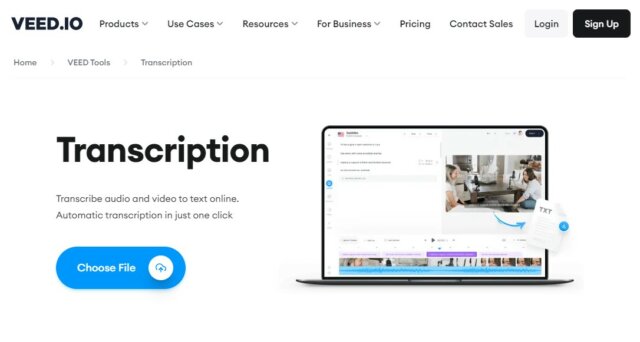 Veed.io transcription allows you to instantly transcript your audio and video files into text with one click. There are zero chances of mistakes with this tool. All you have to do is simply upload your audio or video file to the platform and transcript them within no time. This tool is much more versatile as compared to other tools, as its task is simple and straightforward. Upload your content and transcript it; that is what this tool does. Upload your audio or videos, then click on auto transcribe and download them onto your device.
One more important feature of this tool is that it allows all sorts of video and audio formats, such as  MP3, WAV, MP4, MOV, AVI, and more. This tool is simple to use and requires no effort; just open it on your device browser to operate it. The transcription accuracy of the tool is about 95% which is much higher than other services that even demand a lot of costs.
Other Features
Every user can trim your videos for your work without any effort. Merge your video after trimming them. If you have any type of video that you want to remove the background, then you can get the transparent background of that video within no time. Just simply upload a busy background video and remove its background with one click without even getting a green screen. You can use the veed video compressor to resize the file size of your video, and then you can use it for anything like us the veed video compressor for discord.
Rotate your video if you want it to be properly displayed, then rotate it if you like. It also provides a video converter that converts your video into other formats. If you like using TikTok, then you can get the TikTok downloader to download any kind of TikTok video that is locked. It also has an Ai Image generator that generates images related to your requirements. Just simply provide the details of the image in text form to generate images related to it in no time. There are also audio editors and gif editors that you can use for your videos
Veed io Alternative
1. Adobe Premiere Pro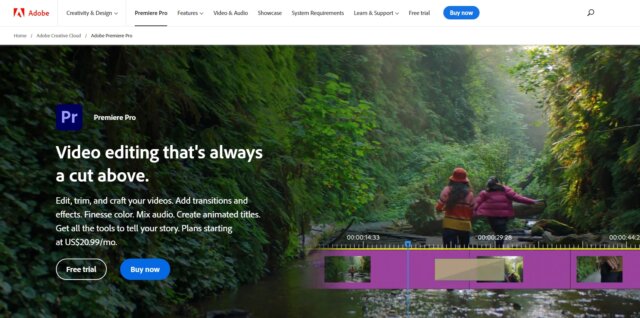 Adobe Premiere Pro is a professional-grade video editing software widely used in the film and television industry. It offers a comprehensive set of tools and features for video editing, including advanced timeline editing, multi-camera editing, visual effects, color correction, and audio editing. Premiere Pro provides a high level of flexibility and customization, allowing users to create professional-quality videos. However, it has a steeper learning curve compared to Veed.io and may require some time to master its features.
2. iMovie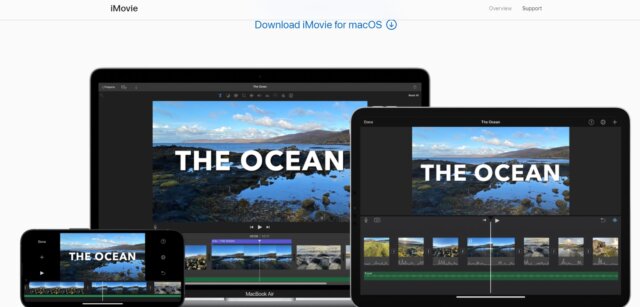 iMovie is a user-friendly video editing software available for macOS and iOS devices. It provides a simple and intuitive interface, making it accessible to beginners and casual users. iMovie offers basic video editing capabilities, such as trimming, splitting, adding transitions, and applying effects. It also includes features like audio editing, titles, and video stabilization. While iMovie may not have the advanced functionalities of Veed.io or Adobe Premiere Pro, it is an excellent choice for quick and easy video editing tasks.
Both Adobe Premiere Pro and iMovie offer a range of features and capabilities that cater to different user needs. Consider your specific requirements, budget, and level of expertise to determine which alternative would be the best fit for you.
Final Words
In closing, our review of Veed.io highlights its powerful video editing capabilities, user-friendly interface, and extensive range of features. It offers a seamless editing experience, enabling users to create professional-quality videos. With its intuitive timeline editor, customizable effects, and efficient export options, Veed.io proves to be a valuable tool for content creators, marketers, and individuals looking to enhance their video projects.
However, some users may find the free version limited in terms of advanced features. Overall, Veed.io is highly recommended for its potential to streamline the video editing process and produce impressive results.
Read More: Gen-1: The Next Step of AI Video Generator
FAQs
1. Does Veed keep your videos?
Veed allows you to save or rather host your videos online, so you can either download them on your device or view them online.
2. What Does Veed Pro Offer?
Veed Pro offers several features and benefits. With Veed Pro, you get the ability to add auto subtitles for up to 1,440 minutes per year, access to translations for your videos, the ability to download proper Subtitle SRT files, Premium stock access, and a comprehensive brand kit for your videos.
3. Is Veed.io safe?
Yes, Veed.io is a safe online video editing tool that provides high-level security features to protect user data and privacy. It uses strong encryption standards and follows industry-standard security protocols to ensure safe usage of their platform.