It is difficult to create a realistic human voice without using a real human. But with LovoAI, this is made possible as it provides all the voiceover features that use the real human voice. The love studio allows you to enjoy a lot of voice-over editing features to make your voice-over more appealing. You can add as many details as you want with Lovo AI. Now you won't have to waste your time on manual voiceovers that sometimes do not even properly adjust with your video due to some seconds gaps. Now we all can automatically make as many voiceovers as we want with Lovo.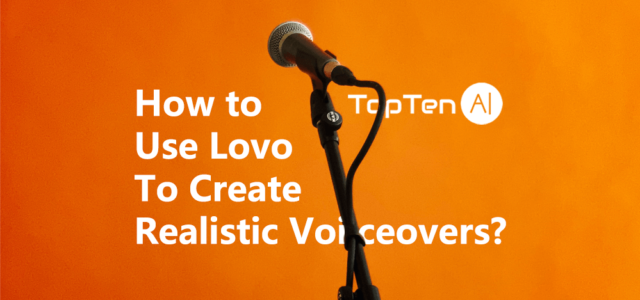 What is a Voice Over?
Voiceover is a background sound played in the background of a video. Voice-over is used to explain video content more clearly without even using real humans. It is a voice of a person or a robot that can be used on any video, but the real person behind the voice is not present in the video, just like you watch cartoons even though you are listening to the voice, but the real person who is speaking is not visible in the video, it is a voice recording of a real person that is used in animations, video clips, games, etc. and many other video content that you watch online.
What is Lovo?
Lovo is a realistic voice generator that creates a copy of a real human sound. It basically creates voiceovers from a text in no time. A text-to-speech with emotion generator that is based on a deep AI mechanism. All you have to do is simply provide text to it, and it will automatically analyse your text and convert it into speech form. All the tools' functions and the voice depend on you due to its editing features that do as you want them to. You can generate voice in more than 100 languages with proper emotion, as you can also pronounce the words you want to speak for you.
Main features and functions of Lovo
Lovo AI has the capability of creating high-quality natural voices for text-to-speech. There is a huge variety of natural sounds that match the sound of real human beings. It has the ability to create a natural and realistic sound of a human in no time. Not only it has a variety of voice options, but also it offers various accents so you can choose one that fulfills your requirements. Not only it has accents, but also there are several languages among which you can look for the one you desire.
The user can get different languages and beautiful accents to help them create amazing voiceovers. Another great feature about this tool is that it has a pause feature that allows you to create certain gaps and pause within your voiceover. It is based on a powerful AI mechanism, which is why it is known as a real voice generator. Create a personal pronunciation guide that helps you with unique names or places.
The user can use Lovo for their companies. Now you can deal with your customers easily by using this tool to create text-to-speech with emotion and answer your customers' requirements. You can adjust the features of your company to what your customers mainly demand from you and create answers according to your customer's demands. Whether you are a professional or a beginner, Lovo AI's user interface is user-friendly and easy to use. Anyone can operate Lovo easily and create text-to-speech with emotion in it. Unlike other tools where you create a voice that sounds like a robot, the Lovo Studio has perfectly improved its text-to-speech by providing human sounds. Now you can save time by not spending a lot of time on manual voiceovers that require effort and consume a lot of time. Using Lovo, you can create as many voiceovers as you want with a few clicks and within a few seconds.
Features

Here are some of the main features of LovoAI that you should know. Comprehensive details about its features are given below.
Emphasis
You can use the Gennys emphasis tool which allows you to create stress on important words in your text. It will make your voice more appealing as it highlights the important content from your data. It helps you to draw attention and generate a more persuasive voice with LovoAI.
Speed
LovoAI lets you control the speed of your voiceover. You have all the authority to control the speed by using the speed feature. Either adjust the speed of the whole script, or you can adjust several parts of your content with the speed feature.
Production 
Save all your work on your cloud account online if you like, or you can add them to another video on command. It saves your time as you can quickly save files.
Pause
The pause feature of LovoAI allows you to create a pause within your voiceovers so people can clearly understand what your trying to say. A proper pause within your audio influences the viewer's attention toward your content and gives them some time to analyze your audio.
Pronunciation 
Use the pronunciation features of Lovo AI to adjust the required pronunciation of your speech. It helps you make text-to-speech with emotion, as proper pronunciation of words is very important when it comes to explaining things by audio. The realistic voice generator will work even better if you spell out the word the way it is exactly.
Sound Effects
Background sound with audio makes your content more appealing. It basically adds more beauty or more detail to your content. Proper sound effects with required audio compel the viewer's attention deeply into your content; that is why LovoAI provides sound effects feature too.
Pros
The quality of the LovoAI voice-over is excellent, and they are equivalent to top premium voices, especially since the available voices are in English. No one can even judge them between the real person and AI.

Even if you are using it for the first time or have no skill, you can still operate it, and the tool is so accurate that it does exactly what it says it does.

A realistic voice generator that creates text-to-speech with emotion.
Cons
The voice samples in a different language are limited.

The software decides what is line or sentence is by itself and doesn't let you decide it.
How to use Lovo to create realistic Voiceovers?
If you want to learn how to use LovoAI and create a realistic voiceover, then follow the given steps simply. The tool is easy to use, and most people can operate all its features without any issues.
Step 1
First of all, you would have to open the official webpage of LovoAI on your browser. If you want to open it directly, click this link LovoAI to open its official platform.
Step 2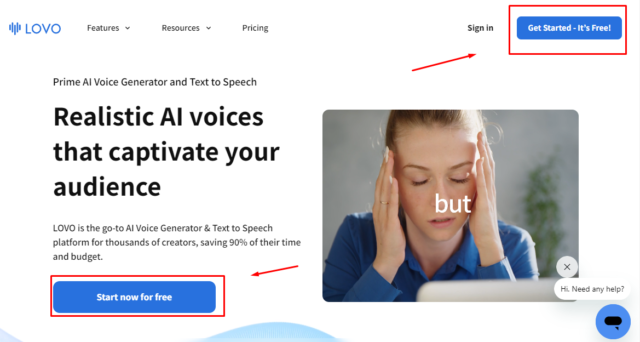 After opening the page, you will get a lot of information about this tool on its page.  Scroll down to see more details and functions of this tool easily. The tools' specific functions and features are provided on the main page. If you just want to create a realistic AI voice, just click on Start now for free, or on the top right, get started is a free option.
Step 3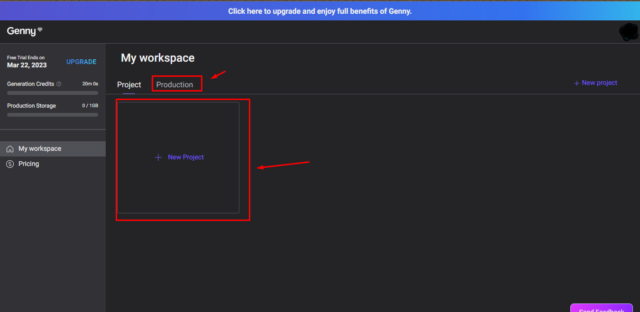 After that, they quill demand a signin' from you. Just sign in from your google account or create a new account with proper details. When you have signed in, a new page will be opened in front of you. This is your workspace where you can use the free voice-over generator of LovoAI. Click on the new project option to start working on your project with one click. The production option will store your projects.
Step 4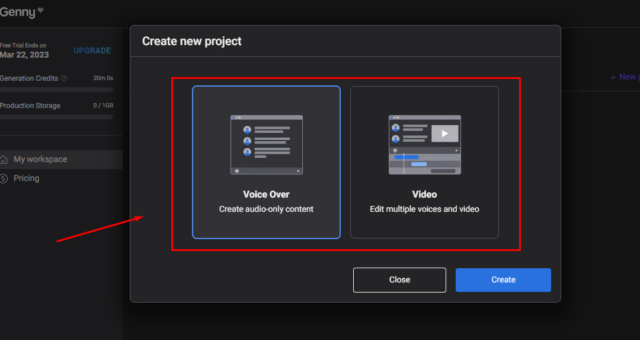 After clicking on the new project, two options will be displayed in front of you. You can either create video content with multiple voices. Or if you just want to make voiceovers that consist of audio-only. Depending on your requirement, you can choose an option from one of them.
Step 5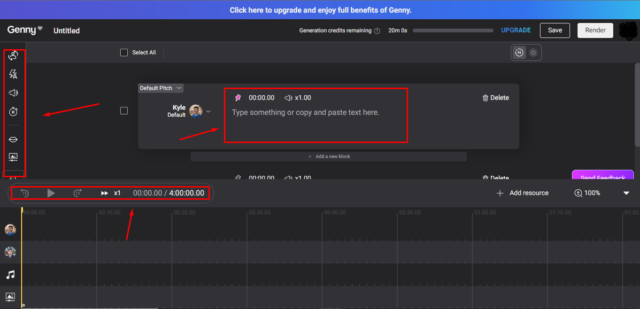 If you selected the voice-over feature, you would get something like this. It is easy to use. Just provide the required text where a person is shown on the top of the page. Copy and paste or type the text there and select the required voice from various options. You can check more editing features from the tab on the page's left side. Use the pause feature and adjust some more settings to your audio just below the voice-over option.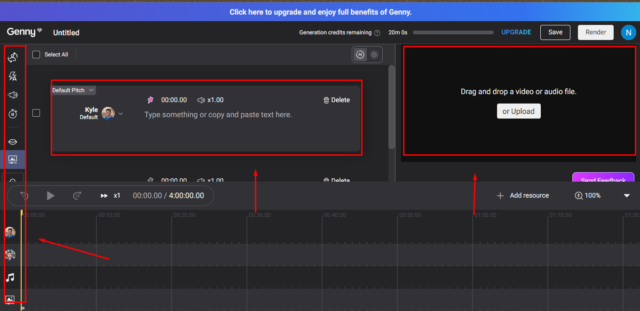 You will reach a page like this if you select the video content option. You can upload your audio or video file by clicking on the top right side of your page. Users can either upload the file or choose the drag-and-drop option to upload it. Simply type something, copy-paste the text, and choose your required voice-over for the human sound from various options. Some other editing features are also given on the left side of your screen.
Final Words
Stop wasting your time on manual voice-over when you can easily use the free voice-over generator and create as many voices as you want. A proper and accurate text-to-speech converter that converts any kind of text into speech within no time with accuracy. Once you start using LovoAI, you will no longer have to find another AI text-to-speech converter online.
FAQs
How to do a voiceover on TikTok?
Just simply use the video voiceover option such as Lovo AI and upload your TikTok video and then you can add a voiceover of your choice to do a voiceover on TikTok.
How to do a voiceover on PowerPoint?
You can make audio content voice-over for your PowerPoint presentation. The data you will present in text form on PowerPoint, just simply copy and paste it on LovoAI to convert it into speech. Then add that audio to your PowerPoint to do a voiceover on PowerPoint.
Read more: Top 10 Realistic Text to Speech Tools Review 2023