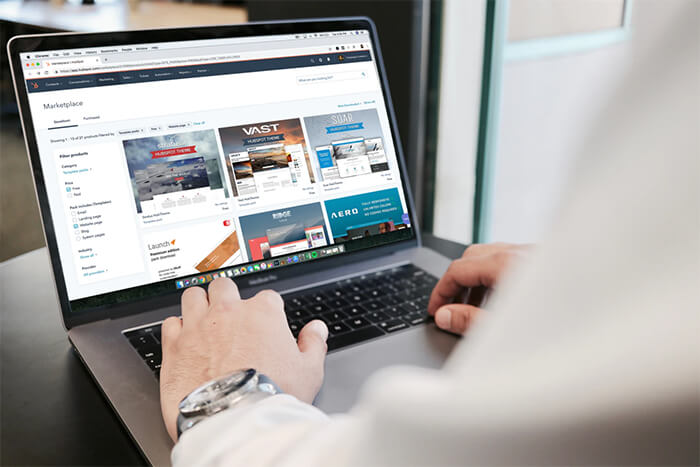 The amount of data is rising exponentially. Some analyses have shown that unless we find a new way to store data, in 200 years there won't be enough atoms on Earth to store all our data in our current form, hard drives.
The preposterous amount of data has become incomprehensible by the human brain; thus, a solution in a form of artificial intelligence has been found. Needless to say, AI has found its way into marketing where it now dominates across all large organizations. Smart use of AI marketing tools allows companies to reveal valuable information that has been concealed within data, which multiplied companies' sales and revenues.
However, data analysis is not the only use of AI in marketing. Customers love personalized experience; therefore, AI has found its way into ads, prices, and even content. Furthermore, websites often include AI chatbots that speak with you instead of a real person. Such arrangement allows for no waiting times and consequently a better user experience.
Related article: Top 20 Website Builders Review 2023
What is AI marketing?
AI marketing is a form of marketing that exploits and relies on artificial intelligence concepts. By analysing large amounts of data, AI marketing tools are capable of extracting hidden insights and missed opportunities. The main difference between AI marketing and general marketing is in who performs the analysis of data.
Top 10 AI Marketing Tools Review
These are the 10 best AI marketing tools for marketing workflow in 2023:
1. AI Marketing
Price: Free
AI Marketing is an online cashback advertising platform at which investors make money through several cashback options. It is a form of an AI Marketing tool in which you invest a certain amount of money and get back between an additional 25% and 35% of your investment. This way you will make money passively. However, you must realize that investment is never a guarantee nor a way to quickly make a lot of money. It will require some patience.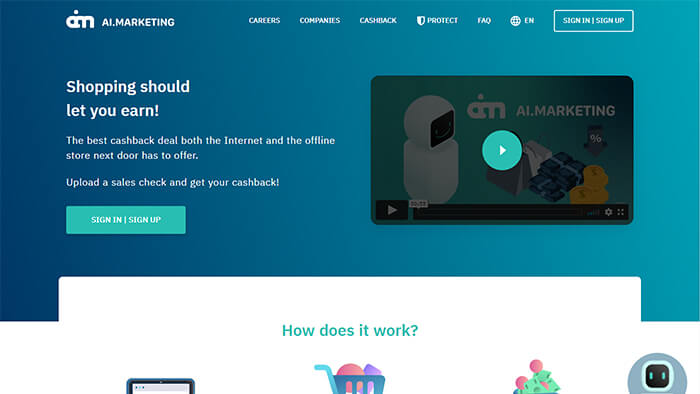 PROS
Passive income
Works well for now
CONS
There is no guarantee you will make a profit or get your money back
2. Bilbi AI
Price: $14.99 monthly, $9.99 yearly
Bilbi AI is an online platform that helps you optimize your Facebook ads. As you might know, ads are getting more and more expensive. Thus, such a tool might save you a lot of money in the long run. First, you sign up with Facebook and let Bilbi AI analyse your campaigns so it can understand how to bring you the most cost-effective results. Later, you will receive Bilbi's results to your dashboard about how to update targeting, bidding, creatives, and a few other parameters.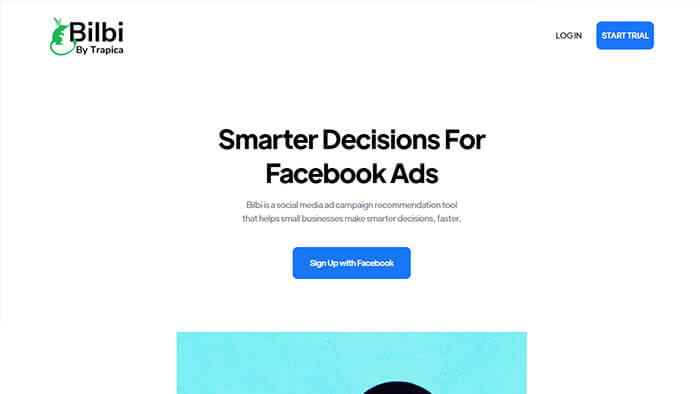 PROS
It will help you save money with expensive ads
You will improve your conversions
CONS
Requires an investment before you will see any results
3. VanceAI
Price: Free (5 credits/mo), $9.90/mo (200 credits/mo), $19.90/mo (500 credits/month)
VanceAI is a collection of tools powered by artificial intelligence. While VanceAI specializes in image editing, do not doubt its AI marketing capability. With each day, smart visualization and product packaging overall look become more important. And VanceAI will do just that. Arguably the most impressive of VanceAI tools, automatic background remover, will automatically remove your product image background so that you can design product photos for website, online stores, presentation and more. With better photos, you will be able to supercharge your business and stand out from your competition. Definitely give it a try and let me know if you liked it.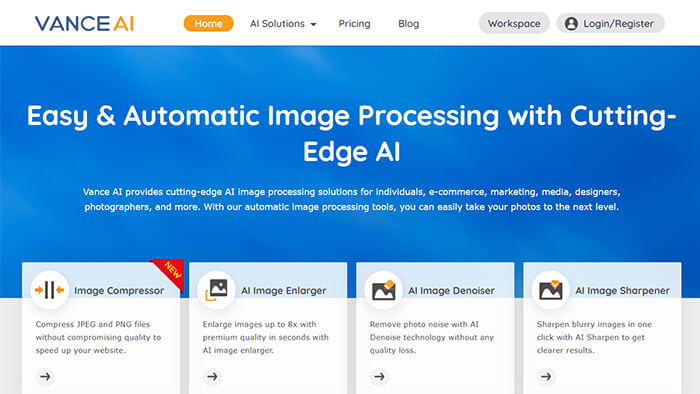 PROS
A plethora of AI tools
No need for Photoshop or similar apps
CONS
4. Grammarly
Price: Free, Premium (from $11.66/month), Business (from $12.50/month)
Please, and I cannot stress this enough, publish your content grammar-checked and mistake-free. Nothing turns off customers more than a sloppy landing page. I cannot tell you how many businesses lost me as a customer for this reason. Grammarly is here to solve all the writing issues for you! I use it for my blog every day and I love it! Grammarly should definitely become your next best friend.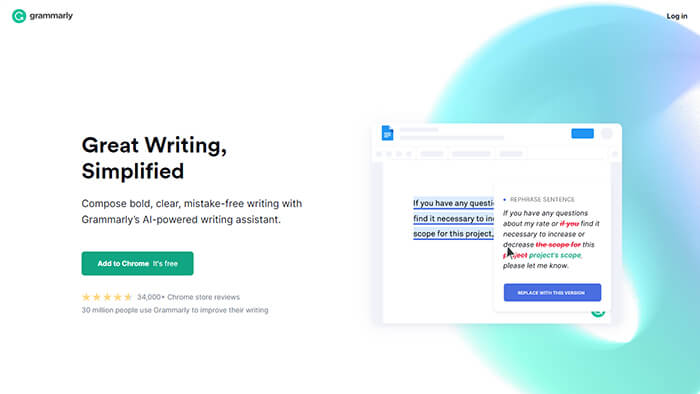 PROS
The best proof-reading tool
Awesome free plan
CONS
5. Avaus
Price: Ask for a quote
Avaus specializes in analysing data and making sense of it with an artificial intelligence-powered algorithm. This agency will advise on how to make your marketing, sales, and services successful in the future. They will help you build new capabilities in experience technologies, data, and analytics. Lastly, they will help you realise value from your investments, effectively making AI marketing your way to success.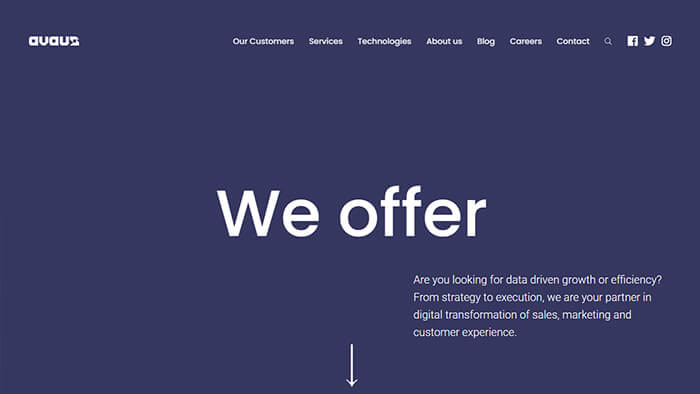 PROS
Personalized
Foreign country
From 2007
CONS
Descriptions of services are vague
6. Crayon
Price: Ask for a quote
Crayon specializes in market and competitive intelligence that will help you track, analyse, and act on everything happening in your company's niche. Competitive intelligence tracks a company's digital footprint both on and off the website at anything, from social media to review sites. The competitive analysis reviews competitive intelligence data which has been prioritized and categorized. This way, you can filter and sort by company, keyword, date, data type, and a lot more.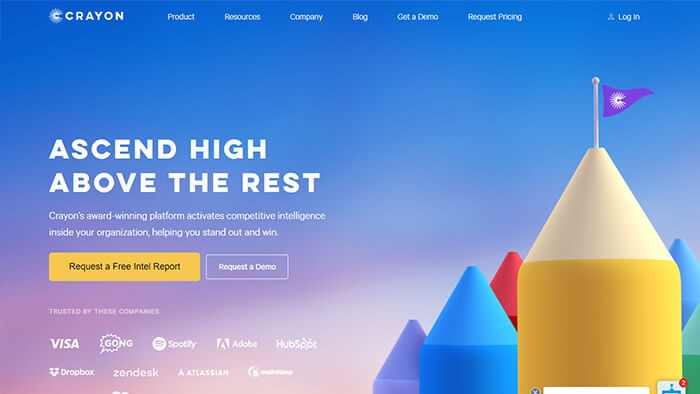 PROS
Several high-quality services
CONS
7. Zalster
Price: from $39.00/month
Zalster is a powerful AI marketing partner that helps you create smarter Facebook campaigns. By being data-driven, Zalster helps you make the necessary adjustments and provides an easy-to-use solution for scaling your business. All you have to do is update your settings, select what ads you want to run at what time and then wait for success. Zalster has actively helped a lot of start-ups penetrate highly competitive markets with its real-time optimization.
PROS
CONS
Some users did not get the wanted results
8. Albert AI
Price: Ask for a quote
Albert AI is an artificial intelligence marketing platform created for both small businesses and enterprises. Its primary purpose is driving fully autonomous digital campaigns for your business. Albert uses it marketing AI to go over the copious amount of data and extract only the important conclusion, a task deemed impossible or extremely time-consuming for a person. A couple of brands, including Harley Davidson, Cosabella, and EVISU have multiplied their sales with the help of AI marketing tools.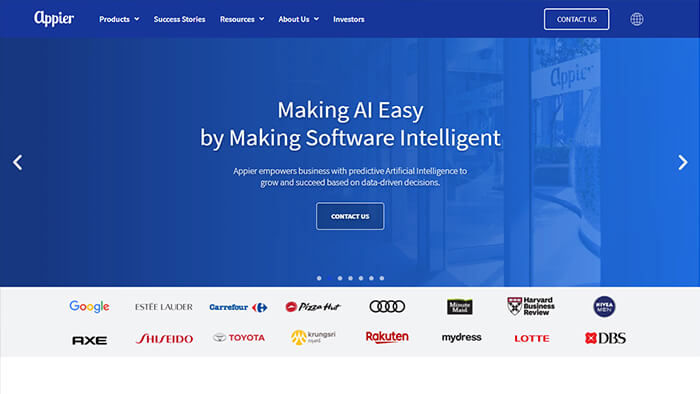 PROS
Trusted by huge brands
Will multiply your sales
CONS
It might take some time to see the effect
9. Hermann AI
Price: Ask for a quote
Hermann AI is an online marketing and advertising automation solution based on data and AI technologies. Hermann AI was designed to help marketers fully automate all marketing communications using all available data sources, including websites, mobile apps, transactional systems, and 3rd party data, to build a personalized communication at all stages of your business endeavours. Hermann AI uses more than 20 data providers, 9000+ data sources, 3000+ profile's attributes, and a 90M daily audience.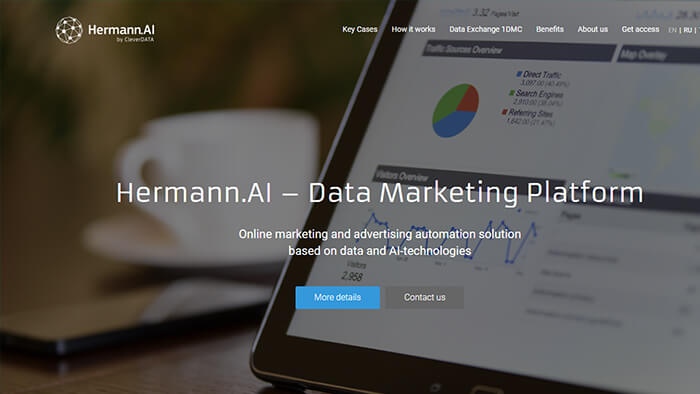 PROS
Huge data sources for reliable data
One of the best in its business
CONS
10. Appier
Price: Ask for a quote
Appier is a tech company that helps businesses with AI marketing solutions to grow and succeed in their niches based on data-driven decisions. Their enterprise-level products help even the largest corporations and organizations maximize their data and uncover hidden insights by personalizing customer outreach. Appier offers a collection of tools, namely AIDeal (Trigger Purchase Decisions), AIQUA (Proactive User Engagement), AIXON (Data Science Platform), and CrossX (User Acquisition Platform). These tools are capable of anything, from creating full-funnel marketing solutions, delivering intelligent recommendations, maximizing marketing ROI and sealing the deal.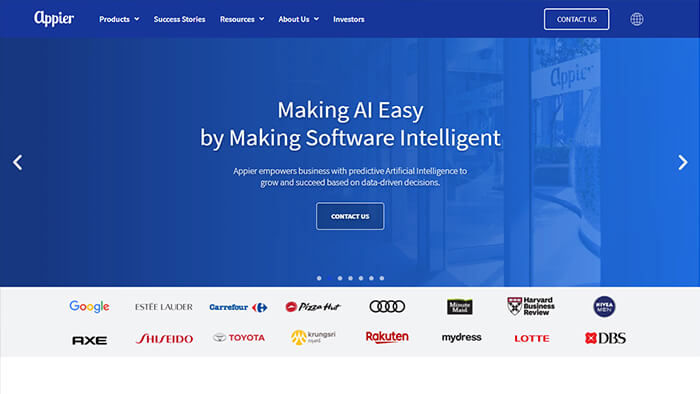 PROS
You will easily maximize your marketing opportunities
A large collection of AI marketing tools
CONS
Expensive for large requests
FAQs
How AI is used in marketing?
Artificial intelligence has found its way into AI marketing as a clear winner when it comes to analysing copious amounts of data within which important insights are often concealed. This gave rise to AI marketing tools which are designed to deal with various data sources and outputting meaningful solutions that can lead to increased sales and better conversions.
How to use AI for marketing?
AI has many uses in marketing, from analysing data provided by various data sources, including SEO tools, ad reports, internal sales reports, and customer reviews. While making sense of so many factors is confusing for the human brain, AI quickly sorts data into helpful and valuable graphs, tables, and charts.
What is the best example of AI marketing?
One of the best examples of AI marketing is for sure targeted ads. Companies such as Facebook, Instagram, and Amazon bombard you with personalized ads that get recommended to you based on data crunched by artificial intelligence. Another example of AI marketing are also chatbots, dynamic pricing, and content generation.
Conclusion
You can see why AI has surged all over marketing platforms, forcing older ones to adapt and clearing a path for new ones to enter the business. These AI marketing tools have proven themselves as extremely beneficial to all business sizes, but large companies have certainly found even more use in them, as they have more data to input and more funds to spend.
If I consider the current trends, I am certain that AI will become increasingly more important until we will come to the point, when you will not be able to run a successful business without a good AI marketing tool. However, I assume that a superior algorithm or method will soon supersede artificial intelligence and we will never look back.
Now there are other products for your as reference, you can check Writer AI.