Summary: VanceAI PC, an AI image editing software, enhances photo clarity, solves image quality issues, and now provides more interesting AI tools. The photo editing software empowers users with advanced AI technology, unlocking the full potential of their images.
Imagine having a photo editing software that brings your images to life with stunning detail, clarity and resolution. Is this the kind of software you've always dreamed of? VanceAI PC is dedicated to bringing this imagination to life. This powerful AI-driven image editing software is designed to transform your visuals and take them to new heights, making them truly stand out. You'll Be Amazed by the Ultimate AI Photo Enhancement Software for PC.
VanceAI software utilizes cutting-edge AI technologies to enhance overall image quality, providing extraordinary results and some other interesting functions. Say goodbye to ordinary photos and unlock the full potential of your images. In this article, we will explore how the ai photo editor addresses common user problems such as batch processing and empowers you to take your photos to the next level.
What is VanceAI PC?

VanceAI PC is an artificial intelligence powered photo enhancer software developed by VanceAI, one of the most powerful AI technology companies on the market. We have previously had some use tests and reviews of the many products from this company.
What you see now with VanceAI software is a collection of photo processing tools that includes many of the online tools we mentioned before in TopTen.AI, such as image enlarging, sharpening, denoising, and now three new interesting features: AI Background Remover, AI Old Photo Restorer, and AI Portrait Transformer. We will introduce these features in detail later.
As the name suggests, this is an AI-powered image editing software that incorporates the currently popular machine learning, AI algorithms into this ai photo editor. The developers used millions of images to train these models and algorithms, so much so that this photo enhancement software-- VanceAI PC can successfully and automatically edit images to achieve results similar to those of professional photo designers.
Overview of VanceAI PC

Standout Features of VanceAI PC
AI-Trained Models for Image Enlargement: Ideal for printing, e-commerce, and presentations, this AI image editor employs AI-trained models to enlarge images, resulting in outstanding image resolution.
Enhanced Image Resolution: VanceAI photo software for PC delivers exceptional results with enhanced resolution, giving your images a remarkable boost in quality.
40x Image Resolution Upgrade: With the photo enhancement software-- VanceAI PC, you can upgrade your image resolution by up to 40 times, providing unparalleled clarity and detail.
Smart Pixel Detection: This AI software for PC intelligently detects and adds missing pixels to improve image quality.
More creative and fun tools: AI Background Remover, AI Old Photo Restorer, and AI Portrait Transformer, these 3 newly added tools will make your pictures more creative and surprising.
Batch processing: VanceAI PC supports batch processing, uploading multiple images with one click and processing them efficiently at the same time, thus greatly improving efficiency.
Faster and more flexible processing: Software advantages allow VanceAI to process images faster and more consistently. In addition, you can now choose between using the local mode and the online cloud service version on the AI photo software.
Multiple and accurate models: Now, you can choose specific models according to your image types, such as Standard image, Anime, Art&CG, and Text. these models will make your output more accurate. And for Sharpener there are also 4 models for 4 types of blur.
Price Plan
In terms of pricing, VanceAI PC offers flexible pricing packages, as shown below, $39.9 for one month, $99.90 for a year, and lifetime for only $129. Here obviously lifetime is a more economical option.

In addition, no matter which price package you choose, you will get a bonus of 200 credits per month to use the cloud service. And don't worry if you are unsatisfied with the results after you bought it because you will have a 30-day money back guarantee. And you will also be provided with 27/7 after-sales service.
Pros & Cons of VanceAI PC
Pros:
Easy-to-use AI photo software for PC.

User-friendly interface designed to fulfill customers' needs.

Free to download and use.

Simplified AI photo enhancer.
Cons:
Limited to desktop software.

Offers only photo-enhancing features.
Main Image Tools On VanceAI Software
AI Image Enlarger & Image Sharpener
The Image Enlarger, accessible through the Enlarge option, is a remarkable tool for increasing image size and resolution. In comparison to the online version, the desktop counterpart can upscale images up to 40 times their original size, providing even better results.
The Sharpen option leads you to the VanceAI Image Sharpener, which effectively reduces blur in images. The latest update to this tool introduces different blur reduction modes, including general, lens, motion, and soft blur. You can also adjust the desired level of sharpness for your final image.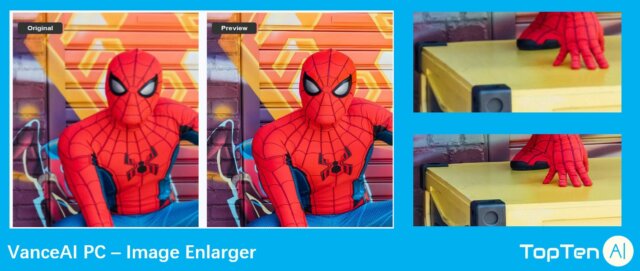 Output review: As you can see from the processed photos, I was pleasantly surprised by the image enhancement effect. The lines of the spider crab clothes became clear, and even the complex background was clearly visible. Such as the edges of the yellow box, and the purple bricks behind.
AI Image Denoiser
The Image Denoiser, the counterpart to VanceAI's online tool, swiftly removes image noise and film grain. With simple adjustments in the Workspace, you can control the intensity of sharpness and noise removal to achieve optimal results.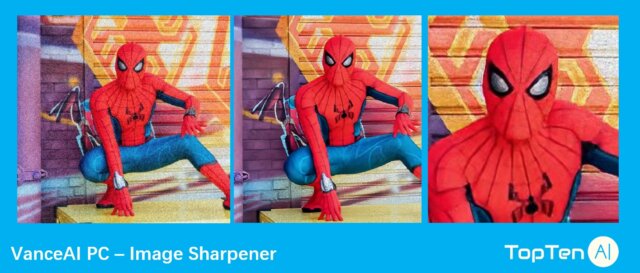 Output review: After the image has been processed by noise reduction, the noise on Spider-Man is almost gone and the effect is very good. But the background noise reduction needs to be strengthened.
AI Background Remover
Want to make ID photos or want to change the background of your pictures? AI Background Remover can help you eliminate the background with one click and generate PNG pictures. You can also use VanceAI PC to change the background color or change it to the image you want.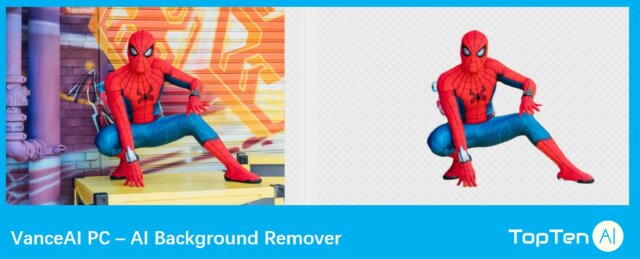 Output review: This image has a lot of background colors and the task does not have very obvious information about the face, which may be a big challenge for the AI to key the person out of the image. But looking at the result, VanceAI software did a good job. There is only a small extra part on the arm.
AI Old Photo Restorer
Everyone probably has a bunch of old black and white photos at home. Now AI Old Photo Restorer allows you to bring these photos back to life. This tool allows you to restore damaged old photos with one click, colorize black and white photos, remove scratches, and improve quality.

Output review: Since Spider-Man is wearing a mask, the AI may not be very effective in recognizing faces, we switched to another real old photo to test the AI Old Photo Restorer feature. The result was surprising, the original yellow photo became vivid, and the skin tone of the face and the color of the suit were handled accurately.
AI Portrait Transformer
Want to know how you look like in the animation world? VanceAI software's Portrait Maker can turn your selfie pictures into cartoon style, either as line drawings or in anime style.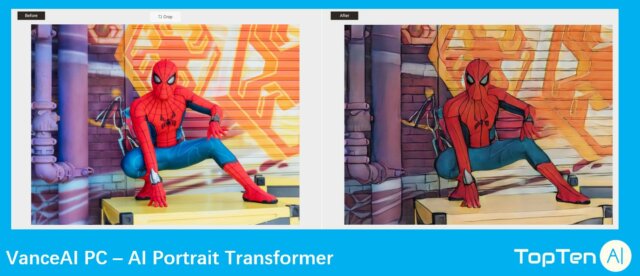 Output review: We love the effect of this treatment. AI Portrait Transformer turns a live-action Spider-Man into an animated version of Spider-Man. Both the character and the background are great.
How to Download and Install VanceAI Software?
Based on our experience, the process of downloading and installing VanceAI PC is straightforward. We will now share the best way to help you use this AI image editor quickly. Follow these steps to get started:
1. Visit the official VanceAI PC website and click on the "Free Download" option. You can subscribe to the PC version by clicking on "Pricing" at the top of this page and switching to "Software".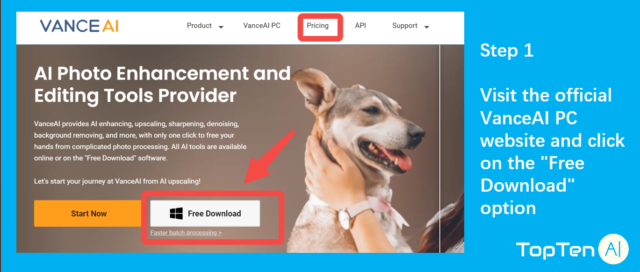 2. Once the download is complete, run the setup file and choose your preferences, such as the installation location and launch preferences. Click on "Install Now" to initiate the installation process.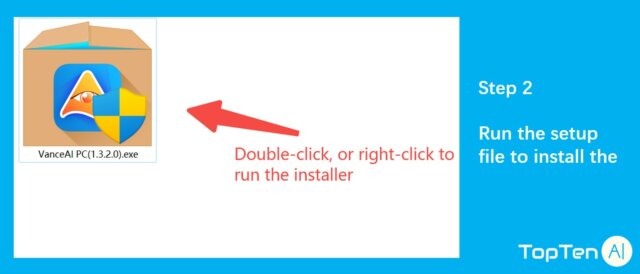 3. Wait for the essential files to be downloaded and installed. The duration may vary depending on your network speed and system specifications. Just wait for a while, if there is no response for a long time, we suggest you reinstall it again.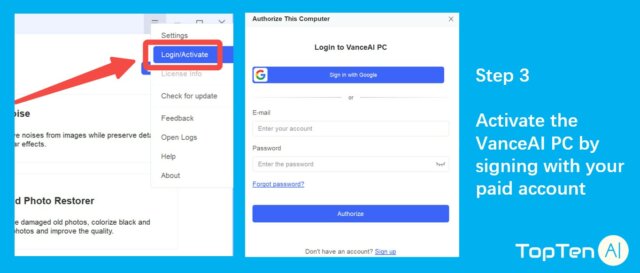 4. Once the installation is complete, open the folder where VanceAI software is installed and launch the application. If you have a subscription, click on "Activate." Otherwise, you can skip this step.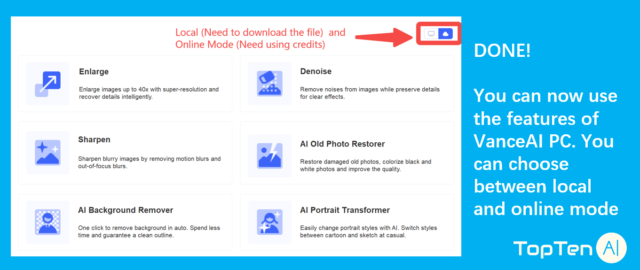 Conclusion
From our hands-on experience, we found that VanceAI PC is a powerful and reliable photo editing software. Its advanced AI and machine learning algorithms make each tool efficient and effective. The user-friendly interface enhances the overall experience, and the affordable price sets it apart from other editing software options.
To further enhance VanceAI software, I suggest gradually adding more tools from the online platform to make the image editor more comprehensive. Additionally, incorporating its best features, such as the Workflow, would be a valuable addition.
You can easily access this AI photo editor by visiting software.vanceai.com and installing the software on your desktop. Experience the convenience and power of AI photo editing with VanceAI PC today.
FAQs
1. How does VanceAI PC differ from other AI photo editing software?
VanceAI software stands out with its advanced AI algorithms and machine learning models, trained on millions of images. It delivers exceptional results in image enlargement, image enhancement, noise reduction, and other photo enhancement tasks. Unlike Photoshop, all the editing needs to be done manually and requires a lot of learning, its user-friendly interface and affordable pricing make it a reliable choice for users.
2. Can I try VanceAI Software for PC before purchasing?
Yes, during our trial of VanceAI PC, we found that it offers a free trial option that allows users to try the software and experience its features. The free version provides access to the basic features and serves as a showcase of the software's potential. For more advanced features and full functionality, users can purchase a subscription plan or a lifetime option, which also includes additional credits for cloud services.
3. Which tool is most worth trying in VanceAI PC?
VanceAI Image Upscaler. The pictures processed by VanceAI Image Upscaler can bring unexpected surprises to people, it is worth a try! VanceAI Image Upscaler helps enlarge image by up to 800% without any quality loss. And more scales from 2x, 4x, 6x to 8x can be used by various industries.