This article presents the top 10 face tracking software for users who want to capture and analyze facial expressions in real-time. It covers a range of features including accuracy, speed, and platform compatibility, comparing pricing models and user-friendliness. 
Face-tracking technology has revolutionized multiple industries, from entertainment and education to business and science. Users frequently encounter challenges when seeking reliable solutions for seamless face tracking in video content creation or security implementations.
In response to these concerns, this article presents a comprehensive review of the top ten face-tracking software apps. Our team's extensive experience and objective assessment provide valuable insights into the key features and diverse use cases of the 10 best face-tracking software. Whether you aim to enhance social media experiences or bolster security measures, this review will assist you in selecting the most fitting face-tracking software for your specific requirements.
What is Face Tracking Software?
Face tracking software is a technology that enables real-time analysis and tracking of facial movements and expressions. It utilizes computer vision algorithms and machine learning techniques to identify and monitor key facial landmarks and features. By tracking the positions and changes in these landmarks, the software can accurately map and interpret facial movements, such as eye blinks, smiles, or frowns.
Face tracking software finds applications in various fields, including entertainment, gaming, animation, virtual reality, video production, and security. It allows for realistic avatar animations, interactive experiences, emotion detection, and facial recognition. With advancements in computer vision and AI, facial tracking software has become increasingly accurate, robust, and versatile, revolutionizing the way we interact with technology and creating new possibilities for human-computer interaction.
The 10 Best Face Tracking Software (Updated July 2023)
The best face tracker app list takes a look at ten software apps that can offer you the highest value. We will discuss the app's performance, pricing, features, and also pros and cons. Many of these applications offer a free trial as well, so you can try multiple apps from this list before deciding on one.
| Tool | Accuracy | Speed | Output Quality | User-Friendliness | AI-Based | Free/Paid | Suitable for |
| --- | --- | --- | --- | --- | --- | --- | --- |
| Visage Technologies | ★★★★★ | ★★★★☆ | ★★★★★ | ★★★★☆ | ✅ | Paid | Professionals and researchers |
| Banuba | ★★★★★ | ★★★★☆ | ★★★★☆ | ★★★★☆ | ✅ | Paid | Developers and startups |
| VSeeFace | ★★★★☆ | ★★★☆ | ★★★☆ | ★★★☆ | ❌ | Free | Virtual reality enthusiasts |
| SightCorp | ★★★★☆ | ★★★★☆ | ★★★★☆ | ★★★★☆ | ✅ | Paid | Business and security sectors |
| Thales Group | ★★★★☆ | ★★★☆ | ★★★★☆ | ★★★☆ | ✅ | Paid | Security and identity solutions |
| DeepFace | ★★★★★ | ★★★☆ | ★★★★☆ | ★★★☆ | ✅ | Free | Researchers and academics |
| Clarifai | ★★★★☆ | ★★★★☆ | ★★★★☆ | ★★★★☆ | ✅ | Paid | Developers and businesses |
| FacePlusPlus | ★★★★★ | ★★★☆ | ★★★★☆ | ★★★☆ | ✅ | Free/Paid | Developers and researchers |
| Paravision | ★★★★☆ | ★★★★☆ | ★★★★☆ | ★★★☆ | ✅ | Paid | Security and surveillance |
| TrueFaceAI | ★★★★☆ | ★★★☆ | ★★★★☆ | ★★★☆ | ✅ | Free/Paid | Developers and enterprises |
Note: As professional and objective reviewers, we have personally tested and evaluated each face tracking software on our top 10 list. Our ratings are based on thorough assessments of features, accuracy, performance, ease of use, and overall user experience to provide reliable insights for our readers.
1. Visage Technologies
Price: While the official website of the facial tracker app does not disclose any exact pricing details, you can still request a free demo before going over payments.
Notable features: Eyewear Try-On, Real-time Gaze Tracking, Face Textures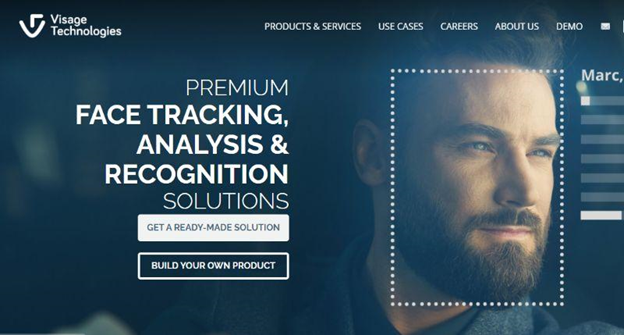 Visage Technologies provides a comprehensive face tracking solution suitable for businesses, developers, and individual users alike. During our experience, we found that their demo offers outstanding features and is accessible with just a click.
The Eyewear Try-On feature digitally overlays glasses onto your face, while real-time gaze tracking accurately follows eye movement. Another intriguing feature applies textures to your face, enabling unique visual experimentation.
The biggest shortcoming is the lack of transparent pricing information, which may deter potential users. Additionally, the user interface could be improved, and the learning curve may be steep for some.
Pros:
Offers multiple great features.
Popular face tracker app
Offers a demo.
Cons:
No pricing info.
Takes time to learn the app.
Can have a better UI.
Our ratings: 9/10
2. Banuba
Price: Banuba offers its face tracking software with a free trial that you can request for from the official website. All you need to do is fill out a few details about yourself.
Notable features: Highly Accessible Design, Multi-platform Availability, AR Elements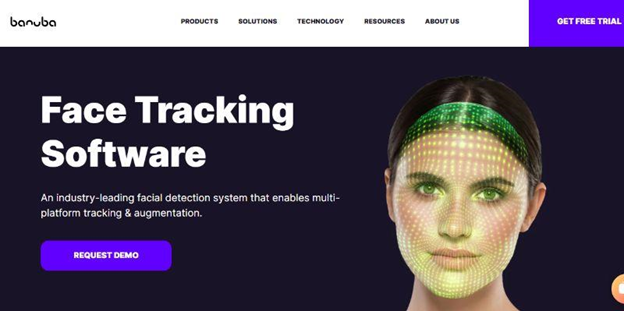 Banuba's face tracking software is optimized for both webcams and mobile devices, making it suitable for a wide range of users. After our research, we found that it works well on mid-range phones, increasing its accessibility.
This app, available on iOS and Android, offers numerous AR elements such as gaming, face filtering, and image editing. It distinguishes itself through its user-friendly design and compatibility with multiple platforms.
The limitations of Banuba's free trial and its somewhat intrusive UI design are the main drawbacks. However, its accessibility and feature set make it a strong contender in the face tracking market.
Pros:
Highly accessible design.
Available on multiple platforms.
Great features.
Cons:
Limited demo.
Intrusive UI design.
Our ratings: 9/10
3. VSeeFace
Price: This is a face tracking software offered completely for free and it also includes other features in the program.
Notable features: Robust Software, Gesture Tracking, Simple Design
VSeeFace is a free face tracking software that caters to content creators, particularly video makers. From our perspective of experience, its AI-based technology is suitable for various applications, including face tracking in TikTok videos.
The software not only tracks faces but also hand gestures, allowing for more creative possibilities. It is compatible with Windows version 8 or above and uses webcam features for tracking other body parts.
The software can occasionally be buggy and laggy, and users may need time to learn its functionalities. Nevertheless, its unique features and light design make it an attractive option for creators.
Pros:
Robust software app.
Unique features.
Simple and light design.
Cons:
Can be buggy.
Need to learn the app.
Tracking can feel laggy at times.
Our ratings: 8/10 
4. SightCorp
Price: You can visit the official site of this face tracker with the link above and ask for a free demo. You should get a 14-day trail after filling in a short form.
Notable features: Wide Scope of Use, Good App Design, Comprehensive Facial Tracking Features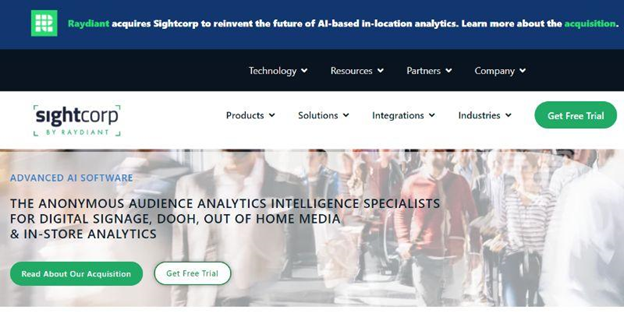 SightCorp's face tracking software has a long-standing presence in the market, offering a range of services such as age detection, emotion analysis, face analysis, and gender detection. It is suitable for event organizers and security professionals.
By purchasing this software, users can access a wealth of face tracking functionalities. The app design is intuitive and user-friendly, making it easy to navigate its numerous features.
The limited 14-day free trial, slow processing times, and learning curve are the main drawbacks. However, its wide scope of use and comprehensive feature set make it an appealing choice for various purposes.
Pros:
Wide scope of use.
Good app design.
Many features for facial tracking.
Cons:
Limited free use.
Can be slow in processing.
Takes time to learn the app.
Our ratings: 8/10
5. Thales Group
Price: The Thales Group face tracking software free version can be accessed by filling out a form at the end of the web page. The free trial contains the basic features of the face tracking application.
Notable features: Real-time Features, Wide Scope, Efficient Technology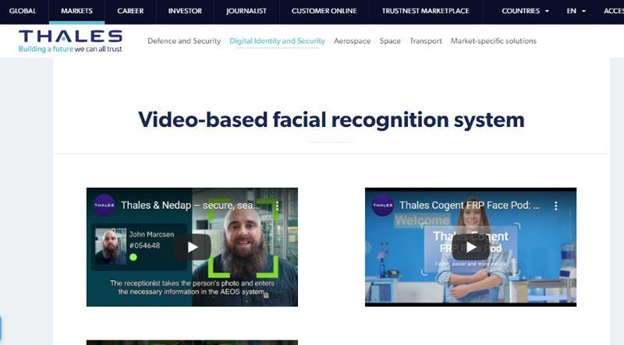 The Thales Group face tracking software offers a free version with basic features, utilizing neural network technology for face tracking, detection, and analysis. It is suitable for businesses and individuals seeking a real-time tracking solution.
Some features include video watch with multiple webcam tracking and individual verification. The app also functions as an SDK and mobile app, providing versatility and adaptability.
The limited demo and lack of information about SDKs and mobile apps on the website are the primary downsides. However, its real-time capabilities and wide scope make it an enticing option for various users.
Pros:
Great real-time features.
Wide scope.
Efficient technology.
Cons:
Limited demo.
The website could have more info about SDKs and mobile.
Our ratings: 8/10
6. DeepFace
Price: The application is free to access and currently is open as open source code similar to the projects you would see on GitHub.
Notable features: Excellent Algorithm, High Scope, Modern Tech Models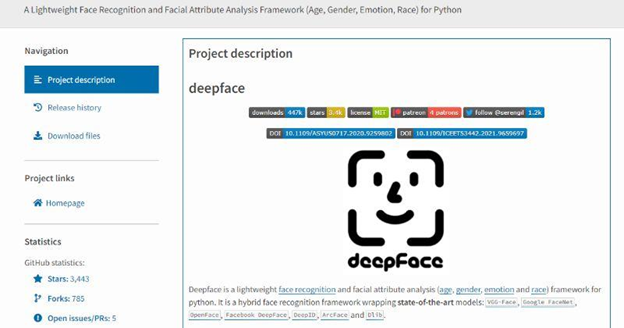 DeepFace, a free and open-source face tracking software, was developed by coders from leading tech companies like Facebook. It is suitable for those seeking a lightweight application with high accuracy, even surpassing human recognition capabilities.
The algorithm boasts an impressive 95%+ accuracy rate and offers face tracking and recognition functionalities. Its lightweight design allows for potential mobile device compatibility.
The main drawbacks are the lack of a graphical user interface and the need for users to implement the code themselves. Despite these limitations, its excellent algorithm and modern tech models make it a powerful option.
Pros:
Excellent algorithm.
High scope of app.
Modern tech models used.
Cons:
Not a GUI app.
Need to implement the code itself.
Our ratings: 8/10
7. Clarifai
Price: The face tracking software offers multiple subscription types to users. The free account is meant for personal and academic uses. Payments start with the $30 plan and go upwards.
Notable features: Good App Design, Multiple Pricing Plans, Free Face Tracking Software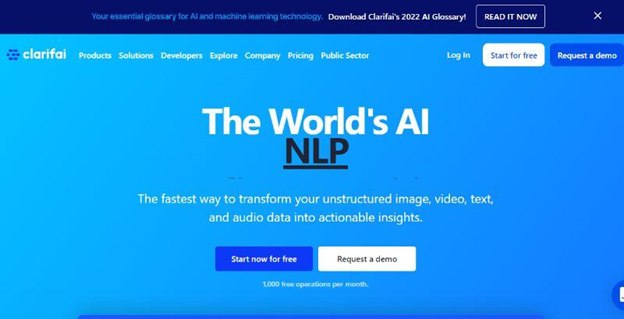 Clarifai's face tracking software is ideal for businesses, government bodies, and data scientists, as it can also detect objects in videos and visuals. During our experience, we found its modern, user-friendly design to be a significant advantage.
The software allows users to manage collected data from analyzed images and videos. Its multiple subscription plans cater to both personal and academic users, starting with a free plan.
The learning curve and occasional unresponsiveness are the main downsides. However, Clarifai's app design, pricing system, and demo offer make it an attractive option for various users.
Pros:
Good app design.
Great pricing system and free face tracking software.
Offers a demo as well.
Cons:
Takes time to learn the app.
Can be unresponsive.
Our ratings: 7/10
8. FacePlusPlus
Price: The pricing plan offered in this face tracker is sophisticated and covers almost each requirement. Your payment can be customized according to your specific needs and features you take.
Notable features: Customizable Pricing Plans, Easy to Use, Regularly Updated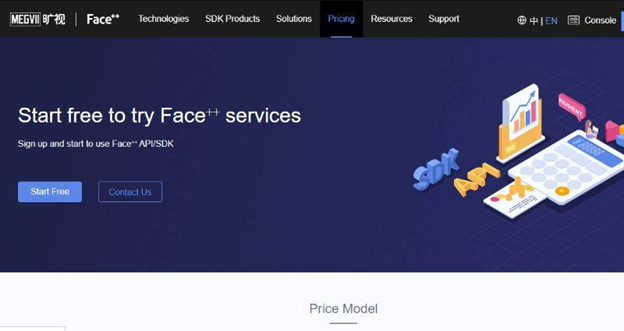 FacePlusPlus offers a comprehensive face tracking software with additional services such as human body recognition, image recognition, and image beautification. The software caters to users with diverse needs and feature requirements.
The app is regularly updated with new features, ensuring a fresh and modern user experience. Its customizable pricing plans allow users to select features according to their specific needs.
The occasional unresponsiveness and sometimes off image beautification are the main drawbacks. Despite these limitations, its flexible pricing plans, ease of use, and regular updates make it an appealing choice.
Pros:
One of the best pricing plans.
Easy to use.
Regularly updated.
Cons:
Can be unresponsive.
Image beautification can be off sometimes.
Our ratings: 7/10
9. Paravision
Price: Users can request a demo of the face tracker from the website itself though the pricing details are not available on the website.
Notable features: High-Performing Features, Good App Design, Quick Processing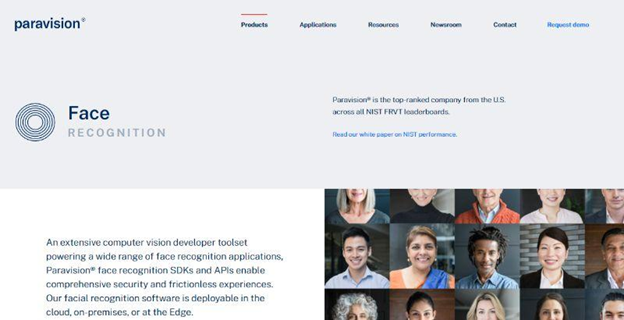 Paravision's face tracking software offers face recognition, anti-spoofing features, real-time streaming, and more. The app's accessibility through SDKs and API services makes it suitable for various users.
Some unique features include At The Edge for tracking image quality and a high-profile face matching feature, ranking top globally according to their official site.
The main downsides are the limited information provided and the limited demo. Additionally, more video features could improve the software. Nevertheless, its high-performing features, good app design, and quick processing make it an attractive option.
Pros:
High performing features.
Good app design.
Quick processing.
Cons:
Not enough info given.
Limited demo.
Could have more video features.
Our ratings: 7/10
10. TrueFaceAI
Price: You can get access to a free trial by filling a form and requesting a demo through the official website. No other pricing plans are given there.
Notable features: Exceptional Performance, Globally Inclusive App, Great App Design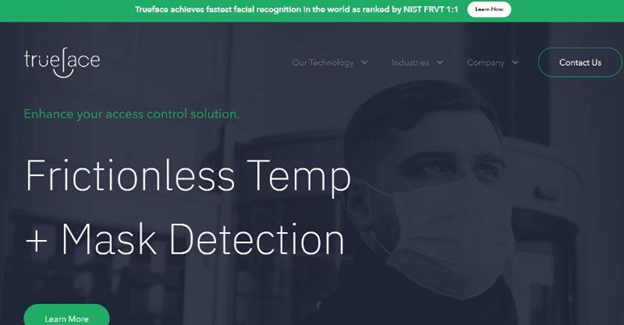 TrueFaceAI uses advanced machine learning and AI algorithms to ensure accurate face recognition across various ethnicities. Its partnerships with global companies contribute to its inclusive and comprehensive approach.
The software is designed to recognize faces from all over the world, making it a globally inclusive app. Its impressive performance and sleek design make it user-friendly and efficient.
The limited demo and learning curve are the main drawbacks. However, its exceptional performance, global inclusivity, and great app design make TrueFaceAI a strong contender in the face tracking software market.
Pros:
Offers amazing performance.
Globally inclusive app.
Great app design.
Cons:
Limited demo.
Takes time to learn the app.
Our ratings: 6/10
Conclusion
In conclusion, this article delved into the world of face tracking software, providing a comprehensive analysis of the top ten applications available. We explored their key features, accuracy, speed, user-friendliness, and suitability for various industries. Face tracking software offers exciting possibilities in entertainment, education, business, and security. It enables enhanced user experiences, creative expression, and advanced analytics. However, ethical considerations, privacy concerns, and the need for responsible implementation should not be overlooked. By harnessing the power of face tracking software responsibly, we can unlock its immense potential while ensuring the protection of user privacy and ethical usage.
FAQs
Which one is the best face tracking software?
While all applications offer face tracking features, their design and services vary largely. As such, it is best to use a bunch of them for free first through free trials and demos before coming to a conclusion. For beginners, face trackers such as Banuba and Visage can be easier to get into. However, other face tracking and recognition software tools are also great for professional use.
Also read: Top 8 Random Face Generator Review 2023