Summary: WebAR technology enables users to access augmented reality experiences via their mobile web browser without needing to download an app. With the ability to provide interactive experiences, businesses can increase engagement, brand awareness, and conversion rates. Here are the top 10 WebAR platforms to create extraordinary experiences.
Earlier versions of Augmented Reality were trendy, but they weren't efficient. Earlier iterations of Augmented Reality concentrated on providing the technology via a head-worn device tied to a computer, which wasn't entirely portable. Over 3.5 billion smartphones, web-based experiences have never had such a broad reach, presenting enormous business opportunities. The game has changed thanks to WebAR, which brings realistic augmented reality experiences to the mobile web. You can now add interactivity to every product label, promotional poster, or print ad using WebAR technology.
Brands can quickly deploy AR experiences on the web using WebAR. And it can be combined with standard metrics such as clicks and hours invested per page and more detailed data such as how much a user spent interacting with a specific AR experience.
What is WebAR?
WebAR, also called web-based augmented reality, is a digital technology that enables you to effortlessly share augmented reality experiences with others via the internet without an app. Users can use their smartphone's native cameras and mobile web browsers to access AR experiences. 
WebAR ignores App Store downloads and dives directly into the action, making augmented reality more accessible. It sends users to a certain URL, and they'll be interacting with the most up-to-date digital experience right away.
WebAR experiences exist online within a unique web page, whereas traditional AR experiences require a dedicated app.
Webar Examples Display
Numerous examples of businesses using WebAR platforms to generate interest in product services. Here are some of the WebAR platform examples for various industries,
RPR & Microsoft's Holographic Retail Platform

Jackson Family Wines

Jumanji: The Next Level

Spiderman: Into the Spider-Verse

Bugs Bunny's 80th Birthday

Digital Porsche Brand Academy

Toyota Car Configurator
Web augmented reality offers a variety of applications and may be tailored to create new opportunities for any customer-facing industry.
Top Ten WebAR Platforms to Create Extraordinary Experiences
WebAR is now constrained primarily by the browser. Thus how far the technology advances will be determined by what Google and Apple produce. Apple appears to be investing big in augmented reality, so it would make it logical to embed its AR features right into its operating system.
| Product | Price | Image Tracking | 3D Support | Face Tracking | Video Support | User-friendly |
| --- | --- | --- | --- | --- | --- | --- |
| Zappar WebAR | $125/month | ✓ | ★★★ | ✓ | ✓ | ★★★★ |
| 8th Wall | Custom pricing | ✓ | ★★☆ | ✗ | ✓ | ★★★☆ |
| Blippar's WebAR | Custom pricing | ✓ | ★★★ | ✗ | ✓ | ★★★★ |
| Create WebAR | $99/month | ✓ | ★★☆ | ✗ | ✓ | ★★★★ |
| MyWebAR | $50/month | ✓ | ★★★ | ✓ | ✓ | ★★★★ |
1.
Zappar WebAR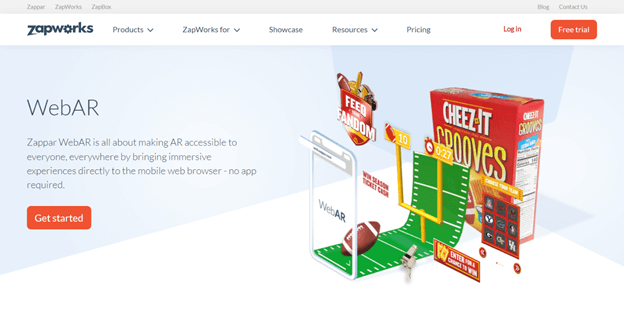 Zappar WebAR allows you to access 3.5 billion smartphone consumers worldwide by delivering AR experiences directly to their web browser.
Zappar WebAR aims to make augmented reality (AR) approachable to all, anywhere, by delivering immersive experiences to mobile web browsers without the need for an app. They empower you to harness this new period of super-accessible AR with comprehensive product control, from custom microsites to branded URLs.
Pros
WebAR Face tracking

Image tracking

3D support

Alpha video

Video support

360°

Dynamic lightning

Instant publish

Zappar can see and recognize images and objects in the world around us.
Cons 
The trial period is very short, 14 days

No A-Frame, Babylon.js, PlayCanvas
2. 
8th Wall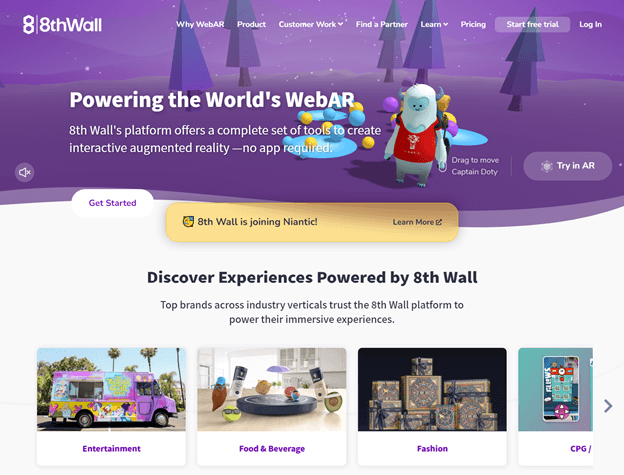 Web AR experiences that function in the browser across all devices are powered by the 8th Wall Engine. Your Web AR content is immediately available across smartphones, PCs, and AR and VR devices with the Metaversal Deployment. Face Effects and Image Targets allow users to test on accessories, face filters, and more.
They believe that augmented reality is for everyone at the 8th Wall. They are trying to bridge the gap between iOS and Android so that everyone may enjoy the wonders of augmented reality.
More information about 8th Wall also read: 8th Wall Review.
Pros
Fully-Featured Code Editor

Project Templates

Remote Debugger

Source Control

Unlimited Seats

Built-in Hosting
Cons
It also has a very short trial period

The 8th Wall doesn't have face tracking.
3. 
Blippar's WebAR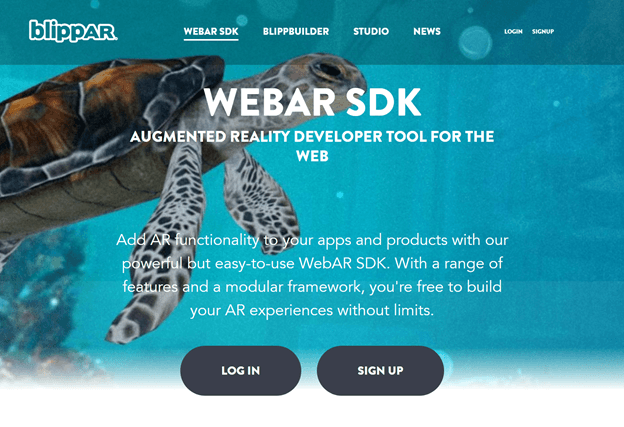 Blippbuilder is a web-based, self-service AR authoring tool. Even if you don't know how to code, the simple drag-and-drop interface makes creating powerful augmented reality a breeze.
Blippar's WebAR SDK is available for download for free and requires no financial information up front. There is no monthly subscription with our flexible pay-as-you-go concept. Our augmented reality online editor lets you turn parcels, advertisements, publications, and much more into unique augmented reality experiences.
Pros
Increasing user engagement and dwell time

Driving up conversion rates

Raising brand awareness

Delivering on your metrics and KPIs
Cons
It is only supported by SaaS

Not for mapping

No virtual reality is included in augmented reality features.
4. 
WebAR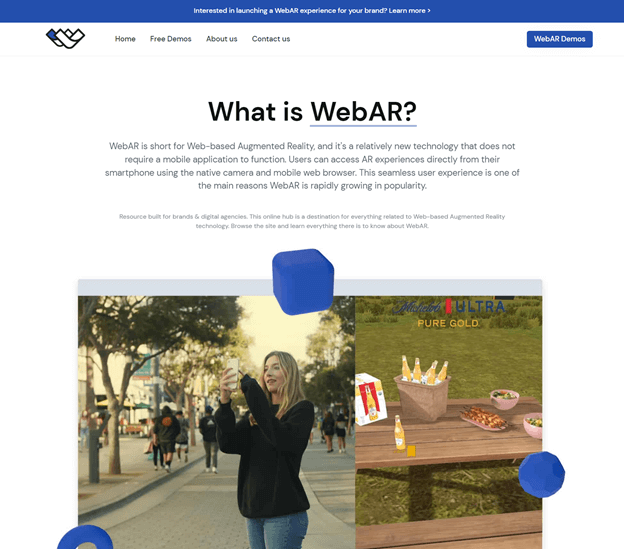 WhatIsWebAR.com was created to provide a complete resource for brands and agencies interested in learning more about using Web-based Augmented Reality in their businesses. WebAR technology has a very low entry barrier, as it can be used with a smartphone camera and a mobile web browser. The Metaverse encompasses a large portion of the events covered on this website.
Pros
WebAR product demo

WebAR gaming
Cons
It is only for learning about WebAR
5.
Create WebAR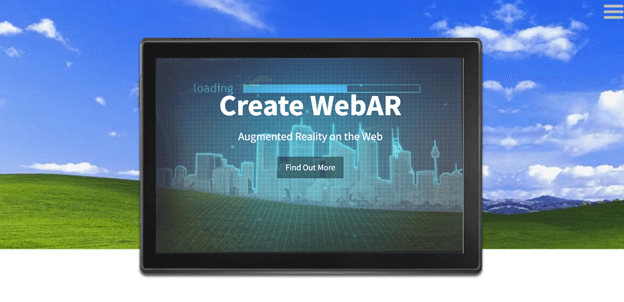 Create WebAR is a platform where users can access web-based augmented reality through the web browser using modern technologies including WebRTC, WebVR, WebGL and APIs. 
The selling point of this technology is the fact that a business can engage its customers in mobile augmented reality without the need to download an app. Brands can direct people to a hyperlink that immediately reveals the AR experience that they have prepared for them.
Pros
The threshold to view and distribute content is low.

Lower costs and higher flexibility.
Cons
Complex experience.

Fewer user interaction options.
6. 
MyWebAR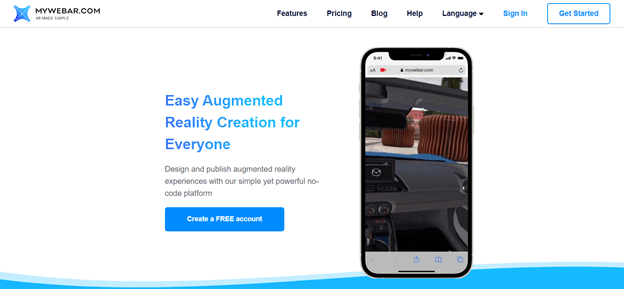 Create and share augmented reality experiences with photographs, videos, interactive material, and holograms using MyWebAR. This platform is the most cost-effective augmented reality solution since it can run on low-end laptops and Chromebooks. 
It allows users to view the products from the comfort of their own homes with an interactive product showcase that boosts engagement.
Pros
In-House Technology

In-House Technology-to-Use Edit

Easy-to-Use Editor

Cloud Storage

3D Models

Free account

QR code tracking

World tracking

Image tracking

Supporting Low-End and Legacy Devices
Cons
The platform offers a free trial but asks you to enter your credit card details.

 Less smoothly runs on older phones
7. 
ARGO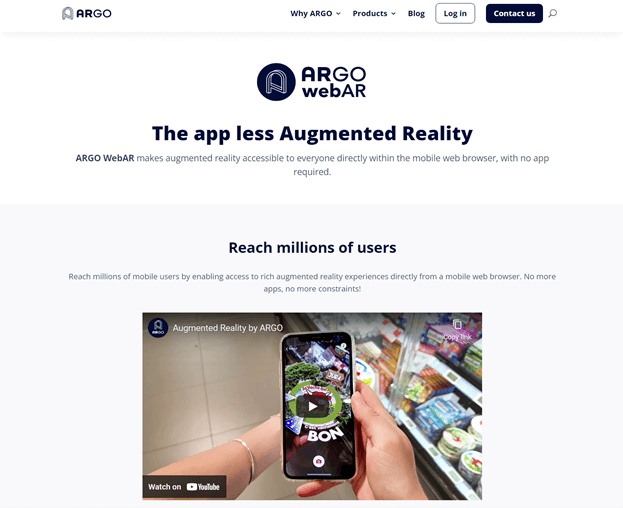 ARGO provides a robust native mobile solution (IOS/Android) with the mobile reference software ARGOplay, and as well as a WebAR-based alternative that allows you to access the experience straight from your smartphone or tablet's web browser.
The "corporate DNA" of ARGO includes augmented reality. ARGO offers a variety of professional solutions for converting digital or printed documents into interactive, traceable, and effective user interfaces. Point your phone's camera at it and scan it to see the hidden interactive content.
Pros
Training for Documentation

AML

Commercial Loan

Fraud Detection
Cons
The only supported platform is SaaS

No information about pricing
8.
EasyAR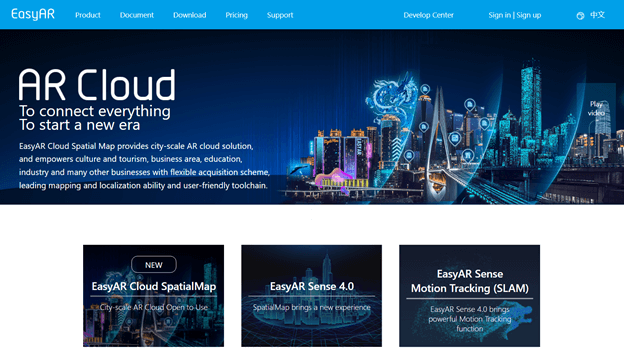 EasyAR is an augmented reality SDK that works across multiple platforms. An AR engine makes it simple to design AR solutions and provides a variety of AR functionalities.
It provides AR based on planar targets, smooth loading and recognition for over 1000 local targets, video playback using HW codecs, transparent video and streaming video, QR code detection, and tracking multiple targets at the same time. EasyAR SDK Basic and EasyAR SDK Pro are the two variants available.
Pros
It offers a free trial

Includes categories of augmented reality and augmented reality development.
Cons
No AML manager

No fraud risk manager
9.
WebAR Playground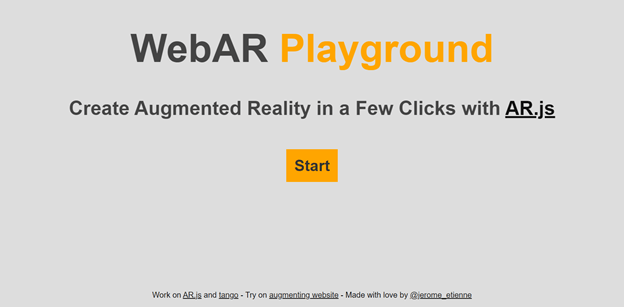 With a few clicks, you can build Augmented Reality with the Webar playground. You can make augmented reality right on your phone. When you create an object, you can place it wherever you like in the scene. To rotate, drag horizontally, and to scale, drag vertically.
They wanted to make it simple to develop augmented reality content that could be used by anybody, everywhere. WebAR Playground is aimed at non-experienced programmers and AR developers. It allows you to share your extended reality material with anyone, anywhere on the internet, by simply clicking on a URL.
Pros
No subscription or account

You don't need to understand 3d or programming to use it
Cons
It cannot be used for documentation.
10.
ARWL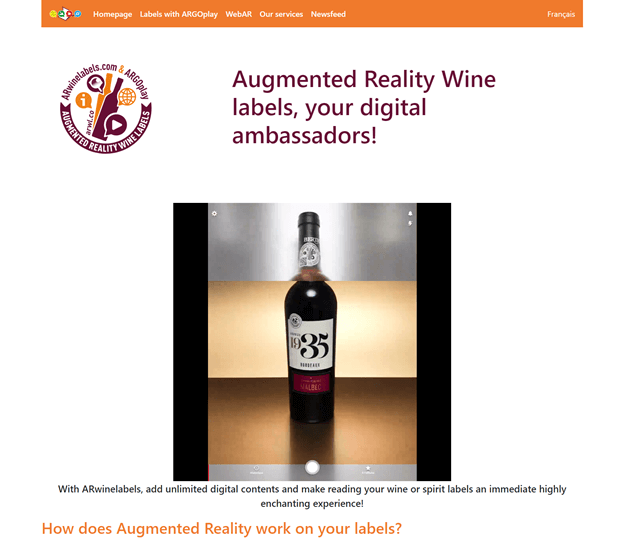 On wine and spirit bottles, augmented reality (AR) allows you to see and interact with material such as vineyards, wine growing regions, food and wine pairings, recipe recommendations, and more. Simply download the ARGOplay app for free and scan the associated label with a smartphone or tablet. 
Images, words, videos, and 3D animations will appear on your wine or spirit label right away, enriching it to your liking.
Pros
It aids in the decision-making process and encourages participation

Labels in multiple languages

Wine and liquor labels have their WebAR.
Cons
Not for documentation

For branding only
Conclusion
When comparing WebAR to the traditional mobile AR technology, there are a few limitations you'll want to keep in mind around graphic fidelity and frame rate. When using WebAR, you are restricted by your user's network connection speed. Detailed 3D models and large scenes containing high levels of information can lead to a superb user experience. 
You will want to make sure you follow all the best practices around compression when developing a WebAR experience. A good developer should also program a fallback solution for those users tapping in on slow connections or out-of-date phones.
More tips also read: Top 10 Best AI-based Heatmap Generators for Website Analysis.