Though not noticed by most, it is a fact that making music is an extremely complicated and intricate process. Similar to building a complex structure, music involves a lot of sounds and instruments. Therefore, having a song splitter to isolate vocals from song, as well as other sounds such as drums, bass, etc can be an amazing help to song makers. The Splitter.AI app is a music splitter that allows you to break down songs into five essential parts and you can download each to remix them. Even if you are not a musician, you can use this application to isolate vocals and get yourself the instrumental version of any song you want.
What is Splitter AI?
Splitter AI is an open-source application online that makes use of AI-based technologies to isolate vocals from song as well as other sounds such as drums, bass, synths, piano, etc. Splitter AI is a must-have application for those who want to do some post-production on their own songs. You can get each sound downloaded and then edit them separately to see how it affects the song. While Splitter doesn't support the use of unlicensed songs, you can nonetheless purchase a song and upload it on the website. If there is a song whose tune you want to be separated from its vocals, you can use Splitter AI and get the instrumental within a matter of seconds.
How to Isolate Vocals with Splitter AI?
Now we will look at how to isolate vocals by making use of the Splitter AI online application. To access the website, you can use this link.
1. Once you click on the above link, you will be taken to the official website of Splitter. From there, you can scroll down to read about the tool, including the rules. To get started, you will need to select the mode of process or model, that is, the 5 stem model, 2 stem, unverb, etc. To remove vocals, choose the 5 stem model. Use the upload box to select the song file and upload it. Make sure the audio file is within the limits mentioned in the upload box.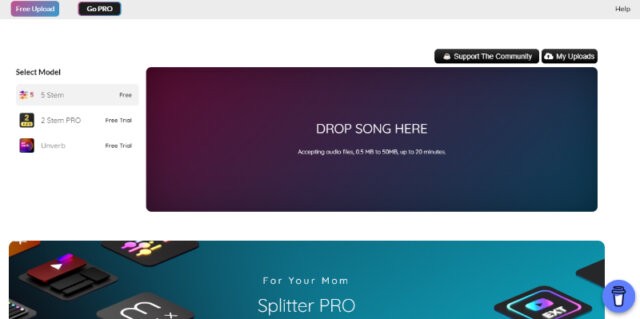 2. Once you upload the file, the box will read "uploading" and display a donation pop-up. You can close that and wait as the application processes the file.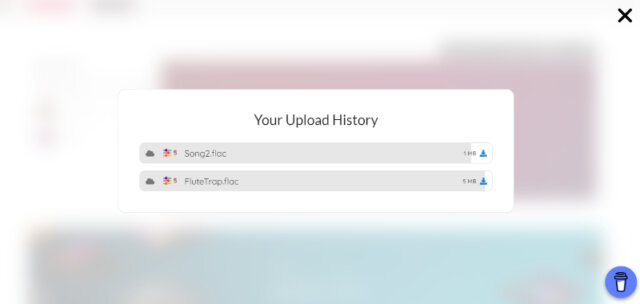 3. Finally, you can use the Upload History button to view all the files that you have uploaded on the server. It will list out the files. If the file is ready for download, you will see the blue download icon on the right of the song. Click on it to download the file.
Conclusion
There you have it. Splitter is an excellent song splitter application that you must have in your inventory of music-making tools because of how fast and reliable it is. Not to mention that the Splitter AI development team is constantly looking at how to improve Splitter and which features to add. There are even more features such as reverb removal, 2 stem Pro removal, etc to look forward to. Additionally, users will be able to use Splitter as a Chrome Extension.
FAQs
1. Is Splitter AI free to use?
Currently, Splitter AI offers a few essential features such as 5 stem model, 2 stem Pro model, and Unverb for free or under a free trial, which is enough if you want to isolate vocals and other instrumentals such as drums, bass, piano, etc. If you want access to all of its features, you need a Pro account.
2. What are Splitter AI's alternatives?
You can check our Top 10 Best AI Vocal Remover Review 2023 list for many Splitter alternatives. You can use most of these tools since they are free and have different UI designs and features that may suit you better.
3. How does it work?
Splitter AI is based on the Deezer technology, which is based on AI and helps in dissecting music with detail. The best thing is that applications based on this technology are really easy to use as well. You can find a great guide to Deezer here: