AI voice generators enable realistic voice cloning for branding, games, films, audiobooks, and voice assistants, transforming text-to-speech and creating custom AI voices with ease and efficiency.
People frequently find themselves in circumstances where they must imitate or duplicate the voices of celebrities, other people, or even themselves in today's fast-paced society. speech cloning used to be a difficult procedure that required a lot of resources and speech samples. However, it is now much easier to produce deep-fake voices with accurate emotions and intonations because to developments in AI and voice synthesis technologies.
This review tries to address the problems with conventional voice cloning techniques and offer fixes using best AI voice generators, some are even best celebrity voice generators. We'll help you create personalized AI voices with the least amount of time and expense by providing an unbiased and knowledgeable viewpoint on the newest tools.
Know more about: What is speech synthesis?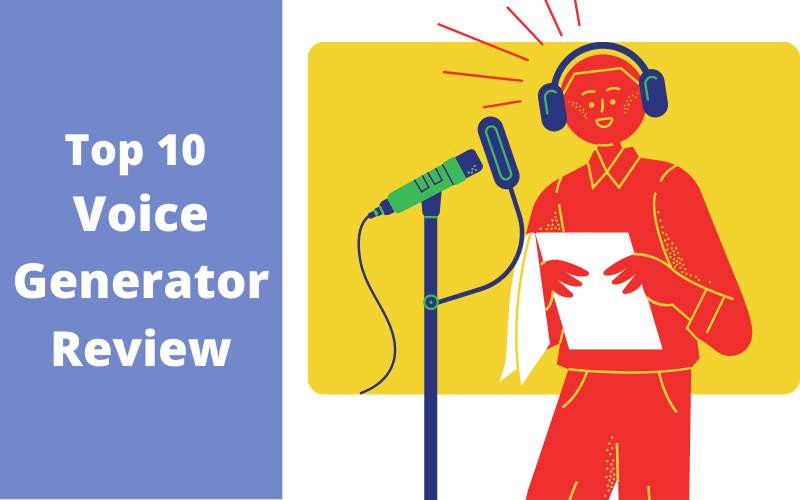 Top 10 Voice Generators Review
Voice cloning might sound a little scary to some. But it can bring real benefits to businesses and individuals. AI voice generators have wider applications in commercial areas than personal entertainment. AI generated voice can be used for branding, games, animated films, audiobooks, and voice assistants. This article will look at the top 10 voice generators. They include AI powered voice generating tools that generate deep-fake voice and robot voice generators that are fun to experiment with. The rest can help you generate celebrity voices or character voice easily based on text to speech technology.
| Product | Price | Language Support | Custom AI Voice Creation | Text-to-Speech | Free Trial |
| --- | --- | --- | --- | --- | --- |
| Murf.ai | Free / Contact for Pro | 120+ languages | No✗ | Yes✓ | Yes✓ |
| Veed.io | Free | Limited | No✗ | Yes✓ | No✗ |
| LOVO | Starts at $4.99/month | 25+ voices, 15 languages | Yes✓ | Yes✓ | Yes✓ |
| Resemble.ai | Start at $30/month | 50+ voices,20+ languages | Yes✓ | Yes✓ | Yes✓ |
| Replica | Pay as you go pricing | English only | Yes✓ | Yes✓ | Yes✓ |
| Voicery | Contact for Pricing | Multiple Languages | Yes✓ | Yes✓ | No✗ |
| Lyrebird | Integrated With Descript | Multiple Languages | Yes✓ | Yes✓ | No✗ |
| Robot voice generator | Free | Limited | No✗ | Yes✓ | Yes✓ |
| onlinetonegenerator | Free | English only | No✗ | No✗ | Yes✓ |
| Natural Reader | Free to $79.5/year | Multiple Languages | No✗ | Yes✓ | Yes✓ |
Our ratings are based on objective assessments, considering factors such as price, languages, Custom AI Voice Creation, and its pros and cons. Please note that product information may be updated, but we will keep the articles as up-to-date as possible.
1. Murf.ai
Notable features: Cloud-based, realistic text-to-speech, 120+ languages.
Rating: 9/10
Murf.ai is an efficient cloud-based voice generator designed for content creators, making it ideal for producing voice-overs for YouTube videos, podcasts, advertisements, presentations, e-learning content, and more.
Utilizing AI and deep machine learning technologies, this AI voice changer generates ultra-realistic voice-overs in over 120 languages, making it highly versatile.
However, its free plan is time-limited, which could be a drawback for some users.
Pros
You can sample the service for free for a short period.
It has a strong AI voice generator that can produce high-quality voice-overs with no effort.
When compared to other goods on the market, it is cheaper for professional users.
Cons
The free plan has a time limit.
2. Veed.io
Notable features: Free text-to-speech reader, audio and video to text conversion, video editing options.
Rating:  7/10
Veed.io is a reliable text-to-speech reader, best suited for content creators who need to convert text to audio and incorporate it into their videos for platforms like YouTube.
This ai voice changer allows users to convert both text to voice and voice to text, making it highly functional. Additionally, it offers robust video editing options for customizing content.
Despite its versatility, the voice cloner's complexity due to its multiple features might make it more challenging to use compared to simpler alternatives.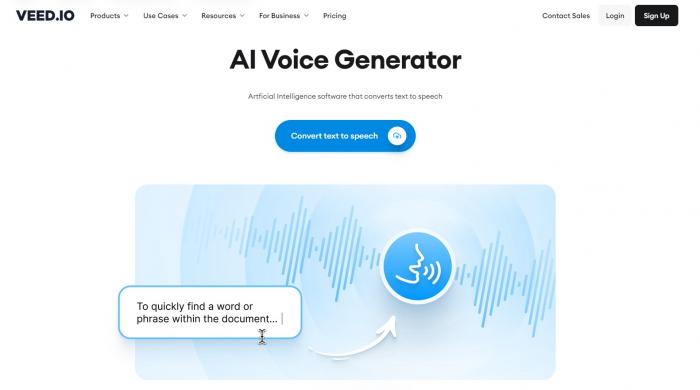 Pros
Both text to voice transfer and voice to text transfer is available
Fast to process
Cons
The operation may be more complex than a typical tool because it has more functions
3. LOVO
Notable features: Personal AI voice creation, 50+ voice skins, voice cloning technology.
Price: $19.99/ Starter; $34.99/ Personal $99.99/ Freelancer
Rating:  8/10
LOVO, ideal for creating personalized and emotionally connected voices, is a powerful AI voice generator backed by text-to-speech technology.
With 50+ voice skins to choose from, each with unique traits to fit different content styles, the free voice changer adopts voice cloning technology that requires just 10 minutes of a target voice for customization.
A downside to LOVO is that it requires signing up to access the free trial service, which might deter some potential users. For more information about Lovo AI click here: How to Use Lovo To Create Realistic Voiceovers?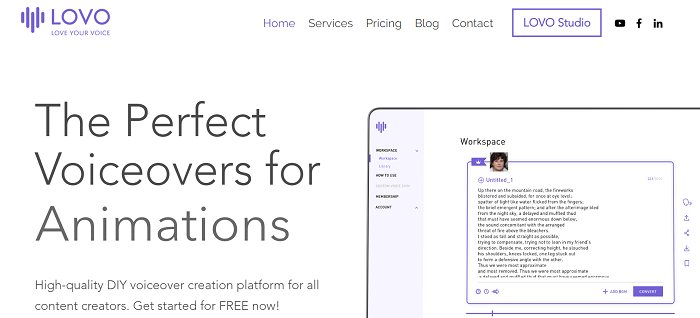 Pros
Create AI voice
50+voice skins
Powered by AI
Cons
4. Resemble.ai
Notable features: AI Voice building, deep fake voices, human-like emotions and intonations.
Price: Entry $24/month; Professional $449/ month
Rating: 8/10
Resemble.ai allows users to build their AI Voice using pre-existing audio data, making it ideal for content creators who need realistic voice-overs with human-like emotions and intonations.
The AI voice changer enables users to record 50 sentences or upload raw audio data directly, generating deepfake voices quickly and efficiently. Read our newly released and detailed review about Resemble AI
A drawback of this tool is the requirement to sign up to access the free trial service, which could discourage some users.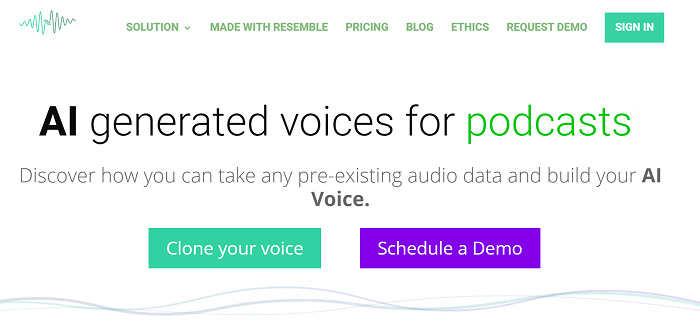 Pros
Generate human-like voices
Fast speed
Cons
5. Replica Voice Library
Notable features: AI-powered natural voices, multiple voice styles, creative project-oriented.
Price: $16/month
Rating: 8/10
Designed for creative projects, Replica is an AI voice generator that enables users to create unique AI voices by capturing speech patterns, pronunciation, and emotional range of provided audio samples.
Also as a character voice generator, the ai voice changer offers a range of voices in its library, allowing users to find the perfect voice for their projects, such as animations, advertisements, gaming, ai voice generator celebrity and voice apps.
While Replica offers useful features in the free plan, it requires signing up, which might be an inconvenience for some potential users.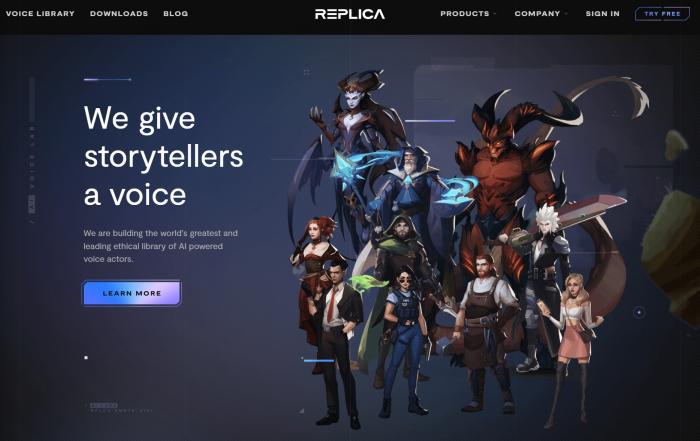 Pros
Generate AI voice
Offer free trial
Choose different voice styles
Cons
Notable features: Customized branded voices, AI and deep learning powered, business-oriented.
Free & Paid Price: 0.001/character for starter
Rating: 8/10
Voicery is a powerful AI voice generator designed for businesses, offering customized branded voices with accents and emotions for applications like automotive, voice assistants, call centers, and audiobooks.
Committed to helping businesses create digital voices with warmth, emotion, and charisma, Voicery utilizes AI and deep learning technologies to achieve realistic voice generation.
A potential downside to Voicery is that it is not intended for personal use, making it less suitable for individual content creators or casual users.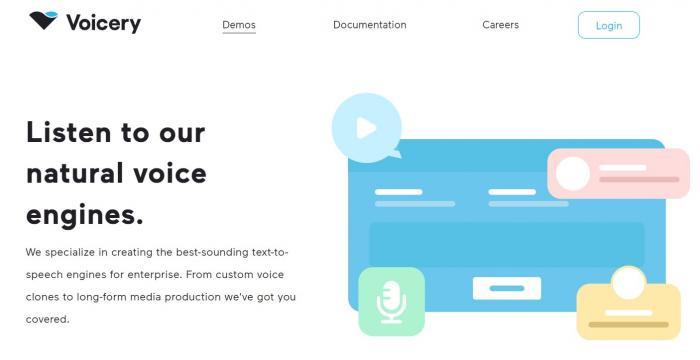 Pros
Free to try different voice styles and speakers
Focus on branded voices
Cons
Notable features: Digital voice creation, small audio samples, AI-powered.
Rating: 7/10
Lyrebird enables users to create a digital voice that mimics their own from a small audio sample, making it perfect for personalized voice applications.
Equipped with AI-based voice synthesis technology, this free voice changer controls the emotion of the generated voice, offering increased versatility and customization.
A limitation of Lyrebird is that it is not easily accessible, as users must contact the platform to access voice cloning services.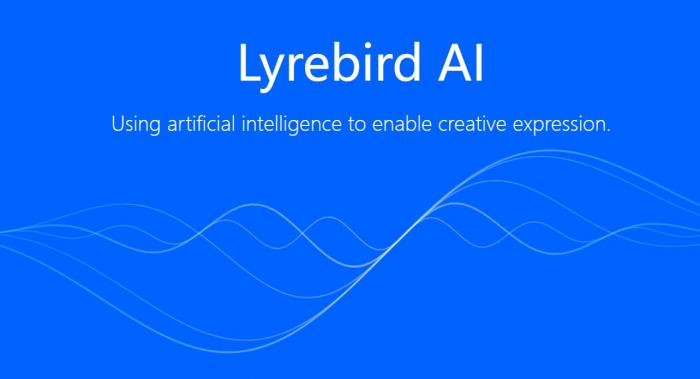 Pros
Create digital voice
Use small audio samples
Powered by AI
Cons
Also read: Lyrebird AI Review – Create A Digital Voice of Yourself with AI.
8. Robot voice generator
Notable features: Text-to-speech, pitch and speed adjustment, fun to use.
Rating: 8/10
Robot voice generator from Lingojam.com is a fun and free tool that allows users to transform their text into robot voices.
This generator enables users to adjust the pitch and speed of the robot voice, providing a customizable experience. Additionally, it allows for downloading audio files with a single click.
A drawback of this tool is its lack of support for multiple languages, limiting its appeal for non-English speakers.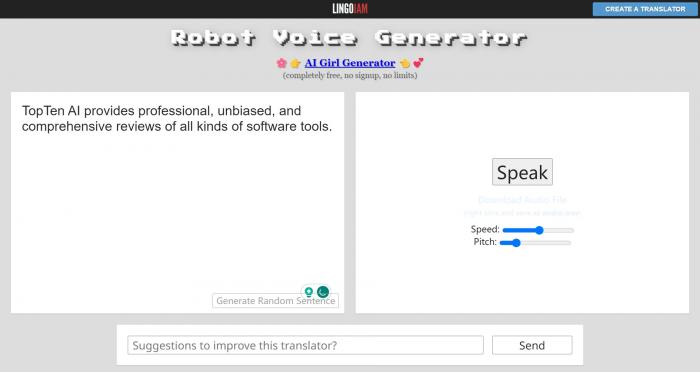 Pros
Shift text to speech
Serve as robot voice generator
Download audio files
Fun to use
Free to use
Intuitive interface
Cons
Not support multiple languages
9. onlinetonegenerator
Notable features: Free, easy to use, and supports different languages.
Rating: 6/10
Onlinetonegenerator is a helpful online voice generator that can quickly turn text into speech in various languages.
The tool is free and easy to use, requiring users only to enter text into the box and listen to the computer-generated voice with a single click.
However, it does not support voice cloning, and its compatibility with browsers like Firefox and Internet Explorer is limited.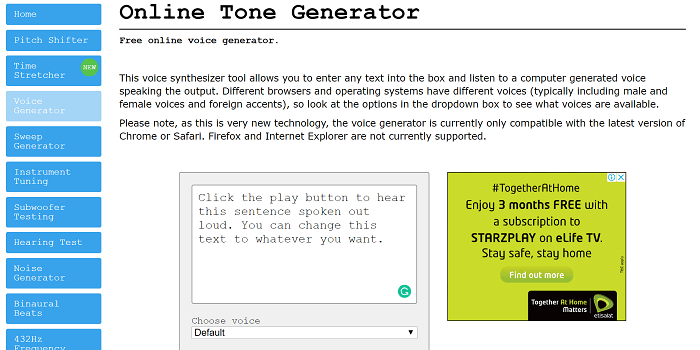 Pros
Free to use
Easy to use
Support different languages
Cons
Not support voice cloning
Not compatible with some browsers, like Firefox and IE.
10. Natural Reader
Notable features: Easy to use, text-to-speech converter, emulates human-like speech.
Rating: 8/10
Natural Reader Online is a powerful and user-friendly voice generator that can convert any written text into spoken words.
It offers two types of free voices, while the paid version provides a wide variety of voices to choose from. The tool supports uploading documents for added convenience.
The downside of Natural Reader is that its free plan offers limited features, potentially restricting its appeal to users seeking more extensive functionality.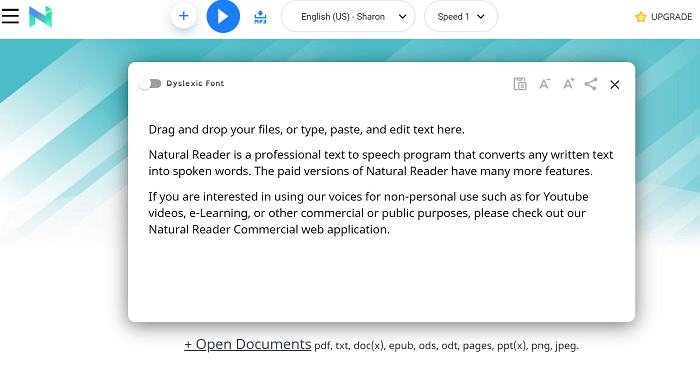 Pros
Easy to use
Text to speech converter
Emulate human-like speech
Cons
Free plan offers limited features
Summary
By leveraging advancements in AI and deep learning technologies, these voice generators have revolutionized the way we approach voice recording and synthesis. From cloud-based solutions like Murf.ai and Veed.io to personalized voice creation with LOVO and Resemble.ai, each tool brings its unique set of features and capabilities.
While AI voice generators have become more accessible and user-friendly, it is crucial to consider ethical implications and ensure responsible use of voice cloning technology.
In summary, this article has provided an in-depth analysis of the best AI voice generators of 2023, showcasing their features, strengths, and potential applications. Whether you're a content creator, marketer, or simply looking to experiment with voice generation, this review will serve as a valuable resource to help you make informed decisions and elevate your projects to new auditory heights.
If you want to know more similar voice products, you can also check out Eleven Labs.
How to deep fake a voice with those Voice Generators?
1. Visit an AI Voice Generator's website or app and create an account sometimes.
2. Access the voice cloning feature.
3. Select the target voice you want to imitate.
4. Provide training data and let the AI model process it. Generate deep-fake voice recordings by adjusting parameters.
Can you Deep-fake a voice?
Thanks to AI technology, it's possible to deep-fake a voice now. Check out this video to see how to use Lyirbird AI voice generator to clone the voice. Remember to use this technology responsibly and ethically.