Have you ever thought of producing high-quality videos fast and quickly in large quantities? This can be a problem because from time to time video makers may face inspiration exhaustion. Or maybe you are an amateur video enthusiast but don't have the professional equipment and time to learn professional video production experience. You may face the above scenario. In this case, AI can be a good helper for you.
Hour One is a state-of-the-art AI video generator that can help you save time and money by turning any content into high-quality, presenter-led videos in minutes with editing or design skills needed.
Overview of Hour One


Hour One Homepage

Platform: Online (Browsers) / iPhone / Android

Hour One offers an AI-powered video generator featuring engaging, photo-realistic virtual presenters. It serves as the perfect solution for businesses seeking to effortlessly, rapidly, and cost-effectively generate compelling product videos on a large scale.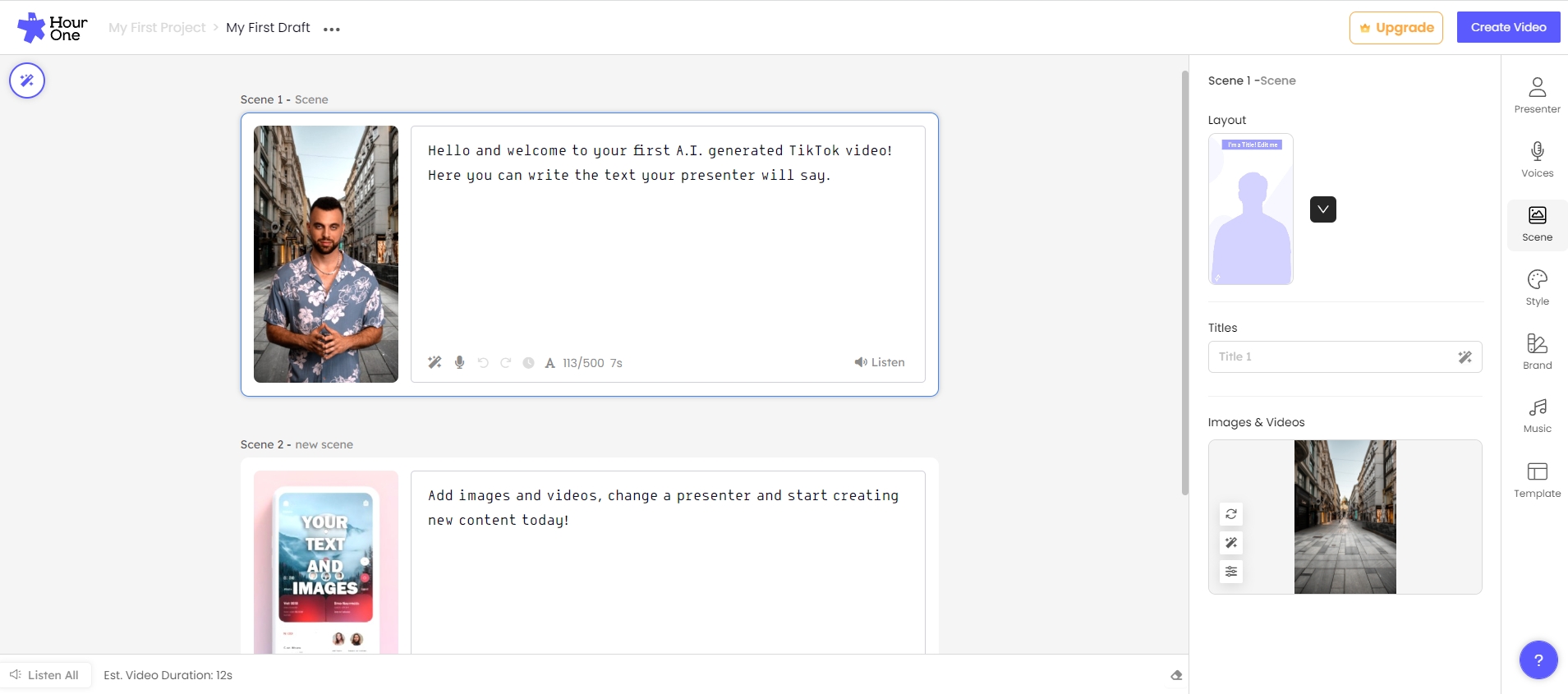 Hour One's Interface

The entire process is very simple and easy to start. All you need to do is pick your character and theme setting, type in your text for the AI character to voice out, and your video will be generated in a matter of minutes, which can easily achieve text to video.

You can connect the Hour One AI video generator to your preferred workflows and simplify your video creation and publishing process by integrating it with PowerPoint, OneDrive, and more. 
Basic Features of Hour One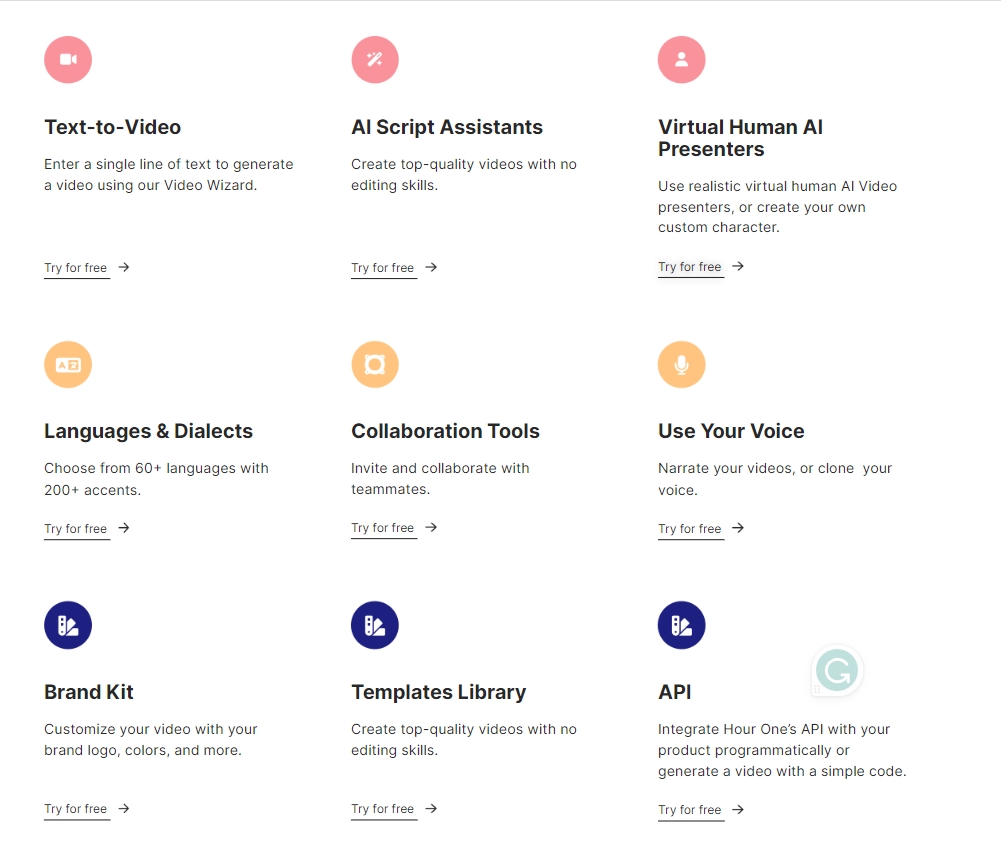 Hour One's Features

Hour One is very powerful with multi-function. You can upload and use the existing images, videos, and PowerPoint slides. Moreover, you can define branding, from logos to colors and fonts, and create videos in multiple languages. You also can select the languages from the library and add them to your text. With Hour One you can download the video as an mp4 or use the embed code to share it on social channels or add it to your website, landing pages, product description, ads, and e-commerce store.

1. AI Virtual Humans Presenters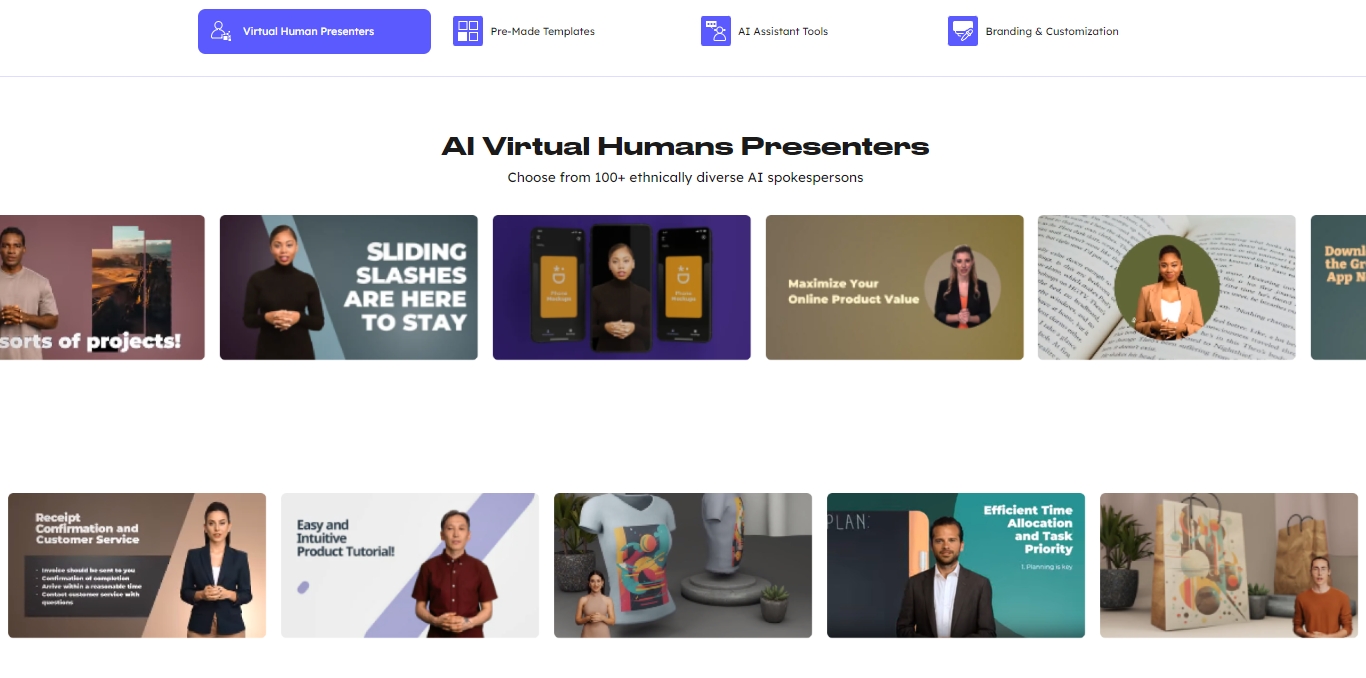 Hour One's Virtual Humans Presenters

Hour one provides 100+ ethnically diverse AI spokespersons and continuously adds more. You can choose from different voices, tones of voice, fluency, and accents to apply the preferred vocal combination to characters. Its built-in AI character generator function. With Hour One's AI character generator, you can create your custom AI virtual presenter with a custom voice. With Hour One, you can produce high-quality videos without the need for professional videographers or expensive equipment.

2. Text to Video

With Hour One AI video generator, you can enter a single line of text to generate a video directly, using the AI video wizard. This means you don't have to position the audio track and create subtitles later like traditional video production, which is time-saving and cost-effective.
Outstanding Features
Featured

  API Integration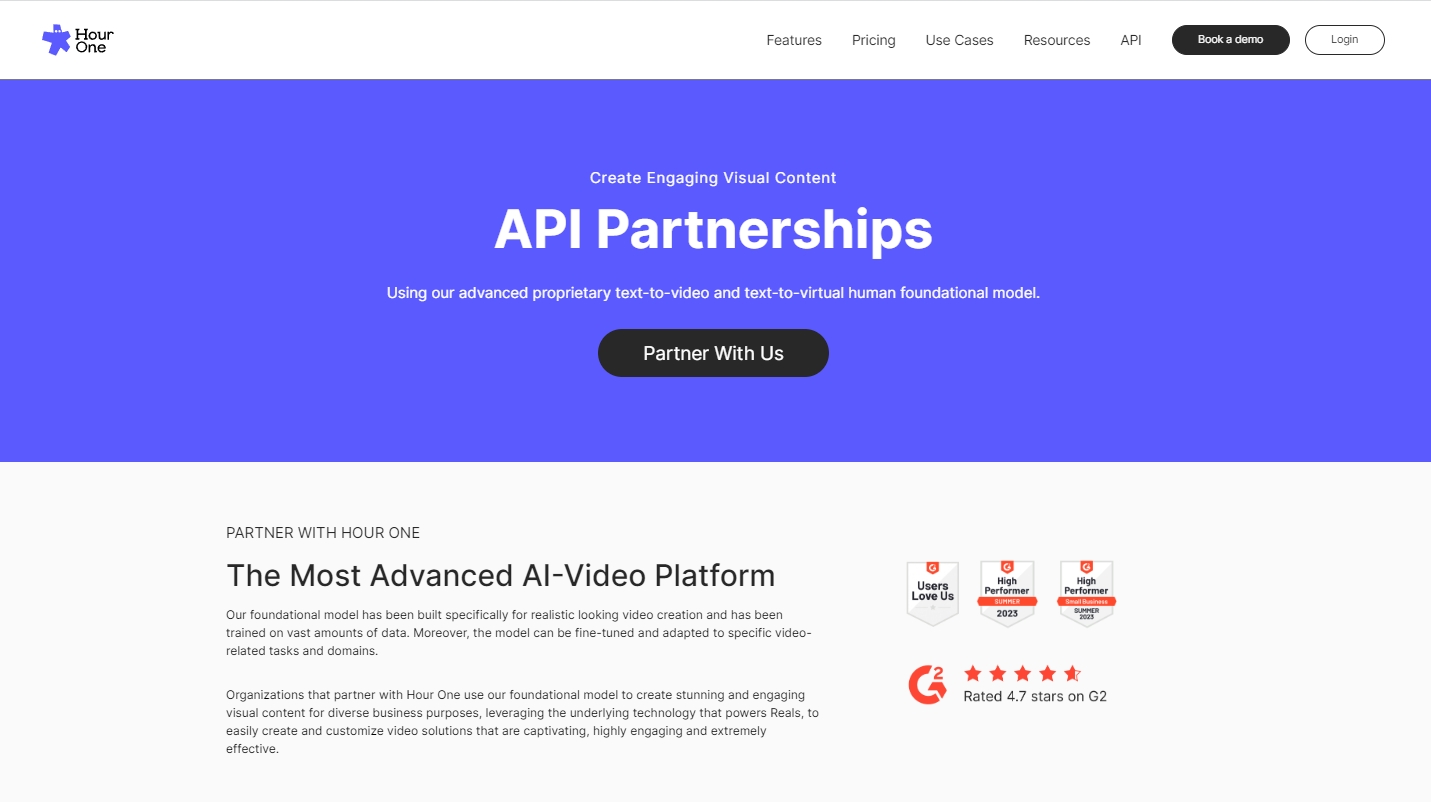 Hour One's API

Hour One provides an API that allows developers to integrate AI video generation capabilities into their own applications, websites, or software. This feature extends the utility of the Hour One AI video generator beyond its user interface and empowers developers to harness AI training video generation abilities to enhance their own products or services. With a paid subscription and an API system, users can not only have an AI training video generator ready to use at their convenience but can also work together with other people on big projects. 
Featured

  Free Templates

Hour One's Free Templates

Using the template provided by Hour One, you can easily create top-quality videos with no editing skills.
You can get access to a variety of templates for different use cases. If there is nothing that makes you most satisfied, you definitely can get a customized one with the AI character generator function. Custom templates can be set up with apt text to video.

If you still need more inspiration for AI video tools, you can refer to our AI tool directory.
Why Editor Picks?
Having thoroughly tested the Hour One AI video generator multiple times, it can confidently be stated that it is an excellent platform that should be experienced by virtually all video creators, it is a really good AI text to video tool for creators. Its interface boasts a remarkably user-friendly and neat design, guaranteeing a pleasant experience even for beginners. The intuitiveness of its interface allows anyone, regardless of expertise, to effortlessly explore and grasp its functionalities. Whether you possess extensive knowledge as a video creator or are a complete novice, Hour One's accessibility guarantees a seamless utilization of AI-powered video generation capabilities.
Our Suggestions
Hour one is suitable for many scenarios, like video marketing,  sales enablement, e-commerce, real estate, or other situations where video production is required in work or life. Hour one AI video generator makes it easy to create professional text to videos.
For more professional users, by subscribing and utilizing our paid service and API platform, users can access a versatile AI training video generator that can be conveniently utilized. Moreover, our system allows users to collaboratively engage with others on significant projects, fostering collective productivity.
If you have unique insights and further needs for AI video production, you can also check out the Top 12 AI Video Generators Review to learn about other similar apps to inspire you.
Conclusion
In summary, our evaluation of Hour One showcases its impressive capabilities, intuitive interface, and wide array of functionalities. It provides a smooth and effortless video production experience, empowering users to craft videos of exceptional quality. The Hour One AI video generator emerges as a valuable asset for content creators, marketers, and individuals seeking to elevate their video endeavors.
However, some users may find the free version limited in terms of advanced features. Overall, Hour One is highly recommended for its potential to improve your video production quality and efficiency while saving costs.
If you are looking for similar products for comparison, you can also refer to Gen-1.
FAQs
1.  What type of training does Hour One provide?
Hour One provides training in the form of documentation, in-person, and videos.
2.  What languages does Hour One support in their product?
Hour One supports these languages: English, French, and Spanish.
You can find many more excellent AI applications at TopTen.AI.