Color Retouch Tools can enhance the beauty of images by adjusting exposure, white balance, and color. This article reviews the top 10 Color Retouch Tools online, including VanceAI, Skylum, Topazlabs, Autoenhance.ai, etc.
The finest picture editing software will be different for everyone. Some photographers want a vital organizational tool, while others require one-click creative effects and inspiration. Yet, others require the technical perfection and Color Retouch Tools that only the most excellent RAW processing can deliver.
Some require deep color retouching and strong compositing capabilities that can only be found in a traditional picture editor like Photoshop. Editing your images before publishing them to your photography website is vital whether you're a novice or a master. This post will go through the finest picture editing software for photographers.
We have discussed the most excellent Color Retouch Tools and photo editing software in this post that may assist in bringing emphasis to an image, highlighting crucial topics, and transforming an ordinary photograph into something extraordinary.
Why Do You Need to Edit Your Photos?
A photographer's employment includes photo editing and color retouching. Editing your images may enhance their beauty by changing exposure, white balance, and color.
Editing photographs also helps minimize image file size. This is crucial if you want to upload your pictures to a photography website or social media. Smaller photos enhance site loading speed, which improves search engine rankings. Smaller picture files post quicker and better on social media.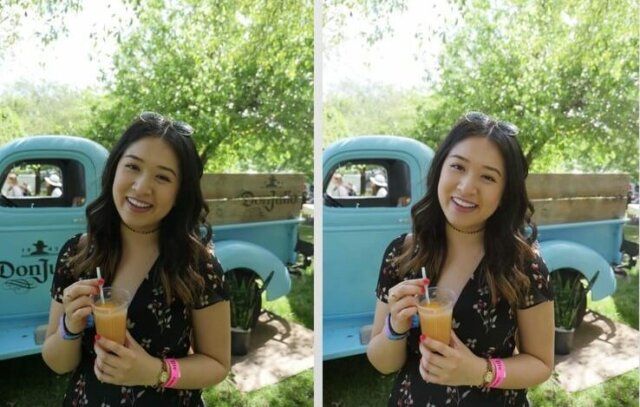 So photo editing is a win-win-win!
Having an intuitive and easy-to-use picture editing software and Color Retouch Tools may save you time while improving your photographs. Explore the finest picture editing tools available today. We'll be judging these apps on three key points:
Usability
Functionality
Expansion Possibilities
How easy are these programs to learn? What talents do they have as picture editors and Color Retouch Tools? Finally, do they allow for the insertion of plugins or presets to enhance their functionality?
Let's see what these color retouching tools can achieve!
Top 10 Color Retouch Tools Online
This is a general overview table made by us, if you want to see our more detailed review, please keep reading:
| | | | | |
| --- | --- | --- | --- | --- |
| Product | Price | Main Features | Processing Speed | Suitable for |
| VanceAI | Free, $9.90/$19.90 per month | AI-based retouching, colorization, deep learning techniques | ★★★★☆ | Novice to Pro Photographers |
| Skylum LuminarAI with Skylum | $89.00 | AI-enabled photo editing, skin and facial feature enhancement | ★★★★☆ | Novice to Pro Photographers |
| Topaz AI | $79.99 for lifetime license | AI-based noise reduction, batch mode for preserving details | ★★★☆☆ | Pro Photographers |
| Autoenhance.ai | $9.99 per month | AI-based photo enhancement, image perspective correction | ★★☆☆☆ | Novice Photographers |
| Lunapic | Free | Web-based image editing with practical tools | ★★☆☆☆ | Novice Photographers |
There are several color retouch tools online and picture editing software alternatives available, ranging from well-known systems like Vanceai and iPiccy to basic yet effective ones like for. There are also some excellent choices.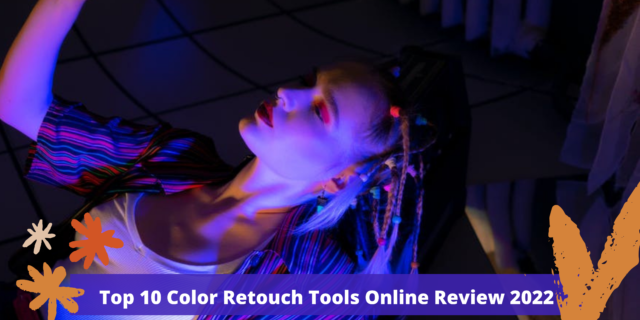 So, in today's piece, we'll answer the question, "what are the finest picture color retouching tools and editing software for photographers?" once and for all. We'll take a look at:
Top-rated picture editing software, both free and paid, is available today.
Each picture editing program has its own set of features.
How to Make the Most of Your Photo Editing Software Options?
Online Photo Retouching using AI Photo Retoucher
Price: Free, Basic ($9.90/mo), Pro ($19.90/mo)
Compatibility: Online
VanceAI Photo Retoucher allows you to retouch images up to DSLR camera quality easily. Automatically adjust photo brightness, color saturation, contrast, and other parameters. There are no halos or artifacts.
VanceAI helps you to turn ordinary phone images into something spectacular. Our photo retoucher can use deep learning and AI photo retouching techniques to bring out more color saturation, contrast, and details in seconds.
Pros:
Online colorization of black and white photographs
Deep neural organizations may restore stunning color to photos.
Provide a free trial of 5 pictures
PSD format is available to professional users.
Cons:
Inadequate editing tools
A few balances are available to colorize black and white photographs for free.
AI-enabled picture editor
LuminarAI with skylum is awesome and quicker.
Your straightforward picture editing app for PC and Mac.
In 12 seconds, you'll have a good look at your photo. Create a single style for your photographs and apply it to the entire series. You may now easily maintain a familiar Instagram account appearance or alter a slew of event photographs on the fly.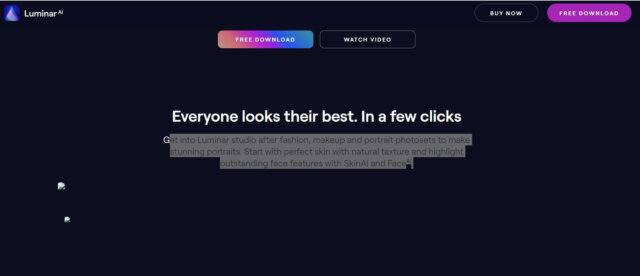 After fashion, beauty, and portrait photoshoots, enter the Luminar studio with skylum to create breathtaking photographs. Begin with flawless skin with natural texture and use SkinAI and FaceAI to accentuate remarkable facial characteristics.
Pros:
Excellent value for money
It saves a significant amount of time.
Excellent integration abilities
Simple to use
Cons:
There is no keyword tagging.
There is no metadata management.
It takes some time to export images.
Pricing: $79.99 for a lifetime license.
Continue to improve image quality with your existing tools without making any changes: Topaz AI picture enhancement software integrates seamlessly into your current post-production workflow. Our AI engine will automatically optimize your computer's processing performance.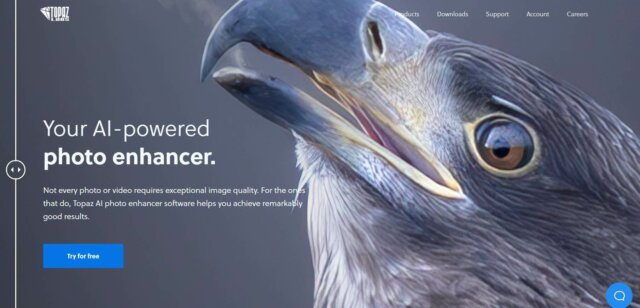 Regular image processing "filters" your photo or video using complicated mathematical procedures. This frequently removes details while increasing noise/artifacts. AI is fundamentally different in that when applied appropriately, it may improve photo quality while remaining natural.
Pros:
Noise reduction that works
Batch Mode preserves and improves detail
Support for RAW and DNG files
User-friendly interface
30-day risk-free trial
Chat assistance
30-day money-back guarantee
Cons:
High system requirements are required.
After a year, paid upgrades are available.
The raw AI model needs improvement.
Slow procedure
AI photo editor that improves your productivity
Don't waste time retouching your photos.
We outperform manual editing by order of magnitude.
Their artificial intelligence discovers aspects in your photographs that require alteration. You will receive pictures modified to professional quality, whether it replaces sky, relights your images, or correct perspective.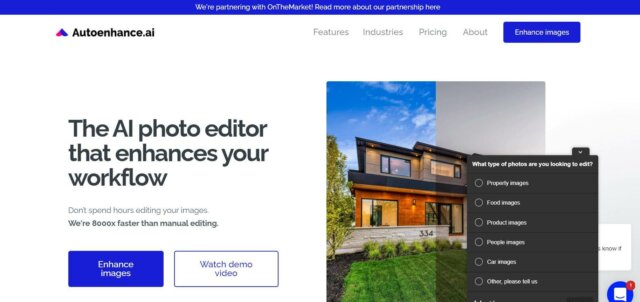 Submit your photographs to their online interface, and our AI photo enhancer will take care of the rest. You will immediately receive photos that are available for download.
Pros:
Convert smartphone photographs to DSLR camera quality.
Deep learning can automatically improve color, detail, saturation, and contrast.
Cons:
It is not desirable to manually revise the photo or add any effects.
Inadequate editing tools
It's one of the most promising online photo editing services. It has several useful features. Users may edit and arrange photographs in Lunapic according to their tastes. It gives practical tools for manipulating images. Because it is web-based, the user does not need to download or install any software. Users only need to go to the internet portal and begin modifying photographs.

Pros:
Easy to use
There are no restrictions or bugs.
Various effects and text overlays are available.
Sharing with a single click
Internet-based service
Cons:
Designs that are boring and outdated
Several page refreshers
Maximum image size constraints
AI photo editing for markets of the future
With higher-quality images, you can onboard suppliers faster and increase revenues.
Enhance graphics on the fly with our picture post-processing software tailored to your specific requirements. By automating your image processing operations, you can ensure that all of your drawings are high quality and consistent. Accept merchants more quickly and with a better acceptance rate. Convert all of your photographs into sellable images.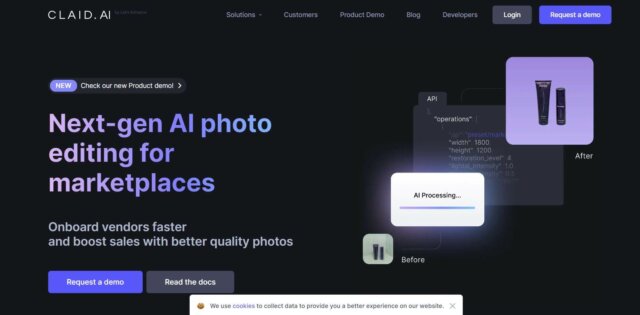 Despite being entirely dependent on AI, it can alter color and tone and improve the picture without significant wait time.
Pros:
Simple to use
There are no limitations or bugs.
There are several effects and text overlays available.
Simple sharing with a single click
Website-based service
Cons:
A few page refreshers
Maximum picture size restrictions
Price: Both free and paid ($8.99/month, $39.99/year).
Online compatibility
Fotor is not as sophisticated as Photoshop or GIMP. However, this free online photo enhancer would suffice if your requirements are minimal. Although there is no clone brush or healing tool, several editing tools are accessible, such as applying filters and text, changing saturation, color, contrast, light, sharpening images, etc. You may modify the photo manually or use One-tap Enhance to improve it automatically. One of the finest elements of the game is the tilt-shift tool.

Pros:
Simple to use
Processing in batches
High-quality filters
Cons:
Export formats are limited (JPG, PNG, PDF)
AI-Enabled Image Editing Platform
With their AI-powered editing tools, you can boost your company by generating gorgeous photographs in seconds, directly in your browser and through an API.
They are designed with your company in mind. You may freely share workflows, editing requirements, and image outcomes without user account limitations. Set individual permissions and top up your team's account with a single click.
Pros:
User-friendly service
Editing in bulk
PSD format export
Background removing functionality
Cons:
Not appropriate for intricate artwork
Price: This is free software
iPiccy is a picture editing software option similar to the tools used by photographers and graphic designers. It provides an opportunity to modify images online. It implies that this utility is compatible with all operating systems.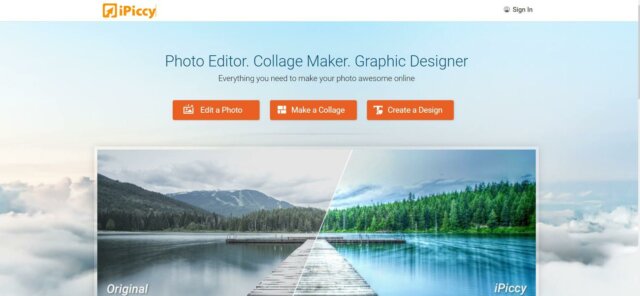 Pros:
It is possible to import and export content
Editing in real-time
There is also the option of sharing content.
Cons:
There is nothing unique about it.
Users can only use the one-time sharing option once.
Pixlr is available for free and for a monthly fee of $3.99.
Windows, macOS, Linux (in browser), Android, and iOS are all supported.
This online photo editor allows you to make subtle changes to colors and saturation, improve blurry photographs, and apply vignette effects and frames. You can erase a portion of the image or relocate it to a separate layer. Pixlr can assist you with numerous picture editing difficulties by providing various painting and drawing tools.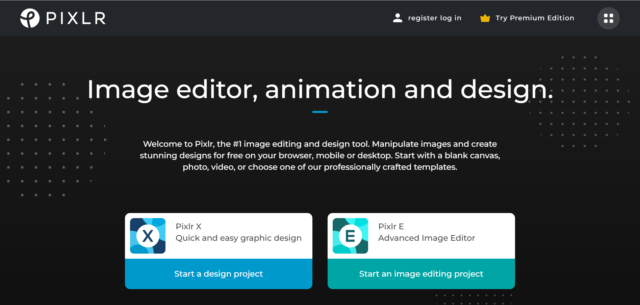 Pixlr E, Pixlr X, and Pixlr Express are the three online offerings of this picture enhancer. Pixlr X is the more basic model, while Pixlr E is the more sophisticated. Pixlr Express is an online picture editor that requires a Flash player.
Pros:
Simple to use
The well-designed interface
Fix issues as soon as possible.
Cons:
Export formats are limited (JPG, PNG)
Summary
Because we care more about the overall impact, our top 10 Color Retouch Tools Online Review are more all-purpose. We recommend VanceAI and Skylum for picture improvement (the latter is a challenge to beginners).
Claid.ai and Fotor are better online picture enhancers. The best online photo enhancers reviewed here are handier and time-saving. We recommend Pixlr for iPhone and Android users. If you don't use Color Retouch Tools often, a free version will do.
Also read:Top Ten Online Portrait Retouchers Review
FAQs
Yes. AI can now distinguish faces in photographs and enhance them with editing or sharpening. For example, several of VanceAI's picture quality enhancer features automatically improve the look of images, whether enlarging, sharpening, or colorizing them. Specific AI portrait enhancers are used to AI face improvement photographs.
It's a little program that performs one thing well. Though Mobile apps have retouching tools, they don't come close to what TouchRetouch can achieve. It's a must-have app for iPhone and iPad picture retouching.
3. How can I retouch old photos?
To retouch old photos, use a free online tool to colorize, restore, and enhance image quality. Websites like DeepAI, MyHeritage, or Algorithmia offer colorization and editing options for improved results. Check our photo coloring software review to find more.