The article is a comprehensive guide to the best tools for creating passport photos. The list includes popular apps such as VanceAI Passport Photo Maker and Cutout.pro, each offering different features, user-friendliness, output quality, and suitability for various purposes. Create perfect passport photos with these helpful tools!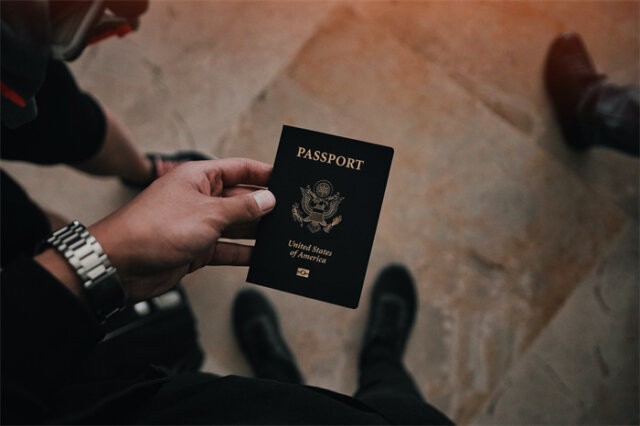 Imagine. You have to submit a couple of photographs to your school tomorrow. Your teacher had gone on about how they HAD to be the correct size and that FRIDAY was the last day of submission. You ran out of passport sized photos and your savings last week and are in trouble, time is ticking, what to do now….
You must agree that photo studios ask for an arm and leg for one photograph session and it is not worth it. If only you had an option to take the photo in the right size and just give it for printing….
This is where passport photo makers come in. Take a picture with your phone and upload them here. Wait for a bit and you are good to go. Yup it is that easy! Don't believe us? Just read on.
However, you will be faced by a myriad of choices. We have made it easy for you and have made a list of the best passport photo makers available.
We have ranked them according to the features they offer and whether they are paid or not. There are points for website interface and how complicated the process is. In addition, we have ranked websites that help their users through FAQs higher than those who do not. So, go through this list and let us know what you think about the ranking!
Top 10 Passport Photo Makers Review
| Passport Photo Maker Tool | Processing Speed | Output Quality | Free or Paid | AI-Based | Suitable for |
| --- | --- | --- | --- | --- | --- |
| VanceAI Passport Photo Maker | ★★★★✩ | ★★★★✩ | Paid | ✅ | Personal and Professional Use, High-Quality Work |
| Cutout.pro | ★★★★✩ | ★★★★✩ | Paid | ✅ | Intermediate Users, Detailed Work |
| Passportphotomaker | ★★★★✩ | ★★★✩✩ | Free/Paid | ❌ | Personal Use, Basic Editing |
| Passport-photo.online.com | ★★★★✩ | ★★★✩✩ | Free | ❌ | Personal Use, Simple Editing |
| Persofoto.com | ★★★★✩ | ★★★★✩ | Free/Paid | ❌ | Personal Use, Basic Editing |
| Photoaid.com | ★★★✩✩ | ★★★✩✩ | Free | ❌ | Personal Use, Simple Editing |
1. VanceAI Passport Photo Maker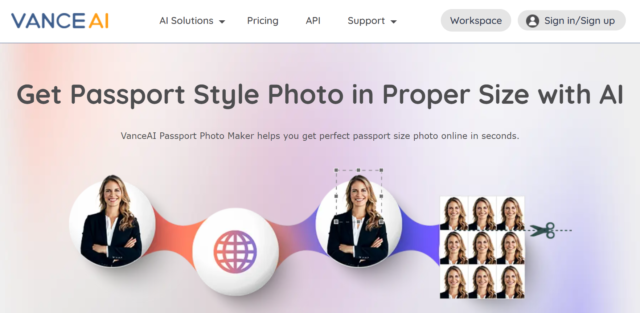 VanceAI Passport Photo Maker helps you create passport-sized photos perfect for almost any country. You can customize your photos and get the best quality ones in high resolution, ideal for professional printing. It provides free credits to users. If that is not enough, the process is also straightforward, and there is no need to watch any tutorials. Just upload your photos, and it will switch the background and wait for seconds; your passport photo will be ready. After finishing this step, you can download the picture and print them yourself or order them online. I know you might want high image resolution, but actually, ultra-high resolution for sharp, clear printing feature is involved in this tool.
Moreover, Photo Enhancer can help it if you need to enhance your images. The website will make your passport photos with AI technology and deliver them to you when the process finishes. The best thing is you can have all of these tasks done online!
Pros
Background switch feature
It fits almost all countries passport size requirements
Ultra High Resolution
Cons
2. Cutout.pro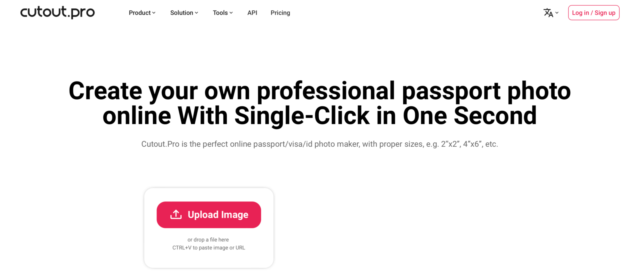 -price: 0.099 per photo
This is not your normal passport photo upload website. Yes, it offers that service, which is why it is on this list, but it is so much more! It has the normal features of self-cropping, removing background, as well as additional features of a suit change and advanced AI editing options that can give a great look to your passport photos. Besides passport photos, it offers a lot more stuff such as Cartoon selfie, video editor etc. You might be thinking, all that must come for a price. Well, they offer a free trial, where you can get a simple edit for one photo. Rest is paid, but it is worth every penny!
Pros
Advanced editing options
AI features
Offers suit change
Cons
Also read: How to Crop a Picture on Different Devices?
3. Passportphotomaker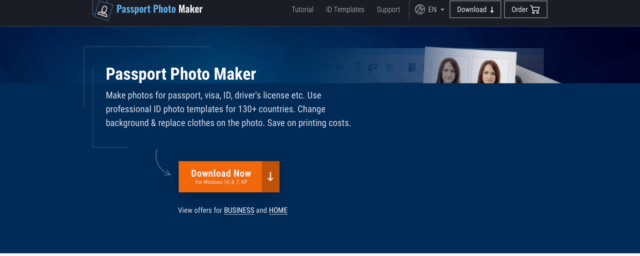 -$39.95 for the whole software
This is a software that users can download on this computer and get down to it. It allows users to make a passport or ID photo to almost any country in the world. The software has a face detection feature which crops the picture automatically. Users are also given the chance to edit their photos; including but not limited to skin tones, background etc. It allows users to print their photographs smartly by using every inch of the paper for printing and reducing wastage. This software is used more in businesses.
Pros
Option to edit
Lots of countries to choose from
Free trial available
Can be used professionally 
Cons
Has to be paid for
Is a bit complex to use
Has to be downloaded and installed
4. Passport-photo.online.com

This is a website as well as a free app, available on both Google play store and App store. It allows upload their photos, adjust them accordingly and convert them to passport sized photos. It has a face detection AI, which self-crops the pictures and removes the background, and the whole process takes barely a minute. They even offer a guarantee of acceptance, promising to refund twice the amount you paid if your photo gets rejected. It has an abundance of options for UK users, providing them with driving license, visa, university photo options.
Pros
Has been featured in Forbes, National Geographic etc
Has options for apps too
Cons
5. Persofoto.com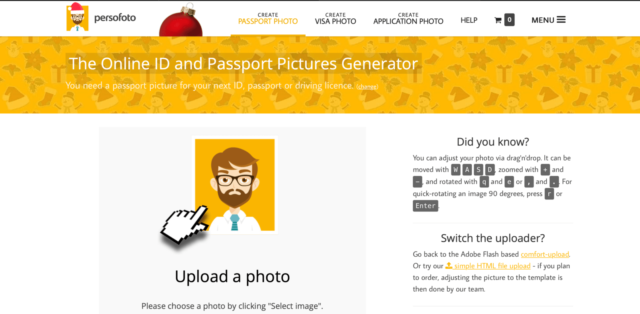 This is just another website which allows users to upload their photos and convert them to their preferred size. They offer three different options: Passport photo, visa photo, and application photo. Users have the option to either upload, crop and download their images for free or they can even order their photos online and have them delivered to their place. Pricing for ordering is different and can go up to more than 7 pounds for some countries (too much? I know!!!)
Pros
Secured data
Free downloads
Detects unsuitable photos and warns users
Offer services for businesses
Cons
Ordering can get very expensive
6. Photoaid.com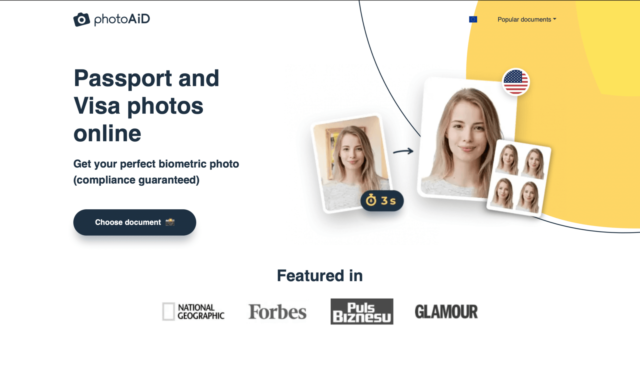 This website has a very similar interface to passport-photo.online.com. In that it offers very similar products and focusses a lot on the UK market. Users can upload their photo and generate passport, visa, student application photos etc. It too has been featured in Forbes, National Geographic etc. The process is very simple and takes very little time. The website even offers tips on what makes a perfect passport photo. That's not all, it even has app options, so one can just download it on their phones and generate photos there. Impressed? Head onto the website and give it a try!
Pros
Featured in Forbes
Has application option
Cons
7. Idphotodiy.com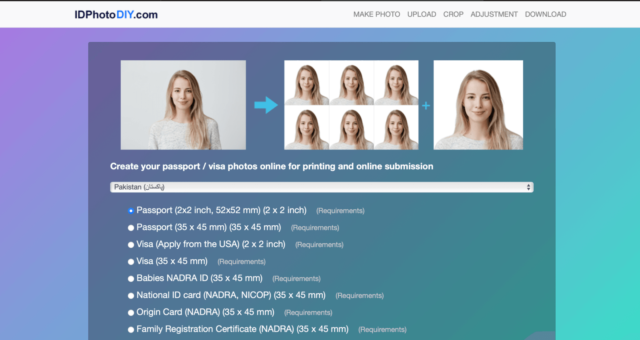 Idphotodiy.com is a simple, yet elegant website which offers passport sized photo generation services for more than 70 countries. It has options for passport, visa, as well as local ID card for various countries. It has the option for baby pictures, allowing you to take the photos while staying at home. You can even have them printed by the website for 0.2$ per 4R photos (which is a bargain) or you can download them for free.
Pros
Have lots of options for various countries
Downloading is free
Cons
8. 123passportphoto.com

123passportphoto is an online passport photo generator, which allows users to upload their photos and convert them to passport sized photos. The process here is very simple. Just choose or take a photo, upload it, and then crop it. It offers the passport sized photos of a lot of countries. This program will generate the photo for you within minutes and you can download it for free and print it.
Pros
It is free
Very simple interface
Cons
No editing feature
No face detection feature
9. Online-passport-photo.com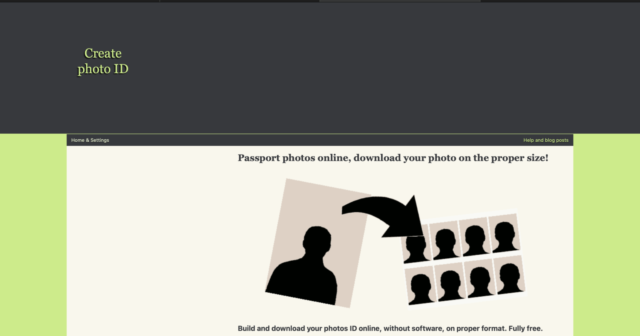 Online-passport-photo.com is a very simple website which allows user to generate passport sized photos. There is no hassle here, no need to register either. Just come here, upload your photo, crop it yourself and download it. They even offer the service to email the photo to you. Did I mention this is all free?
Pros
It is free
Very simple process, no hassle
Cons
No additional features
The website does not look attractive
10. Idphoto4you.com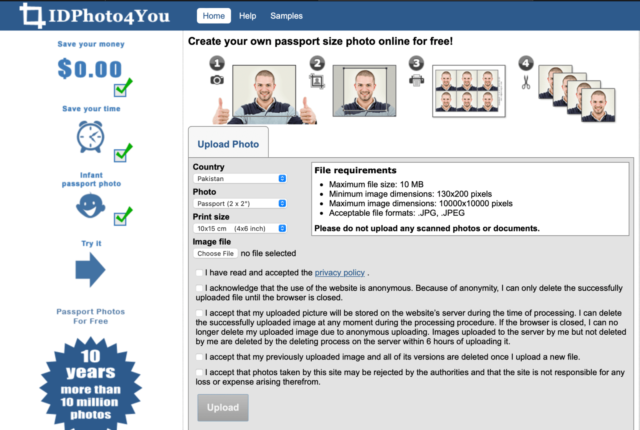 This too is a simple website where users can upload their photos and digitally enhance them to passport sized photos for over 70 countries. This website has a very simple interface, and any user with basic computer knowledge can get their work done. This website is free, and it offers additional features such as users can edit their photos and it even has the option for infants. However, users have to manually crop their photos because the face detection feature is not here.
Pros
It is free
Editing features
Cons
Manual cropping has to be done
FAQs
1.    What size is a passport sized photo?
There is no one right answer for this. It differs from country to country. In most countries it is 2 by 2 inches. According to US passport, the head has to be between 1- 1 3/8 inches from the chin.
2.    How to make a passport size photo?
You need to first take a photo. The photo has to be clear, with a preferably white background. You face must be looking into the camera and be fully visible. Preferably, ask someone else to take the photo. Remember to wear professional clothes. After that, just head to any of the sites above, upload your photo and you are basically done. Just download them and get it printed or use the ordering service that some of them offer.
Conclusion
These websites have made the process of generating passport sized photos very easy. These days, it is very expensive to get a photo shoot done but it is getting increasingly cheaper to get them printed. Some of these websites even have mind blowing editing features, which can make every photograph look professional. So just head on to these websites and given them a try!