Summary: This review will explore the top 10 AI music enhancers of 2023, offering cutting-edge audio improvement, noise reduction, and frequency optimization for an unparalleled listening experience.
An AI music enhancer uses artificial intelligence to produce quality output. Are you often troubled by the problem of poor music sound quality? Do you want the quality of your audio files? Review this extensive guide and choice the best AI music enhancer to boost your listening experience.
Music is a powerful art form that has become an essential part of our lives. Because music can set moods and evoke emotions, however, a range of factors can affect music quality, such as poor recording equipment, low volume, or other irritating background noise. This is where the AI music enhancer comes in.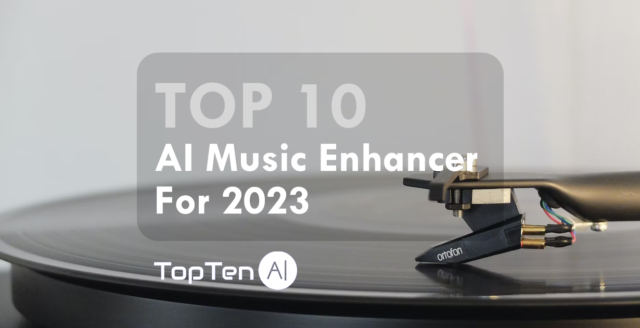 In this article we will explore, the top 10 AI music enhancer that stands out as the best in the market and music industry. These innovative tools use artificial intelligence algorithms to analyze and enhance the quality of musical sounds. They allow you to enhance the soundstage and overall quality of music files. Keep reading to learn which volume booster is the best one.
What is AI Music Enhancer?
AI music enhancer is an AI-based tool that can enhance sound and speech notes and create perfect and natural audio sounds. Music equalizers can break audio/music into small notes and frequencies and allow users to change the frequencies independently.
They use artificial intelligence technology that adjusts the audio sound and frequencies based on the data received. AI can easily recognize poor sound quality or low-volume patterns in music. The algorithms then adjust the music files to improve the sound quality and soundstage.
These automated tools remove unwanted background noise and adjust the volume to ensure that the final output is of high quality. The adjustments made by AI audio enhancers are based on the specific needs of each music file.  You can modify each music file to create a better sound note using virtual devices.
When Do You Need an AI Music Enhancer?
Artificial Intelligence technology has brought significant changes in the music industry, from music production to concerts. There are different scenarios when you may need AI-based mastering tools.
In music production, AI tools help music producers in improving the sound quality of recordings and automate repetitive tasks. They can analyze an existing song and suggest new ideas in melody or harmony. Concerts are an integral part of the music industry, where an audio equalizer can improve the overall quality of live performances.
They can remove irritating noise from a recording and enhance the capabilities of recording panels leading to better recordings. For instance, LANDR can break audio, balance the levels of different instruments, and enhance the clarity of sounds. AI can be integrated with Ableton Live to analyze the structure of a song and adjust sound levels for a better listening experience.
---
How to Use AI Master to Enhance The Quality Of A Song?
The use of AI Master is easy and straightforward. Within seconds you can enhance the quality of a song using AI Master. Here we discuss the AI Mastering tool to get started:
Step 1: To use this AI music enhancer go to the official site of AI Mastering and sign up for free by clicking on the "Sign-Up" option. Next click on the "New Mastering" button to upload a sound.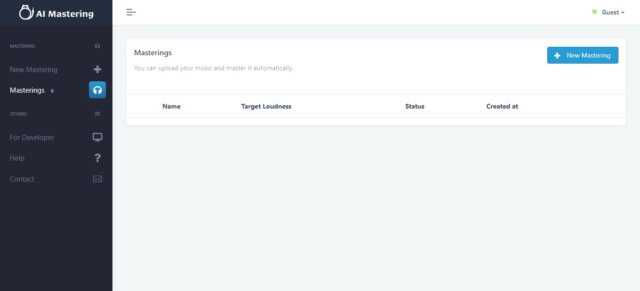 Step 2: Upload your music file by clicking on the "Upload Icon".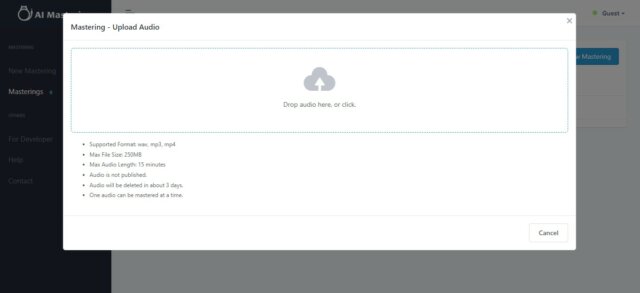 Step 3: After uploading the music file click on "Custom Mastering" and customize things that suit your needs such as loudness, peak, or output format. Next click on "Execute" and check the preview once the processing is done.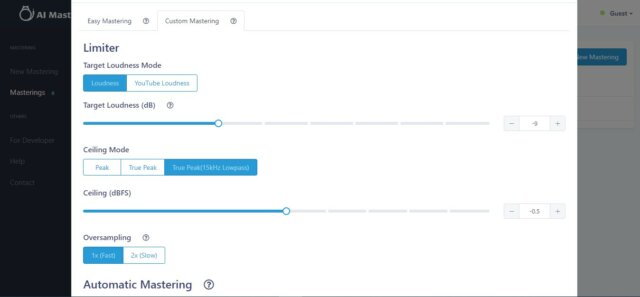 Step 4: Click on the "Download Mastered" option to save the finished soundtrack.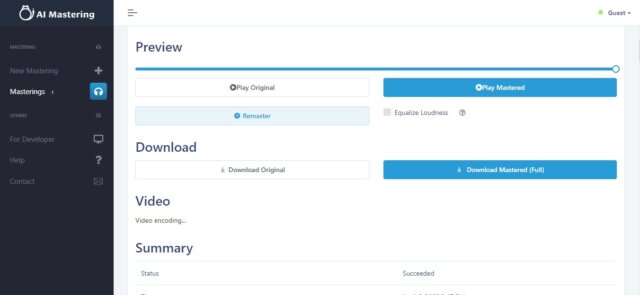 ---
Top 10 AI Music Enhancer for 2023
1. AI Mastering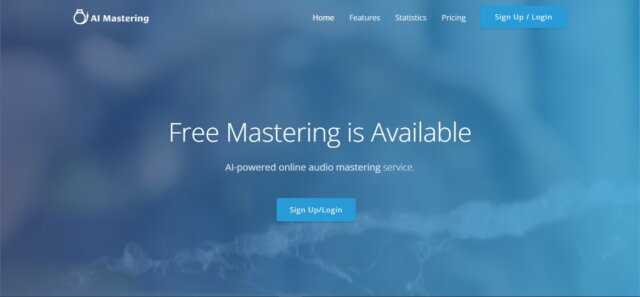 Rating: 4.8/5
Price: Free
Best for: Beginners and independent musicians
Supported OS: Mac, window, and mobile
AI Mastering is an online volume booster tool with a pack of handy features. It focuses on a user's better experience and ensures convenience. AI Mastering offers several easy alternatives to sign up for an account with them, such as GitHub, and Twitter and the most popular is a Google account.
AI Mastering uses AI technology which makes it a super-fast and automatic tool for balancing and conversions. It adjusts the EQ balance, and loudness and enhances the overall quality of tracks to achieve a professional sound. AI Mastering is quickly becoming a popular tool of choice because it is convenient for its fast-growing audience. Click our previous review on AI Mastering Review.
Main Function:
Most convenient and best AI music enhancer for beginners
Users can sign up with several alternative options
Adjust EQ balance and convert audio automatically
Pros &Cons:
| | |
| --- | --- |
| Pros | Cons |
| 🟢 Super easy to use | 🔴 Offers limited options to customize the sound |
| 🟢 Free AI master tool | 🔴 Requires stable internet connection |
| 🟢 Professional and high-quality output | 🔴 Supports limited input formats |
2. LANDR: AI Music Enhancer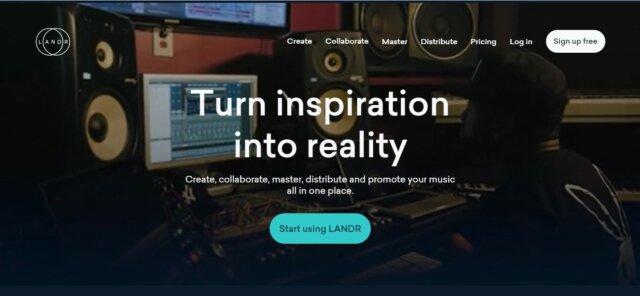 Rating: 4.6/5 
Price: Starting at $6
Best for:  Individual musicians
Supported OS: Mac and window
LANDR is an online EQ tool that improves sound quality and corrects excessive bass or other specific issues in a track. It uses machine learning algorithms to automatically enhance the depth and clarity of audio files. This AI music enhancer offers a collaboration option to share soundtracks with other producers or musicians.
You can upload 2 to 20 small soundtracks and improve the quality of the entire project at once using its album mastering feature. It uses AI to adjust the loudness, EQ, and compress music files. On the other hand, using stem mastering you can upload separate stems of your tracks for more customization.
Main Function:
Music Collaboration
Offers a selection of exclusive plugins
This best EQ tool can produce an alternative version of the soundtrack
Pros &Cons:
| | |
| --- | --- |
| Pros | Cons |
| 🟢 Fast and quick stem mastering | 🔴 In some cases, produces over-compressed files |
| 🟢 Fast batch processing | 🔴 Doesn't give consistent output quality always |
| 🟢 Professional output quality | 🔴 There may be copyright issues |
Read More about LANDR Review: Enhance Your Music Quality with AI Mastering
3. Auphonic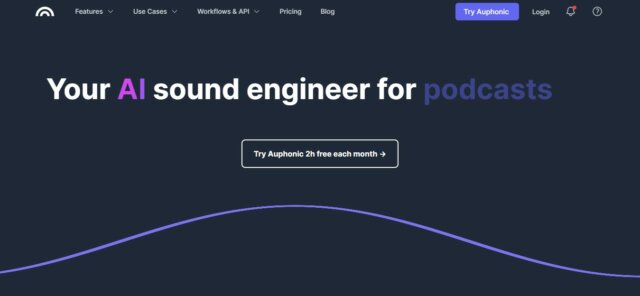 Rating: 4.6/5 
Price: Starting at €10
Best for: Podcasts and music production
Supported OS: Mac and window
Auphonic is an online leveler that uses filters and autoEQ to remove unwanted frequencies and create warm, polished, and pleasant sounds. It allows you to remove unusual static noise or fast-changing background noises to make your audio sound flawless. Podcasters can enhance podcasts and format chapters that can be navigated directly in the web interface or within music files (DAWs).
Using its classification option, you can process music in segments and balance overall loudness a better audience experience. This adaptive leveler balances levels between speakers, speech, and music to produce comfortable volume. Users can define loudness specifications, tunebat, sound peak, and much more.
Main Function:
It recognizes speech using a custom Whisper model
All-in-one podcast software
Fast encoding and best-quality output
Pros &Cons:
| | |
| --- | --- |
| Pros | Cons |
| 🟢 Zapier interface for direct integration | 🔴 Slow processing speed |
| 🟢 Supports videos and audiograms | 🔴 2 hours for free use per month |
| 🟢 Intelligent leveler uses multitrack algorithms | 🔴 You cannot control sound quality |
4. iZotope: AI Music Enhancer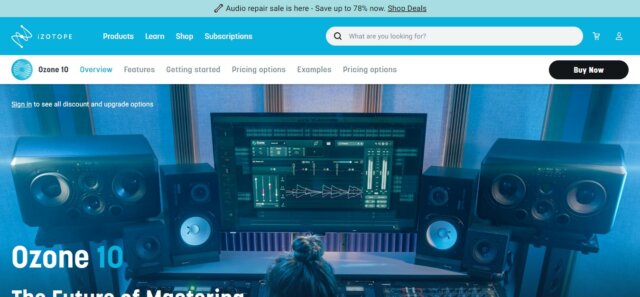 Rating: 4.5/5 
Price: Starting at $129
Best for: High-quality professional videos
Supported OS: macOS and window
iZotope is a professional master tool that automatically creates clear sound and adds the final polish to your track files. This AI-based can automatically set the tonal balance curve and fix other specific issues in a soundtrack. Using its groundbreaking matching feature, users can match reference sounds or audio tracks across tone, width, and dynamics.
With Maximizer's IRC algorithms, it can magnify soft clips to boost loudness. Audiolens automatically save referenced targets to your iZotope music library. You can adjust the loudness, enhance the rhythm, and compress music files.
Main Function:
Can amplify music tracks to increase loudness
Requires one-click to add natural stereo information
You can adjust the volume on drums, vocals, or bass in your audio track
Pros &Cons:
| | |
| --- | --- |
| Pros | Cons |
| 🟢 AI-based mastering application | 🔴 Expensive for regular users |
| 🟢 Vintage EQ mastering | 🔴 Paid software |
| 🟢 Finish AI mastering suit with lots of modules | 🔴 May be heavy size files in the output |
5. Audo.AI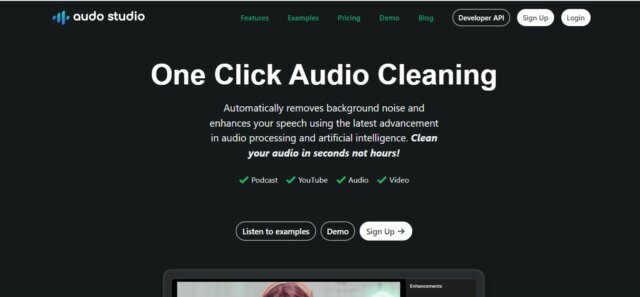 Rating: 4.3/5
Price: Free
Best for: Podcasts and small video tracks
Supported OS: Mac, window, mobile
Audo.AI is the premiere AI-based music enhancer that is made for anyone wanting to create professional well accurate audio projects. It has an intuitive user interface that allows users to quickly upload and master sound files. This music enhancer for Android requires one click to clean your audio file.
It is a simple yet excellent audio editor for all levels of audio editing. From amateur podcasters to professional music producers can use Audio.ai to enhance the soundtrack with no quality loss. Within seconds you can remove unusual irritating sounds from your soundrop to make it perfect before releasing it on YouTube.
Main Function:
Enhance Music without losing stereo information
Simple and smooth interface
Allows direct recording in the app
Pros &Cons:
| | |
| --- | --- |
| Pros | Cons |
| 🟢 Easy-to-use AI master application | 🔴 Limited input formats |
| 🟢 Cost-effective online audio editor | 🔴 Limited options to customize the sound |
| 🟢 Excellent technical support | 🔴 The free version doesn't generate excellent output |
6. Adobe Audition
Rating: 4.3/5 
Price: Starting at $20.99
Best for: Podcasts and video restoration
Supported OS: Windows and mobile
Adobe Audition is an amazing application for audio restoration. It is the best music enhancer for Android as it works faster and easier with the excellent features that it offers. Using Adobe Audition, you can record multiple tracks at a time and restore audio from a single track without losing audio quality.
With the Multi-track Editor, you can fully edit the entire audio file and plan your sound effects. Adobe Audition is a free tool, but it requires an account or installation before you can use it for enhancing audio. It is an excellent choice for podcasters to DJs because of its Remix feature.
Main Function:
Excellent results with a pack of handy features
Users can create a podcast with beautiful images
Efficiently manage frequency
Pros &Cons:
| | |
| --- | --- |
| Pros | Cons |
| 🟢 Easy-to-use application | 🔴 Limited input formats |
| 🟢 Supports additional features | 🔴 Expensive as compared to other volume boosters |
| 🟢 Quickly restore audio tracks to the system | |
7. Media.io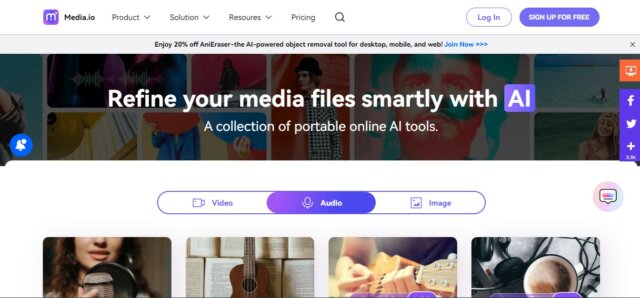 Rating: 4.3/5 
Price: Starting at $3.95
Best for: Noise reduction
Supported OS: Windows and clouds
Media.io is a fantastic tool that uses advanced and powerful AI technology to get reduce noise from background music, recordings, songs, and audio files to engage more listeners. It cannot remove different types of noise such as hiss, click, traffic, weather, fan, and hum.
Simply upload OGG, MOV, MP3, and MP4 files at anywhere and anytime and optimize audio to get the ideal result. When you are watching films or listening to music untidy and tiny noises can break the atmosphere it offers you a plethora of resources to remove unwanted noises online. You can clean your voice commentary, narration, podcasts, audiobooks, or educational material on any device in no time.
Main Function:
It generates text on video as well as captions, subtitles, and, elements automatically.
It can remove background sounds and untidy
Compress all kinds of video and audio formats
Pros &Cons:
| | |
| --- | --- |
| Pros | Cons |
| 🟢 Available in many formats | 🔴 Limited input formats |
| 🟢 Secure privacy system | 🔴 Best for video editing |
| 🟢 No watermark and easy to share | |
8. Boom 3D: AI Music Enhancer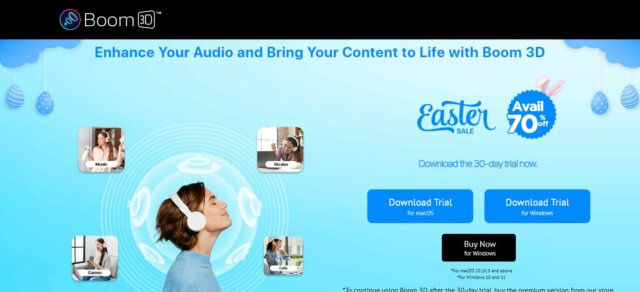 Rating: 4.0/5 
Price: Starting at $14.99
Best for: 3D sound experience and concerts
Supported OS: macOS and window
Boom3D is an excellent desktop sound enhancer that is available for both Windows 10 and 11. Sometimes your computer's speakers fail to replicate what you playing on it and you are not able to enjoy the right feel of your video. It helps you to boost your Windows volume to capture every minute with clear sound effects which might be able to enjoy your video clearly.
This audio equalizer gives a truly immersive experience of the audio content that you want to play in your movies, videos, and games. It was developed by Global Delight and has 30 million users including musicians, DJs, producers, and many others. Actually, it changes the sound quality of your computer without speakers, headphones, and sound cards.
Main Function:
It enhances the sound with innovative 3D audio technology for Windows
Fully customized app with 31 equalizers
Offers 20,000 worldwide radio stations to the users
Pros &Cons:
| | |
| --- | --- |
| Pros | Cons |
| 🟢 Easy to use | 🔴 You can use only 15 days without signing up |
| 🟢 Free trial available for 30 days | 🔴 Not suitable for beginner artists |
| 🟢 Best music performance with 3D surround experience | 🔴 Paid software |
9. CloudBounce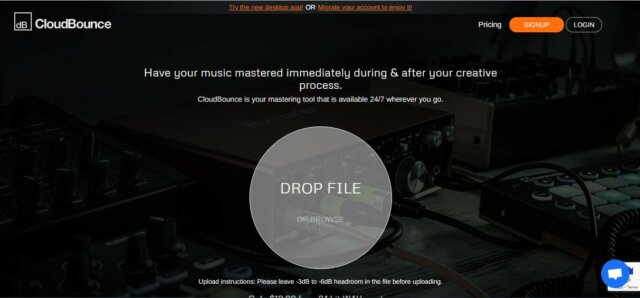 Rating: 4.0/5 
Price: Starting at $10.90
Best for: Multi-format music processing
Supported OS: Mac, mobile, window
CloudBounce is the best music enhancer for Android and other devices that offer multi-format music mastering. This mastering engine analyzes the soundrop and selects just the accurate amount of music-processing ingredients to make the sound crystal clear. Using this magical enhancer, you can improve sound quality and a better listening experience without any frustrating background noise.
It allows you to upload audio files only -3dB to -6dB headroom.  CloudBounce is made by using new technology that offers machine listening, EQ, Limiter, classification, and other audio processing tools. It refines recordings or soundtracks and makes them good enough for public use.
Main Function:
Professional stereo width with 15+ mastering styles
Simple drag-and-drop application
Produce commercial-level and crystal-clear sound
Pros &Cons:
| | |
| --- | --- |
| Pros | Cons |
| 🟢 Offers multi-format music mastering | 🔴 Limited customer support |
| 🟢 Provides professional stereo imaging | 🔴 Limited features |
| 🟢 Ultra-fast turnaround time | 🔴 No refund policy |
| 🟢 Supports 10+ mastering options | |
10. Audio Denoise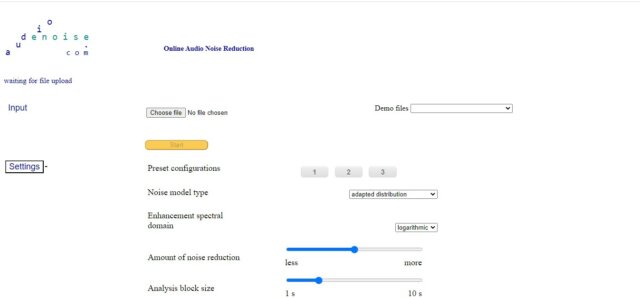 Rating: 3.8/5 
Price: Free
Best for: Podcasters
Supported OS: Mac and window
Audio Denoise is trained by neural networks of AI-powered cutouts with a great number of features. This podcast software can get rid of static and background music without losing targeted sounds. You can remove the sound of wind including hiss and hum by enhancing the quality of your sound recordings in no time.
Audio Denoise is very simple and easy to use for everyone just need to drag the file and adjust the strength knob. It also supports 800+ video effects. It is very helpful for video editors, podcasters, and for everyone who wants to make professional tunebat.
Main Function:
Create a stunning and natural sound output
It can remove hiss, room noise, and other complex noises like an air conditioner with a 60-cycle hum
Best for audio and video sounds.
Pros &Cons:
| | |
| --- | --- |
| Pros | Cons |
| 🟢 Removes background noise without losing targeted sounds | 🔴 Slow processing speed |
| 🟢 Refund grantee with 30 days | 🔴 No user interface design |
| 🟢 Powerful algorithms for noise reduction | 🔴 Requires high system resources |
| 🟢 Enhances real details | 🔴 Limited input formats |
---
Influence and Tendency in AI Music

Technology and machine learning techniques are revolutionizing the music industry by changing the way music is created, edited, and distributed. Generative AI is a significant trend in AI music which uses deep algorithms to create music without human producers.
Another influence of AI is the development of mastering tools that use AI to detect and master music tracks to create a professional-grade sound. In addition to AI software, AI extensions also gain popularity like the bass booster extension can be added to Chrome for audio enhancement.
As AI continues to advance, we can expect to see more creation of sophisticated AI mastering tools that can mimic human creativity. In short, the tendency of AI in the music industry depends on how it is developed and adopted in the coming years.
Final Thoughts
In conclusion AI music enhancer provides a super-fast solution to enhance music quality and provide a better listening experience. There are several scenarios when music enhancers come in, such as when there is background noise and poor-quality sound. You can use them in music production, to improve tunebat and the capabilities of digital audio workstations, and recording panels.
You can save time and money using these innovative tools. With the growing demand for high-quality music, we can expect to see even more online audio editors in the world of music. However, AI Mastering, LANDR, and Boom 3D are the recommended tools to enhance music and improve the soundstage.
FAQs
Can I increase my sound loudness?
Yes, you can make your sound louder on your device using any third-party application such as "Volume Booster". Using this application, you can easily increase the sound volume and enhance the quality of sound on your Android device. This is the best music enhancer for Android that helps to improve the soundtrack and loudness.
Which is the best AI music enhancer for Android?
Several AI music enhancer apps are available for Android but Volume Booster, music volume EQ and Equalizer are the best ones. You can use these apps on your smartphone to adjust sound volume and enhance the clarity and quality of the soundtrack.
How to use AI to enhance audio?
Almost all of the software or apps based on AI work in a similar way with some minor changes. To enhance audio simply choose any podcast software that suits you better and upload your music files. AI-based tools automatically process your music files you don't need to do anything else. Once the process is done, download it on your device.