Technology is getting advanced on a regular basis, and due to the blooming knowledge and websites around the world, there is a rare chance that you can find what you are looking for. The new Bing has all the features that you need if you want to find more relevant things, as it does not create problems in finding your requirements. A newly launched Microsoft search engine that gives importance to your requirements and lets you explore the whole web and find out the exact piece of information that you were looking for.
What is New Bing?
Microsoft Bing is commonly known by the general term Bing. It is basically a web search engine that allows you to search various things on the web. A proper system of software that is designed to carry out web searches. New Bing searches the world wide web for the particular requirements that you want. Bing searches for your requirements automatically without any effort. All it requires is simple textual input from you. The search results that new Bing formulates are often provided or presented in the form of lines. When a user types their inquiries in the search engine Bing, it scans the whole worldwide web and finds out the relevant information to the data. Your provided input and the search engine result Bing are prioritized based on relevance to your data.
It has third-party integration that allows you to share searches from social media platforms. Apple has also recently announced that they are going to favor Bing as a search engine. It is available on windows 8.1, which includes a smart search integration that processes all the queries that are submitted through the window start screen. It also has a translation feature just like google translate. You can translate any language into another language easily. Or you can summarise your text to understand it properly. Microsoft announced that its knowledge and action graph corresponds to google with 1 billion instances and 20 billion related facts. It also has predictability about certain weather conditions or events throughout the world.
In addition, chatbot with special features like it has Character AI, which allows you to communicate with a variety of famous tasks in the world.
What Is ChatGPT?
ChatGPT stands for chat generative pre-trained transformer that allows you to search for anything you want and find relevant information related to it. But the most important and well-known feature of this tool is that it is used for content writing. You can get yourself unique content that does not even have any type of plagiarism. You can write essays, paragraphs, stories, summaries, etc., and many more things that are related to writing. The AI algorithms of ChatGPT analyze your given requirements properly and start writing unique content within no time. That content that used to require more than days to write with the help of a professional content writer is now generated with one click in no time. 
It is basically a natural language processing model that converts your simple outlines into paragraphs perfectly without any skill or experience required. It is playing the role of both like you can get relevant information about your topics and you can also get more content about your data instantly. You can use it as a human conversationalist to get yourself a source of entertainment when you are getting bored. It allows you to compose music, teleplays of anything, and rewrite or create new fairy tales, and it also answers those questions that are found within your stories by creating a Q&A system.
More you may want to know: Best 10 GPT Alternatives
How to Use New Bing?
If you don't have any type of knowledge about the new Bing, then here is a complete guideline with proper steps that you can follow to know how to use the new Bing. Carefully read the given steps so you can have a piece of information about how to use bing.
How to Use New Bing Faster?

Step 1 Go to Bing.com


Step 2 Tap on the "Chat" option


You should join this waiting list if you are not already on the visitor waiting list. If you want to get ahead of this list and get to use the new bing faster, you can do the following. Download the bing app and set Microsoft as your default browser.
How To Use Microsoft Bing?
Step 1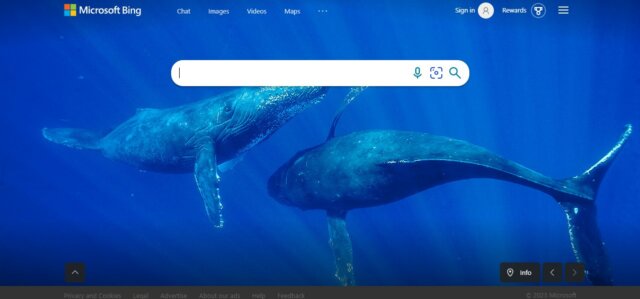 First of all, you would have to open the browser that you are using on your PC or mobile.  There is a simple application that can be downloaded from the store. If you are in a hurry, then here is a link for PC users Bing.
Step 2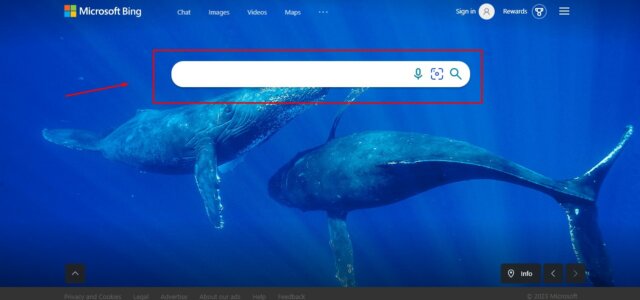 After opening the platform, you will have to search for something in the given search bar of Bing. Search for anything you like on Bing.
Step 3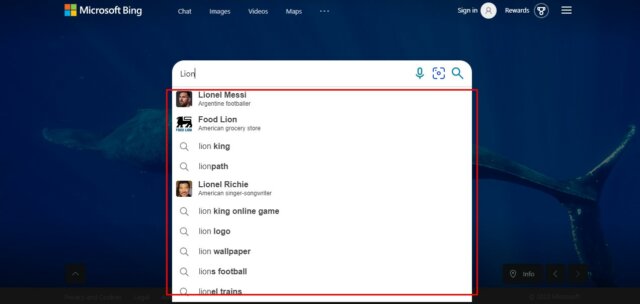 After you have typed something on the search bar, for example, we have searched lion on Bing. Then automatically, it will provide some relative information about the thing you are searching for just below the search bar.
Step 4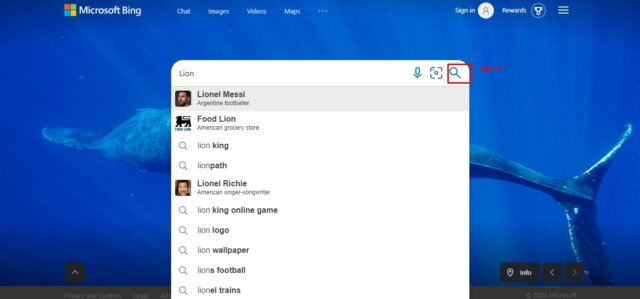 After you have typed your required input about the thing you are looking for simply click on the search option that has an icon of magnifying glass. You can also press enter on your PC if you want it to begin the search.
Step 5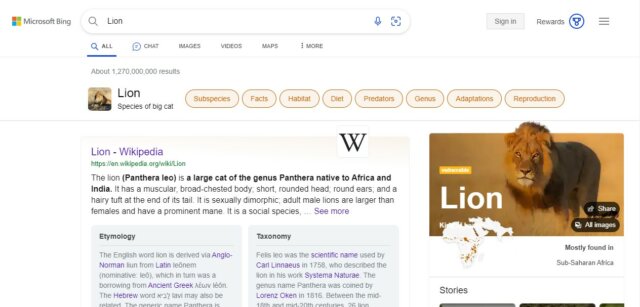 Just with one click depending upon the speed of your internet connectivity, you will get the result within a few seconds. You can scroll down the list if you are not getting the required thing that you are looking for. There are also pages where if you don't find your requirements on page 1, then you can go to page 2. Keep looking, and you will find what you like.
Step 6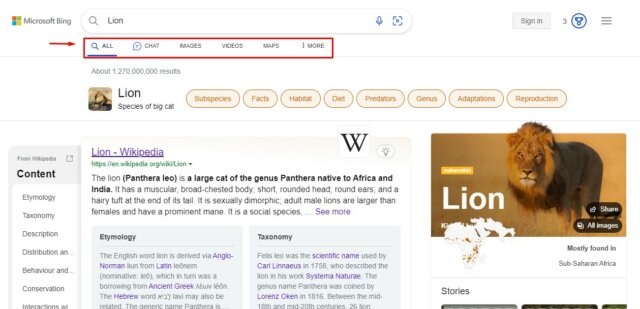 There are certain criteria for the information you are looking for. You can click on all to get all types of information. Click on images to find images that are related to your input data. Click on videos to see content that is available in video form.
Things you may want to know
Here are some things that you might want to know if you want to gain some knowledge about how to use the new bing properly and what its outcomes are.
How much of a difference will new bing make?
It is going to make a lot of difference due to its performance. All its features are easily operable, and you can search or ask anything you want from the web. It has almost matching features like google chrome which is more famous and used by people. If the same features are provided by Bing, then it is going to boom the online platforms, and people will be using this rather than chrome. As it is a program that is manufactured by Microsoft hence all those features of Microsoft that are available online is going to be transferred to Bing only. Most people around the world are regularly using Microsoft's advantages. Usually, they have a premium account on Microsoft, so they will tilt towards Bing more. It has a different of keywords as compared with google, but it provides massive resources for both financial and shopping services.
How will AI-powered bing chat change the way your search?
Artificial intelligence is changing everything all around the world. If it is properly operating search engines, it is going to change all the aspects of the engine itself. The AI-powered is based o a natural language processing system that deeply analyses your required information and, within a few seconds of time, provides it to you. Now you will not have to manually search for anything as the AI-powered new bing will provide everything to you that you require. The AI-powered Bing learns from your behavior, the way you are searching, and what you are commonly searching for. Gradually the more you use it, the more the new Bing will get attached to you. It will make things smooch easier for you so that whenever you'll search, the new being will have an idea of what you are looking for.
Final Words
If you are bored with your old browser and its search engine features, you can try the new Bing. It has more features rather than just features. It is designed by Microsoft, so it has some edge in features. The AI-powered search engine provides more relevant information to you within seconds without any issues.
Read more: Top 10 Alternatives For ChatGPT