Summary: VansPortrait, an AI-powered line drawing converter, can help you transform photos into captivating sketches effortlessly. Its advanced algorithms, customizable styles, and user-friendly interface will be reviewed comprehensively here.
Sketch art has gained tremendous popularity in recent years, captivating artists and designers alike with its unique visual appeal. In this review, we will explore VansPortrait, an AI-powered converter that turns photos into captivating line drawings, pencil sketches, and even anime portraits. With its advanced algorithms and user-friendly interface, this line art drawing tool aims to meet the growing demand for creating stunning visuals effortlessly.
Join us as we delve into this first-hand review of VansPortrait, we will provide a comprehensive review and objective assessment based on our experience with the tool.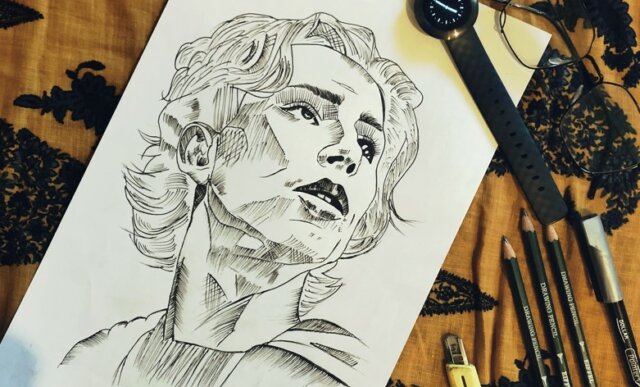 Why do we need one line drawing like VansPortrait?
Simplifies the process: VansPortrait streamlines the creation of one line drawings, eliminating the need for intricate manual work.
Unique visuals: With this tool, artists and designers can produce distinct and eye-catching artwork that stands out.
Time-saving: The efficiency of VanceAI enables users to create impressive sketches in a fraction of the time compared to traditional methods.
Who is VansPortrait Best for?
All of us: We have found that this AI tool is not a very complicated program to use. It is open to everyone, so if you are interested in portrait line drawing you can give it a try.
Artists: It caters to professional artists seeking to add a new dimension to their creative repertoire.
Designers: Graphic designers can leverage it to enhance their designs and bring a hand-drawn aesthetic to their work.
Creative enthusiasts: Whether for personal projects or social media sharing, VansPortrait empowers creative enthusiasts to explore sketch art effortlessly.
Features of VansPortrait
VansPotrait is a product of VanceAI. Unlike the traditional portrait line drawing filters, VanceAI makes this program recognize faces through artificial intelligence and redraw it into sketch art through algorithms and deep learning.
Feature 1: More customizable styles. VansPortrait provides users with the ability to customize art styles and choose from various sketching techniques. Our review team had noticed this software before when it only had 2 or 3 styles to choose from. Now it offers 2 types of pencil sketch (Avatar, Character) and 3 colorful cartoon styles (Avatar, Character, Manga).
Feature 2: High-quality line drawing output. VansPortrait was trained on tens of thousands of images in simulations before its launch, and its algorithms have improved greatly in accuracy and refinement. So it can recognize face portrait more accurately and convert it into sketch art, just like hiring a professional painter to help you paint. You will see this in the effect demonstration later.
Feature 3: User interface ease of use and batch process. VansPortrait boasts an intuitive interface, making it accessible even for users with limited technical skills. If you have a lot of portraits that need to be converted to line art drawing, you also use the batch process.
Supported platforms: VansPortrait is a web-based tool, that ensures compatibility across various devices like PC, Android or iOS, and operating systems.
Pricing: VansPortrait offers affordable pricing plans with flexible options to suit different user needs :

These credits can also be used with other VanceAI products such as VanceAI Image Upscaler, VanceAI Image Enhancer, etc.
| Pros | Cons |
| --- | --- |
| High-quality sketch generation | Minor errors occur when the background is complex |
| User-friendly interface | The default output size is not high enough |
| Flexible pricing options |   |
| Quick and efficient sketch creation |   |
How to use VansPortrait to turn photo into sketch?
After using this picture to drawing converter, our review team agreed that it is a very easy to use photo to sketch program. Here are our first-hand experiences and steps to use it:
Step 1: Upload your photo: Visit the VansPortrait website and upload your desired photo.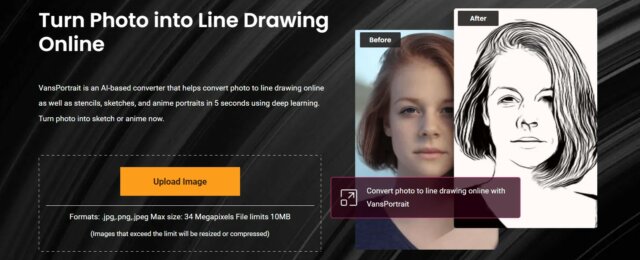 Step 3: Generate the sketch: Click the "Start to process" button, and it will automatically transform your photo into a sketch.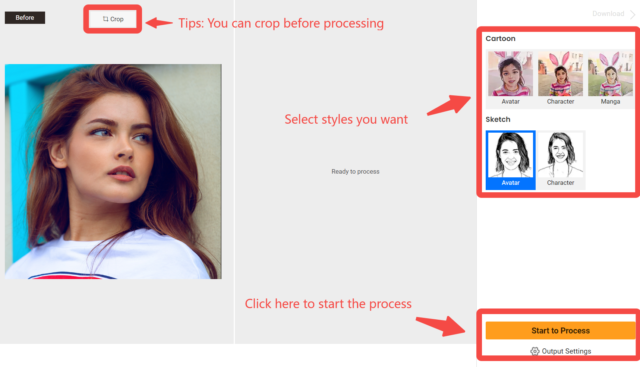 Step 4: Customize (optional): Utilize the style control features to adjust the sketch according to your preferences. You can decide the output quality, DPI and format (jpg or png) you want.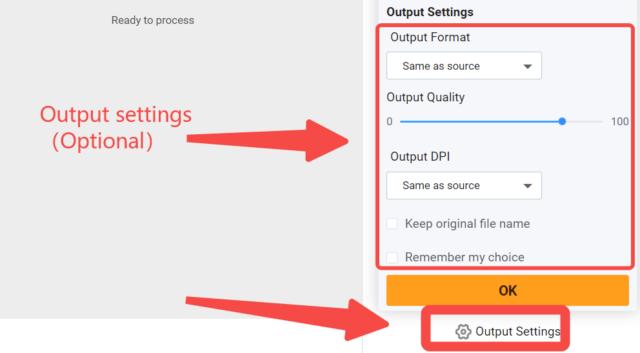 Step 5: Download and save: Once satisfied with the result, preview the sketch and download it to your device.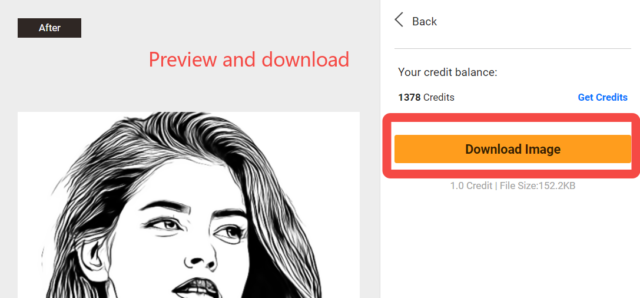 Tips and Recommendations
High-resolution photos: Use high-resolution images for clear and precise sketches. Try to make your face clear in your image.
Explore sketch models: Try different sketch models to find your preferred artistic style.
Customize settings: Fine-tune sketches by adjusting customization options.
Generated Results Reviews
The first picture is a simple line art portrait made with VansPortrait's pencil sketch (Avata), from which we can see that the lines on the lips and the teeth are clearly drawn and very consistent with the original picture. The eyebrows are also well drawn.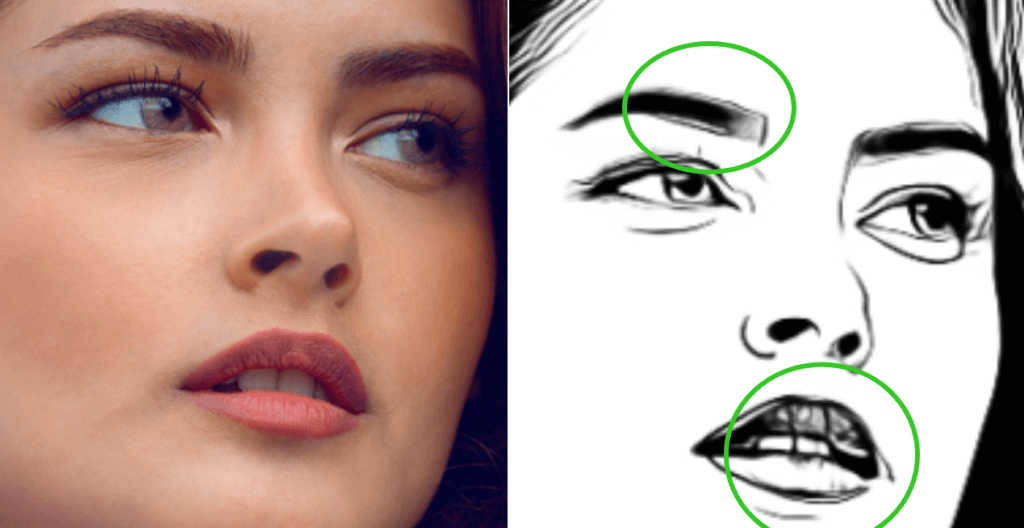 And in the second anime line art, you can find that VansPortrait is better at painting the hair. The look of the eye part is also consistent with the real portrait. Here is another example of images to draw that we have done:

According to our experience, we found that VansPortrait consistently produced impressive results. The tool excelled in capturing intricate details and delivering accurate line drawings. However, some shortcomings were observed, such as occasional inconsistencies in facial recognition and minor distortions in the generated lines. Nonetheless, the advantages of VansPortrait were notable, including vibrant visuals and precise color rendering.
VansPortrait v.s. Image to Sketch v.s. Fotor AI Sketch Filter
When it comes to photo-to-sketch converters, there are several popular options available, such as Image to Sketch (imagetosketch.com) and Fotor AI Sketch Filter. We conducted a brief trial of each of these products, and here are the results we came up with. Let's compare these tools with VansPortrait across various aspects to understand their differences.
Comparison Overview
| | | | | | | |
| --- | --- | --- | --- | --- | --- | --- |
| Product | Lowest Price | Quality | Features Options | Support Device | User Friendly | Based on AI |
| VansPortrait | $4.95/month | Excellent | Versatile and Customizable | Web, Windows | ★★★★☆ | ✓ (Yes) |
| Image to Sketch | Free | Good, Moderate | 20+ models | Web | ★★★☆☆ | ✓ (Yes) |
| Fotor AI Sketch Filter | $7.19/month | Special | All-in-one image editor | Web | ★★★☆☆ | ✗ (No) |
Output Comparison
Now it's time to see which one's product is actually processed, and we used the same girl's photo to test their portrait line drawing effect.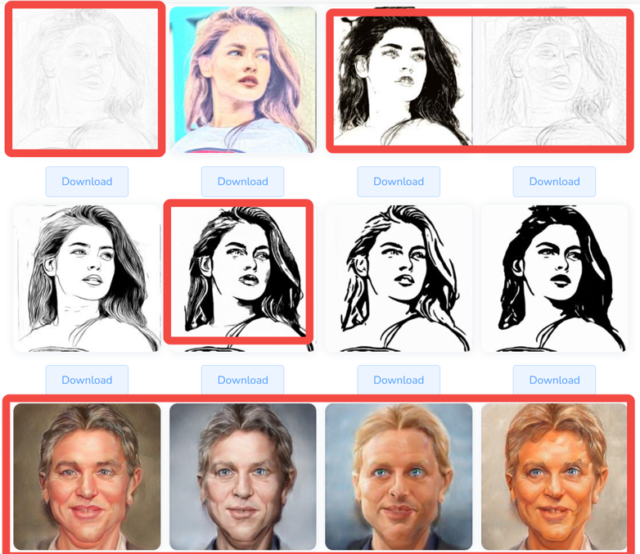 This is one line art of the same girl, processed by Image to Sketch, and we can see that the images we marked with red lines are not very good, and even generated portrait images that are completely unrelated to the original image. But the other line drawing effect is okay.

This one is an image processed with the Fotor AI Sketch Filter, and you can see that Fotor seems to be focusing on converting images into more realistic sketches, but they clearly have a long way to go. There is still a lot of room for improvement in all of this anime line art. May be suitable for those who have specific artistic style needs.
Our Comments
VansPortrait stands out for its superior performance. It excels in terms of processing time, providing fast results without compromising accuracy. In addition, it has an intuitive user interface. However, this program is lacking in capturing complex details.
While Image to Sketch and Fotor AI Sketch Filter have their merits, they do have some limitations; Image to Sketch offers more than 20+ styles, but some styles and models are completely unacceptable; Fotor AI Sketch Filter's merit lies in its unique artistic style, which may not fit the popular aesthetic. Perhaps it is more suitable for architectural photos than portraits.
How VansPortrait Works?
VansPortrait leverages advanced AI algorithms to generate captivating sketches from photos.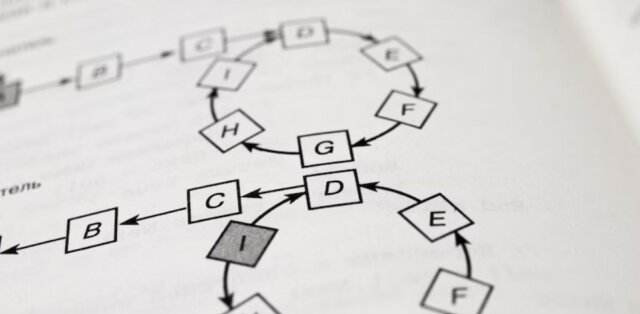 The underlying technology analyzes the input image, identifying key elements and converting them into a single continuous line drawing. This process ensures accurate representation while preserving the essence of the original photo. VansPortrait's technology showcases significant advancements in the field, rivaling similar tools like DALL-E.
Final Thoughts
In conclusion, VansPortrait proves to be an invaluable tool for artists, designers, and creative enthusiasts looking to create stunning portrait outline drawing effortlessly. With its impressive sketch generation capabilities, user-friendly interface, and customizable art styles, It sets itself apart in the realm of AI art tools. From our experience, we highly recommend VansPortrait to anyone seeking to unlock their creativity and transform ordinary photos into remarkable sketch art.
---
FAQ
How does VansPortrait compare to other photo-to-sketch converters like Image to Sketch?
VanceAI surpasses Image to Sketch in terms of processing time, accuracy, and output quality. It also offers a more user-friendly interface and customizable art styles. However, Image to Sketch is free and provides more styles.
Can I use VansPortrait on a Mac computer?
Yes, this line drawing converter is compatible with both Windows and Mac platforms. Additionally, it can be accessed via a web-based interface, ensuring flexibility across devices. Android phones or iPhones are both available.