Jasper AI is an AI-based content writer who automatically writes content without manual effort. You can curate content 5x faster than any other platform easily. It is powered by cutting-edge AI technology that writes content faster than any human writer. 
What is Jasper AI?
It is an AI-based writing assistant that professionally assists you by writing content efficiently and within no time. You can easily complete your content 2 to 5 times faster than a professional content writer. It allows you to write content of any type you desire like it can be anything. You can write a unique article for your website or any magazine you want to publish. Create awesome social media post content to hype yourself on social media easily. If you are working in a market and you are facing issues with your marketing emails, then you can choose jasper AI to write marketing emails for your automatically.
About the Language
You don't have to worry about languages because it is confined to only one language. The machine learning intelligence system of jasper AI knows more than 25 languages, and it can easily write amazing content in all languages. You don't have to worry about languages as it has the same content writing method in all the languages and writes precise content accurately. There is one more amazing thing about it you can translate your content into any other language. Like if you have written the content in English and you want to send it to someone who knows Chinese only. Then you can easily translate and convert your content into the Chinese language.
Uniqueness of Articles
You don't have to worry about the uniqueness of your content as jasper knows every inch of the internet and has a complete understanding of every content online. The content generated with jasper AI's help is not taken from any type of single source. The content is built from all the sources worldwide, making it plagiarism free and not copied from any platform. The main thing about its uniqueness is that the people who have created jasper AI are not just ordinary AI creators. They are professionals in the field of marketing, and they are industry experts. Jasper AI essay writing is being programmed with 50 plus skills that are completely based on real-world examples and frameworks that help you with completing your task quickly.
Features of Jasper AI
Here are some of its features given below.
Features 
Pre-built templates are available.

The cost of writing content is meager.

Best AI essay writer for long forms of content.

Single click output.
Pros 
Easy to use, and anyone can operate it.

It is awesome for manipulating text that fits your requirements.

Gives you unique ideas about blog posts without any effort.
Cons
It provides no source of data.

If you are interested in a long form of content, then you will have to choose a boss mode plan.

It gathers information from around the internet and does not provide real facts.
How to Use Jasper AI?
Jasper AI is a simple tool that requires no effort at all, and you can very easily operate its tool without having any type of skills or experience.
If it's your first time operating any machine learning intelligence system, you might face many issues regarding the tools. But for your ease, here is a proper step-by-step guide that you can follow to create unique content easily.
Step 1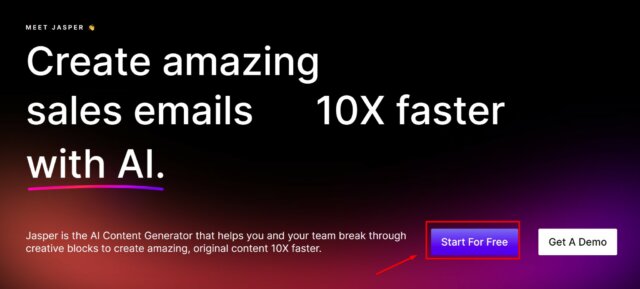 First of all, you would have to open the official webpage of Jasper AI. Then click on start for free to start a free trial so you can easily have an idea of its performance and usage. If you want to open the page, then click on this link Jasper AI. If you want to know more about the platform, then you can scroll down to have some knowledge about it.
Step 2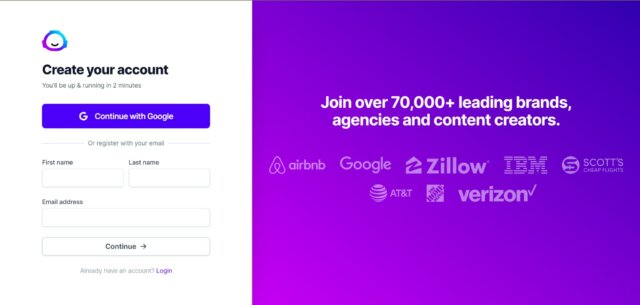 Then you would have to sign in with your Gmail or any other account that you like. After signing in, you can start your work easily within no time. After your sign-up is complete, they will ask you some questions related to your work. You will have to fill in those requirements as Jasper AI article writing is having information about what it will perform.
Step 3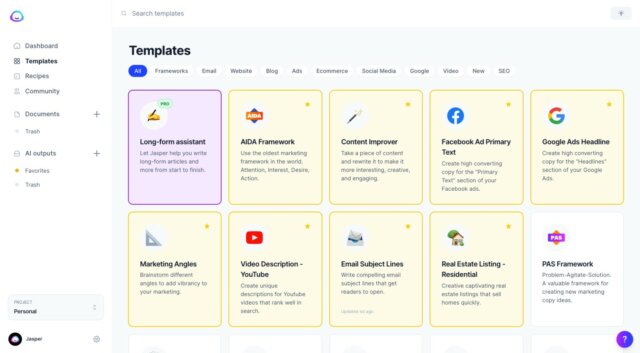 Then you can select one of the templates above and choose the work that suits your style. You can find more than 50 templates that allow you to create AI content without any hesitation. when you have chosen a perfect template for your work that seems appropriate, you will have to provide a certain specification to get your desired content with the help of Jasper AI writing. You have to be very precise while providing content to Jasper AI essay writing.
How Does Jasper AI Work?
Jasper AI writer software works by consuming the minimum amount of information you will provide. After you have provided it with the topic, it automatically starts searching on the internet for the most relevant information related to your topic and writes it.
You have complete authority to create new content simply by selecting the format and creating a title by yourself. After that, you will have to type a few sentences about your article and provide a summary of it. There will be various options of different tones that you can select and suites your content. These tones range from informational and up to your requirement. You can select it and create unique content easily.
One of the most amazing features of AI essay writers is that they are adaptive to the information you provide them. It means they learn more about your requirements the more you use them and write content with AI article writing. as it uses the web to gather your information by searching your relevant information throughout the web. It becomes more according to you as when it searches, it visits another platform so that it knows which platform has more relevant information for you.
Jasper AI Alternatives
Here is a list of the most matching alternatives that are competing with Jasper AI. Their features and comprehensive details them is given below.
Writesonic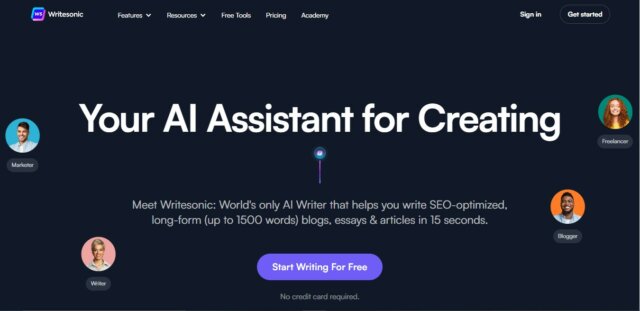 Write Sonic is an amazing alternative that matches the performance of Jasper AI essay writing and AI article writing. It also uses a powerful AI system to generate content without any effort. Even if you don't have any type of skills or experience, you can easily create unique content in no time. The AI essay writing of write sonic is just like a human typing an article. It supports more than 18 languages; hence there are more chances that you would be able to find your language there.
Write sonic allows you to write unique blog posts, landing pages, and Facebook ads within a few seconds. You can effortlessly write product descriptions, emails, and high-quality articles within a few seconds. It uses well trained AI algorithm to create content quickly.
Features 
Free access to an account with ten credits.

Grammar correcting is programmed in it.

You can easily expand and rephrase your content.

You can use a text editor for your writing.

Your content is SEO optimized.

Instantly generates content by providing a topic.

Unique templates for writing pages.

PAS and AIDA are the copywriting formulas that give you a better writer.
Get more useful AI content creators: Top 10 AI Content Generator Reviews
Copysmith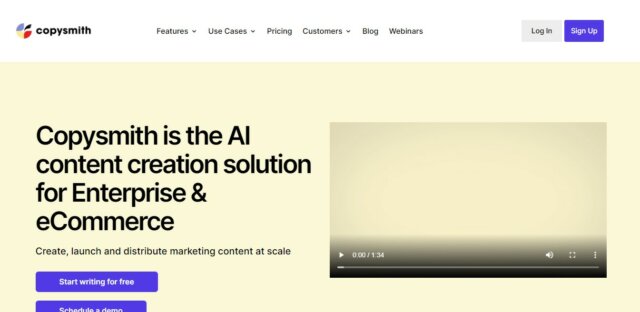 It is also a perfect alternative for jasper AI. It allows you to write unique content that is related to your topics. No effort or any type of skills are required to operate it. All its functions operate automatically within a few seconds. It was launched specially for businessmen to create unique content for their businesses.  Here are some of its features given below.
Features
Overcome blocks in writing and create unique content.

Generates awesome outlines that are relevant to your blog posts, writer intros, and entire blog post.

Create unique copies of advertisements with the help of an Advert writer.

You can easily write your product descriptions within no time.

It creates content based on natural writing methods and automatically adds continuation after sentences.

You can find FAQ and youtube video descriptions.

Create google ads ideas instantly.
Conclusion
The world is progressing daily, and all the technology of the world is shifting from manual to automated systems. Even if you hire a professional AI writer to write content for you, he might take more than days to complete your tasks. Why do you need to hire anyone t write articles for you when you can easily create unique content with much greater speed with the help of Jasper AI?
FAQs
Is Jasper AI worth its price?
Jasper AI is worth its price because it offers a lot of content to you without any expensive costs. You can easily create unique content for your work without any effort with Jasper AI.
It uses AI copywriting and content generation to create unique content that is relevant to your provided topics.
Recently post: Top 10 Alternatives For ChatGPT