Summary: AI Miro alternatives offer innovative visualization software to improve team collaboration and productivity. This review of the top 10 alternatives helps readers choose the best one for their needs.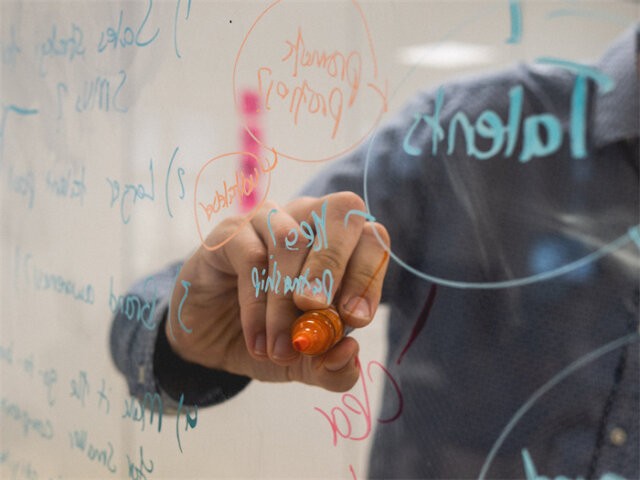 Digital whiteboard online applications are in recent demand, owing to the increasing dependency on remote virtual conferences. MIRO virtual whiteboard is one of the top choices providing excellent features and versatile compatibility. Check out its features and explore other MIRO alternatives available in free and subscribed versions to use in moderation.
This is the preview table we created after reviewing and summarizing the top five products. Continue reading if you want to know more.
| Product | Collaboration Abilities | User Interface | Compatibility | Cost |
| --- | --- | --- | --- | --- |
| Microsoft 365 Whiteboard | ★★★★☆ | ★★★☆☆ | Windows, iOS, Web | $5/user/mo.+ |
| Explain Everything | ★★★★★ | ★★★★☆ | Windows, iOS, Android, Web | $7.99/user/mo.+ |
| Whiteboard FI | ★★★☆☆ | ★★★☆☆ | Web, Android | Free |
| myViewBoard | ★★★★☆ | ★★★★☆ | Windows, Android, iOS | Free |
| Ziteboard | ★★★☆☆ | ★★★★☆ | Web, Android, iOS | $12.50+/mo. |
Miro Whiteboard Review
MIRO is a dynamic virtual board to create, share and brainstorm ideas using various interacting tools and features. MIRO reviews state it as one of the advanced virtual boards installed with many pre-designed templates, easy-to-drag widgets, smart designing tools, and a zoomable workspace. You can download the app or use the MIRO online whiteboard version on any gadget with direct log-in.
Its integration with countless applications highlights it among other MIRO alternatives. It can connect with Slack messenger, Dropbox, Adobe XD, or Asana cards and also embed with meetings on Zoom, Microsoft, or WebEx. MIRO virtual whiteboard provides a free trial with a maximum of three boards and expands to the subscribed team plans at $8 per month.
Pros:
● Versatile integration and extensive toolkit available for all
● A unique collection of templates available in the Miroverse tab
● Every session supports audio and video chats with interactive tools
Cons:
● No session recording provided
● Files like PDFs show modified format after uploading
How to Use Miro Whiteboard
Every user can log in using the MIRO registered work email, Slack account, Facebook, or Google account. Once in, the dashboard appears with all the past work and new features.
● Click on the new board to start a project from scratch.
● Choose the required template from the pop-up or proceed with a blank board.
● You can write, draw, choose notes and cards, or import using the left-hand side toolbar and save the work as a personal template or export the capture.
● You can select the whole board or a part using frame selection and export it using the save option in the top menu bar.
● You can also find quick-to-access integrating, sharing, and chatting tools in the menu bar.
MIRO Alternatives Review
1. Microsoft 365 Whiteboard
Notable features: Directly enabled for all Microsoft online platforms, artistic feasibility, unlimited boards and participants
Pricing: Free basic app is available for all Microsoft account holders. Extensive usage requires Office 365 subscription with subscription plans starting from $5.5 per month. You can also try a one-month free trial.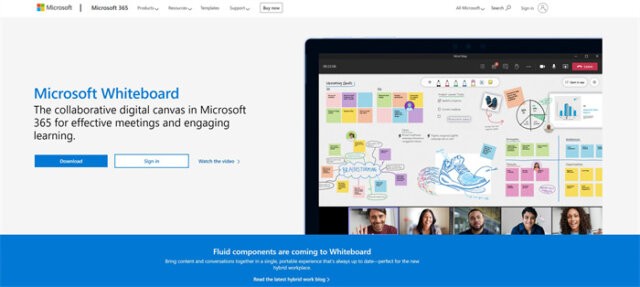 Microsoft 365 Whiteboard is an excellent virtual board that integrates seamlessly with Microsoft's working tenants like Office 365 and Teams. The platform is suitable for both virtual meetings and in-classroom projections, offering numerous premium features and tools. Users can share notes, scribble on a common board, and design banners and posters, all while combining unlimited boards and including countless participants.
However, the platform has some limitations, as it is only compatible with iOS, Surface Hub, and Windows 10 gadgets. Additionally, a Microsoft account is required for access, which may pose a barrier for some users.
Pros:
● Directly enabled for all Microsoft online platforms.
● Can be used with or without an Active pen.
Cons:
● Only compatible with iOS, Surface Hub, and Windows10 gadgets.
● Limited pre-defined templates to use.
● Only Microsoft account holders can sign in to the whiteboard.
● Application limited to some internet browsers only.
2. Explain everything
Pricing: Paid plan starts at $3 per month. The app provides a free trial for a maximum of three projects.
Notable features: Chat and call connectivity, multimedia integration, interactive teaching

Explain Everything is a digital whiteboard application that allows users to chat and call while using a shared virtual board. It is ideal for classroom teaching, virtual business meetings, and video designing. The platform lets users create, share, and design on a common platform and export their work to drives or emails. This makes it a favorite among MIRO alternatives for educational purposes.
One potential drawback of Explain Everything is the limited features in the free version. Additionally, sudden system updates can cause delays and interruptions in functionality.
Pros:
● Compatible with various Android and iOS systems
● Records the meetings and shares to drive
● Drag and drop templates provided
Cons:
● The free version has limited features
● Sudden system updates can delay and obstruct the functioning
3. Whiteboard FI
Pricing: Provides a free version but with no stated features. The basic plan starts with $4.99 per month only for subscribed teachers' accounts.
Notable features: User-friendly interface, individual boards for students, library facilities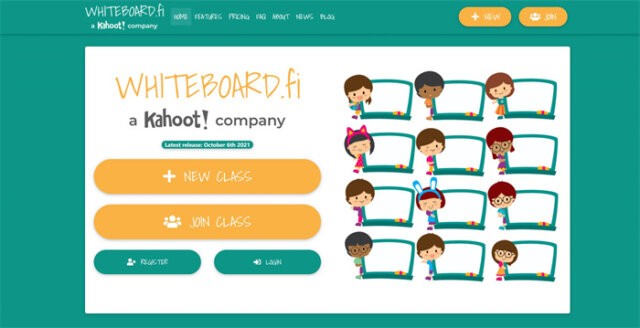 Whiteboard FI (whiteboard.fi) is a great choice for those seeking a virtual board like MIRO, specifically designed for e-schooling. Teachers can create their classrooms, manage accessibility, and teach using interactive sharing. They can also invite co-teachers for guest sessions and conduct student sessions for real-time brainstorming. Students benefit from having individual boards for separate practice.
However, this platform might not be ideal for everyone, as its features are primarily designed for educational purposes. Additionally, the free version lacks a preview of the available features.
Pros:
● Easy shareable links and QR codes to join the classrooms
● Only web version compatible with all gadgets and browsers
● Best for conducting assessments and live teaching
● Library facilities provided to save the notes and templates
Cons:
● No features to preview in the free version
● Highly designed for schooling purposes
4. myViewBoard
Pricing: Standard packages are free yet provide a wide range of features. A more interactive premium plan starts at $119 per year.
Notable features: Multimedia integration, compatibility with Google Workspace and Microsoft 365, QR code connectivity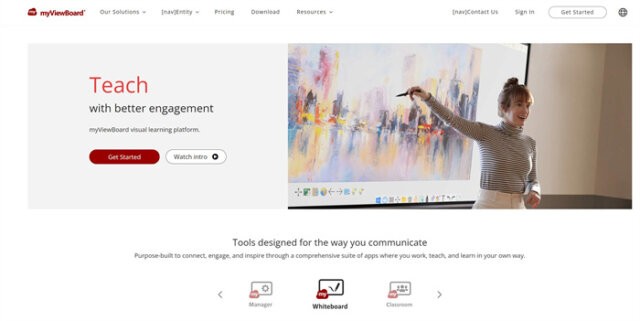 myViewBoard (myviewboard.com) is a versatile alternative to MIRO, offering a virtual interactive platform for both schools and business meetings. The app enables multimedia integration, allowing users to create, modify, upload, share, and save various file formats. It can also share small screens to larger displays and connect to live-streaming web platforms, providing a vast selection of templates and features for immediate use.
One potential drawback of myViewBoard is the difficulty in writing with a mouse pen in the standard packages.
Pros:
● Can be enabled with other meeting platforms like Google Workspace and Microsoft 365.
● Easy connectivity using QR codes
Cons:
● Makes it hard to write using a mouse pen in standard packages
5. Ziteboard
Pricing: Free trial provides only three boards and limited features. For exploring all features, you can try one-week-pro at $5 or subscribe to a Pro account at $9 per month.
Notable features: Infinite working space, multiple remote participants, mirror view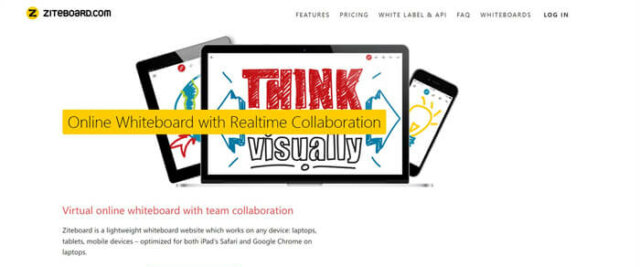 Ziteboard (ziteboard.com) is a fantastic MIRO alternative that provides an infinite working space for collaborating with multiple participants from remote locations. Users can work on a shared board to create, write, and share content. The platform supports audio/video chats, and the output can be saved as PNG images or PDF files.
Switching between boards on Ziteboard can be troublesome, which may be a drawback for some users.
Pros:
● No downloads required
● Provides sticky notes for quick writing
● Compatible with all iPad and Android devices
● Provides mirror view for confusion-less understanding
Cons:
● Troublesome switching between the boards
6. Limnu
Pricing: Provides a 14-day free trial with no sign-up. Pro subscriptions start at $5 per month, and the team subscriptions at $8 per month with extensive features.
Notable features: Remote collaboration, session recording, supports up to 350+ participants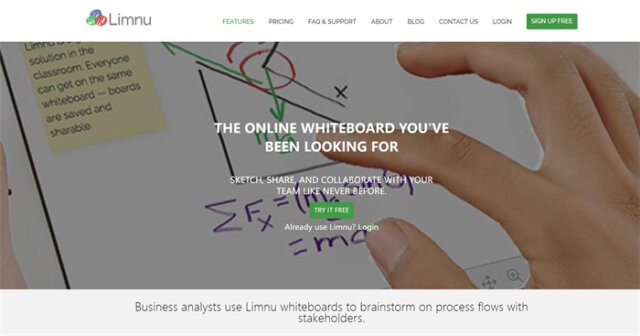 Limnu (limnu.com) is an easy-to-use alternative to MIRO that offers remote collaborative sessions on an online whiteboard. Users can share, create, and brainstorm while holding video conferences and recording live sessions. Admins have full control over securing sessions and managing participant access.
A potential drawback of Limnu is the inability to export boards or files in different formats like PDF or JPG. Additionally, Slack integration for shared messaging is still under development.
Pros:
● Session recording facility provided
● 350+ participants can use shared whiteboard
Cons:
● Doesn't export board or files to different formats like PDF or JPG
● Slack integration for shared messaging is still under development
7. SketchBoard
Pricing: Provides a free version allowing only 5 participants at once. Solo plans start at $9 per month and team plans at $8 per month.
Notable features: Real-time Slack connectivity, smart recognition, AWS and UML architecture diagrams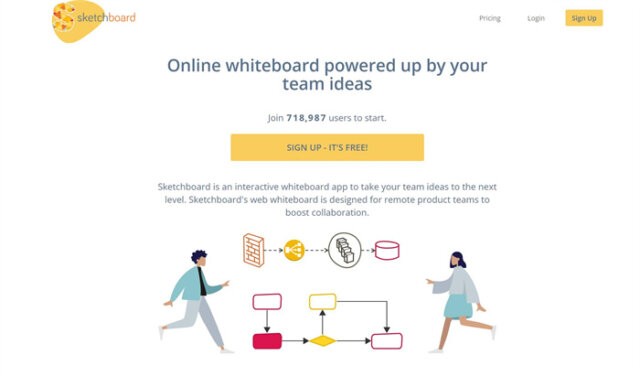 SketchBoard (sketchboard.io) is a competitive collaboration tool among MIRO alternatives, offering real-time Slack connectivity, virtual sharing, and impressive artistic tools for creating and sharing data. The platform boasts various themes and drawing styles, with smart recognition to transform raw diagrams into artistic strokes. It can efficiently draw AWS and UML architecture diagrams and pictorial charts.
However, SketchBoard's complicated business-level layout might be confusing for simpler meetings and teaching sessions.
Pros:
● Links within Webex meets and also connects with Slack
● Exports boards in different file formats
Cons:
● Complicated business-level layout confuses simple meetings and teaching sessions.
Also read: Top 10 AI Note Taker for Effective Meetings in 2023
8. LucidSpark
Pricing: Provides a free trial with basic features. Individual plans start at $7.95 per month and team plans at $6.67 per month.
Notable features: Large navigating space, text and emoticon commenting, collaborative work on a shared board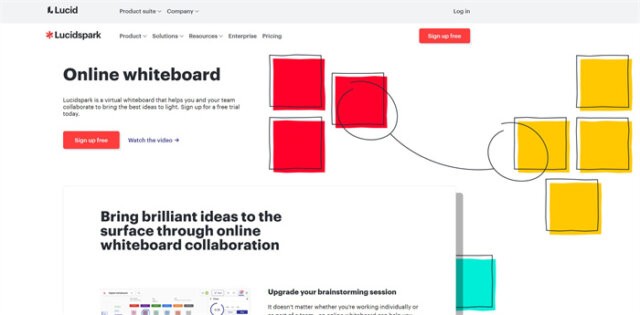 LucidSpark (lucidspark.com) is a powerful alternative to MIRO, providing upgraded whiteboard usability for remote brainstorming. Its tools and features allow users to design, draw, modify, and share various types of images and text. Users can chat, comment using text and emoticons, collaboratively work on a shared board, and save notes and files to a drive.
A potential drawback of LucidSpark is that its tools can be overly sensitive and draw unnecessary lines. Also, HTML, CSV, or XML exports are not supported.
Pros:
● No downloads are necessary as the online board is compatible with all systems and browsers
● Sticky notes, templates, and voting sessions are creative highlights
Cons:
● Tools can be way sensitive and draw unnecessary lines
● HTML, CSV or XML exports aren't supported
9. NoteBookCast
Pricing: The application is entirely free.
Notable features: Multiple participants, entirely online, audio calls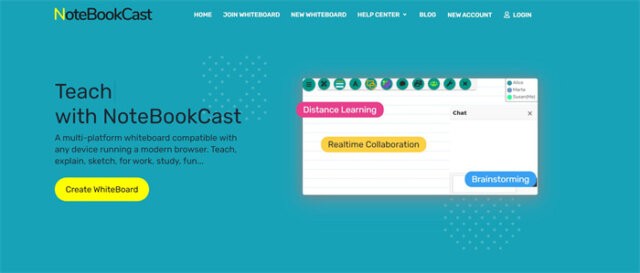 NoteBookCast (www.notebookcast.com) is a user-friendly digital whiteboard that enables remote virtual sessions, built-in creative tools, sticky notes, and audio calls. Although it doesn't have the same level of features as MIRO, users can still capture the screen or save the board. This platform is more like a primitive whiteboard without any high-level programmed features.
Drawbacks include the absence of video calls, pre-designed templates, and file exporting or library facilities.
Pros:
● Multiple participants can use the board simultaneously
● Completely online accessibility with no downloads required
Cons:
● Supports only audio calls
● No pre-designed templates
● No file exporting or library facilities are available
10. WhiteBoard Team
Pricing: Completely free with no registration
Notable features: Dynamic sharing tools, pre-designed templates, zoomable canvas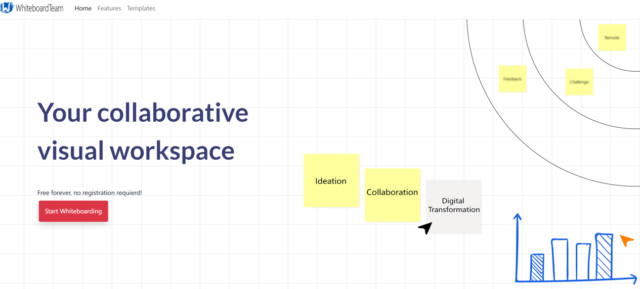 WhiteBoard Team (www.whiteboard.team) is a real-time collaboration platform that challenges top MIRO alternatives, offering a solution for educational and corporate meetings. It comes packed with dynamic sharing tools, pre-designed templates, a zoomable canvas, smart chats, and emoticons, making it suitable for quick connectivity and easy discussions.
However, WhiteBoard Team does not support video calls, and there is no file exporting facility available.
Pros:
● Splendid user-friendly features for a free whiteboard application
● Can create multiple boards and save
Cons:
● No video calls supported
● No file exporting facility provided
Conclusion
All the discussed MIRO alternatives are competitive to provide similar features like MIRO and multiple collaborations for various conferences. You can go through their unique features, pricing subscriptions and try free versions of these sites like MIRO to test and choose your compatible platform.
Also read: Top 10 Virtual Classroom Tools Review