Summary: This article discusses the top AI note-taking tools and apps . It details the features of each tool, such as handwriting recognition, natural language processing, and speech-to-text conversion. Moreover, the article explores the pros and cons of each tool and provides an analysis of their effectiveness in different scenarios.
AI note-taking tools are becoming increasingly popular among professionals, students, and researchers as they seek to optimize their workflows and improve productivity. These tools use advanced technologies such as natural language processing, speech-to-text conversion, and handwriting recognition to capture and organize information seamlessly.
AI note takers can solve a range of problems faced by individuals who need to process large volumes of information quickly and efficiently. For example, they can help with tasks such as transcribing meetings, taking notes in lectures or seminars, and summarizing research papers.
Here we make a comprehensive review of the best AI note-taking tools on the market today:
Best 10 AI Note Takers for Meeting Notes
| Tool | Note-Taking Speed | Output Quality | User-Friendliness | AI-Based | Free/Paid | Suitable for |
| --- | --- | --- | --- | --- | --- | --- |
| Otter | ★★★★☆ | ★★★★☆ | ★★★★☆ | ✅ | Free/Paid | Students, professionals, and teams |
| Fireflies | ★★★★☆ | ★★★★☆ | ★★★★☆ | ✅ | Free/Paid | Professionals and teams |
| Dubber | ★★★☆☆ | ★★★☆☆ | ★★★☆☆ | ✅ | Paid | Businesses and call centers |
| Hyperia | ★★★★★ | ★★★★★ | ★★★☆☆ | ✅ | Paid | Professionals and teams |
| Evernote | ★★★★★ | ★★★★☆ | ★★★★☆ | ❌ | Free/Paid | Individuals and small teams |
| Airgram | ★★★★☆ | ★★★☆☆ | ★★★★☆ | ❌ | Free/Paid | Individuals on the go |
1. Otter
Price: Free & Paid ($8.33 - $20/month)
Otter is an AI-powered note-taking app that uses advanced technologies such as natural language processing and machine learning to capture and transcribe audio in real-time. One unique feature of Otter is its ability to identify different speakers and label their dialogue accordingly. It's an ideal tool for transcribing group meetings and interviews.
The app also provides a range of tools to enhance your meeting notes, including the ability to highlight, comment, and share transcripts seamlessly. Otter's user interface is intuitive, making it easy for you to navigate and customize settings to suit your needs.
If you are looking for an efficient and accurate AI note-taker that can improve your productivity and streamline your workflow, Otter is a nice choice.
Pros:
Great accuracy to interpret multiple sounds and speakers

Export options to transport podcasts/videos into blog posts or recycled content

Reasonable price with the cheapest subscription being enough for normal use
Cons:
Free transcription reduced from 600 minutes to 3 imports

Cannot share folders from your account with others

Key combinations for shortcuts have to be re-adjusted as they perform multiple functions at once
Rating: 10/10 
2. Fireflies
Price: Free & Paid ($10 - $19/month)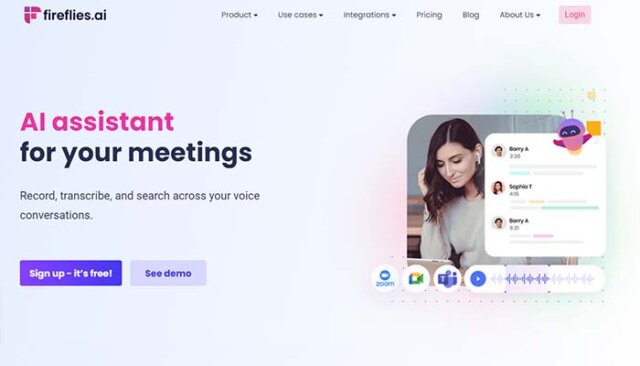 Fireflies.ai is a note-taking and meeting management tool that can effortlessly capture and share discussions in real-time and even help managers identify the topics and people to focus on during meetings.
Another standout feature of Fireflies.ai is its integration with popular services such as Google Calendar, Zoom, Slack, and Microsoft Teams. This integration allows you to sync your meetings and notes seamlessly across different platforms, enabling you to improve working productivity.
With just a few clicks, you can get Fireflies.ai approved for your organization, allowing you to customize how it works for your needs. It is ideal for workgroups that host multiple meetings per week where you find yourself struggling to keep up with all the discussions.
Pros:
Easily get a transcript from old recordings

A detailed and efficient dashboard overview

Share meeting notes automatically with others
Cons:
Setup can be confusing 

Relatively new software which needs more testing
Rating: 10/10 
3. Dubber
Price: Free & Paid ($19 - $39/month)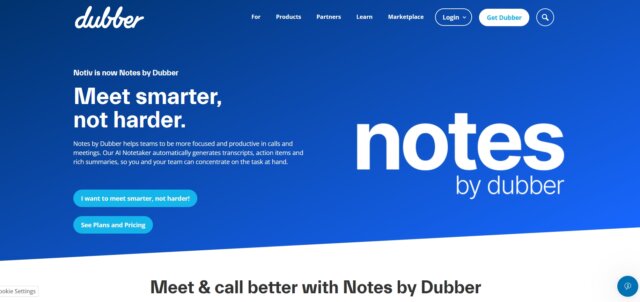 Dubber is a new AI-based note-taking service that's just been released to the public.
Dubber note taker can capture and transcribe audio recordings. It's an ideal tool for professionals if they need to review and summarize important conversations or meetings. Unlike traditional note-taking apps that rely solely on text input, Dubber notes allows you to record and store audio files alongside the meeting notes, providing a more comprehensive and accurate record of information.
Additionally, Dubber notes offers advanced collaboration features, enabling its users to share notes and work on projects together in real-time.
Pros:
The great transcription that can be shared with the client right after the meeting

Easy sync with Google calendar to join and record meetings automatically

The free version is enough for normal usage
Cons:
Paid plans lack the number of minutes per month for professional users

No free trial with the paid features 
Rating: 9/10 
4. Hyperia
Price: Basic: $9.99/mo, $99/year; Pro: $19.99/mo, $199/year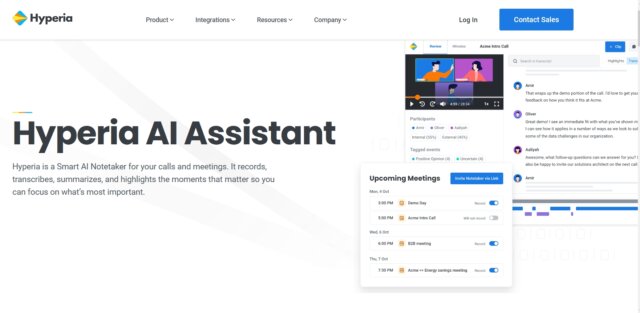 Hyperia is a virtual assistant that uses intelligent technology to simplify your meetings and conference calls by automatically joining and recording them. It produces searchable transcripts, generates meeting minutes, transcribes text, captures audio and video recordings, and identifies important action items using tags.
Hyperia's automatic note-taking feature makes it easy to share summaries, action items, and other details with your team. Additionally, each summary comes with a timestamp, making it effortless to navigate to specific sections of the conversation. This AI-powered note-taking app allows users to record audio or video during meetings and create notes that can be exported in various formats, such as PDF, Word Document, and JPG.
Hyperia provides a variety of meeting templates suitable for different types of business meetings. Users can conveniently share their files via email, print them out, or even post them on websites. Overall, Hyperia promises to streamline your meetings and make note-taking hassle-free.
Pros:
Automatic recording and transcribing of meetings.
Templates for different types of meetings available.
Export notes in various formats.
Cons:
No free plan available.
Requires external device for video recording.
Limited integrations with third-party apps.
Rating: 9/10 
5. Evernote
Price: 14-day free trial & Paid ($8.99/mo for personal, 10.99 for professional)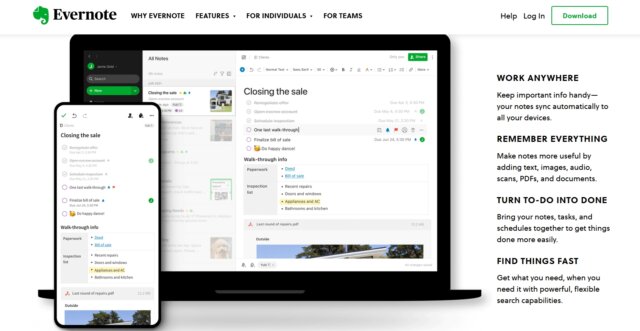 Evernote is another AI-powered note-taking app that offers a range of unique features to enhance the note-taking experience. One standout feature is its ability to organize notes and information using tags, notebooks, and search functionality, making it easy for users to find and access their notes quickly.
Another key feature of Evernote is its integration with popular productivity apps such as Google Drive, Outlook, Slack, and more. It also uses machine learning to suggest related notes and topics, helping users stay organized and efficient.
Evernote is a versatile tool suitable for professionals, students, researchers, and individuals who need to capture and organize information efficiently. Its user-friendly interface, robust organization tools, and AI capabilities make it a great choice for anyone seeking a reliable and efficient AI note-taking tool.
Pros:
Versatile and robust organization tools.
Integration with popular productivity apps.
Machine learning for note suggestions.
Cons:
Free version has limited features.
Can be overwhelming for new users.
Expensive premium plans compared to competitors
Rating: 8/10 
6. Airgram
Price:
Free: 5 recordings/mo

Pro: $8.99 to $26.99/mo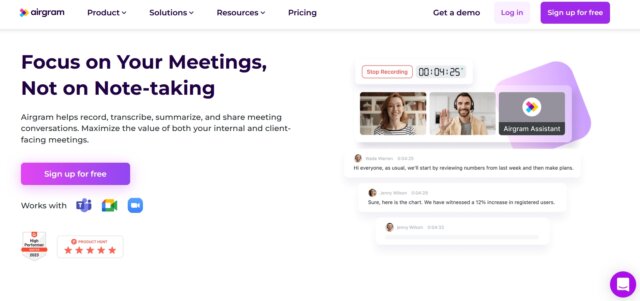 Airgram is an AI-powered note-taking app designed to simplify the note-taking experience. One of its standout features is its ability to automatically summarize meeting recordings, allowing you to easily review key points and action items. Airgram also supports real-time transcription, enabling users to capture every word accurately.
Another unique feature of Airgram is its integration with popular video conferencing platforms such as Zoom and Microsoft Teams. It allows you to attend meetings and take notes seamlessly. The app's user-friendly interface and cloud storage make it easy for users to access your notes from anywhere, at any time.
Overall, Airgram is an excellent option for professionals who need to capture important information quickly and efficiently during meetings or presentations. Its AI capabilities, real-time transcription, and seamless integrations make it a versatile tool suitable for a wide range of industries.
Pros:
Automatic meeting summaries.
Real-time transcription capabilities.
Integration with popular video conferencing platforms.
Cons:
Limited to meeting notes only.
No mobile app available.
No free plan offered.
Rating: 8/10 
7.
Colibri
Price: Free & Paid ($16 - $40/month)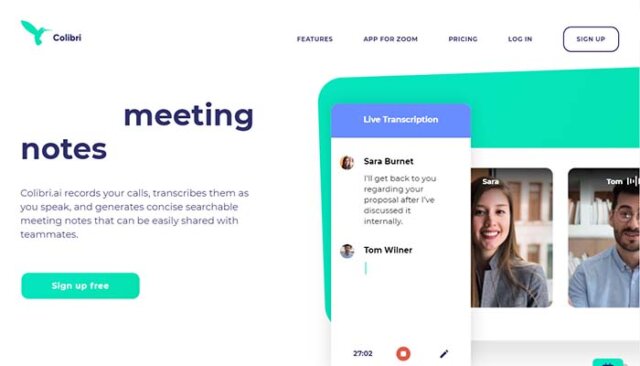 Colibri.ai is an AI-driven meeting note-taking assistant that aims to make meetings more productive, collaborative, and streamlined. If you've ever been in a meeting where someone has taken notes on a laptop or Google Docs, you know that it can be a little chaotic. Colibri.ai is solving this problem with its AI-driven assistant, which allows you to create a note-taking process that works for your team.
The best part of this tool is that once you've created a meeting template, it can be used for future meetings. So if you use the same template continuously, it can learn to do that for you. It helps in cutting out the time that you might have spent on creating another template.
Pros:
Simultaneous transcriptions for great workflow

Easily upload text and audio files to the software

Allows you to turn transcription on/off from the app interface
Cons:
Transcription is not 100% accurate but still helpful

Cannot categorize meeting recordings into folders

Multiple speakers make accuracy more unreliable
Rating: 8/10 
8. Notetaker
Price:
Personal Plan: $9.99/mo, $99.99/year
Business Plan: $15/mo, $150/year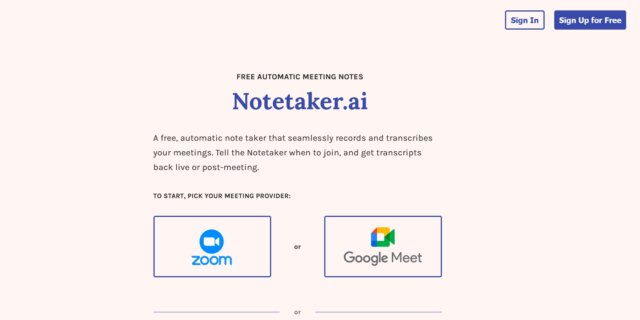 NoteTaker can automatically identify and tag different sections within a document, with which you can navigate and organize your notes. This feature, called SmartSections, uses machine learning algorithms to analyze the content of a document and identify key sections such as titles, headers, and subheadings.
SmartSections allows you to quickly jump to the relevant section of a document, improving your productivity and efficiency. Additionally, NoteTaker's intuitive interface and note-taking tools make it easy for you to capture and organize information quickly and effectively.
Another standout point of NoteTaker.ai is its integration with popular productivity apps such as Google Drive, Slack, and Trello, enabling you to sync their notes seamlessly across different platforms.
Pros:
Easy-to-use interface
AI transcription accuracy
Collaboration features
Cons:
Limited formatting options
Potential privacy concerns
Higher pricing plans.
Rating: 7/10 
9. Rewatch
Price:
Free: Up to 5 team members; Up to 10 videos
Business Plan: $8/mo (billed annually): Unlimited team members; Unlimited videos; Advanced search and analytics; Custom branding
Enterprise Plan: Contact sales for pricing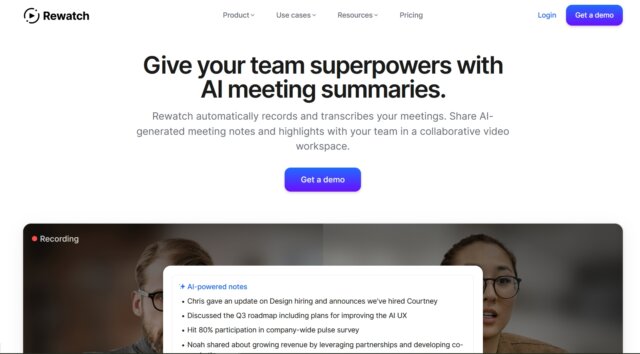 Rewatch's AI Meeting Notes is an innovative tool designed to make the process of taking meeting notes more efficient and accurate.
It can automatically generate detailed meeting notes with AI. The app can analyze meeting recordings or live streams, transcribe speech into text, and identify key points and action items discussed during the meeting. This saves time and effort for note-takers, allowing you to focus on participating in the discussion rather than worrying about recording it.
Additionally, Rewatch's AI Meeting Notes offers customizable options for formatting and organizing notes, making it easy to share and collaborate with team members. Overall, this unique feature of Rewatch streamlines the meeting process and enhances productivity for teams of all sizes.
Rating: 7/10 
10.
Avoma
Price: Free & Paid ($15 - $35/month)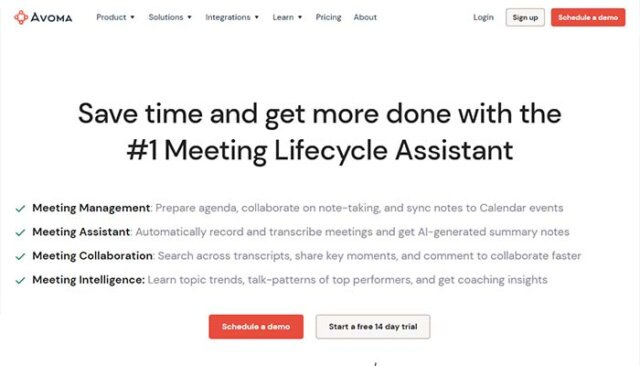 Avoma.com is another AI note-taking tools that works with most of the popular conferencing platforms.
It's an easy-to-use web app that can be integrated with Google Calendar, Salesforce, and other apps. So, it is ideal for companies doing business online. Avoma.com is great for people who take notes on their computer or tablet during meetings, but it's also useful for people who want to keep an audio-only record of their meetings. Think of it as note-taking software that works like a note-taking person.
Pros:
Records meetings and automatically make notes with timestamps 

'Snippet' feature to capture a small segment of the conversation to share with others

Organize conversations and quickly find the important parts using keywords
Cons:
The user interface is somewhat confusing

Navigation on the web version could be a little cleaner too

Scripting of a call or a meeting can take up to 30 minutes
Rating: 7/10
Also read: Top 10 Miro Whiteboard Alternatives Review
Conclusion
With work from home being prevalent after 2020,  AI note-takers will perform a major role in increasing the efficiency of online meetings. It will take meetings to the next level by automatically making notes, agendas, and setting reminders. AI can manage meeting content, ensure all attendees are included in the discussion and create a platform for more teamwork. It will also act as an assistant to answer questions and address the needs of the participants.  AI is capable enough to take up the jobs of assistants in the near future.