Summary: Top 10 virtual classroom tools that enhance online teaching and learning, offering unique features and varying price points. They provide easy access to online meetings, efficient content management, comprehensive teaching and learning tools, as well as progress tracking.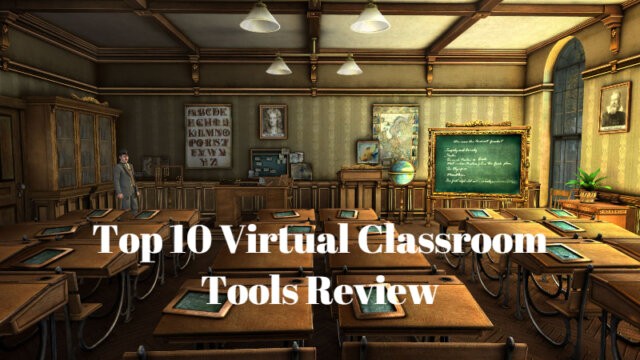 A virtual classroom has pretty much become the standard when it comes to teaching, communication, and even professional meetings, in a way. The past two years have changed our ways of communication and have elevated the importance of a virtual classroom. With that said, we will be recommending you the ten best virtual classroom applications that take the online classroom to new levels with their features, affordability, ease of use, etc. 
Top 10 Virtual Classroom Tools Review
This is a general overview table made by us, if you want to see our more detailed review, please keep reading:
| Virtual Classroom Tool | Price | Main Features | Ease of Use | Support | Platform Compatibility |
| --- | --- | --- | --- | --- | --- |
| Visme | Freemium | Infographics, bars, multiple format export | ★★★ | Email, FAQ, knowledge base | Web-based |
| Vedamo | Paid | Whiteboard, LTI integration, media player | ★★★★ | Email, phone, live chat | Web-based |
| Class Technologies | Unknown | Advanced breakout rooms, quizzes, tests | ★★★★ | Unknown | Web-based, Zoom |
| Zoom | Freemium | Video conference, breakout rooms | ★★★★ | Email, phone, live chat | Web-based |
| Classter | Freemium | Surveys, quizzes, mobile app | ★★★ | Email, phone, live chat | Web-based, iOS, Android |
1.
Visme
Price: With the free version, you can get up to 100 MB of storage and limited features. The paid versions start from the Personal account costing $15 per month and unlocks more features as you go upwards.
This application offers a decent amount of choices to users depending on the paid account type. However, you can have up to 3 GB worth storage as well as be able to save your data in various formats, including HTML5, GIF, PPTX, and more. Other than that, it also offers a responsive and easy to use UI that is suitable for professionals and beginners alike. Not to mention that you can also add a bunch of infographics, bars, etc into your presentations through the application itself, saving time and effort.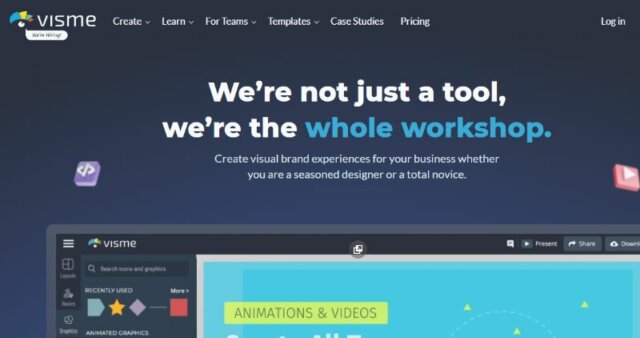 Pros:
Reliable application. 

Good features. 

It is usable in many fields.
Cons:
The free version is too limited.

Can be slow sometimes.

Need a decent system to run it smoothly.
2.
Vedamo
Price: Though this virtual classroom tool is a paid one, you can still get a hold of the free trial of 30 days with a simple sign-up. The paid plans start from $25 per month and you can get more features as you pay upwards.
Naturally, as this is an online virtual classroom application, you can expect the basic virtual classroom features such as a whiteboard, breakout rooms for division, screen sharing, and video conference features. The whiteboard itself has enough features for teachers, such as text editing and formatting features. Apart from that, you can also benefit from LTI Integrations, Media Player features, recordings, and more. You can get started by simply visiting the website and clicking on the Start Session button.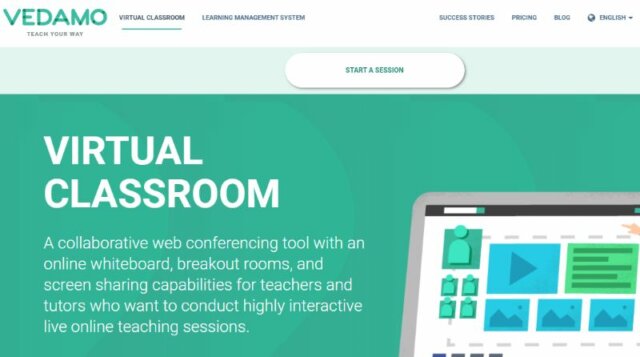 Pros:
Great features. 

Smooth UI design. 

No card needed for free trial.
Cons:
Limited free use.

Takes time to learn the tool.

Can be buggy.
3.
Class Technologies
Price: You can instantly book a demo from the website itself simply by filling up a form that would include email, name, and other details. Paid options are currently not displayed.
Class Technologies is a virtual classroom software that offers resources for various kinds of groups or organizations, such as High Ed, K-12, and Corporate. For starters, this application has an advanced breakout room system for online classroom platforms wherein you can seamlessly create breakout rooms and also send content to specific breakout rooms. Not to mention all the fundamental online classroom features such as getting attendance, access to the whiteboard for teaching, have quizzes and tests, and more. The virtual online classroom is also merged with Zoom, which can convenience to your workflow significantly.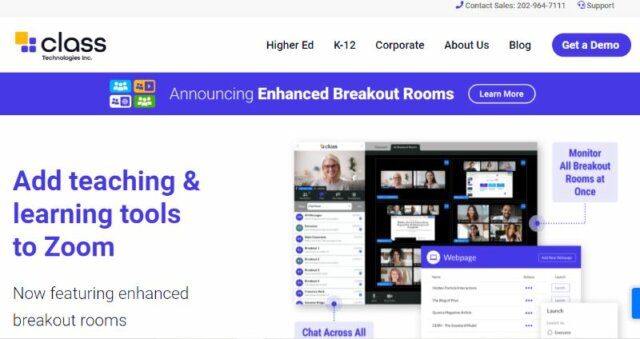 Pros:
Can be used with Zoom. 

Has a good list of features. 

Usable for many groups. 
Cons:
No pricing info given.

No demo without signing up.

The website tends to be slow.
4.
Zoom
Price: The popular online classroom application is usable for free but with limited features. The paid plans cost around $18 and upwards. The features are more as the paid plans go up.
Zoom is easily one of the most popular free virtual classroom for online teaching and learning, especially since the last two years. While Zoom was originally a virtual meeting application for businesses and professionals, it has expanded to education as well. With Zoom, you can have one of the highest number of participants, as the free version itself supports up to 100 participants. Moreover, the UI of the Zoom App is simple to use for any user. Not to mention that you can create breakout rooms, send limited content over the chat, and it has stable servers throughout.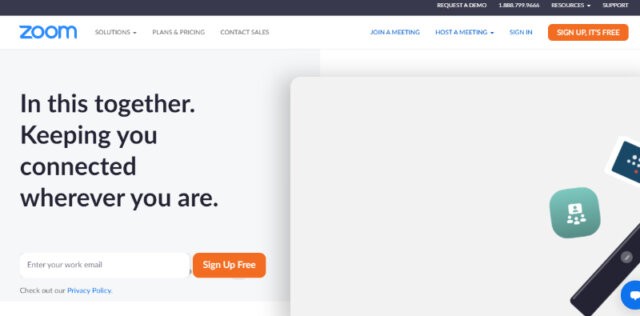 Pros:
Popular application. 

Affordable pricing.

Can be used online.
Cons:
Has limited teaching oriented features.

The app can be buggy sometimes. 

Needs more moderation features.
5.
Classter
Price: You can do a quick sign-up by entering a few details to start using the virtual classroom tool for free. The payment later depends on the kind of classroom you wish to teach.
Similar to the previous virtual classroom application Class Technologies, you can choose different kinds of classes such as K-12, Academics, and more in order to get specialized tool sets for your teaching. Also, you can get a brief look about the resources provided for each class type simply by browsing on the website. You can then get the demo version to test it out before going ahead with the purchase. Not to mention that this virtual classroom application is also available on mobile devices such as iOS and Android. You can create surveys, quizzes, make announcements for kids, and more.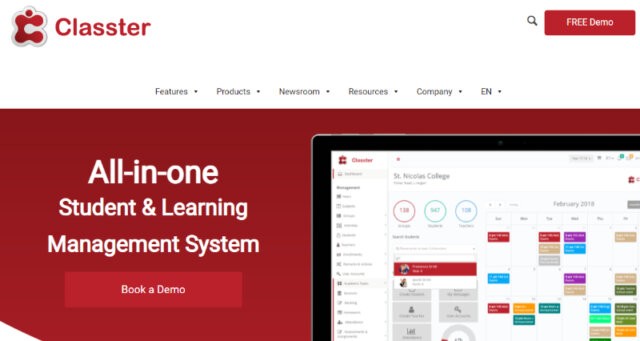 Pros:
Can be used for free for a while.

Good UI design. 

Has features for higher levels of academics.
Cons:
Confusing to use. 

No pricing details given.

Mobile versions are in a bad state.
6.
Google Classroom
Price: You can get access to the Google Classroom application directly if you already have a Google account. If not, you can make a Google account for free first.
Google Classroom is another virtual classroom application similar to Zoom which is immensely popular and widely used. When it comes to Google Classroom, the biggest advantage you can get from it is having other useful tools such as Gmail, Google Drive, etc linked to Google Classroom. Managing content becomes much faster and efficient in Google due to its other related tools. You can attend or host meetings and classes quickly and for free with a Google account. Some of the basic features of Google Classroom include screen sharing and chat box.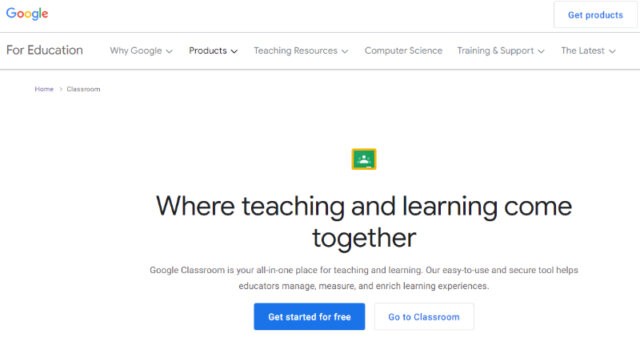 Pros:
Popular virtual classroom tool.

Multiple Google tools linked.

Easy to use.
Cons:
Less features related to teaching.

Can be buggy with a large audience.

Less options to share content within the meeting.
7.
CloudShare
Price: There are multiple ways of using this virtual classroom software. You can get a free demo by requesting it from the website. When it comes to the paid options, you can either pay as you use or take a subscription.
This application is more of a mixed one as it is designed not just for virtual meetings but also for business related processes such as sales services and making reports. However, a rather unique aspect of this application is that it assists users create virtual training systems and learning management systems for their students in order to track their progress continuously. Overall, it is a really good software application to have if you want to create some detailed courses with the capability to track progress.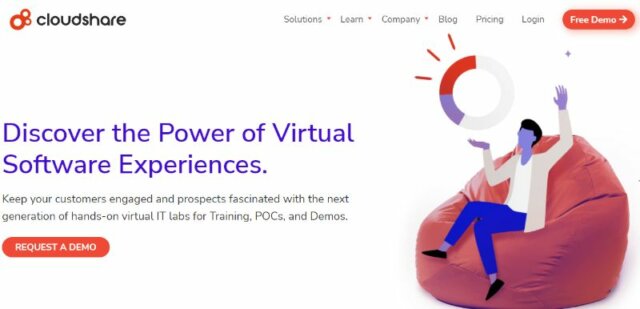 Pros:
Good pricing systems.

Great UI design. 

Multi-purpose tool.
Cons:
Free demo takes time to set up.

Can use more features. 

Mostly for course creation.
8.
BigBlueButton
Price: The virtual classroom platform is an open source program that is free to use online with just a few steps.
This application allows you to make a classroom online with just a single click, though it is advisable to make the virtual classroom earlier as increased traffic leads to users being unable to create meetings sometimes. When it comes to the features of this online classroom application, you can expect the LMS integration system, API, breakout rooms, and much more. Not to mention that you can access this platform through 65 languages, making it a really accessible application overall. You can also add a bit of fun to the class through the chat and emoji features.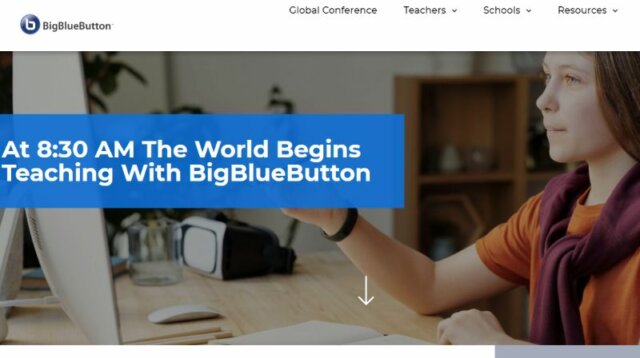 Pros:
Great design. 

Features for teachers and schools.

Can be used online. 
Cons:
API needs improvement. 

Servers can sometimes get full.

Can have more features.
9.
YuJa
Price: You can get a free demo from the website itself by completing a short form that asks a few details. When it comes to the pricing plans, however, there is little to no information to be found on the website. 
You can make use of this online classroom application in many areas, including K-12, corporate, hosting and streaming, and more. Besides, there are many features that you can use to create high quality meetings as well. For instance, this is one of the rare applications that offers video editing tools within the app itself, as well as video captioning and social learning.
Pros:
Many useful features included.

Can be used in many areas. 

Good UI design.
Cons:
Not suitable for beginners.

No pricing information given.

Takes time to set up and use the tool.
10.
Adobe Connect
Price: Adobe Connect offers the virtual classroom application for free with a free trial of 30 days. After the trial expires, the paid plans start from $50 per month with more and more features unlocked as you pay up.
Adobe Connect is another application similar to Cloud which helps users in creating intricate courses for students through the Learning Management System programs and curriculum creation. Of course, you can also track the progress of your students. Not to mention that you can also create breakout rooms and have greater accessibility set for students with special needs.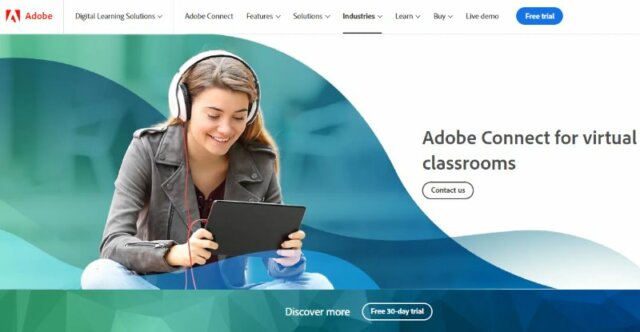 Pros:
Good free trial.

Simple to use. 

Great servers. 
Cons:
Too expensive. 

Has less features than expected.

The tool can be buggy sometimes.
Conclusion
These virtual classroom applications can be an excellent addition to you when it comes to teaching and attending meetings in general. Each application offers something unique that you can take advantage of depending on your requirements. Zoom and Google Classroom are quick access tools, best for attending back-to-back meetings without needing many features. On the other hand, Vedamo and Classter are preferred for having a full classroom lecture experience with comprehensive features assisting you every step of the way.
Also read: Top 10 Miro Whiteboard Alternatives Review
FAQs
1. What is a virtual classroom?
A virtual classroom is pretty much as it sounds, a physical classroom taken online. However, there are some drastic differences that come with this transition. First, many activities and tasks that can easily be done physically have to be done differently online, such as attendance, class work, and activities. Virtual classrooms have an easier time with presentations and graphics than real classes.