Summary: Here are the best 10 magic wrinkle remover apps to instantly enhance your photos, giving you flawless and realistic results without going under the knife or getting botox. Transform your images and selfies with ease and control.
Capturing Instagram-worthy photos can be challenging, especially when it comes to achieving that flawless look. Have you ever wondered how celebrities and influencers maintain their picture-perfect appearance?
The secret lies in photo editing apps that address common user pain points, like wrinkles and blemishes.
In this article, we introduce ten top photo editing apps designed to remove wrinkles effortlessly, providing realistic results. These apps cater to various usage scenarios, offering features such as automatic wrinkle removal and advanced retouching tools. Create stunning, true-to-life images in just a few taps.
What Is A Wrinkle Remover? 
When you don't want to undergo surgery or get Botox injections, a photo editing app can help you remove wrinkles and other blemishes from your photos. These apps offer a range of features that allow you to adjust the intensity of your editing to create the perfect image.
Optimal 10 Online Wrinkle Remover Apps 
If you plan to use a wrinkle remover app, it can be difficult to know which one to choose. We have listed ten popular photo editing apps below that can be used to remove wrinkles from your photos, along with their key features and platform compatibility.
| App Name | Star Rating | Wrinkle Removal | Additional Features | Platform Compatibility |
| --- | --- | --- | --- | --- |
| VanceAI Portrait Retoucher | ★★★★★ | ✓ (AI-powered) | Batch processing, Cloud storage | Web, Android, iOS |
| Befunky | ★★★★☆ | ✓ (Manual) | Advanced toolkit, Fast navigation | Web, Android, iOS |
| Facetune2 | ★★★★☆ | ✓ (Manual) | Pro retouching, AI camera | Android, iOS |
| Fotor | ★★★☆☆ | ✓ (Manual) | Advanced retouching tools, Collage templates | Web only |
| Visage Lab | ★★★☆☆ | ✓ (Automatic) | 40+ filters, Automatic face touch | Android, iOS |
1.

VanceAI Portrait Retoucher (Web) - ★★★★★
Notable features: AI-powered wrinkle removal, batch processing, cloud storage
If you only want to go with one option, this wrinkle remover photo editor is all you need. Backed by artificial intelligence, it brings forth clear and clean images instantly. You may not have to edit them manually. 
Your images would be visibly sharper after retouching, which requires a few clicks. Retouch your old and blurry images in bulk with VanceAI Portrait Retoucher.
Pros: 
Offers batch processing

Offline processing available

Cloud storage
Cons:
Require subscription for pro features

Automatic editing may leave your unsatisfied
2. 

Befunky (Web, Android, iOS) - ★★★★☆
Notable features: Manual wrinkle removal, advanced toolkit, fast navigation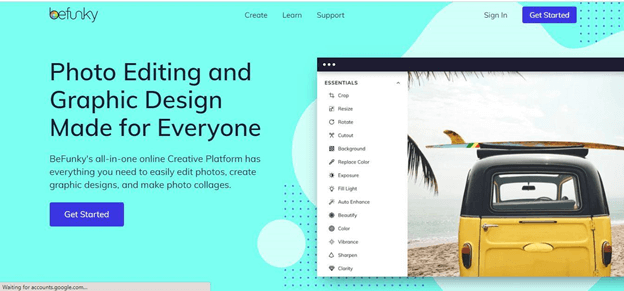 Befunky is an artistic photo editor that offers more than just wrinkle removal. With its advanced toolkit, you can improve skin, eyes, lips, and teeth separately, making it easier to create a perfect image.
The app also features a clean and straightforward interface, making it a great option for beginners.
Pros: 
The choice to upload loads of pictures simultaneously

No registration required

Fast and easy navigation
Cons:
Limited free features

Annoying advertising
3.
Facetune2 (Android, iOS) - ★★★★☆
Notable features: Manual wrinkle removal, pro retouching, AI camera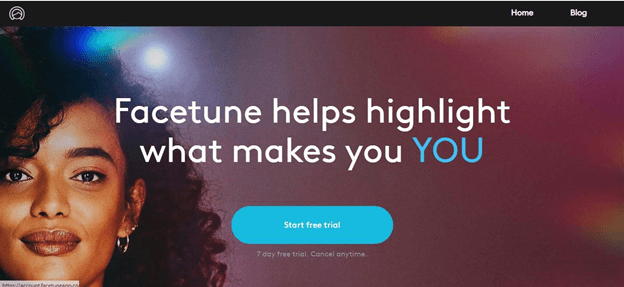 This wrinkle remover photo editor is compatible both with Android and iPhones. The pro retouching features of this app will make any picture instagram-worthy. It offers everything you'd dream of, from whitening your teeth to brightening your eyes and brushing off any wrinkles. 
Although the pro version has more cool and advanced features, you will be clicking share-worthy pictures even with accessible mode. 
Pros: 
Easy interface for users

Freedom to try paid features before buying them

Click the best selfies with the app's AI camera 
Cons:
The subscription is a bit pricey.

It doesn't work great on pictures with bad lighting. 
4. Fotor (Web only) - ★★★★☆
Notable features: Manual wrinkle removal, advanced retouching tools, collage templates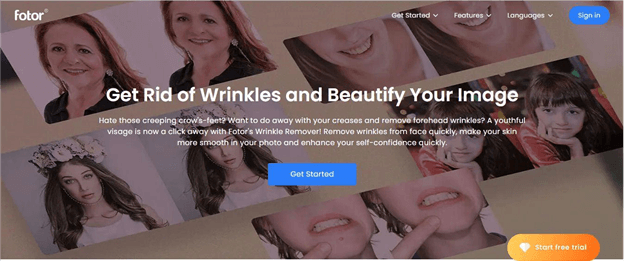 This photo editing tool lets you have a professional finish while being as creative as you want. With its beauty features, you would love this app, and the best part is that you don't have to be a pro in editing to handle all this. 
This requires a snap to remove wrinkles or any imperfections from your face. Adjust the intensity and size of the brush, and you'll have complete control over your editing.
Pros: 
Offers advanced retouching tools

Plenty of photo filters and effects

Exquisite collage templates
Cons:
Affordable

Supported only on the web
5. 
Visage Lab (Web, Android, iOS) - ★★★★☆
Notable features: Automatic wrinkle removal, 40+ filters, automatic face touch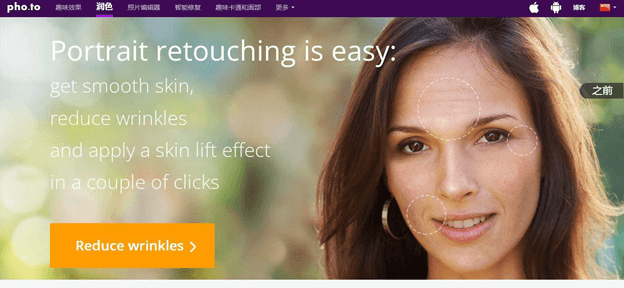 You can use this instant wrinkle remover on your Android and iPhone. Retouch your photos easily, from enhancing any feature to removing blemishes from your face. 
The app is described as a "professional beauty laboratory" and comes true to its claims. You can get your dreamed facelift, an extra coat of mascara, or remove your crow's feet. At the same time, you compare both before and after pictures.
Pros: 
Offers 40+ filter 

Sharing on social media platforms

The face touch feature is fully automatic
Cons:
It isn't easy to download edited pictures

The teeth whitening is a little unrealistic
6. 

Fix the photo

(Web only) - ★★★☆☆
Notable features: Accurate wrinkle removal, object removal, user-friendly interface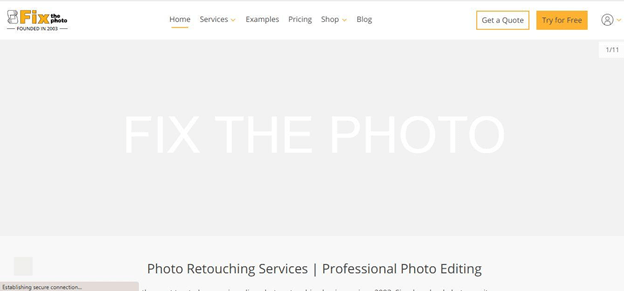 This is one of the few incredibly accurate tools in enhancing and retouching your pictures. You can erase any imperfection from your face and even remove people/things from the background.
With its fine-quality editing, you won't see any leftover edges. So, remove wrinkles comfortably because the final photo won't show any traces.
Pros: 
Remarkable accuracy

It doesn't leave blurry traces

User-friendly interface
Cons:
You can't zoom pictures

No batch processing
7. 

iPiccy

(Web, Android) - ★★★☆☆
Notable features: Automatic face retouching, skin tone correction, teeth whitening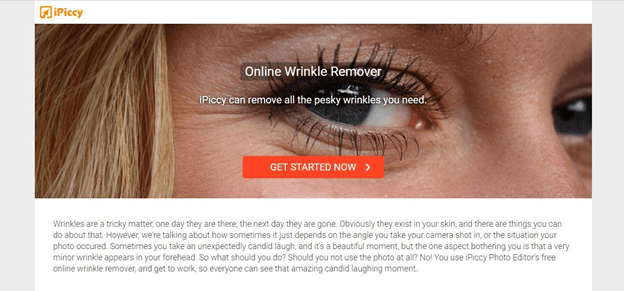 iPiccy does some automatic face retouching, from skin tone correction to teeth whitening. It works minutely, helping you get rid of not-so-visible pimples and wrinkles and get some smooth skin.
Pros: 
Easy face retouching 

Offers free online version for Android and web

Lots of useful handy tools
Cons:
Supports JPEG file format only

The Mobile version is paid
8. 

Pixelmator

(iOS) - ★★★☆☆
Notable features: Non-destructive editing, color correction, an array of filters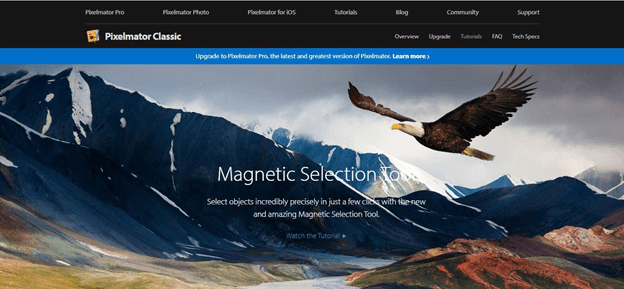 Pixelmator offers non-destructive editing tools. So, you won't have to worry about any editing errors because you can undo them.
You can achieve clear skin with a color correction feature, free from any fine lines. There is an array of filters available that makes your image interesting. 
Pros: 
Single page layout for easy editing

Great tool kits for professionals and amateurs alike

Non-destructive editing tools
Cons:
Available for iPhone only

Pricey Subscription
9. 

WidsMob Portrait Pro (Windows, Mac) - ★★★☆☆
Notable features: Automatic wrinkle removal, bulk editing, social media sharing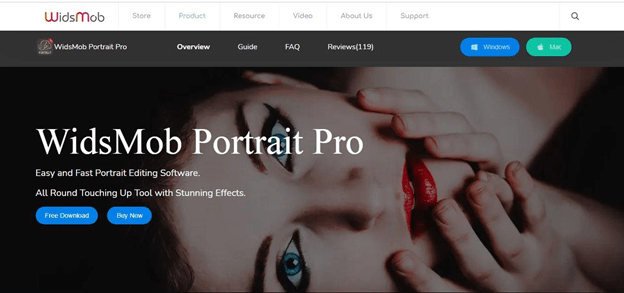 This professional makeup app can automatically detect your age, gender, and facial outline for best performance. For example, it catches your jaws, eyes, nose, and eyebrow and applies different makeup accordingly. 
It does precisely what wrinkle remover apps are supposed to do. Due to automatic processes, you may not have to do manual editing.
Pros: 
Allows bulk editing

Social media sharing option

Auto and manual tools
Cons:
Auto tools may not be good always

No batch processing in the free version
10. 

RETOUCHME

(Android, iOS) - ★★★☆☆
Notable features: Body and facial editing, professional editing services, credit-based system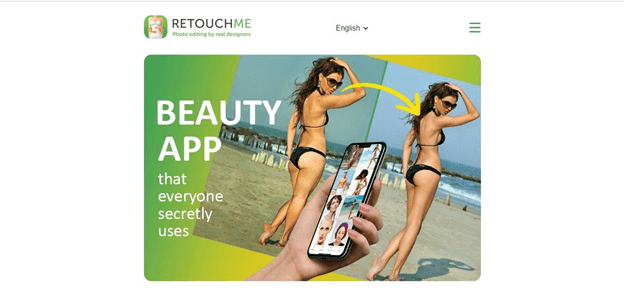 This app is not only for your face but works for your whole body as you can make yourself appear slimmer, longer, or fuller if you wish. 
Apart from hiding your gray roots, it can conceal any pimples or wrinkles you might not want the world to see. And the best thing is that all of your editings is done by photoshop experts. Although the app is free, you have to pay for every edited image. 
Pros: 
Simple and hassle-free

Body and facial editing

Photo edited by professionals leaves no room for mistakes.
Cons:
Edited photos cost credits

Synchronization across platforms is not possible
Frequently Asked Questions FAQ 
How can I remove wrinkles instantly?
If you want to remove wrinkles instantly, download any app from the above list like WidsMob Portrait Pro and VanceAI Portrait Retoucher. Open the photo you want to edit, and upload it to the software; then you will get different options to beautify your face in the software interface. Use the feature of removing wrinkles and blemishes and have a perfect photo within no time.
Conclusion
That sums up our list of wrinkle removing apps. At the same time, the apps don't remove wrinkles or blemishes but do a ton of other things as well. Just choose any app and get your images perfect now. 
Which one did you like the most? Don't forget to tell us in the comment box about your favorite option. Or, if you're stuck at any phase, comment below, and we will reach out to you within no time.
More useful tip also read: Top Ten Online Portrait Retouchers Review.
Disclaimer: The use of such apps may not always give realistic results and may give an unnatural appearance. We suggest using them in moderation.